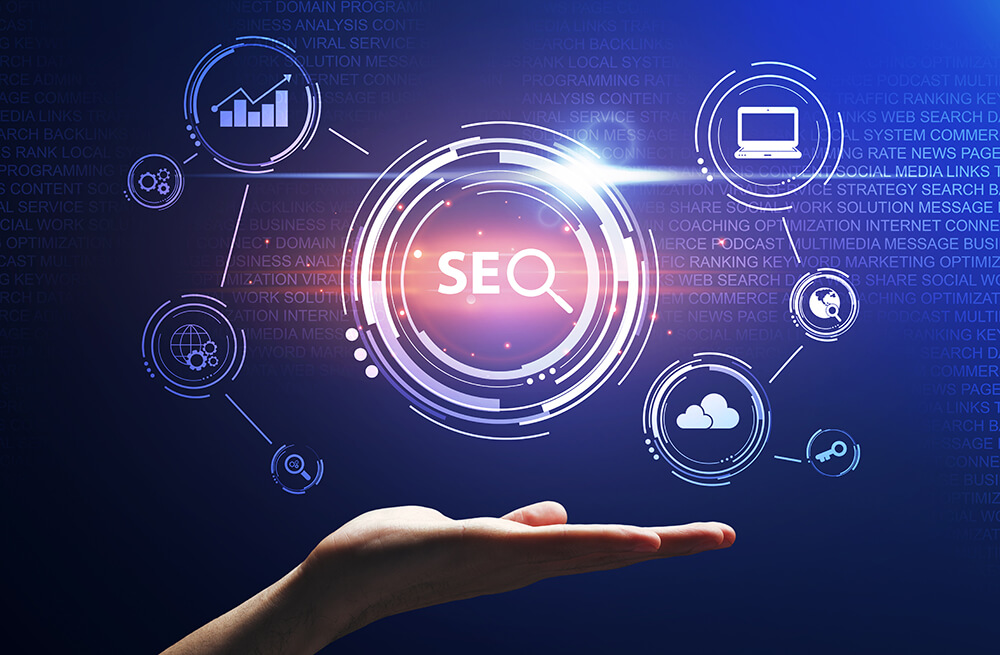 Search engine optimization (SEO) is a great way to boost your website traffic, increase visibility in search engines, attract prospects and ultimately generate more revenues.
Whether you're a content marketer, a website owner, a service provider, a blogger, a startup founder, or an agency, you've undoubtedly wondered how to create an effective Engine Optimization strategy to get your fair share of the 6 billion Google searches performed daily.
Doing SEO properly it's not a one-off job and involves consistency, know-how, and continuous learning. In this article, we're going to walk you through the basics of creating and implementing an SEO strategy for 2022 that meets Google's standards and truly works:
1. Set SMART (specific, measurable, achievable, relevant, time-based) goals
Before launching an SEO initiative for your website in 2022, it's essential to define clear goals to set the foundation for the expected ROI. It's crucial to tie SEO outcomes to relevant metrics and business objectives.
For example, this could involve improving clickthrough rates, boosting eCommerce sales, or growing market share with specific audience segments. If the website is new, you may want to focus on improving its visibility first.
We recommend being as specific as possible when setting goals and putting numbers on them. Instead of aiming for "more leads" in 2022, aim for 50% more leads than you hit in 2021. Establish incremental milestones for each goal to boost productivity and give your team the impetus to achieve the results within the given timeframe.
2. Analyze your competitors
Competitive analysis is essential in SEO. By doing this exercise, you can identify your competitor's strengths and weaknesses, making it easier for you to gain a competitive advantage.
Put their business under a magnifying glass: What are their organic search rankings? Do they have a blogging strategy? What are they currently doing better than you? You could take the analysis even further by performing a technical SEO audit which includes reviewing the site's health, page load speed, and mobile-friendliness.
Pro-tip: don't stop at your direct competitors. See who is dominating the first results page on Google as well.
3. Execute keyword and topic research
This is probably a no-brainer, but keyword research and topic analysis are essential in creating a sound SEO strategy. To determine the most relevant keywords, you can use CMS tools like SEMRush to access vast amounts of keyword-related data.
At the same time, tools like KeywordTool.io help generate hundreds of relevant long-tail keywords for any topic you can imagine. The Yoast SEO plugin is yet another great CMS tool that helps you optimize the technical SEO on your website simply and intuitively. We also recommend actively inspecting the first two pages of Google to confirm the search intent and spot trends and seasonality using Google Search Trends.
You can also unleash the power of topic clusters, which define an SEO tactic to structure pages within a website grouped around related content to cover a broader topic. Let's say that your main topic is "apple" – you could create multiple pages about apple harvesting techniques, apple pie recipes, and health benefits. This technique allows you to cover a broad spectrum of relevant keywords, leverage an internal linking strategy, and pass link value between related content.
4. Create genuinely good, unique content 
Neil Patel once said that good SEO content is written for people and optimized for Google. This means avoiding jamming as many keywords as possible in a blog article and ending up creating a piece that doesn't make any sense and doesn't appeal to your target audience.
A blog section that is constantly updated with original articles and follows Google's Webmaster Guidelines will have more chances to earn an organic spot on the first page.
High-quality content is the gift that keeps on giving, as it supports your SEO efforts and may double the results if your audience starts sharing your blog posts, tutorials, videos, or podcasts on social media. Long-form blogs of more than 3,000 words typically achieve 3.5 times more backlinks than short articles, as well as 3x more traffic and 4x more shares.
When creating content, refer to the EAT principle (expertise, authoritativeness, and trustworthiness), as Google considers these factors to decide if a piece of content is high-quality or not. At the same time, experts recommend standing clear from intrusive ads, keyword stuffing, and copy-pasted content if you want your website to do well in 2022.
5. Don't overlook the technical side of SEO
All of the recommendations stated above won't help you conquer the SERPs on their own. Your website must also be technically optimized for search engines and free of user experience, crawling, or equity distribution issues.
Technical SEO is the basis of your SEO strategy, as a robust infrastructure allows your content and backlinks to impact your organic search results better. Tools like OnCrawl and Deep Crawl help you detect faulty URL structures, 404 error pages, XML sitemaps issues, and even outdated URLs.
6. Understand the importance of off-site optimization
On-site SEO refers to content optimization through keywords, internal links, meta descriptions, title tags, header tags, and image tags. Off-site SEO is all about what happens outside the website yet impacts your rankings.
Link building is definitely the most debated SEO task. Its goal is to get other websites to drive the audience to yours and get you those popularity points that determine Google to give you a higher spot.
There are multiple ways to obtain these links – from publishing guest posts on relevant and popular websites in your industry to being active on social media and buying ad space on industry-relevant websites.
It's important to keep in mind that not all links are created equal, and trying to cheat will alert Google's algorithm. Check out these blackhat SEO techniques that you should avoid at all costs in 2022 and beyond.
Summing up
Creating and implementing a successful SEO strategy involves active engagement and effort: publishing high-quality content, optimizing the website, obtaining backlinks, and keeping up with the trends.
For example, Google Voice Search is becoming more and more popular, making for 20% of total searches, and it will continue to grow in 2022.
Mobile-friendliness is yet another key factor to take into consideration for your SEO strategy in 2022, as it is estimated that around 75% of users will access the internet on mobile devices by 2025. You can see how your website performs using Google's Mobile-Friendly test.
If you still feel like your website is not performing well after following these tips, perhaps it's time to consider smooth migration to a new CMS that provides enhanced functionality. Learn more about how migration works here.
For more relevant facts, figures, trends, and predictions on all things SEO, read this piece.
We hope this article was helpful and will empower you to execute a winning SEO strategy for 2022 that reaches all your business goals.