You may agree that it's not so simple to make the first step to improve your website fundamentally, especially if you decided to change your site CMS platform. And it's easy to explain – the migration process requires huge efforts to move the content safely and fast without losing the website data as well as your precious time, then you have to take steps to keep your SE rankings etc. That's true – a lot of work!
For WordPress to Joomla content migration, there are several ways of data conversion. One of the ancient history methods is the manual migration – you should copy and paste every piece of information. It's a rather tedious process! Also, you may hire an expert for this job whose service usually costs pretty penny and requires certain time spending too.
Also, the alternative method of import data from  WordPress into Joomla is using an automated migration service. Its benefits are obvious: time-saving and reliable data transfer, plus a very easy setup process.
If you already decided to try the fortune and import your WordPress website into Joomla, here's a tutorial on the automated data content migration.
Watch Up 5 Minute Video On WordPress to Joomla Migration
What is required before the start:
1. WordPress and Joomla sites accessible online.
2. FTP or hosting control panel access details (host, username and password – you may find these out from your hosting provider).
Import WordPress to Joomla: Step-by-Step Tutorial
1. Create your aisite account.
To start you speedy website migration, you should register an account at aisite or just login with your Google or Facebook account.
2. Specify you WordPress and Joomla URLs.
The next step you have to do is provide your WordPress and your new Joomla sites URLs.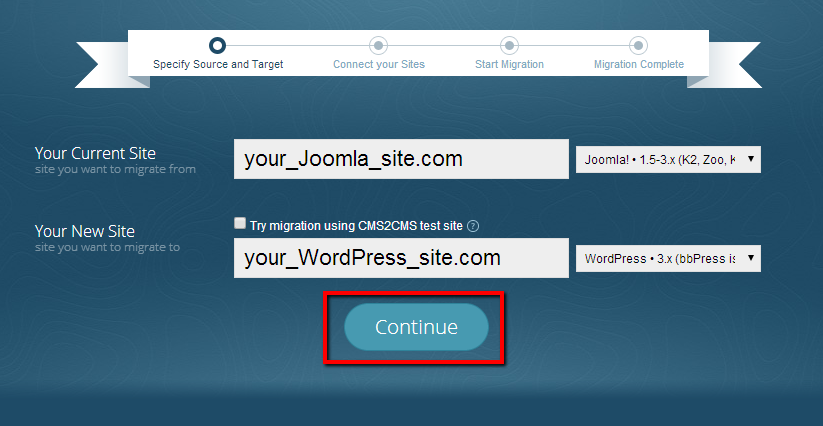 3. Establish Connection Between your WordPress and Joomla Sites.
You should install the connection bridge for data exchange between your WordPress and Joomla websites. Just follow these instructions to upload the bridge:
1) Download the connection bridge file to your PC by pressing the corresponding button. It will be saved as aisite.zip
2) Extract this file to a folder on your computer (Don't forget the folder location)
3) Copy the extracted folder to the root folders of your WordPress and Joomla sites via FTP client software or your hosting control panel (The root folder is the top one with index.php file)
NOTE: You may watch up the video on how to download the bridge here.
Now, go back to your wizard and verify the connection to your sites by clicking the corresponding button.
4. Run Demo Migration
You can try how the service works via FREE Demo Migration. It allows to import a limited number of content pages from your WordPress site to Joomla including categories, users, images, comments and tags.
You can also choose some additional options:
1) Import media – you may migrate your images from your WordPress website to Joomla.
2) Make Urls SEO friendly – all your internal links will be formed according to your Joomla website URLs structure.
3) Clear Target – this option allows you to erase data from your WordPress website in order to get rid of the test data.
5. Start Full Migration.
If you have checked the results of your demo migration and want to move the whole website, press "Start Full Migration" button. Then you'll be redirected to the payment page and as soon as you credit the account, your website your old WordPress to the new Joomla site migration will start. It is important to mention that the relations between your site entities (like posts-categories, comments etc) will be preserved.
If you don't want to set up the migration on your own, you may request Assisted Migration. The process of data import will be handled by aisite Team and the only thing you have to do is press a few buttons and enjoy the results.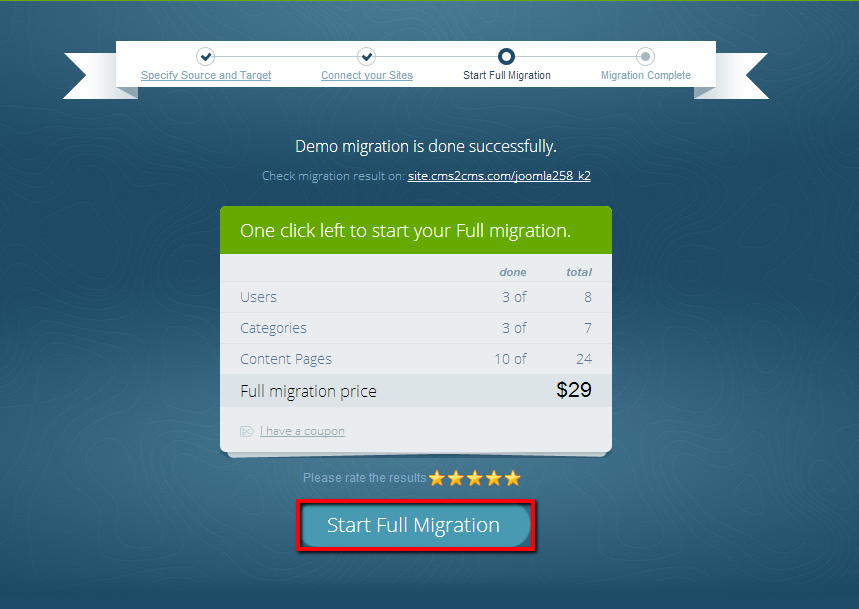 And that's it! This is all you have to do to free your website for the new gains.
If the automated data import tips the scale of your website improvement, you may find the vital information on transfer WordPress to Joomla at https://aisite.ai
What You Can Migrate from WordPress to Joomla?