A new month, a new interview with aisite. Today we're excited to introduce you to another one of our best CMS experts. This time, we're with Troy Dean of WP Elevation.
Troy is an online marketing speaker, coach, consultant and podcaster. He specialises in helping businesses and entrepreneurs use the Internet to attract new customers and build their communities.
Now…
As the co-founder of Video and User Manuals as well as WP Elevation, Dean knows a thing or two about running a WordPress business and today he shares these things with us 🙂
Thanks for joining us today, Troy. Please, tell us a bit more about your background, how long have you been working with WordPress business and about your current ventures?
I started building websites for clients using WordPress back in 2007 and developed the Video User Manuals plugin in 2008 as a way of training my clients to use WordPress once I'd handed over the website. We launched WP Elevation, the world's first and largest business community for WordPress consultants, in 2013 and that is now our 100% focus.
When was the first time that you really got excited about WordPress and at what point did you decide to make it your career?
I got excited about WordPress the first time I used it because I realised it is essentially a library of functions and coolness that allowed me to optimise my manufacturing process. I pretty much decided to make a career out of WordPress the first time I used it.
Where do you go first to get WordPress news, insights, and updates?
I'm a regular visitor at WP Tavern, TorqueMag, ManageWP.org and of course WP Elevation to keep up-to-date with what's happening in the WordPress world. I also attend WordCamps whenever I can.
What performance tips would you give to beginners (as related to WordPress business)?
Well if it's WordPress performance I would suggest hosting at WP Engine. If it's business performance I would suggest working out your sweet spot and specialising. It's the only way to differentiate yourself from the rest of the market.
Confess to us your biggest moment of a business fail?
The whole failure conversation is really interesting. I could not believe I can fail and I know that sounds arrogant but let me explain. Failure is when an outcome does not match your expectations. I have brainwashed myself over the last five years so that my only expectation is that every day I'm going to get out of bed and learn something. Therefore, it is impossible for me to fail. I think a lot of people spend a lot of energy trying to turn a failure into a learning as a way of turning a negative into a positive. This takes a lot of mental energy and frankly, I'm far too fragile to spend that much energy every day. So I have rigged my own mindset so that I no longer have to take these beatings and pick myself up off the floor.
There have been plenty of times when things have not turned out as I expected, but my primary expectation is that I'm going to learn more about my audience and therefore become better at serving them. This can only be a good thing for everyone involved.
You're a well-known WordPress entrepreneur. What's the number on thing you wish you knew about online business before you started one of your own?
That nobody really has a clue what they're doing and everyone is making it up as they go along. Everybody feels imposter syndrome and everybody has people they look up to. Be authentic and be yourself and you'll be fine.
What's the coolest project you've ever worked on with WordPress?
We built this website and used Advanced Custom Fields essentially as a page builder and it turned out pretty cool: https://www.risingsoftware.com/
What do you think is the biggest challenge for WordPress to face in 2016?
I think one of the biggest challenges for WordPress is that it doesn't know whether it is a publishing platform or a development platform. The usability and interface from a publishing viewpoint is not as intuitive as something like SquareSpace or ClickFunnels for the average punter and this is apparent by the number of page building plug-ins and solutions available (Beaver Builder is really crushing it in the space). As a development framework, it still has a way to go to compete with something like Ruby on Rails or Node and I think it will be interesting to see how the new Rest API opens up and what people do with it. I think this is all just symptomatic of the age of WordPress and the maturity of the Internet overall. We are still very much in the embryonic stage of all this technology. It's one thing to say that WordPress has 25% adoption but it's the retention and success of most of those websites that I think is a more interesting metric.
If you could change one thing about WordPress today, what would it be?
I would put Beaver Builder in core. I know I'll probably turn down for saying that but that's okay.
Have you ever faced the problem of website migration? If so, how did you manage to resolve it: by converting your website data manually or via an automated tool?
Back in the day I had to migrate some Magento and Business Catalyst (remember that dinosaur?) websites to WordPress and it was a nightmare. In fact, it ended up becoming a manual copy and paste job.
Tell us a bit about your working setup (hardware + software). Could you shoot us a picture of your desk? 🙂
I run an iMac 27 inch with an external 27-inch thunderbolt monitor, Bluetooth keyboard and mouse, Forklift, Sublime Text 2, Creative Cloud (mainly for PhotoShop and Typekit) and of course Slack and Spotify. I actually don't do a lot of development these days, so my setup might be a little different to everyone else's. I also have a sit-down stand-up desk and a Herman Miller Aeron chair which was the best $2.5K combo I've ever spent.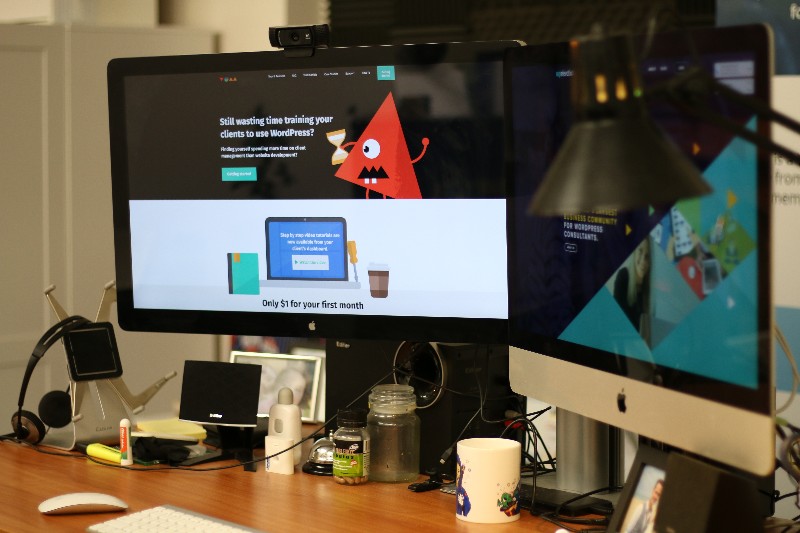 Finally, have we missed anything? Here's your chance to fill in the blanks and add something you want people to know about you!
Mindset is everything. If you remain curious about the world and reprogram yourself talk to undo all of the damage that's been done since you were born, I truly believe you can achieve anything. This is an amazing community to belong to and I'm honoured that I get to be a part of it.
We want to say great thanks to Troy and wish him all the best of joy and inspiration!