WordPress is like a home to me.
This is how each of my mornings starts – I log into the dashboard of eCoupon.io and spend eight long hours just to handle the posts, web pages, several custom options, and many more.
And when I am not working, I have to answer several questions asked by my family members and companions. Obviously, they know how do I make a living and look for answers why their site has started functioning abnormally. And most of the times, I stuck up in the backend of the WordPress, fixing the issues that stem from installing some plugins and playing with the dashboard settings. Anyway, I don't mind helping others as I spend most of my time using WordPress.
But there is a WordPress question which has become so famous for quite some time. It's a very general question which everybody asks and, I have been answering it more than I should:
How WordPress.com differs from WordPress.org?
WordPress is popularly known for building websites but, there are still many new users that are confused between both the WordPress versions. I have gathered some related information to share with you which will help you in making the right choice for your site. Before taking the things into the depth, let's start with the key difference:
WordPress.com is a free and fully hosted version of WordPress where you can create and personalize a simple site or blog right away. All you need is to sign up for a free account, jump right into personalizing your site, and start creating compelling content. The WordPress software takes care of all the technical tasks.
WordPress.org – The self-hosted version which offers numerous plugins and custom themes to make great changes to your site's looks and functionality. For a WordPress.org website, you need to buy your web host which is provided by several companies, install WordPress on the web server, and then, you'll have full control over every aspect of your site.
Now, let's dig deeper into the two options and show you how they differ from each other when it comes to the price, design, features, security, and support. Later, go through our step-by-step guide on migrating your blog or site from WordPress.com to WordPress.org.
WordPress.com vs WordPress.org – What is the difference?
The main difference between both versions is that WordPress.com is a hosting platform where you just need to sign up and get a working site by following a few on-screen steps while the WordPress.org is a self-hosted platform which gives you full control of your site. Both versions are available for free and super-easy to use. Here we break down the difference into following aspects:
1. Pricing
With the core WordPress software, you can set up a site for free. The cost of a WordPress site, either hosted or self-hosted, depends entirely on your goals and budget. So, if a WordPress site is totally free then, from where is the cost coming? Let's break it all down to answer this ultimate question:
– Domain Name: The hosted version offers a free subdomain to the site owner but, that doesn't really help the shopping or business sites. If you want a personalized domain name for your website, you can pay $8-$15 to register for it.
Alternatively, the self-hosted version provides a free domain name registration on signing up for the WordPress hosting plan. Or you can buy domain name separately from many big domain registrars like Godaddy, NameSilo, and Namecheap. By using domain name coupon, you can get .COM for as low as $0.99/1st year.
– Storage Space: With WordPress.com, you are allotted with free storage of 3GB. If you want more space like 6GB, 13GB, or unlimited storage, you can have it by paying the respective cost. There are many shared hosting providers that offer unlimited hosting plans at the prices around WordPress.com's 6GB plan.
– Online Store: If you are running an e-commerce website, you need to manage all the aspects of your site – publish products, control inventory, collect payments, manage the shipping, and sometimes give discounts or prizes. With WordPress.com, you can do all of this but, you have extremely limited options there. You have to pay for the third-party e-commerce tools, whereas in the self-hosted platform, you can use the free e-commerce applications available to the users like WooCommerce.
– Advertisement: WordPress.com display ads on all free accounts. If you don't want to face the ads, then upgrade to a paid plan or, you can always go for the ad-free self-hosted WordPress.org option.
Anything good that comes for free makes me a bit cautious in the beginning. WordPress is free, though there are paid plans as well. The main difference between both versions in terms of costs is how much you are going to invest in the growth of your site. If you are a blogger with no plans to expand or monetize, then WordPress.com is the right choice for you. But, if you are a serious blogger and want full control over your site, then go with WordPress.org.
2. Customization and Designing Options
WordPress is a popular name for blogging over the Internet. Like other bloggers, you think that both flavors of this platform are same, correct?
What changes one version from other is their customization and designing options. In WordPress.com site, users of the free plan can only install themes from a limited collection. It doesn't allow the users to upload the custom themes. Only the users from premium and business plans are allowed to use custom CSS. It is one of the big downsides of WordPress.com.
On the other hand, WordPress.org lets you design your site as needed. You can pick any of the free or premium WordPress themes. Plus, you can also create custom designs with PHP and CSS. With this self-hosted WordPress version, you can extend your site's functionality by installing free, paid, and custom WordPress plugins.
The users on the fully hosted WordPress.com aren't lucky at all. Whether the users are subscribed to free, personal, or premium plans, they don't have the ability to install third-party plugins. It could be a good or bad thing. If you use plugins responsibly, there are so many chances to enhance the features and functionality of your WordPress site. And, if not used carefully, there can be some unsavory side effects. Once you learn how to use plugins properly, nobody can stop you from growing your site.
3. Hosting Features
One key difference between both versions of WordPress is who will do hosting and who will pay hosting cost. WordPress.com is for those users that are not interested in hosting or maintaining their sites. WordPress takes care of their updates and backups and, the placed ads pay for it. If you want to avoid this, you always have the option to upgrade your current plan to personal, premium, or business plans. In this way, there will be no ads shown but, you surely have to pay the cost for the hosting.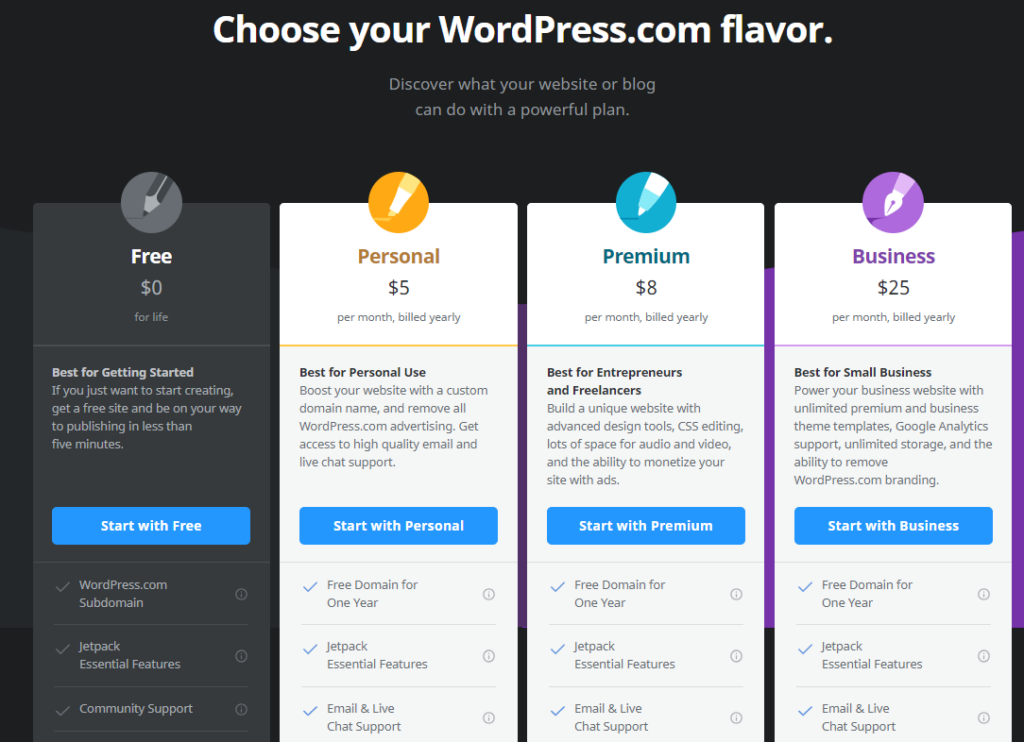 If you go for WordPress.org, also referred to as self-hosted WordPress, you have to pay for the web hosting to the host to place your site at their server. It usually starts for as little as $5/month and comes in a complete package of unlimited storage space, increased traffic, access to all backend code and databases, free domain name, email hosting, plugins, and a free of cost website builder with countless outstanding designed templates.
If your initial goal is simply to try things out, then WordPress.com is an excellent platform but, if you tend to grow your site and boost traffic, then self-hosted WordPress should be your choice.
4. Security and Support
Both WordPress versions lie on the same and basic level when it comes to security. On a WordPress.com site, you mainly get suggestions like enter a strong password and the option to active Two-Factor Authentication (TFA). In the same way, the main security risks for WordPress arise when people use weak passwords, unreliable plugins, and miss basic WordPress core updates.
Fully and self-hosted WordPress have different approaches for the support structure, but undoubtedly WordPress.org takes the lead again. Support of your site is your own responsibility but that doesn't mean you are on your own. The self-hosted version has a support forum where others help you out who have probably faced such issues before you. Then, there are many sites which share helpful information on WordPress problems. Many professional freelance developers are available to help you out when you can't solve a problem on your own. Last but not least, you can check out the WordPress Codex and handbooks which contains clear information on how WordPress works.
Besides, WordPress is itself well-maintained and supported. There are some providers that offer better Content Management System-specific support than others, but WordPress has officially endorsed these: Bluehost, DreamHost, and SiteGround.
Migrating WordPress.com to WordPress.org
As a result of our discussion, you have probably considered the self-hosted WordPress as the best idea for long-term growth. Possibly, you have spent considerable time on WordPress.com, personalized your site, and spent hours to create compelling content for your readers. But now you are growing a bit and have realized that it is the right time for the switchover. The migration thought comes as no surprise seeing that you must have some good reasons to do so. Follow the step-by-step process below with which you can migrate from one hosting provider to another easily.
1. Export your data from WordPress.com
First off, you need to log in with your WordPress.com account and open the dashboard. On the WordPress dashboard, you'll find the Settings sidebar menu where you can select the content you want to export. There are multiple options available which include Posts, Pages, Testimonials, Feedback, or Media or, you can also select the Export All option.

Then, select the option to generate a ZIP file containing your posts and comments which can be saved or imported into another WordPress blog. To export all the content of your site, select All Content and, the exporter will download the ZIP file in your computer. After that, your everything is ready to get migrated to a more excellent hosting provider.
2. Pick the Domain and the Best WordPress Host
When you don't have a domain other than the yoursite.wordpress.com, you need to register one. Many of the shared hosts provide the domain name in their packages. You can own that domain for one year or even longer with some providers, and they have the renewal costs around $10.
There are various features we look for while selecting a host, from which the basic one is to have the single-click installation for the WordPress software. Some hosts come with pre-installed WordPress. You may also find some additional features like auto-updates to the WordPress core, WordPress-optimized page caching for better performance, and the choice to host many websites using one account.
Many hosts provide shared hosting plans to boost the performance and maximize the use of the CMS, realizing the popularity and need of WordPress for both newcomers and seasoned developers. When it comes to WordPress hosting, Bluehost is the popular brand name. Then, there are Namecheap and Godaddy which have made their hosting hardware splendid by involving the effective solid-state drives. At the same time, there is GreenGeeks which offers its users plenty of configuration choices while providing excellent safety with auto-installed WordPress updates and domain privacy.
3. Setting up WordPress
As I have mentioned, there are some hosts like Bluehost that pre-install the WordPress. However, many of them come with the feature of single-click software installation using your hosting Control Panel, in most cases Plesk, cPanel, etc. Following are the steps to perform this activity:
1. Open your web hosting Control Panel like cPanel or Plesk.
2. Search for any of the two things below: 
a) An auto-installer app (for instance, Fantastico, Installatron, Softaculous)
b) A module with the title Software, Apps, or Scripts having the WordPress logo
3. Click on the WordPress logo. Follow the instructions carefully to set up the WordPress.
If you like to do your stuff by yourself, then use Codex (WordPress documentation) to learn How to start a WordPress blog easily (from A to Z).
4. Import your data into self-hosted WordPress
Once your WordPress importer plugin becomes active, you can import the data that you have exported from your WordPress.com site. Open your recently installed WordPress admin section which can be located at yoursite.com/wp-login/ or yoursite.com/wp-admin/, and sign in to begin the process.

Within your WordPress Dashboard, find Tools in the left sidebar and click on Import. You'll find WordPress configured in such a way where importing data from other platforms is quite easy. On visiting the Import page, click on the Install Now button.
5. Redirect users to your new domain and make your WordPress.com site private
If you never had the loyal audience at your WordPress.com site, then you have a choice to set it private. To do this, go the Privacy section in Settings under the General tab. Set your site visibility to the private mode by selecting the Private option and save the new settings.
As another option, if you have some user following on your former site and don't want to leave them hanging, then you should redirect them to your new WordPress site. To redirect users to some new location, there is a standard solution called the 301 redirect. With this solution, the users, visitors, and search engines are informed that the URL they are trying to visit has permanently moved to some other address.
WordPress.com provides this functionality with its paid upgrade feature named Site Redirect that costs $13 annually. It adds the 301 redirect that redirects all your visitors and search engines to your new account. Keep paying for this feature for 1-2 years as it would be enough duration for your visitors to memorize your new domain. Whenever you think of canceling this feature, you can delete the upgrade from your purchases in your WordPress.com dashboard, and follow the steps to set your former site private.
Conclusions
Just like everybody, I use WordPress to power my website and, you should use it too! WordPress comes with different versions, but which one is suitable for you is totally up to your long-term goals for the online presence. If you are a hobby blogger or need a static website, then WordPress.com is completely sufficient for you. It is free and easy to set up and, you get ample options to personalize your site.
However, if you run a business, plan to make some money with your web presence, or want to build traffic, then it is recommended to use self-hosted WordPress.org. With this version, you have the flexibility and freedom to grow your site in whatever way you want. Whenever you feel that you have made a wrong choice, you can move from the .com version to the .org by following the steps discussed above.
***
Looking for fast and simple way to transfer your WordPress.com to WordPress.org? Contact aisite Support Team to get every bit of help needed 24/7 and even more!