Editor's note. Today, we proudly present the new interview with WordPress Ninja, web expert, and outstanding personality  – Syed Balkhi. Being the founder of WP Beginner, List25, successful entrepreneur, and charismatic person, it's a great pleasure for us to take a glance into the timeline of his professional growth. So, here's Syed's  insight. Enjoy!
1. Syed, you are so many-sided personality: online marketing, web design, web development, public speaking. Seriously, it's pretty difficult not to be amazed! So, what is this driving force that makes you conquer the peaks of so various spheres? What are your sources of inspiration?
When I started out on the internet at age 12, I didn't have the money to hire experts, but I had all the time in the world to learn. I learnt each trait as needed to grow my business. I was always good with drawing, so the designing part came really easy to me. Because of my passion, I would spend hours creating different design elements on Photoshop just for fun. As I learnt more, I realized that my designs are nothing without the code which forced me to learn how to code. It was a big trial-and-error experiment.
Online marketing was just a by-product of creating a website. I learnt it as I went along because once you have a website, you need to get visitors. I read blogs, forum threads, and experimented some of my own.
Public speaking was the hardest for me. While I'm not shy when having a group conversation, something about speaking to a large crowd made me nervous. I think part of it had to do with the fact that English was not my native language. Several of my high school teachers worked with me on that, and I improved there as well.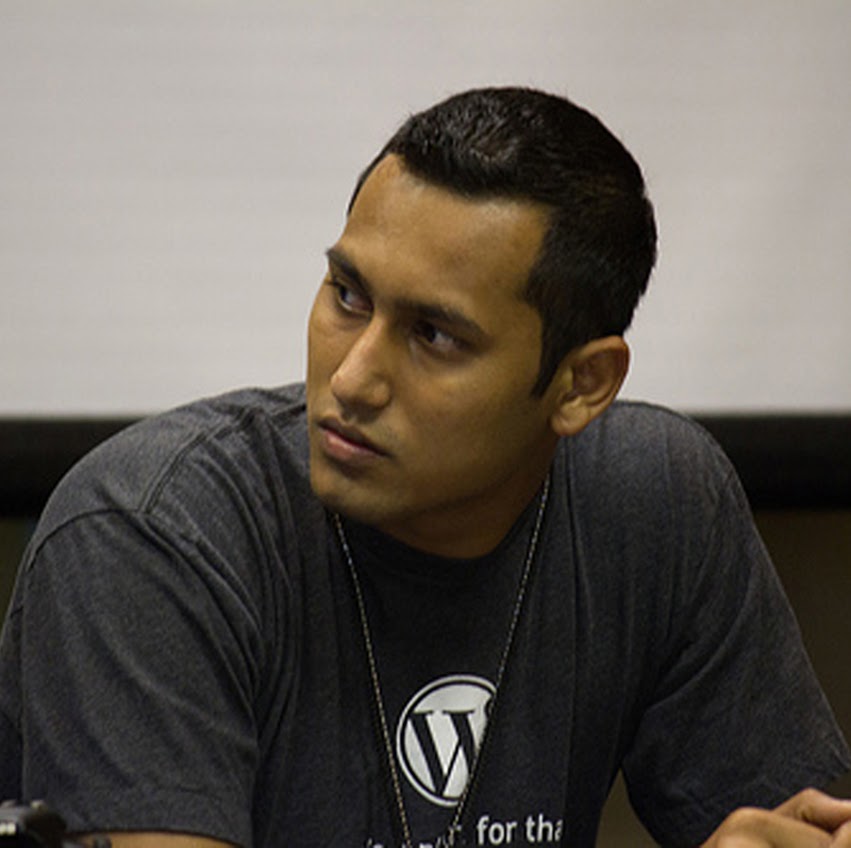 2. One of your great projects is WP Beginner, a WordPress resource site. What made you launch this website? What actually is the formula of its success?
I launched WPBeginner because I found myself answering the same questions over and over for my clients. At the time, there was no other site offering free WordPress resources. Majority of the sites were by developers for developers. I think a lot of it's success is due to timing. Other developers started sending their users over because they finally found a good resource. Word of mouth is powerful 🙂
3.  What was your first web project made on WordPress? Have you faced with any difficulties when you started using this CMS?
My first WordPress project was a blog in 2006. It was an addition to a web directory that I ran. After that I used WordPress to add blogs to my arcade sites and so-on. When I first started using WordPress, it wasn't a fully-featured CMS. We didn't even have post thumbnails at the time. A lot has changed since then.
4. Syed, do you think that WordPress is the universal solution for any type of website or people should choose their future CMS accordingly to their site purposes and targeted audience? Have you tried any other CMS?
For majority of websites, WordPress is your best bet because how easy it is to use. I can hand it over to a client and train their team to publish content. They don't need to know HTML or any code. Simply use the writing panel along with meta boxes that we add to extend the functionality.
I used Joomla a while back, but haven't tried anything else since then.
5. As the WordPress Ninja, could you advise what are the must-do things a website owner should proceed with when the WordPress site is up?
While there are several things that you must do, the most important thing I recommend is put a good backup system in place. I recommend VaultPress.
6. Once you've mentioned that you decided to switch all your clients from static website to WordPress. So, what were the major problems of website data migration?
I think importing content from a static HTML site was the big thing at the time. I had to do a lot of manual data migration.
7.  What do you think about the automated website migration? Could the automated technology command loyalty of programmers?
Automation to an extent is good, but in more complex sites it's just not feasible. In custom sites, programmers still have to do specific checks. Also a lot of this has to do with trust. When you use a third-party automated site migration platform, you're putting your reputation at risk because the client came to you. Should something go wrong, the blame will be on you. I think this is the primary reason why a lot of programmers try to do things manually to ensure everything goes well (or use an automated script that they wrote).
8. Syed, today, more and more website owners are willing to switch to WordPress. What will be your recommendation on making this properly and quickly?
Yes I definitely see a lot of website owners willing to switch or start with WordPress. Often their current websites are so outdated that it is almost better to have a fresh start. But again that solution might not be for everyone in which case there is no way to give generic advice. The decision would have to be made based on their current needs and budget.
9. So, ending our interview, would you be so kind to lift the veil of your future plans, projects, and undertakings?
Right now my focus is on OptinMonster, a WordPress lead generation plugin. I'm also trying to reach 1 million youtube subscribers on my List25 site. Last but not least, we launched a WordPress glossary which we're continuously adding more terms to.
Syed, thank you very much for this inspiring interview with us! It was a pleasure to cooperate with you and get this expert's insight.
So, if you have any thoughts or questions on this topic, you are welcome to share them below in the comments, we'll happily respond you.