While speaking about the content management system for your website, you may be interested in what they can offer to you. Honestly, it's pretty difficult to choose CMS for your website data. So, let's talk about WiX and Joomla, as they are considered to be one of the most popular platforms. This article is aimed to present to you the main features and opportunities, pros and cons of these platforms.
WiX vs. Joomla
WiX is a coding-free website building instrument, which allows you to create a website and blogs. To manage this system you don't need to know any extra programming knowledge as there is a drag-and-drop dashboard. Furthermore, WiX presents to your website a huge collection of templates. But, definitely, you should make a point before choosing one because you could not change it.
Pros:
It's very easy to use. Also, it offers almost unlimited creative freedom. WiX users drag any element anywhere on your page. 

500+ various themes, different levels of quality. Some of them look a bit out-dated, but you can find everything you need at the beginning of your way.

Wix is available for free. But you'll see its name in your domain. 
Cons:
There's no structure holding you back, and it could cause many problems. If you add too much text, all the elements below will move further down. And after removing this text, the elements won't come back up again. So, fixing that can take a large amount of time if your page is long. 

It will not be enough when your website gets bigger. A blog or business website – it doesn't matter; everything needs improvements. 

Using Wix, you can't change the template you chose at the beginning without losing all of your content. Because if you decide to change the theme and continue to use WiX – be ready to remake the website from scratch.
Joomla is an award-winning CMS, which gives you a possibility to create not only a website and blog but even powerful online applications and e-stores. Joomla is a more SEO-friendly platform. In contrast to WiX, this content management system allows its users to change the templates anytime. Moreover, if you give preference to Joomla, you will be armed with a huge collection of extensions that simplify your management and make your site highly functional.
Finally, if you decided to convert WiX to Joomla and now you look for a way to change your current platform, check-up aisite automated migration guide to make your switching like a breeze.
Pros:
Open-source platform. It allows modifying code without any problems. 

Supports e-commerce. There are a couple of extensions that will support e-commerce tools. 

It is super easy to edit. You can write a blog post and then edit the structure and content in a few moments. 

This platform gives the average person a couple of advanced management tools. But developers still can find it useful.

It's easy to take advantage of marketing strategies. Joomla provides a possibility to adapt the site to the fast-changing world of SEO.
Cons:
This may make it difficult for someone to incorporate custom designs. With detailed learning of the platform, this negative side can be removed, but time is just as valuable as money when talking about taking a website live.

This platform has a limited marketplace when it comes to setting up modules to your site. You can still customize your website easily, but it can be hard to find something specific when you need it. Also, it could be difficult to install and maintain it immediately, like you can do it using WordPress.

If a website receives thousands of content every day, this platform can have a bad influence on your server parameters. 

This platform offers several modules, templates, and plugins available, but some users may find that it isn't enough to create exactly what they want.

Some of the plugins for this platform can have some compatibility issues. Unless you dig into the PHP code to make changes, it may be difficult for some to gain access to the full functionality of their desired plugin.
Video Tutorial of Fast and Precise WiX to Joomla Migration
Migration Steps
By following these simple steps you will be able to migrate your data from WiX to Joomla effortlessly and quickly.
Step 1
First of all, you need your aisite account. You can use your Facebook or Google account for signing up to aisite.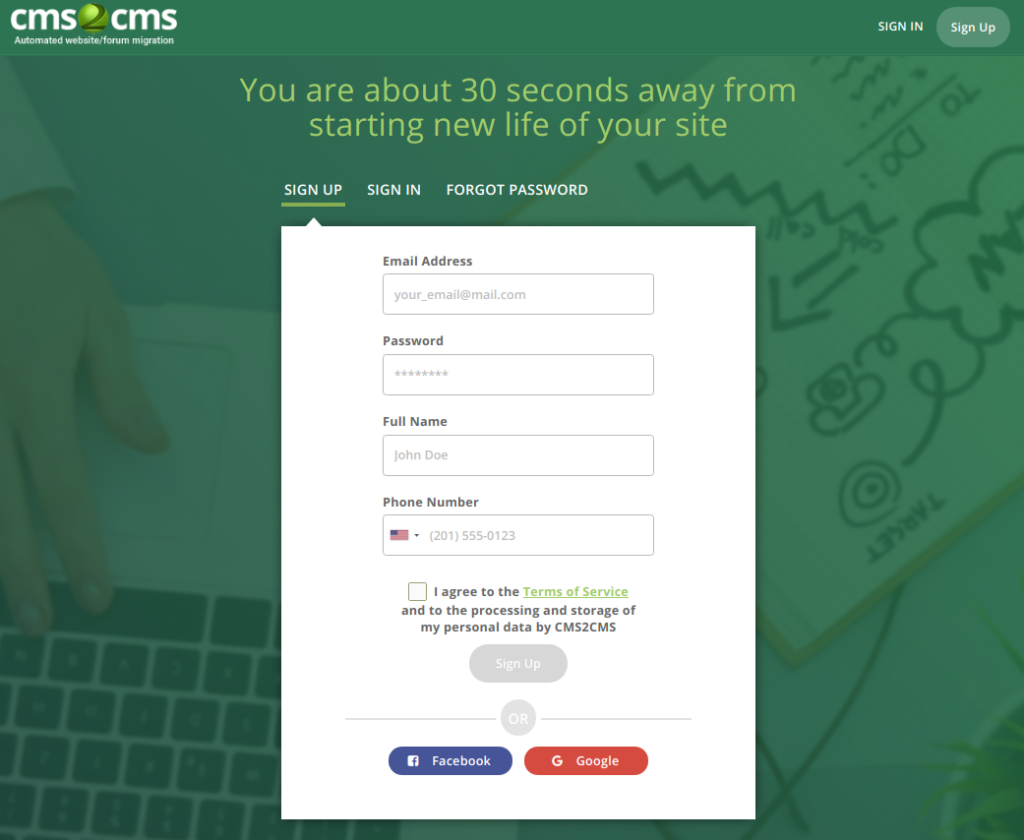 Step 2
Choose Wix as your Existing platform and specify the website URL. Press "Verify connection".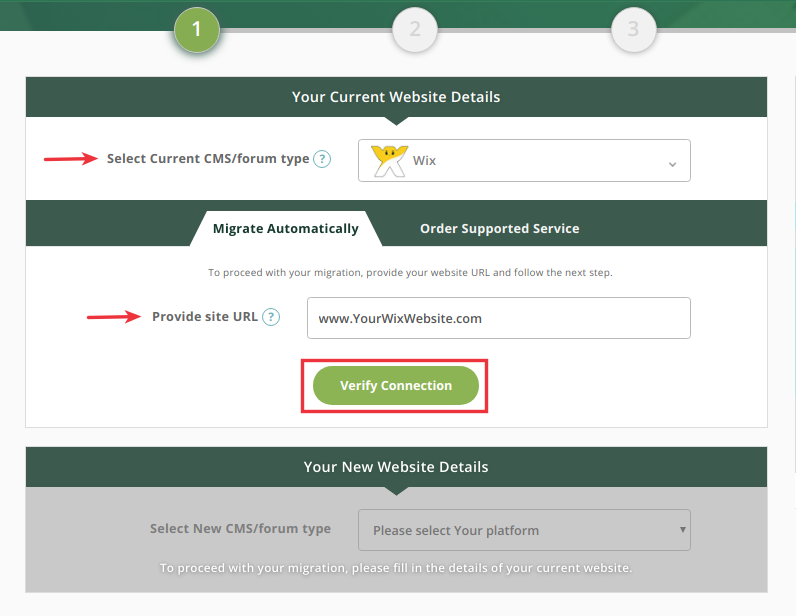 Step 3
Сhoose Joomla as your Target CMS platform and provide its URL. In case, you don't have your Joomla website yet, you may transfer all your data to the aisite Test Site and see how it looks.
Now, you have to establish the connection between your Existing and New websites. To proceed with your migration, please read this detailed guide to Connector Extension usage or watch the video beforehand.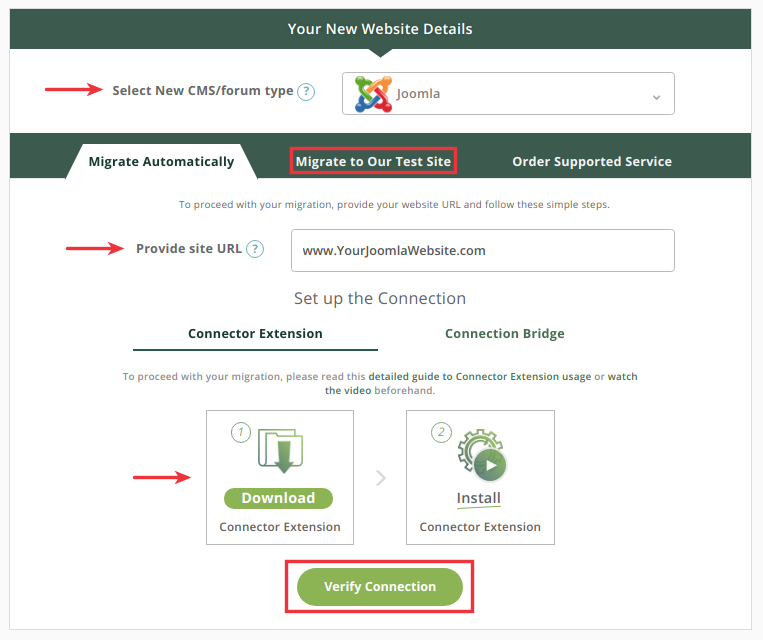 Step 4
When the connection between your websites is set, select what data you want to be transferred to your New Joomla website. Choose the entities you wish to be migrated and additional options if needed. After that, you can run Free Demo Migration to estimate the results first.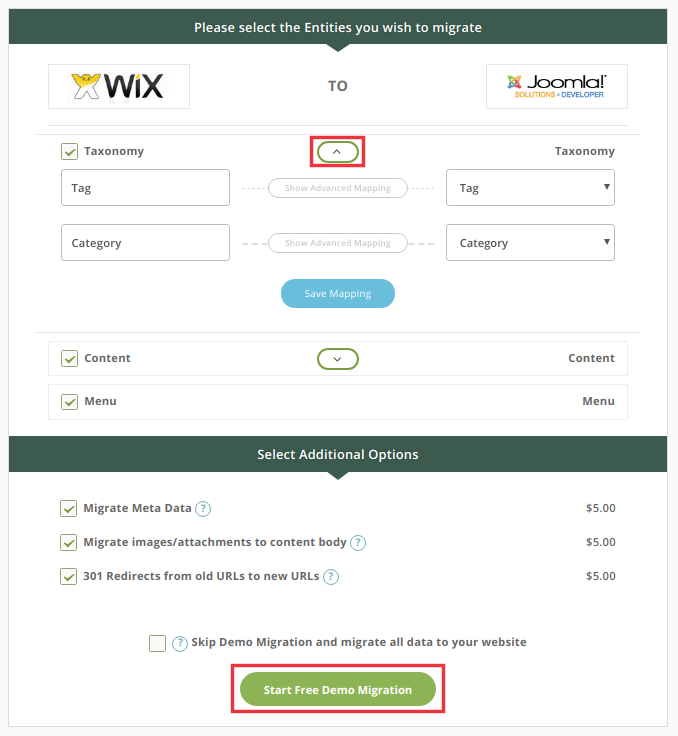 Step 5
And, the only thing left to be done is to complete the migration. Select the additional options needed, choose the migration insurance, check how much it will cost and get the migration going, by clicking the "Complete Migration" button. If you have the discount coupon, you'll be asked to provide the code to get the discount – just use "I have a coupon" option for that.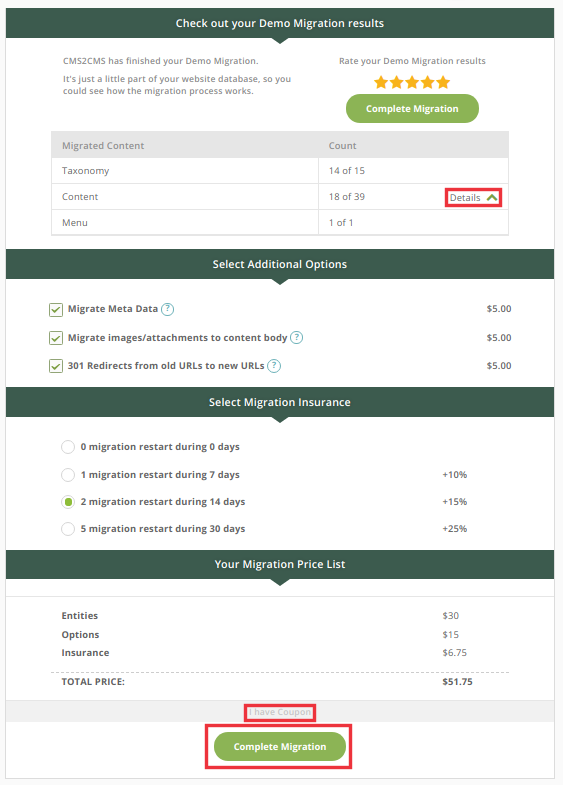 That's it! Now you are a happy owner of Joomla-powered website with all your WiX content on it. Check the results!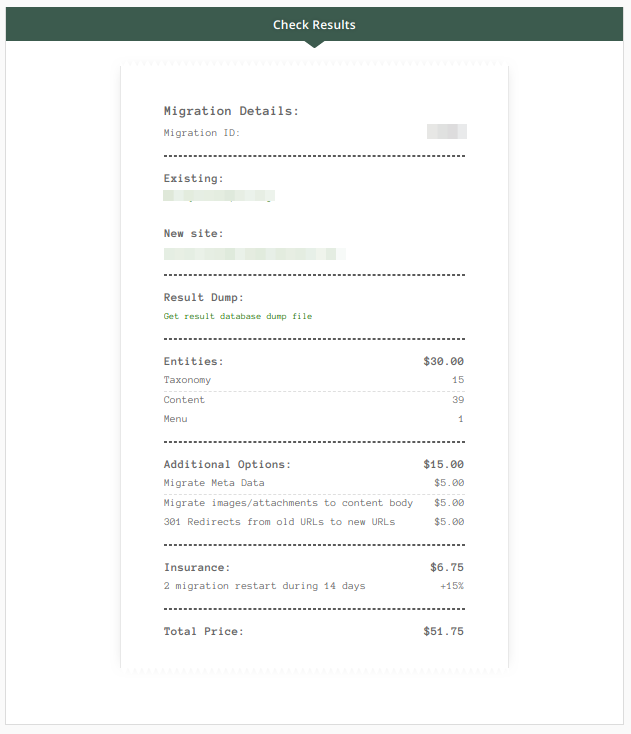 Can it be easier? Finally, when you are fully armed with all the necessary information concerning the WiX to Joomla migration, it's high time to act. Start a Free Demo Migration and you will see that aisite moves your data from WiX to Joomla quickly and smoothly.