You know, simplicity is not always something unpresentable and plain. Sometimes, especially in terms of CMS platforms, modesty is the way of on-the-spot website management, fast operations that are accompanied by advanced site performance.
That is why simplicity and WordPress are those phenomena that follow each other all day long. More and more website owners are willing to have a fling with this content management system. And it's not for nothing! Transparent and understandable operation, intuitive dashboard, easy and fast website optimization: all this is not an exaggeration, not one jot or little.
So, if you are one of those who want to feel the breeze of site management, we are going on with a set of step-by-step tutorials. We would like to present to you the ultimate way on how to do TYPO3 to WordPress migration. Distinguishing the accurate and lightning-fast procedure to the highest priority, follow this diligent guidance to make everything invisible.
TYPO3 to WordPress Plugin Converter: Keeping Content and SEO Forever
Download the Plugin
To start the TYPO3 to WordPress migration via the migration plugin, go to aisite Plugins Repository and download TYPO3 to WordPress plugin.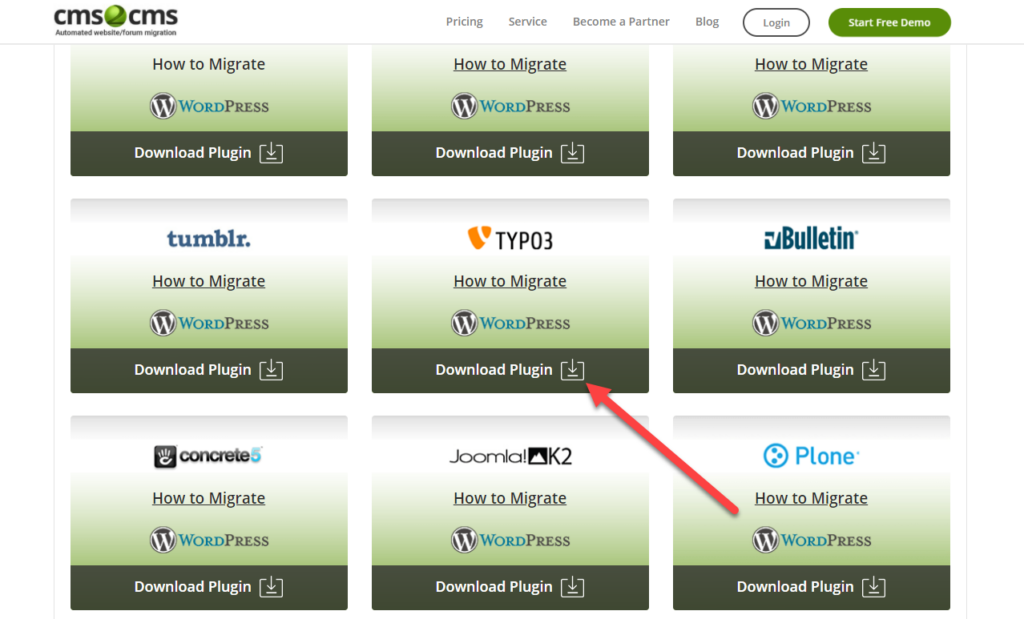 Upload and Activate the Plugin
After you've downloaded TYPO3 to WordPress plugin converter, go to your WordPress admin panel, and upload the zip. file.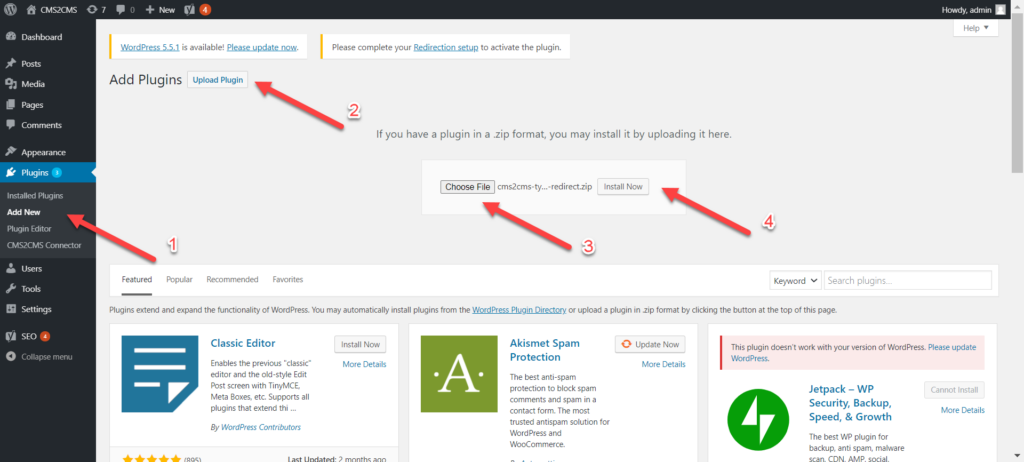 Activate the plugin.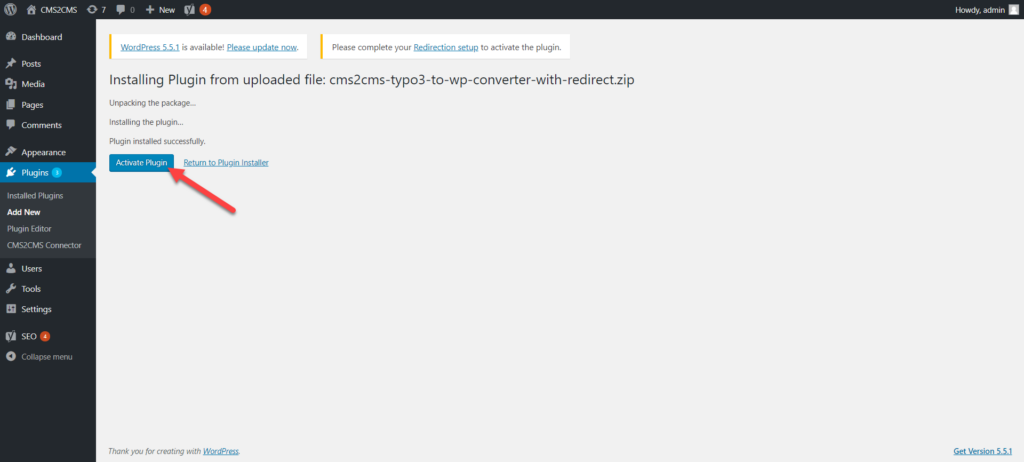 Register an Account
Go to the Plugins section of your WordPress admin panel, and choose TYPO3 to WordPress plugin from the list. Log in to aisite, using your registration credentials, or create a new account, in case you don't have yet.
Connect to TYPO3 Website
Now, you have to establish a connection to your Current TYPO3 website. For this, download a connection Bridge and provide your TYPO3 site URL address. Press 'Verify Connection' button.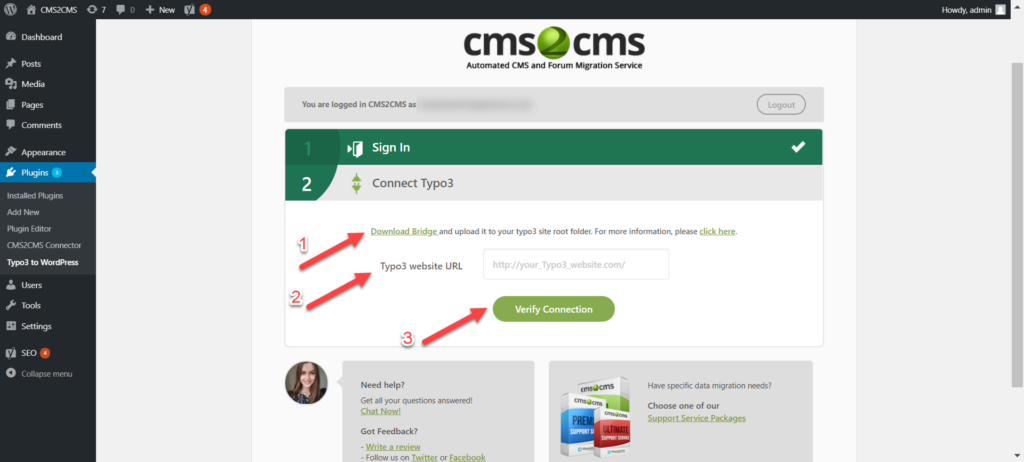 Re-check TYPO3 Website Details
Then, you will be redirected to aisite Migration Wizard, where you can continue TYPO3 to WordPress migration. Re-check the TYPO3 site details, and press 'Verify Connection' button.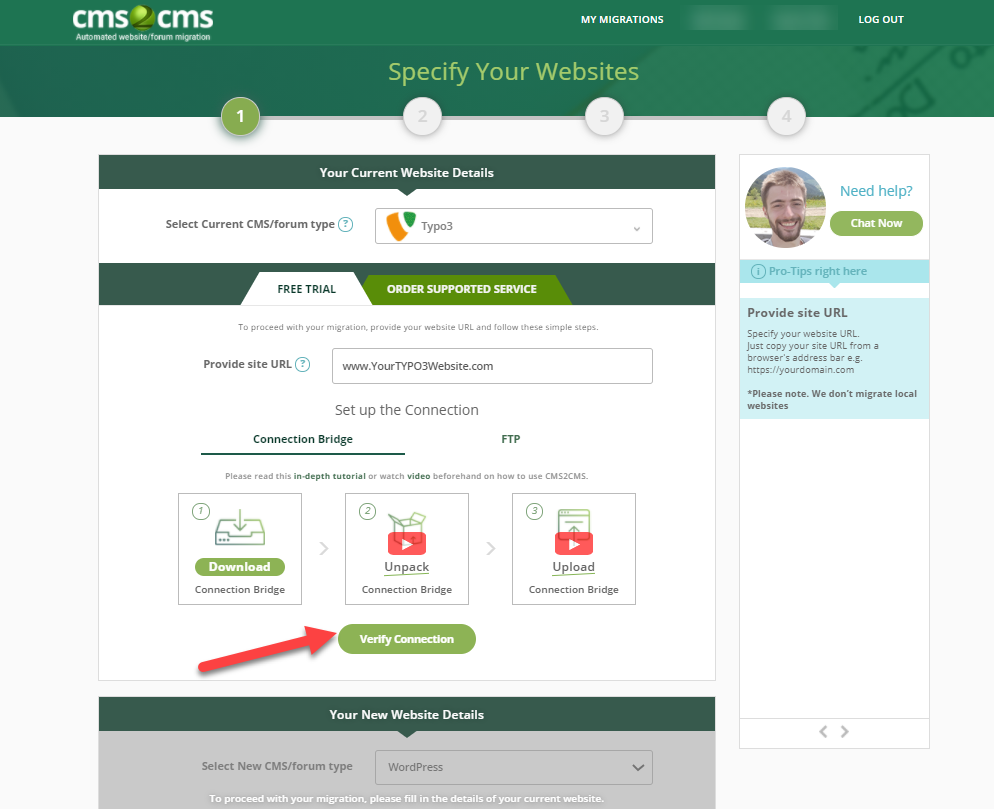 Re-check WordPress Website Details
Now, please, re-check your WordPress site details (URL address, Admin login and password), and install the Connector Plugin in an automated way. In case you want to do it manually, tick the corresponding field.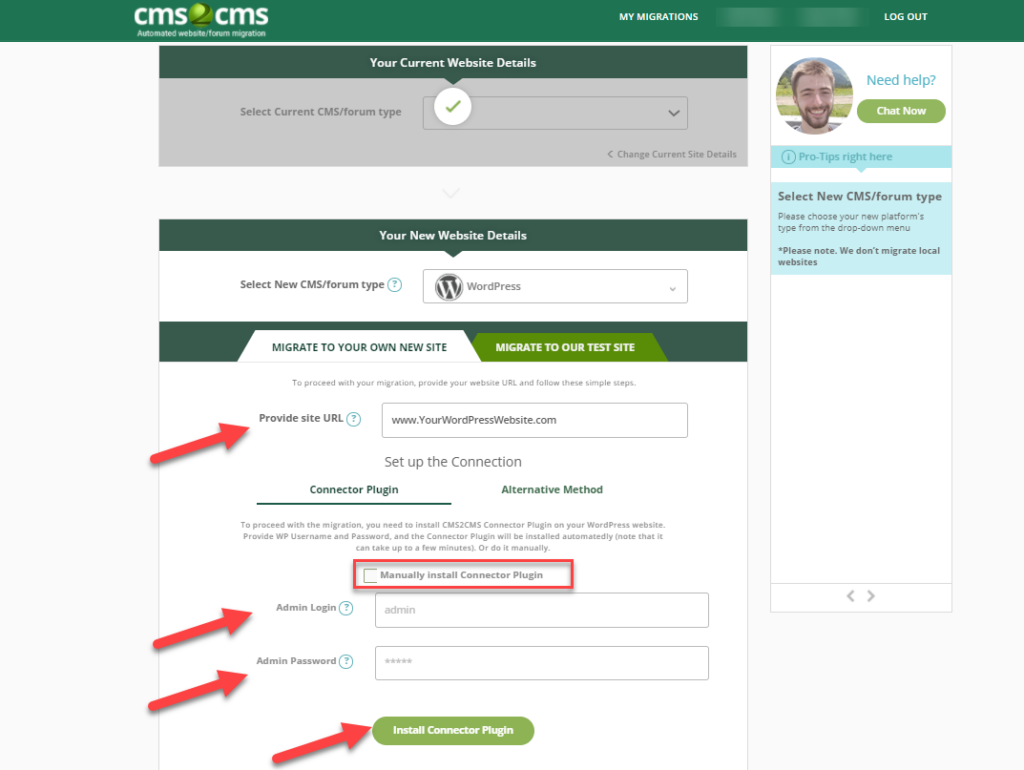 Run Free Demo TYPO3 to WordPress Migration
In order to let you preview the possible TYPO3 to WordPress migration result, we offer you to run Free Demo migration using TYPO3 to WordPress plugin. Choose what content items you want to move, map the content, and select the additional options needed.
Check TYPO3 to WordPress Demo Transfer Results
The demo migration is done. Have a look at the results.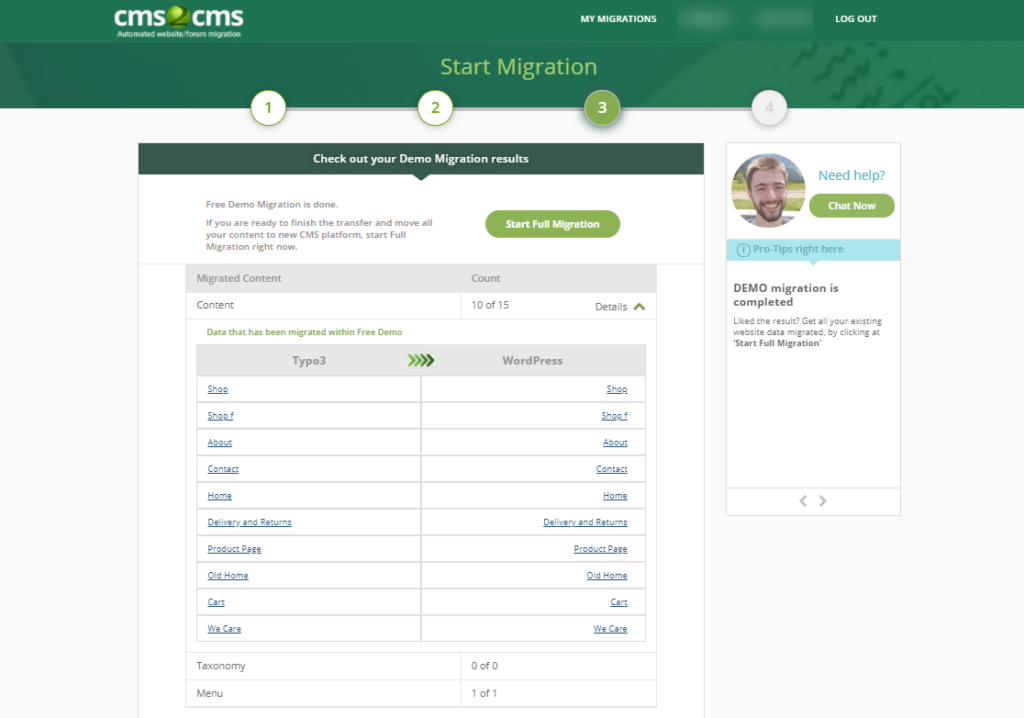 Migrate TYPO3 to WordPress Completely
Are you satisfied with the Demo results? Please, let us know what we can improve, by rating the demo migration. Now, you are able to move all your TYPO3 content to WordPress and finish the move. Select additional options, choose migration insurance, and go ahead.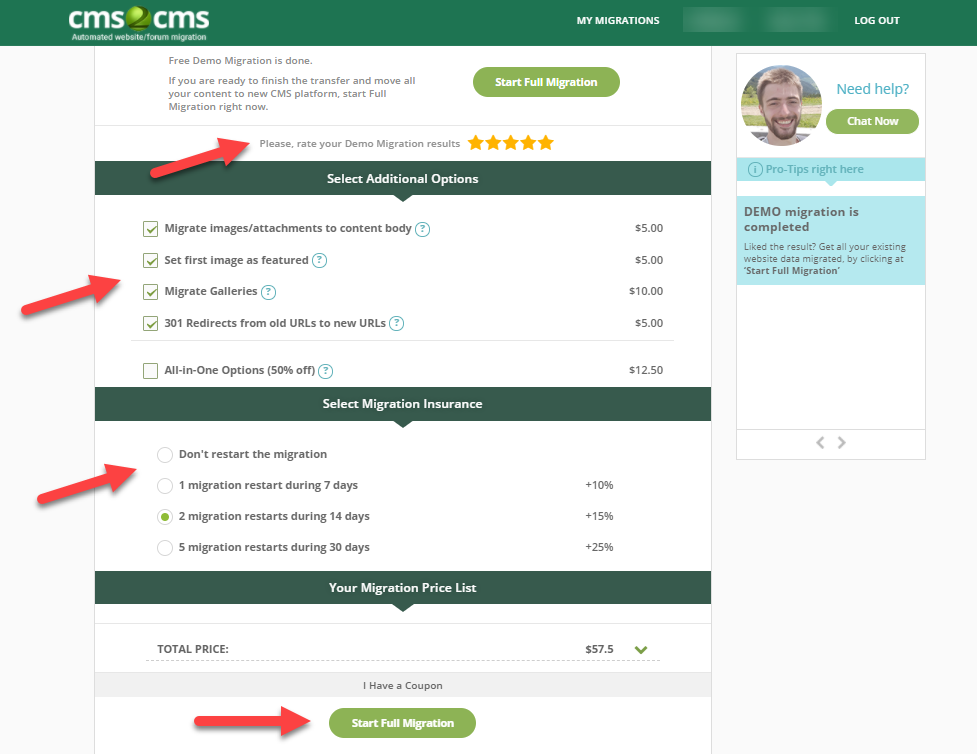 TYPO3 to WordPress Plugin Has Done Its Work!
That's it! How about a fresh website design for your newly migrated site? Or maybe you want to replicate your old TYPO3 website design on a new WordPress site? Just order Design Customization Service aisite offers, and we will count all your requirements.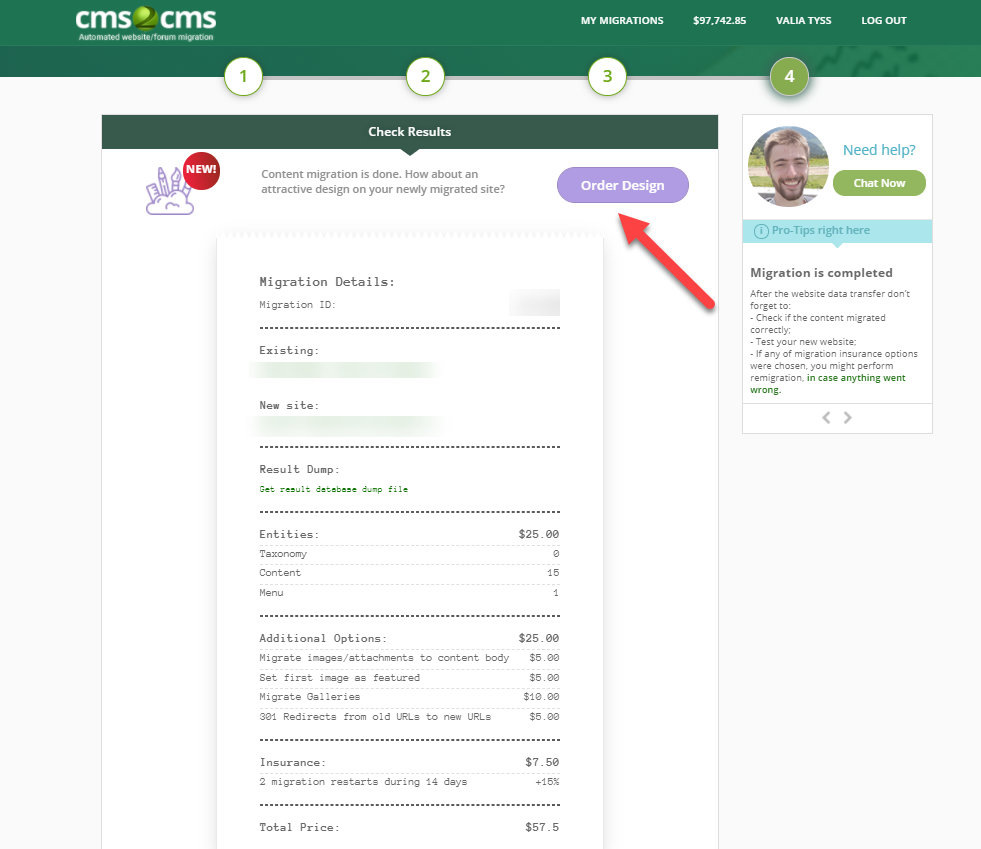 Prefer watching to reading? Then here's a few-minutes video tutorial on a fully automated TYPO3 to WordPress migration. Have a look!
Don't hesitate anymore!
With TYPO3 to WordPress plugin with redirects, you will perform the migration in a fast and safe manner. Start for Free right now and forget about long copy-pasting hours in from of the screen. It's time to move your business to the top!