If you find yourself confused and perplexed deciding between Typo3 or Joomla! – you've got to the right place. The post aims to compare these tools' strengths and weaknesses and if their strengths match your needs, then it would be easy for you to choose which is best.
In order to create a professionally-looking and highly-interactive website – users often turn to Typo3 and Joomla! to get the job done. Both are very popular content management systems (CMS) that currently power millions of websites all over the globe. Despite the fact that the platforms have something in common – generally they are vastly different software packages and giving preference to one or another completely depends on your website goals and your personal programming background.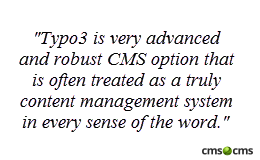 Typo3 is very advanced and robust CMS option that is often treated as a truly content management system in every sense of the word. Its unlimited functionality allows to develop and maintain websites of any complexity, however, the platform certainly shines in building more complex and expanded web applications. The platform is highly customizable – with the help of extensions you can make a website be what you want it to be. However, there is one huge negative about Typo3 that makes it a real nightmare for some users: it's developer-oriented framework. Its power and functionality is hidden away for developers to customize it. The learning curve of the platform is extremely steep and you need to have a strong programming skills to take full advantage of the platform.
Joomla!, to the contrary, is currently listed as one of the most beloved and used platforms worldwide which is trusted by millions of website owners and developers. "Joomla" itself means "all together" and it makes its best to live up to its name trying to cater the needs of all users (from newbies to experts). This is exactly where Joomla! has leapfrogged ahead of Typo3 significantly. Another key points and prominent features that make the platform unique are:
It's relatively user-friendly software;
It's highly flexible and customizable;
It delivers tons of extensions and modules;
It's well-established and supported;
It has strong security model.
In a nutshell, when it comes to Typo3 vs Joomla! – there's not one-size fits all answer. Both CMS options are really great if used in the right context. Typo3 might be an ideal destination for highly robust and expanded web applications, while Joomla! is the way to go for those willing to set up anything that looks good and works well with no long training required.
Got intrigued? Searching the way to move to Joomla!? Have a look at the prezi below and see how simple it is to convert your current Typo3 website data to Joomla! with the help of aisite service:
No more worries and hesitations! Catch this long-awaited opportunity and switch from Typo3 to Joomla! just now.