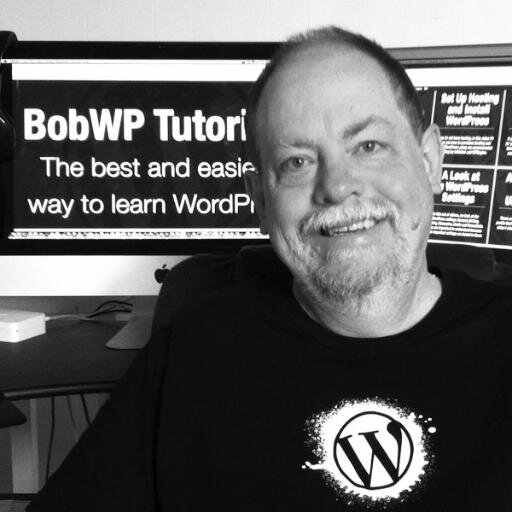 Editor's note: We consider that working with experts is a great way to gain instant inspiration and, therefore, boost up productivity. We have already interviewed an amazing line up of CMS experts and IT specialists. Continuing our conversation series with WordPress intellectuals – we have reached out for commentary to Bob Dunn, known as BobWP. He has been teaching WordPress for years and has recently launched a new website BobWP Learn WordPress dedicated to helping people learn WordPress.  
We are happy Bob shared his thinking, expertise, tried and tested practical tips with us. Ready to get inspired? Then, go ahead and enjoy reading this long expected interview with Bob WP.
1. Bob, what are the 5 things or facts about yourself you would like to share with us?
I owned a successful Design/Marketing company for 21 years.
My wife and I will have been married for 32 years this June. And a good chunk of that time we worked together, in our home, in the same office.
One of the very first things I did in the beginning of my entrepreneurship journey was drive one of those irritating-sounding ice cream trucks.
I'm a pretty optimistic guy and always look for the good in people. Don't really measure this on the glass half full or half empty. Just glad there is something in it.
I always have one computer monitor dedicated solely to Tweetdeck.
2. You have started with WordPress in 2008. It is a quite long time. So, how did your WordPress story begin? Why did you choose this CMS to work with?
I had been doing static html sites for clients, off and on, begrudgingly, since the late 90's. When I discovered WordPress in 2008, all I could think was WOW. This made the design of sites so much easier and, of course, with the right training, gave clients more control over their own sites. It was a no-brainer for me.
3. Definitely WordPress is your favourite CMS but are there any other CMS platforms which you can suggest to your clients besides WordPress?
If I feel WordPress might not be right for a client, I'm up front with them. But my experience is very limited in other CMS platforms, so I am reluctant to make recommendations. And as it goes, I am finding fewer and fewer situations where WordPress is not a good fit for a client.
4. Bob, in your tutorials you make lots of interesting comparisons (with a car, a book, etc). So, here is a question: How can you compare WordPress to other CMS platforms?
There really isn't a perfect analogy here as I still think it depends on your needs, and what you are comfortable with. Hmm. Wait, Maybe I'll go  wonky here and say we can think of WordPress as a Mercedes and all the other content management systems as Yugos.
5. You as a WP coach with a considerable experience, have made it clear that it is easy to start a website on WordPress CMS but there are some difficulties during the management. What can you advise the WP newbies? What are the first 5 steps after starting a site on WordPress?
Actually, I think the fact that it's easy to start a website with WordPress is highly overrated, but that's something for another discussion.
Once you have your site up and running I would suggest these five things:
1. Make sure you have some basic security in place (or that your hosting company is taking care of that for you).
2. Do a run-through and make sure all navigation tools and links are working.
3. Get a second or third set of eyes on your site from someone you trust.
4. Make sure you have a reliable backup system in place.
5. And lastly, remember, your work has only started. Keeping your site fresh, updated and growing is a must. Think through everything you will need to do and whether it's realistic to take it all on yourself or perhaps it's time to get some help.
6. You are a WordPress expert and you are definitely asked a lot of questions. That is why, could you please provide a few most frequent ones of WordPress beginners?
What is the difference between a post and page?
How do I use categories and tags and why should I use them?
I uploaded WordPress to my computer. Now what do I do?
I don't know code. What changes can I make to my theme?
I could go on and on and on here.
7. WordPress is an extremely popular CMS and more and more people tend to migrate their sites to this platform. Do you have the experience of a website conversion?
When I was doing design, I did some simple conversions. But to be honest, my experience is limited there and I leave that to my designer and developer pros.
8. Could you give some recommendations on making the migration process successful?
Find someone who knows what the heck they are doing. For example, moving a site from Typepad to WordPress is a specific animal. Search out someone who specializes in that.
We are very thankful to BobWP for his time and the privilege of having an interview with him. Left with additional questions? Any suggestions and comments would be much appreciated in a section below.
P.S. Feeling inspired to switch to WordPress? Have a go with aisite automated migration service that will transfer all your data from your current platform to WordPress error- and trouble-free. Furthermore, as BobWP assumed – it's important to have an appropriate hosting company for your WordPress website to be secure. You may turn to Inmotion Hosting to get the job well done. So, take this chance and see how simple it is to move to WordPress with the help of aisite.