Gone are the days when WordPress was associated with blogging. Though it indeed was the platform's original intention – WordPress has matured greatly in the last few years and is now an incredibly flexible platform not only for content management, but also for web design.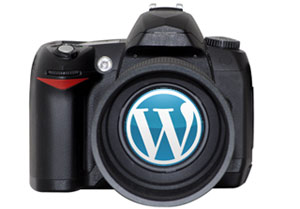 The saying "Your website is your business card" does ring true in case of photographers who have to work hard to establish a critical difference between their work and the Joe next-door. WordPress provides one of the most easy-to-use content management systems for photographer pros, up-and-comers, and is one of the most innovative ways to showcase the art behind the lens. Unfortunately, many photographers do not utilize WordPress to its full potential and end up missing out on more clients, an enhanced brand awareness and overall development of a strong online presence. Let's outline the top 7 mistakes photographers make when using WordPress:
Non-Readable Image File Names
Generally, people keep images (that they have previously uploaded to their websites) with the default name. Instead of using generic names or the automatic numbers assigned by the camera (like DSC1001-0980.jpg, Image1.jpg, 20121029-003.jpg), it is much better to assign file names using descriptive keywords. The descriptive texts are readable by the search engines and show up higher in the search results when people search for those types of image. It is strongly recommended not to go over four key words, and always use a dash (-) and not a blanks space (as a dash increases visibility by 20%). To reflect that, you can optimize the file name as the following: sunrise-downtown-ann-arbor.jpg, grilled-catfish-photo.jpg, halloween-costume-2013.jpg.
Choosing the Wrong Image Size
Uploading images to their websites, photographers often struggle to find the right balance between quality and optimization for better loading speeds. Because the original images are often large in size – if upload them to WordPress, they will definitely slow down the website loading speed, which greatly affects website user experience. Resizing images to the maximum size usually leads to giving up the ability to fully showcase a photographer's talent. As a result of this dilemma, most photography websites have images that are either too large or too small, either one of which can have a negative impact on the online portfolio. As a solution to this problem, WordPress has multiple plugins aiming to  prepare the images for the Web without sacrificing any visible quality, starting with the popular Smush.it plugin. Such plugins have been specifically created to do all the work, saving a lot of time in the end.
No CDN Service
What website owners don't want is for their users having long waiting periods while the photos or videos are downloaded. Using Content Delivery Network is targeted at providing a team of servers located around the world with copies of the static media content. To integrate a CDN service within a website, you can choose a CDN optimized web hosting, which offers the best WordPress hosting solutions with free CDN service.
Website Is Not Cached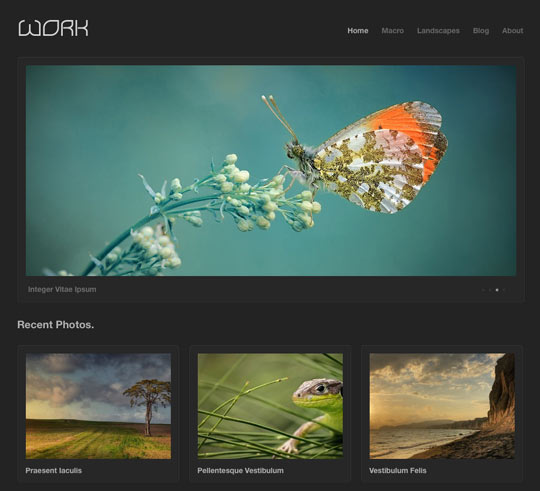 Needless to say that slow loading website could negatively hurt a photo business. Photography websites usually are shipped with a huge amount of high quality images resulting slow loading pages. By utilizing a cache plugin and creating a cached version of a  website, it is possible to increase a loading speed to be 10x faster. Thankfully, there are plugins for that like W3 Total Cache plugin, which is one of the most popular cache plugin used by more than 3 million of webmasters. It aims to greatly improve the user experience of a website by increasing the overall site performance, caching website content, reducing the download times and offering transparent content delivery network integration.
Forgetting to Assign Featured Images
WordPress has a feature that many photographers fail to use. It is called "Featured Images," that means assigning specific posts, pages and galleries to be featured. Tthe importance of Featured Images should never be underestimated by photographers ,'cos it represents their portfolio to the world, like the cover of a book. Unlike images that are inserted onto the portfolio, Featured Images will move around your site and appear on everything from the front page slider to the wee thumbnails that appear in Recent Images lists. Representing the contents, mood, or theme of a post or page, a Featured Image greatly enhances the presentation of a site. In case you want to set them automatically, Auto Featured Image plugin can manage that task effortlessly.
Using
Fl
ash
With the explosive popularity of mobile devices over the last decades, it's become normal to see many Flash based photo gallery websites on the Internet, which indeed looks gorgeous to have some dynamic interaction. However, Flash is just like a black box for search engines, they can't be searchable. Besides, Flashes are not readable on mobile devices such as iPhone, iPad, and Android that can probably lead to losing out on reaching new potential clients if you use flashes in your website.
Igno
ring
SEO
One more thing to be mentioned here is that photographers often think that as long as the image looks good, that's all that matters. The truth is that search engines have a difficult time interpreting the content of images that's why assigning alt and title attributes has become of crucial importance for successful online presence. Bearing in mind that people who have image loading disabled in their browsers or who are waiting for the image to load if their connection is slow will see this text in its place – make sure to give a photo a brief but descriptive name before uploading it. Remember that titles should be no longer than three to four words with dashes to be far more preferable to use instead of empty spaces.
Final Words
If used correctly, WordPress can develop a strong online presence for a photography business and therefore, launch a photographer's career to the next level. So, make sure to avoid all aforementioned mistakes to get the most out of the WordPress website.
WordPress sounds like a perfect choice for your online presence? Don't dally any more – migrate to WordPress with aisite service right now.