For now over 30 trillion pages are being indexed by Google. This is a very huge number, and because more and more people create their blogs, company pages and other web-projects every day – it's permanently growing. One of the main things to consider before the start of a website is the choice of the proper CMS. Joomla is a powerful solution for web-development that comes packed with all bells and whistles to make a site popular and user-friendly. However, the sky's the limit for improvement, and Joomla also has a space to grow. A big variety of extensions can help to extend your Joomla website functionality behind its original purposes and make it suit specifically your needs.
So, let's take a closer look and find out what are TOP 5 Joomla extensions to start with.
#1 Extension Joomla Content Editor
Out of the box Joomla doesn't have a WYSIWYG (What You See Is What You Get) editor. That is why developers are looking for the solutions to make content editing easier. Joomla Content Editor includes all the necessary features allowing to improve files, images and other media managing. Moreover, for non-techy it provides an opportunity to edit a site without an involvement of a programmer.
#2 Extension Extended Menu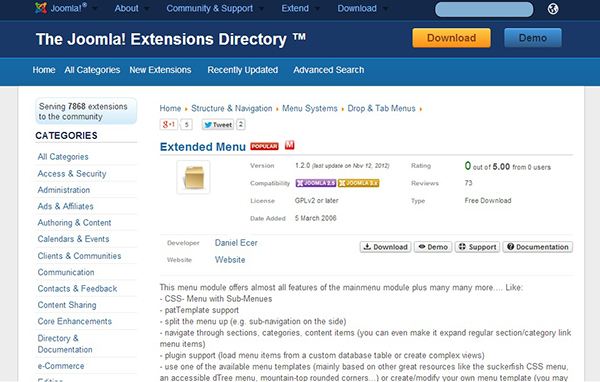 With this extension now it is not a problem to edit menu orientation or re-order it. After Extended Menu installation, there won't be a need to use CSS to get the proper style and configure it. The main features of the extension:
extended menu styles like "Flat List" which supports sub menu items (named "Tree List") or "Select List."
customizable menu markup with parameters or your own menu template
possibility to make links to sections, categories and content items
#3 Extension K2

No doubt, this extension is the best content construction kit available for Joomla.
It includes a big variety of customization features targeted at enhancing the look and the functionality of your website. K2 makes it possible to create amazing articles and include videos, images and galleries. It is a perfect tool if you want to turn your website into an online magazine or eStore.
#4 Extension SH404SEF
Although Joomla is a great CMS with an abundance of advantages, there are indeed some drawbacks of the platform. To reflect it – SEO features is not where Joomla shines. On your way to the top of search engines, you will need to improve Joomla with SH404SEF. "We created sh404SEF for Joomla with SEO in mind," state its developers. The main advantages of this extension is an opportunity to turn Joomla URL into a user-friendly format. Moreover, there are several useful features like:
remove duplicate URLs (a common problem with Joomla websites)
create customized error pages (i.e. 404) with relevant links and other info
protect input forms such as contact page from spam
#5 Extension aisite WordPress to J! Migration
Content migration is the biggest problem while moving from WordPress to Joomla. It requires certain skills or investments (in case you want to hire someone to perform the data transfer). Luckily, now you can use aisite WordPress to J! Migration Extension that has been specifically developed for people willing to change their current platform and move to Joomla. The main thing that distinguishes this extension from all the others is its simplicity. No need to code or spend a lot of time in front of the computer. Just several simple clicks during Migration Wizard.
So, now you know how to improve your Joomla site without deep coding skills or hiring specialists. If you have any suggestions concerning Joomla extensions – feel free to comment the article below.