When it comes to blogging – there are lots of choices all around with new alternatives releasing-closing every year. As long as Medium's shutdown is on the horizon, WordPress must be high on your consideration list when wondering about your website migration. In this article we're going to focus on the key features that keep WordPress ahead and present the simplest migration way to this powerful and stable platform.
Firstly, Medium is a simple great looking CMS that is considered to be one of the easiest-to-use platforms for non-technical users. It's large audience allows to grant your posts with as many eyes on it as possible. The ability to comment on each paragraph makes readers feel that they're contributing to a piece's development, not just responding to a finished draft. Though there's a pool of advantages associated with the software – there're still lots of drawbacks. To be specific, Medium is not customizable. It is made to look a certain way and it stays that way no matter what kind of content you're creating. The problem is that it's impossible to expand it as required. Besides, if Medium ever goes through redesign and you don't like it – there's no other choice.
If a stable CMS solution with tons of plugins and themes provided is what you need – Medium is not the way to go. Alternatively, WordPress is far more versatile CMS if compared with Medium. The platform allows to create not only blogs, but also full-featured websites, ecommerce sites, expanded web projects and much more. With WordPress there's a total control over the website content so there's no need to worry that one day it will close together with your data. Besides, it comes shipped with a gazillion of templates and plugins, so you may make it look and feel as required. A few mouse clicks and WordPress is configured to fit and suit most of your demands and needs. And all this happens thanks to the platforms versatile plugins.
With that in mind, you are probably thinking over the easiest and painless way of Medium to WordPress migration, aren't you? So, why not to give a try to aisite automated online migration service that allows to easily convert your content from Medium to WordPress within 7 easy-to-do-steps.
Step 1. Create the aisite Account
Go to aisite official website and register your personal account there. You can also do that through signing up via Facebook or Google+.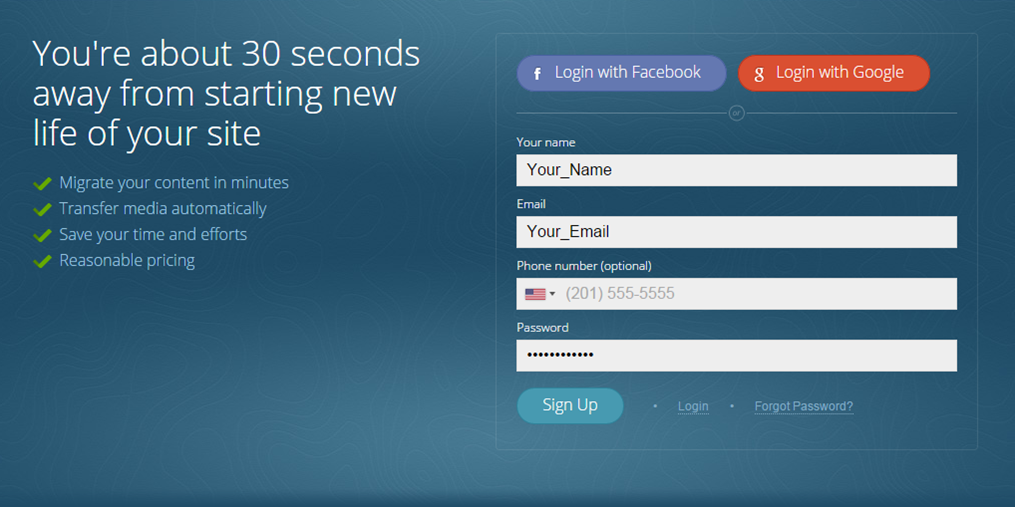 Step 2. Set Up Your Source and Target Sites
Choose your current and new CMS types – in your case it will be Medium and WordPress accordingly. When ready, type in the URLs of your current and new websites in the corresponding fields.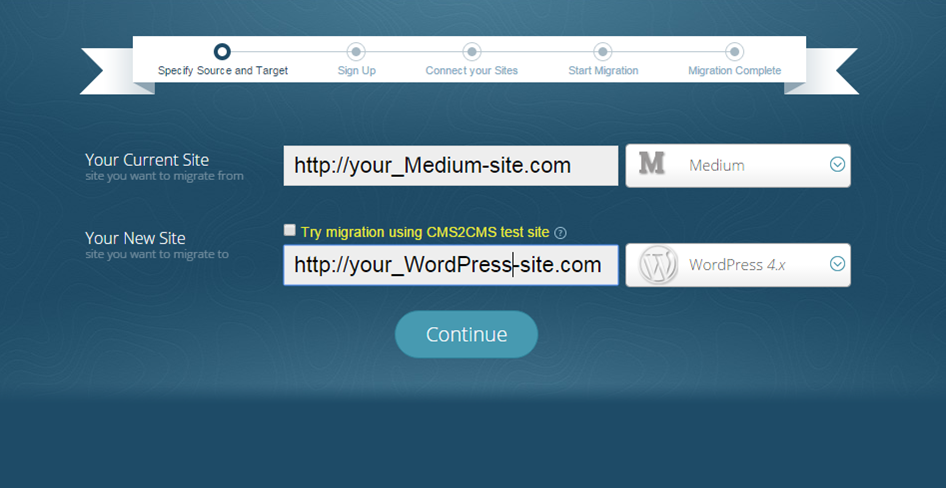 Step 3. Set Up the Connection Between Your Medium and WordPress Sites
Download and install the bridge file on your PC. As soon as finished, connect to your existing Medium and new WordPress website via FTP client software. Within FTP dashboard copy the "aisite" folder and paste it into the root directories of your websites (current and new versions). When ready, go back to migration wizard and press the "Verify Connections to your Sites" button.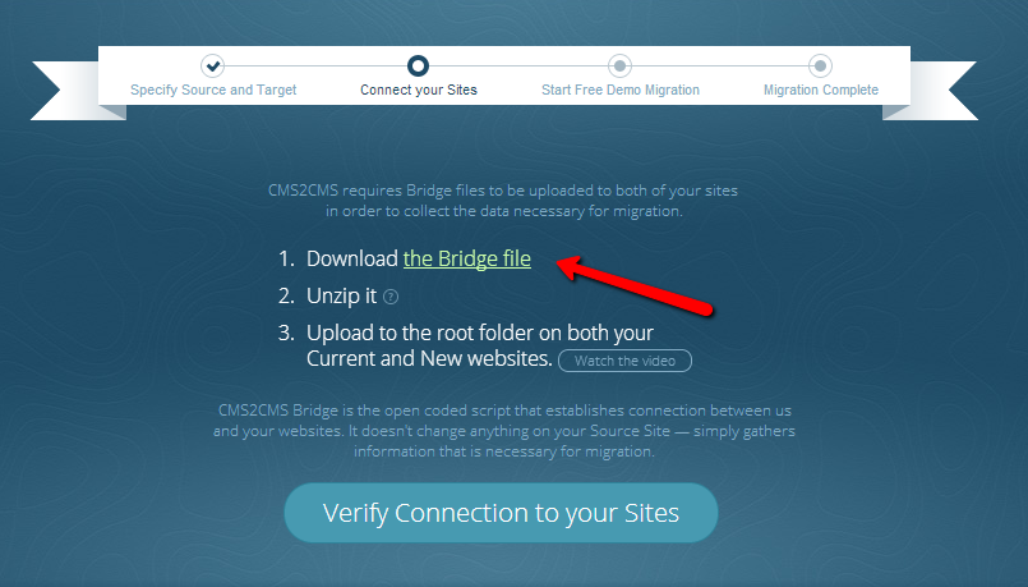 Step 4. Choose Migration Preferences
Activate the offered migration options. Just check the boxes to activate the required ones.
Migrate Image Files (jpg, png, gif etc)
Make URLs SEO friendly
Permanent (301) Redirects from your Previous URLs to New URLs
Migrate forms
Clear Current Target Data

Step 5. Test Free Demo Migration
Because all of the mistakes can not be predicted beforehand, it is strongly recommended to use the advantages of our recently added Migration Insurance – an innovative service aiming to prevent you from wasting lots of money. Once insured, you can peacefully witness the converting process and estimate its results.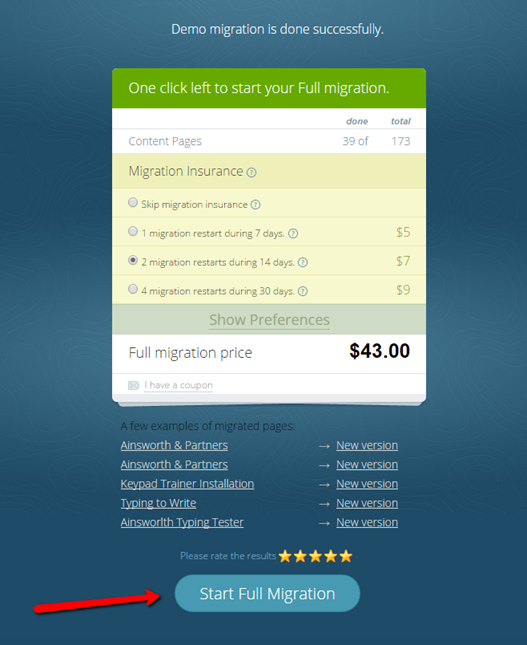 Step 6. Start Full Migration
When activated the corresponding button, your Medium website data will be transferred to WordPress. Once you checked the results of aisite online took – enjoy your new website possibilities.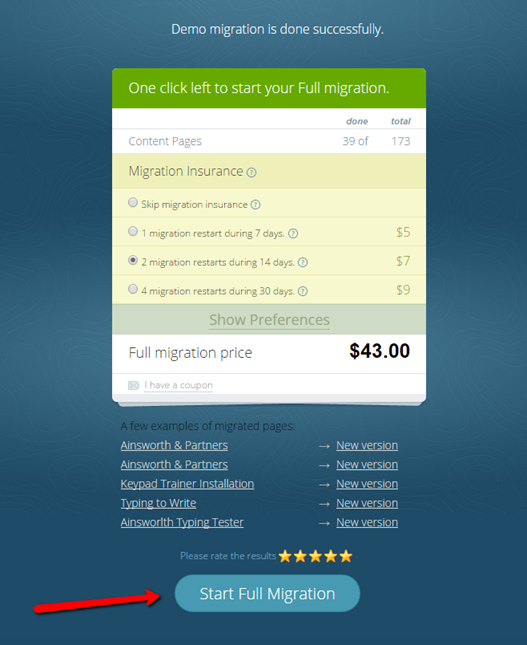 What are you waiting for? Migrate with aisite and use new possibilities to make your website more successful.