Is there a single person in a web world, who didn't hear anything about WordPress? Guess it will be a difficult deal to find such a "rare example." And however, the platform was already put under the microscope, let's revise some key concepts about WordPress. Keep reading, and for sure you will learn some new facts about the CMS platform which runs more than 30% of the whole Internet.
What's WP?
WordPress is a website building tool used by more than 22 millions of websites. Started as a simple blogging platform in 2003, now WordPress.org has raised to a proper content management system, and what's more, the most popular content management system. Put it simply, you can easily create and develop any type of a website (blog, store, encyclopedic site, governmental community, etc.) using WordPress CMS.
WordPress is an open source platform what implies that it's totally free to download and install. BUT make sure that you have enough money to register a domain name and buy a hosting plan. Depending on what is your website purpose, you can apply different themes and plugins to the WordPress website; mind that they are divided into Free and Paid, so for sure there will be found a suitable solution for any web creation.
P.S. Find some funny and entertaining info about WP CMS – here.
That being said, not let's take a look at what are WordPress's strong and weak points:
Actually, the reasons to use WordPress for a website are difficult to highlight even in one article, not to mention a passage, but below are some cherry-on-the-cake features of this CMS.
🙂 Access to the biggest collection of themes, plugins and add-ons. Extending the functionality of a WordPress website is a pleasure for anyone.
🙂 WordPress and SEO make a good alliance. Here I mean that it will be difficult to find a more SEO-friendly CMS platform than WordPress. And even after migrating your website to WordPress, all SEO juice stay preserved.
🙂 With WordPress CMS you are an of-full-value owner. You own, develop and control your web-child like a loving parent. No must-to-take hosting like there's with WiX. It's you who set the rules!
🙂 As far as WordPress is the most popular CMS nowadays, practically all third-party tools are integrated for WordPress. SEO, CRM, email marketing and payment systems are available within this CMS.
🙂 Need some sort of help? WordPress community is here for you. Millions of friendly WP-comrades and thousands of experienced developers definitely have the answer to your question.
But not everything is as good as it seems and even such a CMS-titan as WordPress has its weaknesses:
😢 You are fully responsible for your WP-website, so be ready to do regular updates, however, you may resort to the automated tools, make backups and follow the security measures.
😢 Once more, WordPress is a top CMS platform what means that it's the top target platform for hackers. So, the security policy will take a great deal of time, money and effort in WP.
😢 As a rule, there's no need to learn HTML or CSS to use WordPress. But a slight knowledge of code is necessary if you are serious about your WordPress website development.
Are you ready to meet WordPress 5?
Everyone is discussing it, everyone was waiting for it, everyone wonders what is it about!
WordPress 5 is here!
Despite all the obstacles, postponing and disbelieves, WordPress 5 was released on the 6th of December, and many WP fans have already tested the new version. Actually, the WP users have divided themselves into two camps: those who like the new WordPress and the ones who are dissatisfied:

In case you haven't find time to try WP 5 in action yet, have a look at what people say: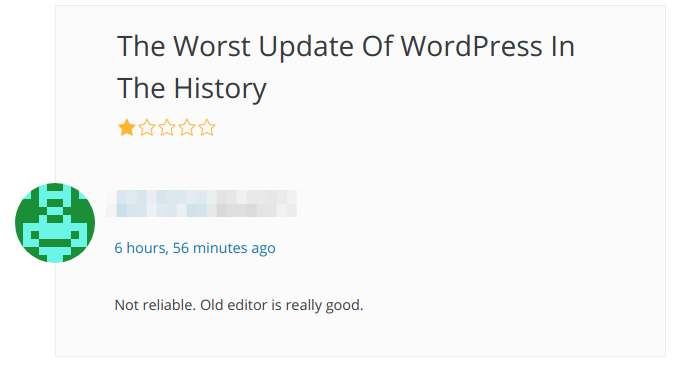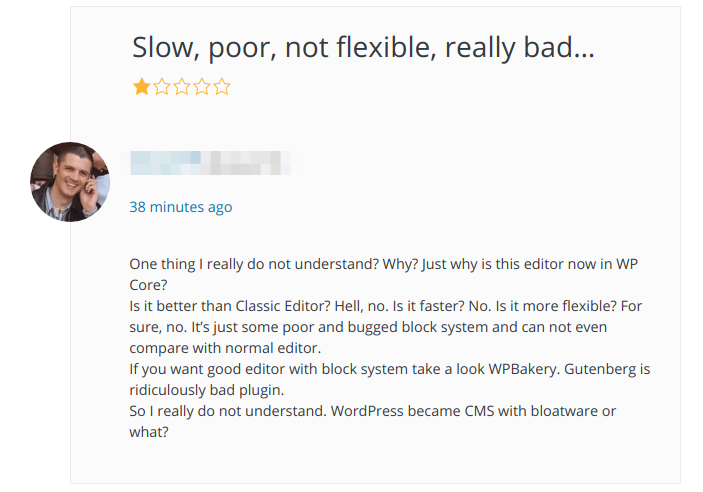 But still, there are some who are singing odes to developers for WP5 release.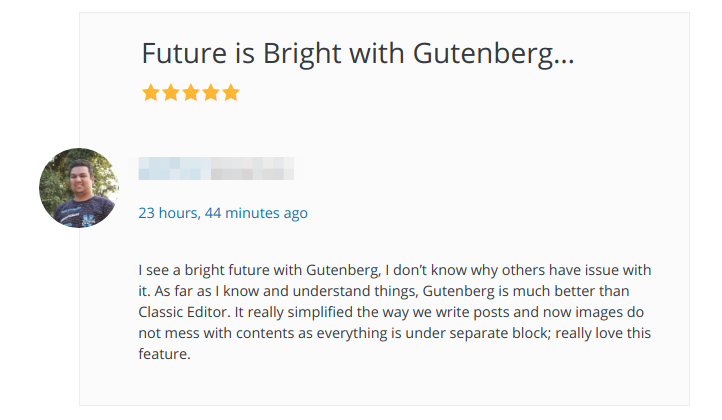 So what is new in WordPress 5? Well, the talk of the town is new editor called Gutenberg. We've already covered the main idea of Gutenberg, but summing up all the numerous articles/videos/reviews which can be found on the net, a new WP can be described as following.
New Gutenberg replaced the original WYSIWYG editor in WordPress and considered to be much more user-friendly than WYSIWYG is. Gutenberg will also give editors a much more visual understanding of the page appearance and how the content will appear on the front end.
What is really special on Gutenberg, it brings a completely new way how the editor works. It makes the content manipulation much easier as it was previously. New content is added to Pages and Posts via blocks. You just need to click the "+" symbol in the editor. This way, you can add any type of content, such as a gallery, videos or embed codes. Even custom blocks can be created.
Actually, this is a major update to WordPress, and probably one of the most significant changes to the editing interface that WordPress has ever seen. Obviously, getting used to WordPress 5.0 is going to take time and practice to understand. And be ready to face the fact that some plugins and themes may not be initially compatible with Gutenberg.
WordPress 5.0 is available! Please update now.
Taking all the feedback into consideration, it's up to you whether to update your website to the newest WP version or not, but remember: YOU NEVER KNOW UNTIL YOU TRY! You'd better not to believe all that reviews and test Gutenberg on your website. In case you don't want to upgrade your website to WordPress 5, just install Gutenberg plugin and see how it works with your web project.
Mind that WordPress is not the only functional CMS platform, and you always have a chance to migrate your website content to another content management system fully automatedly, in just a matter of minutes wasting no time and efforts. Save your precious time for more pleasant things while aisite will do the transfer for you! We offer a Free Demo migration to show you how everything works before you make a final decision.