When you are introducing yourself to the Web, it is important to make everything right. It doesn't matter whether it is a local business website or personal blog. You can face with the difficult situation when selecting the proper CMS. There  is a dozen of site building tools which provides you various platforms with diverse features. In order to narrow down the search of suitable platform, let's take a look at Joomla and WordPress.
Users believe that both Joomla and WordPress are more user-friendly than other CMS. Both are good website builders and have a huge amount of loyal users. At the same time WP powers about ? website on the internet while Joomla treats on WP heels taking the second place at the market. Therefore, we should get a bit deeper into those two amazing platforms and analyze why Joomla users chose WP or are willing to migrate to WordPress.
Joomla is an advanced content management system for the experienced website owners. From the beginning Joomla is a great website builder, it also fits for the intranets or extended websites, blogs, forums or even online store. This CMS has a numerous extensions and templates.
This days, WordPress is a CMS leader thanks to its simplicity, technical facilities and ease of use.
If you want to have user-friendly website with advanced functionality then WP is right for you.  This platform has a convenient functionality which doesn't require specific skills or coding knowledge. In contrast, Joomla is more complicated platform and is not for the beginners.
Another point for WordPress is the amount of plugins. There is a huge variety of add-ons which an advanced content management system.
The quantity of design solutions for WP websites will please any user. There are tons of free and paid beautiful themes.
Undeniable reason to move your website to WordPress is SEO.  The build-in functions will provide you with the good search engines visualization.
Last but not least, it's website upgrade. To upgrade Joomla basically means migrate a website to the new version. Besides, you have to check up if all the modules are supported on a new version. For WordPress it is not that complicated, you may update to the newest version right from admin panel.
And now, we have prepared the best for you. In this infographic you can see all the necessary steps of Joomla to WordPress migration process with automated convertor aisite. In addition,you will find out all the pre- and post-migration tips required to make the transfer accomplished.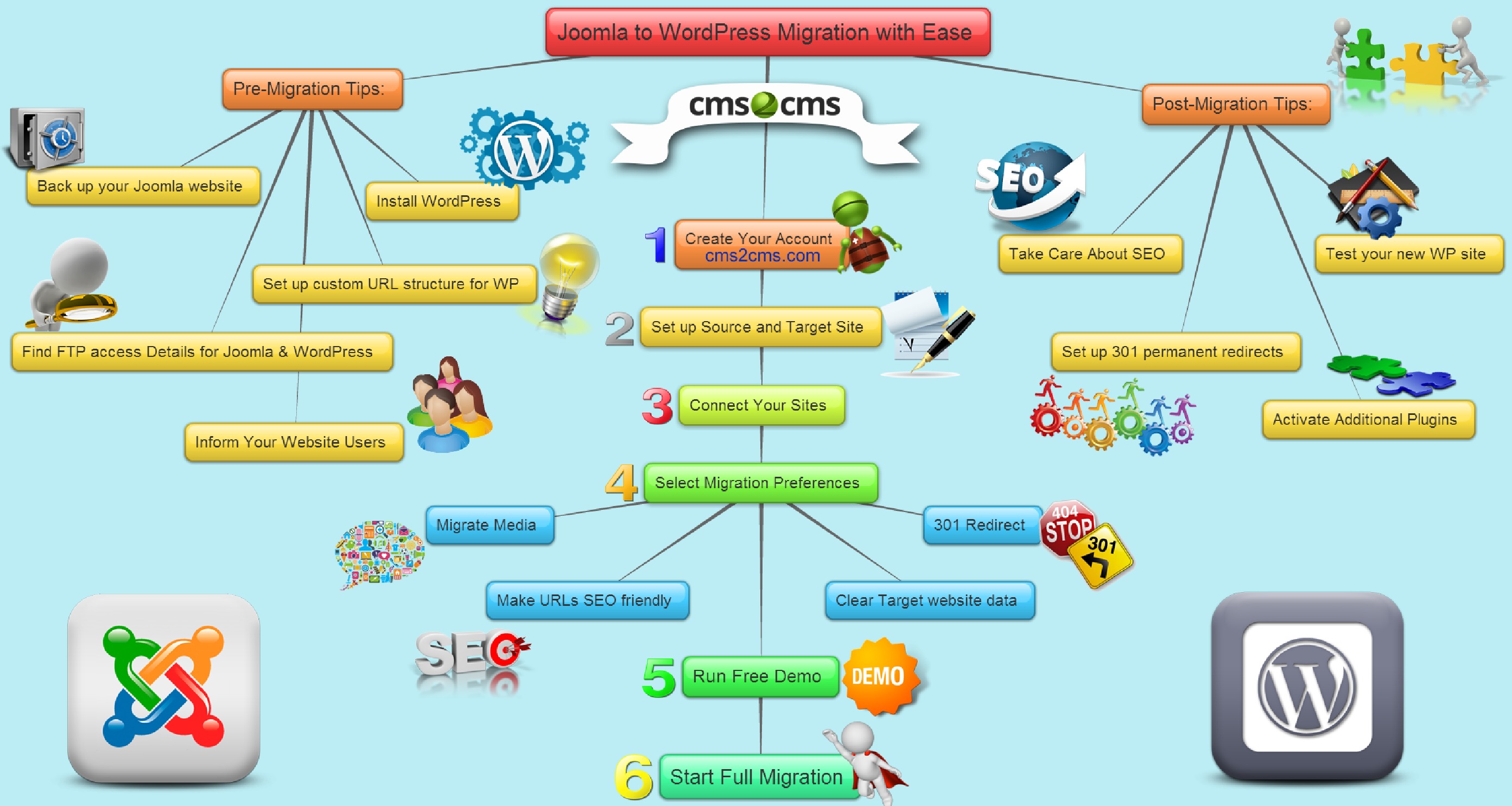 Why are you still waiting? Don't hesitate, make a final decision and migrate your website from Joomla to WordPress with aisite right now.