The proverb says, "If you cannot become rich, be the neighbour of a rich man". But, what if we turn it to the modern realia, the following statement will be the retrospective of today's world, "If you want to become rich, run your website on WordPress." With the rapid development of web technologies, almost everyone has their own space in the web, whether it's a blog, website, social media page, or online store.
WordPress,  is a pretty affordable CMS software solution, as you can install it for free, and only pay for your hosting account.  Potentially WordPress is not very expensive platform at all,  actually, everything depends on your coding skills, and the size of your future website. So we are about to take a look at some costs of running a website on WordPress.
Your Hosting. The average hosting cost is around $11 per month, but it can be even up to $75 for a good provider. Hosting will provide you with a space and a domain. If you choose a cheap hosting for like $1, then your space will be limited, providers for $5 and up serve you with unlimited space.
Domain name registration. The price can start from  $1.99 per month on some sites and can cost as much as $50 a month for some domain. But on average, year cost for domain registration is around $10.
Security services and asset management. The services for security and management of the assets cost about $15 per month if you decided to select a paid plan. There are few free solution on that subject, but they are not effective after all.
Storage and backups. Services for website backup such as BackUpWordPress, WP-DB-Backup and VaultPress can cost you up from $5 per month and some of them are free.
Spam prevention. For this matter you can either install some third party add-ons or use some of the most popular WordPress anti-spam plugins. So far, Akismet  is the most popular solution for WordPress websites, which costs $5 per month for a commercial blog or free for personal usage.Some alternatives are Growmap and Antispam Bee.
Commercial SEO plugins. Though, there are free SEO plugins, but we assume this time, you will need, let's say a WordPress SEO by Yoast. Then you will have to pay $69 to use it.
There are a few more expenditures, which may pop up, while you ran a website powered by WordPress: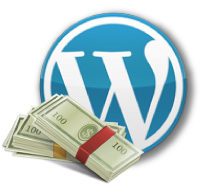 Premium theme. If you go for a premium theme for your website, the price ranges from $50 to $100 additional.

Developer fees. If you are not strong at coding or you don't have much time on managing the technical aspects of your future WordPress website, you'll need to hire a developer for $75 and up.

Paid contribution for a website. The outside contribution such as ordering an articles or any other type of content from professional writers for your website can fluctuate from $10 to $200 per post depending on the writer abilities and experience.

E-commerce. In case, you'd like to have your own store, WP plugin repository provides you with the various e-commerce plugins.  Moreover, there are pretty nice solutions even at no cost.
If you sum up all the expenditure, it will be around $100 per month (excluding the spendings on premium services). And this cost for the most popular platform in the world, sounds like a good deal. This price is pretty reasonable, especially if you  consider how many awesome things you can have for free with WordPress. If, by any chance, you are thinking of moving your website from any other CMS platform to WordPress, do it with automated migration service aisite. Try on FREE Demo Migration right now, and you will be surprised, how easy it can be to move a website.