We live in the world where starting and managing a website is not a big problem any more. There are lots of CMSs, people have the opportunity to choose from and depending on the platform (whether it is user-friendly or not) almost everyone can create and run a web project.
Sometimes people realize that their websites lack some important features and functions. The only thing that they care about at such moments is improving the situation. As the result, lots of them tend to change the current CMSs for better ones. Right now, we are going to speak about the most efficient way of website migration – using the fully automated tool aisite. Moreover, now this service comes with future-foreseeing function, called Quick Wizard, which will help the website owners to make the right decision for sure.
Quick Wizard will provide you with the opportunity to estimate the possible future look of your website. Moreover, you will be able to evaluate the migration outcomes extremely fast. All you have to do is to take these steps:
1. Quick Wizard gives you the opportunity to migrate your current website to one of the four test sites. To put it another way, you will have to choose between WordPress, Joomla, Drupal and TYPO3. After that, you'll need to provide the URL of your current website in the following field.
2. It is necessary to mention that if you choose WordPress among the others, then you will also get the additional bonus – premium theme absolutely for free. There are available: Nexus, Foxy, Vertex, Fable, Style Shop, Nimble. This provides you with the chance to check out the possible colourful future look of your website.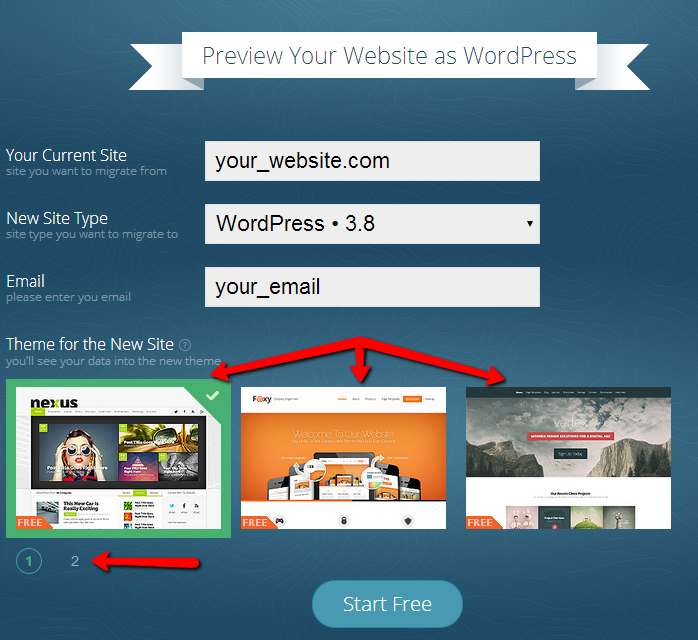 3. After pressing "Start Free" button, you get the list of the pages which have been converted and in such a way you'll get the possibility to estimate the new look of your current website on one of the four CMSs faster than ever.
4. After that you'll be provided with two options:
You can migrate the rest of your content to the test site and get the attachments, pictures and theme which you'll be able to move to your site.
The other way is to migrate all your content to the new installed website right away. To put it another way, you will be provided with the opportunity to perform the Full Website Conversion and migrate your website to WordPress, Joomla, Drupal and many other CMS platforms.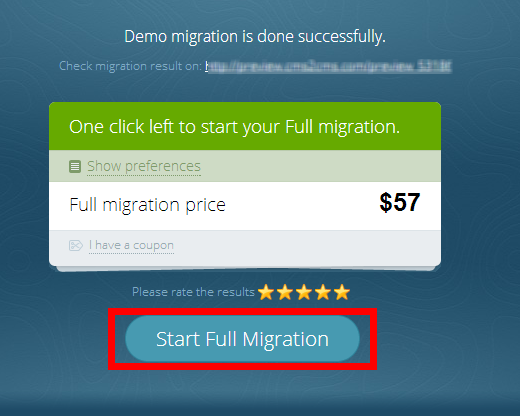 So, with Quick Wizard the conversion to the test website is faster than ever before. All this has been done to make the website migration easier and to save your time and efforts. In other words, you will enjoy the quick way of foreseeing the future of your current web project and if you like what you see, then don't waste your time and switch to your dream CMS.