Started your web project path from the forum management? Then, it might probably be interesting for you to try something more extended, something that will include website, blog, forum, or even online store. One of the most user-friendly and well-trusted forum platforms is bbPress. It includes multiple options, ease of use, and great design performance.
Just don't think you have to stop running your forum or start it from scratch. Nowadays, you may easily move all your forum items to bbPress without any hassles. Thus, we would like to present you the ultimate solution on how to migrate all your forum content from phpBB to WordPress bbPress forum without ringing the bell of a developer.
Pre-Migration Steps
If you've made the right choice to switch to bbPress, let's start from the very beginning:
Install bbPress forum – it's essential to install your new forum on bbPress in order to convert all your threads, posts, comments, and even users.
Analyze your user's visits – it's better to perform the migration when the number of your site/forum users is the lowest.
Inform your website visitors about the migration – so that they were ready for the site maintenance or totally new look.
Migrating phpBB to WordPress bbPress: How To Install The Connection Bridge
Migration Path
1. Register an Account
In order to start your quick switching from phpBB to bbPress, you have to create your account. You'll need to provide name, email, and password. Otherwise, you may log in via your Facebook or Google accounts.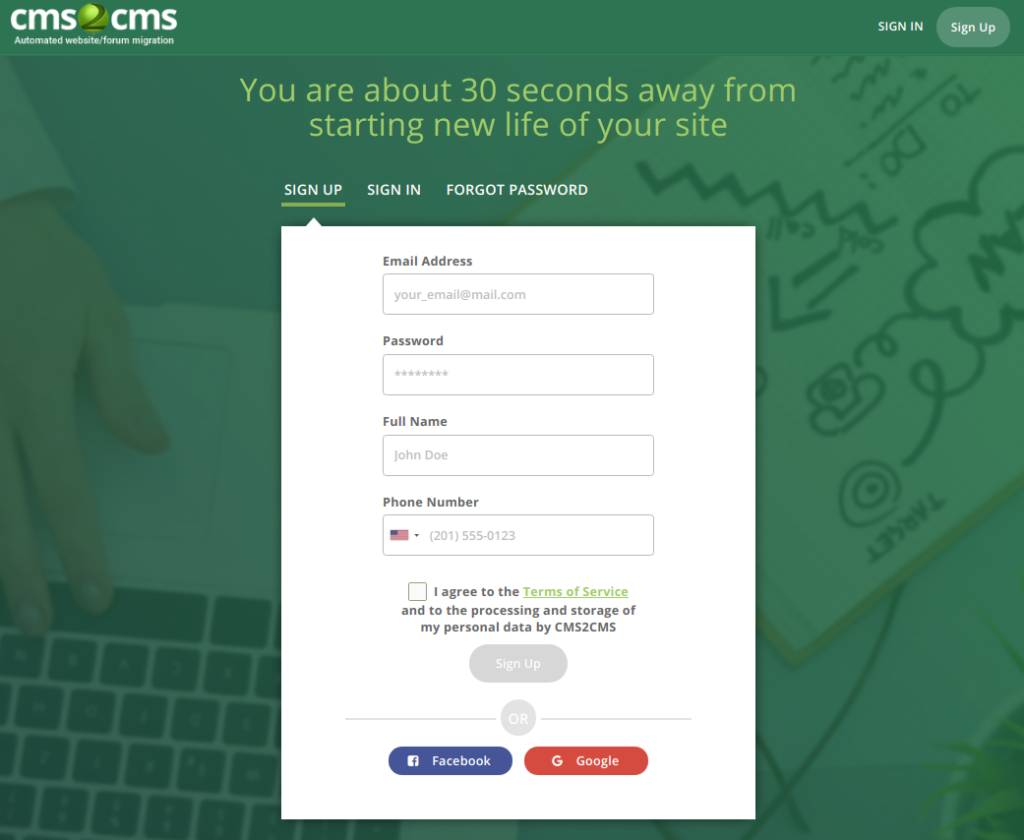 2. Provide phpBB Site Details and Verify the Connection
Specify what CMS you are going to move from. In our case, it's the phpBB. Choose it from the list of suggested platforms and provide its URL. Please establish the connection to your Existing phpBB forum board. Read this in-depth tutorial or watch the video beforehand on how to use Connection Bridge. When you've done with the installation, press the 'Verify connection' button.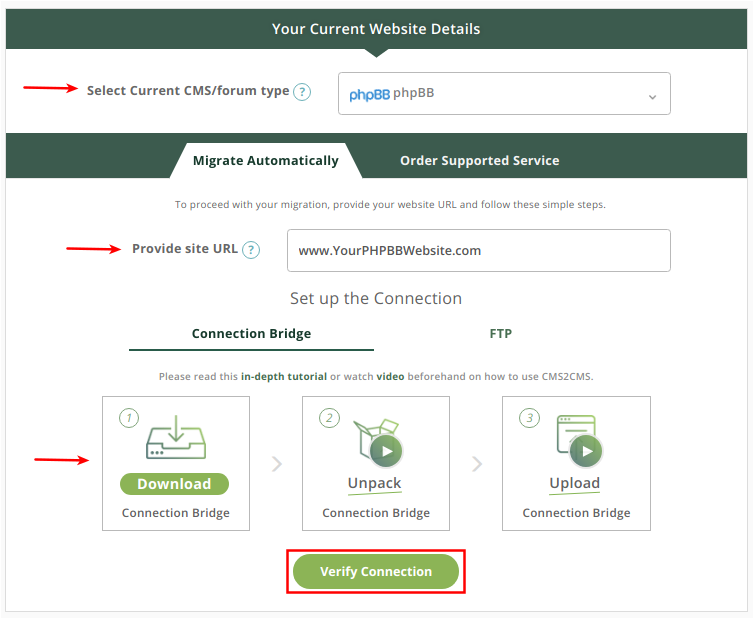 3. Specify bbPress details and Verify the Connection
You're on halfway! Now it's time to specify your target form board. Choose bbPress as New platform and enter its URL. In case, you don't have your bbPress installed yet, you can try Migration to aisite Test Site. Choose the accordant button instead. Connect to your bbPress forum by installing the Connector Plugin. Please read this detailed guide to Connector Plugin usage or watch the video.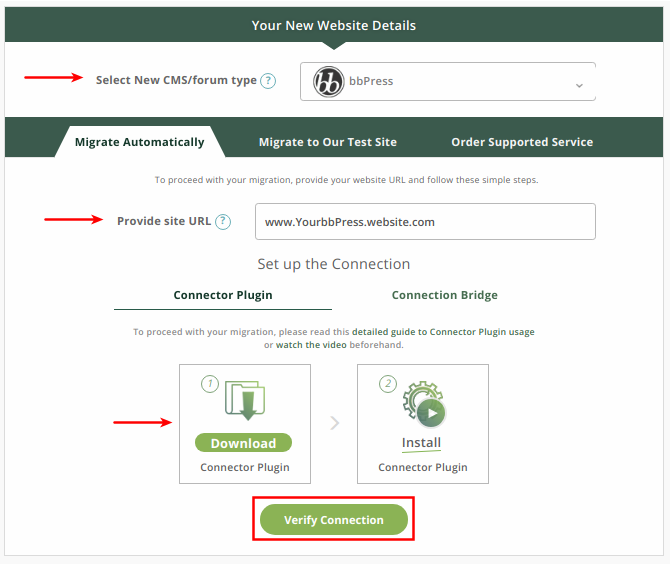 4. Establish the Connection Between Forums
When the connection between your forums is set, select what data you want to be transferred to your New bbPress platform. Choose the entities you wish to be migrated and additional options if needed. After that, you can run Free Demo Migration to estimate the results first.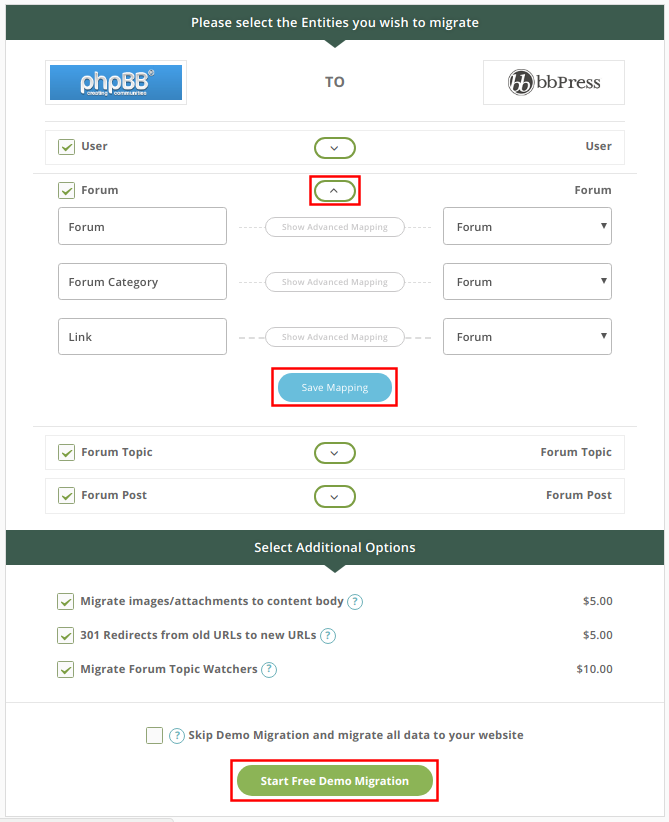 4. Check Demo Migration Results and Start Full Migration
The only thing left to be done is to complete the migration. Select the additional options needed, choose the migration insurance, check how much it will cost and get the migration going, by clicking the 'Complete Migration' button. If you have the discount coupon, you'll be asked to provide the code to get the discount – just use 'I have a coupon' option for that.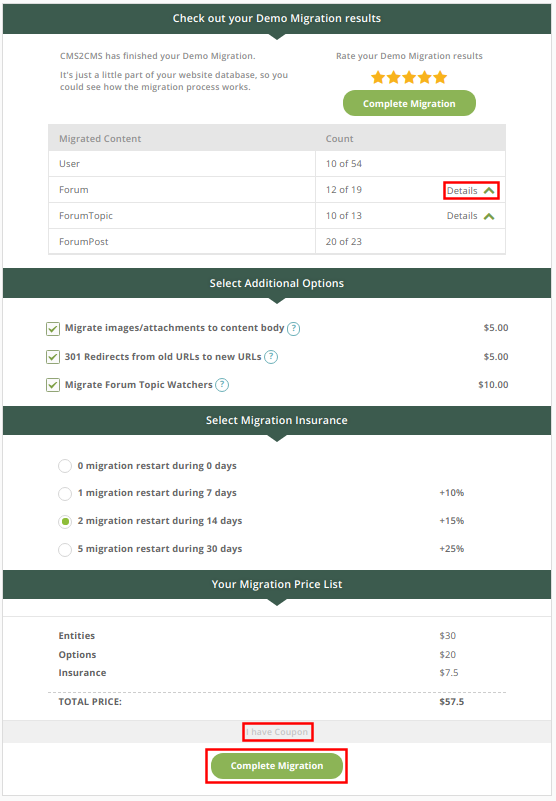 6. Enjoy New bbPress Forum!
That's it! Now you are a happy owner of bbPress discussion board with all your phpBB CMS content on it. Check the results!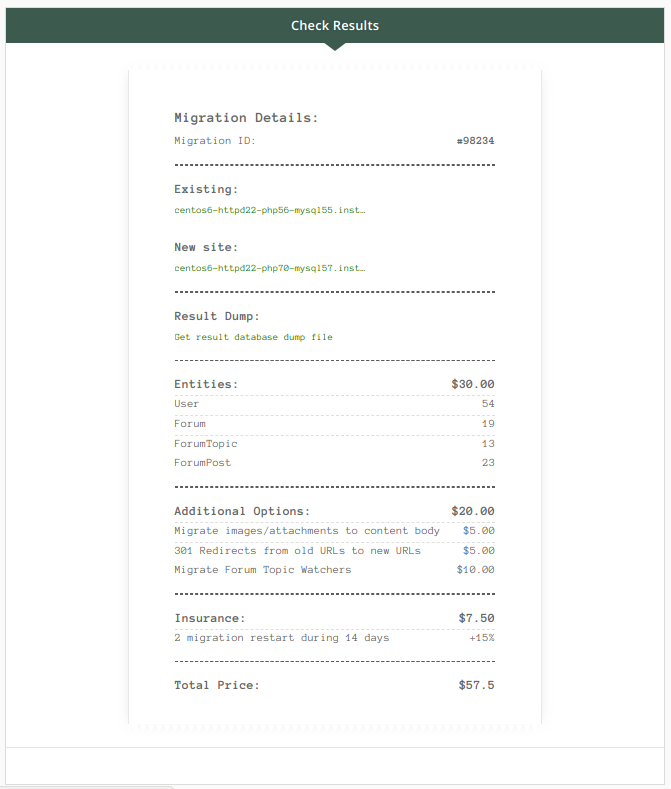 Items that are Migrated from phpBB to bbPress

If you are ready to migrate your forum content from phpBB to bbPress and face the new positive changes of your online community, just set up your free Demo Migration – it's never been easier.