Examining current WordPress statistics certainly is an exciting thing. But how about analyzing its long-term achievements? This is the information that will show WP perspectives and mightiness. Spoiler: this is really INCREDIBLE! In this article, we will compare WordPress's statistics at the beginning of 2015 with the first days of 2021!
Let's start with the most known fact about WordPress – it is the Top Content Management System: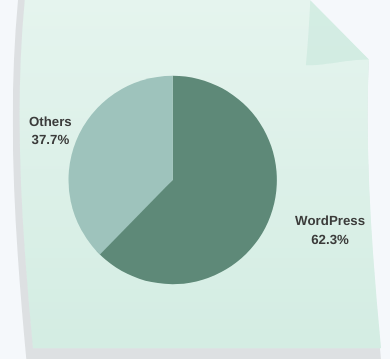 2015: WP market share was 59.8% of the entire internet.
2021: Now its market share increased to 62.3% of all the web!
The report of the historical trends in the usage of CMSs (for sites with known CMS), according to W3Techs:
2015: 23.3% 
2021: 35.5%
And I should note – it's the first place in this top. Only none-CMS websites have a bigger percentage, and it decreased from 64.8% to 43.0% during these years.
2015: It was running 19.1% of Quantcast's top 1,000,000 sites on a web by traffic.
2021: WordPress holds 69.47% of websites in Alexa top 1,000,000!
And in case you have a thought that there are just a lot of small websites using WP CMS – that's not true! According to Datanalyze, in the Alexa top 1,000 – WP is still in the first place (right after non-CMS sites percentage – 46.21%) – its 20.04% sites. Their closest competitor Drupal has 8.64%.
So, how many websites WordPress powers?
2015: There were 157,418 sites.
2021: 4,068,806 sites are existing!
What about SEO? How many WordPress pages people are viewing each day?
2015: Each day around 13,600,000 people have been viewing WP pages.
2021: WordPress sites get around 689,655,000 page views each day.
Are you aware of informal community-organized conferences about WordPress?
2015: 80 official WordCamps was existing in 29 countries.
2021: 1078 WordCamps in 76 cities; 65 countries; 6 continents! Incredible growth!
In conclusion, I can say that WordPress is absolutely awesome content management system. All of this statistical data shows it clearly. And I haven't said yet about a HUGE number of useful plugins – over 50,000; more than 11,000 beautiful themes! WP team has performed a titanic work on this CMS, it has grown so much. And surely it's not going to stop! Maybe you should join this big, fast-developing and supportive community?
So, in case you want to migrate your website to WordPress CMS – aisite is your solution! You can save hours of your time by making it automatically. Try a free Demo Migration and check an approximate appearance, examine the WP admin panel, and make your choice! You are able to do it even if you don't have a WordPress site yet – use our Test Site to perform Demo Migration!
In accordance, migration price depends on the count of migrated content! So, don't hesitate anymore – try it and breathe the new life into your website!