vBulletin and phpBB are the platforms you can create forums on. Before giving the preference to this over that bulletin board, let's have a quick glance at them.
So, let's start with vBulletin. The first thing you should know about this forum platform – it's a commercial tool, notice that you should purchase it, plus the upgrade is on the paying basis too. So, these facts make people think twice before making a choice.
PhpBB is a free float-forum, bulletin board software solution that can be used to stay in touch with a group and a community of people to can power your entire website. It is an open-source technology and can be used to store an extensive database of user-created modifications and styles database containing hundreds of style and image packages to customize your board, you can create a unique forum in minutes.
PhpBB is easy to install, and one can have categories related to products and services for a targeted audience. These remarkable features are required for one to make a bulletin board successful.

No other bulletin board software offers a greater complement of features while maintaining efficiency and ease of use. Best of all, phpBB is completely free. It is one of the first forum software ever created but is still on the list of one of the most popular bulletin boards. It's clear why – the extensive base of free templates and extensions give the opportunity to set up a unique forum in minutes and make it run successfully. Different CAPTCHA forms, question/answer protection method, automated warnings which prevent the possibility of being banned – all these options make this forum software a strong warrior of user's security.
Generally, before choosing the forum platform, think about the budget you are ready to spend and the level of your expertise. But, if you currently run your web project on vBulletin, but want to give a try to a free tool like phpBB, there's an option. Instead of creating a new phpBB forum from the very beginning, you can easily transfer vBulletin data to phpBB absolutely automatedly.
So now, we are going to present to you the alternative way of how to convert a forum from vBulletin to phpBB. With aisite migration service, the process will be very simple and extremely fast. In other words, the process of migration will be absolutely automated.
vBulletin to phpBB Migration: Step-by-Step Instruction
Step 1 – Register an account
To get started, create an account or login with your Facebook or Google account.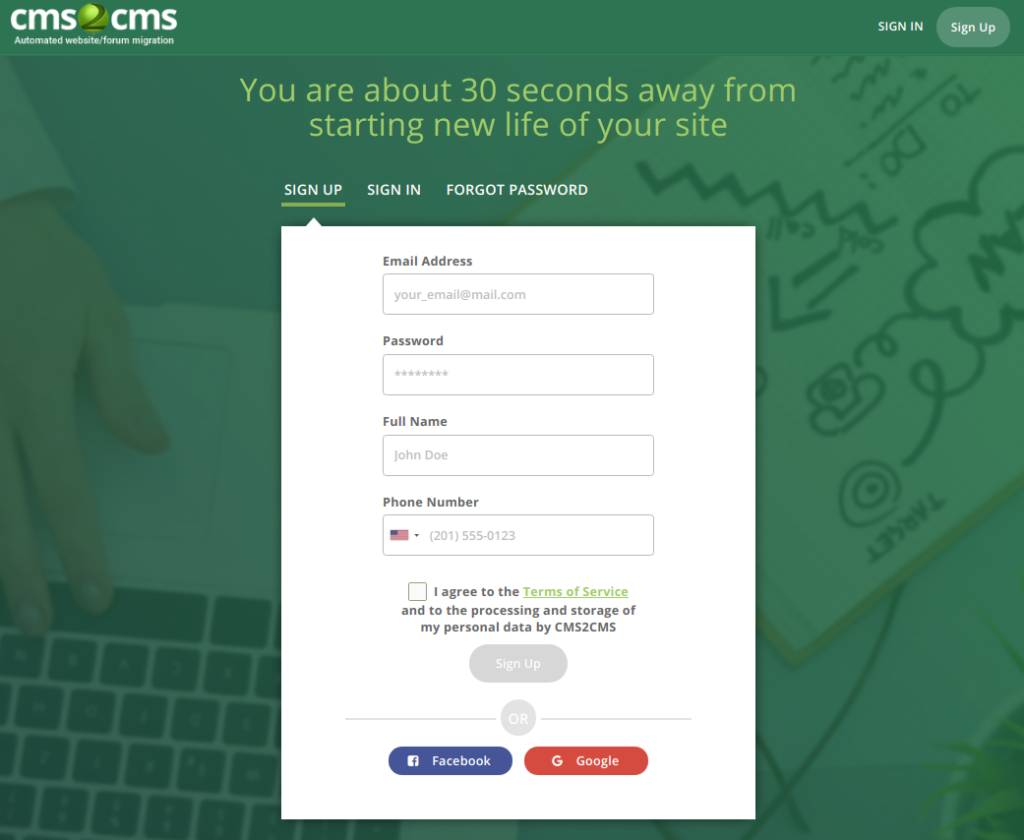 Step 2 – Provide the details of your Target Website And Set Up The Connection
Specify what forum you are going to move from. In our case, it's the vBulletin. Choose it from the list of suggested platforms and provide its URL.
Please establish the connection to your Existing vBulletin forum. Read this in-depth tutorial or watch the video beforehand on how to use Connection Bridge. When you've done with the installation, press the 'Verify connection' button.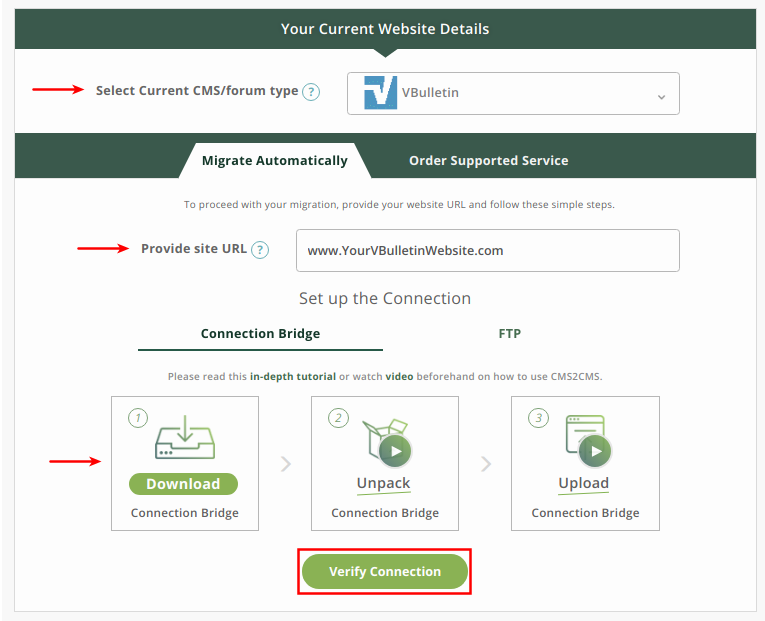 Step 3 – Specify your New Forum And Set Up The Connection
Now you have to establish the Connection to Your New phpBB forum as it was described in the previous step.

Step 4 – Select the Entities You Want to Migrate
When the connection between your websites is set, select what data you want to be transferred to your New phpBB forum. Choose the entities you wish to be migrated and additional options if needed. After that, you can run Free Demo Migration to estimate the results first. It makes it possible to convert a limited amount of data to your new forum and check up the migration in progress. On this step, you can choose the additional options displayed below.
Step 5 – Complete the Migration
The only thing left to be done to complete the migration. Select the additional options needed, choose the migration insurance, check how much it will cost, and get the migration going, by clicking the 'Complete Migration' button.
If you have the discount coupon, you'll be asked to provide the code to get the discount – just use 'I have a coupon' option for that.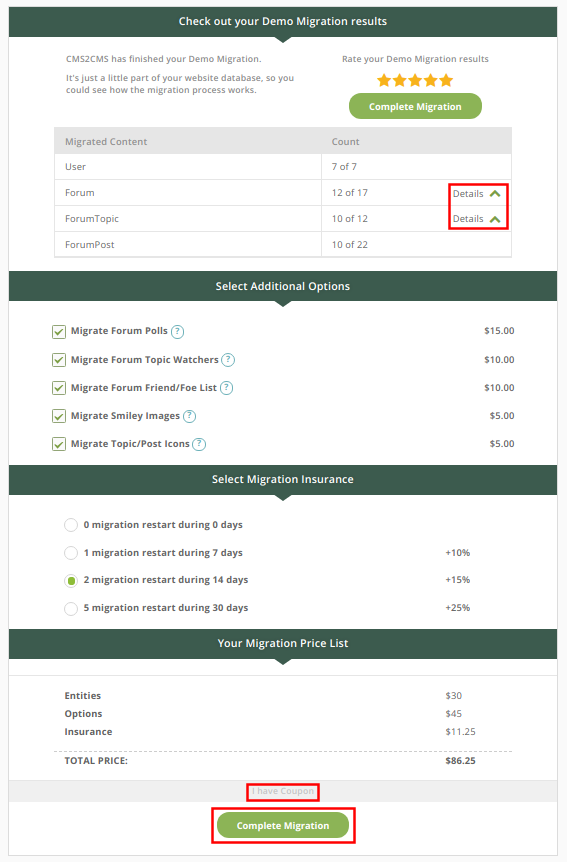 That's it!
 Now you are a happy owner of the phpBB-powered forum with all your vBulletin content on it. Check the results!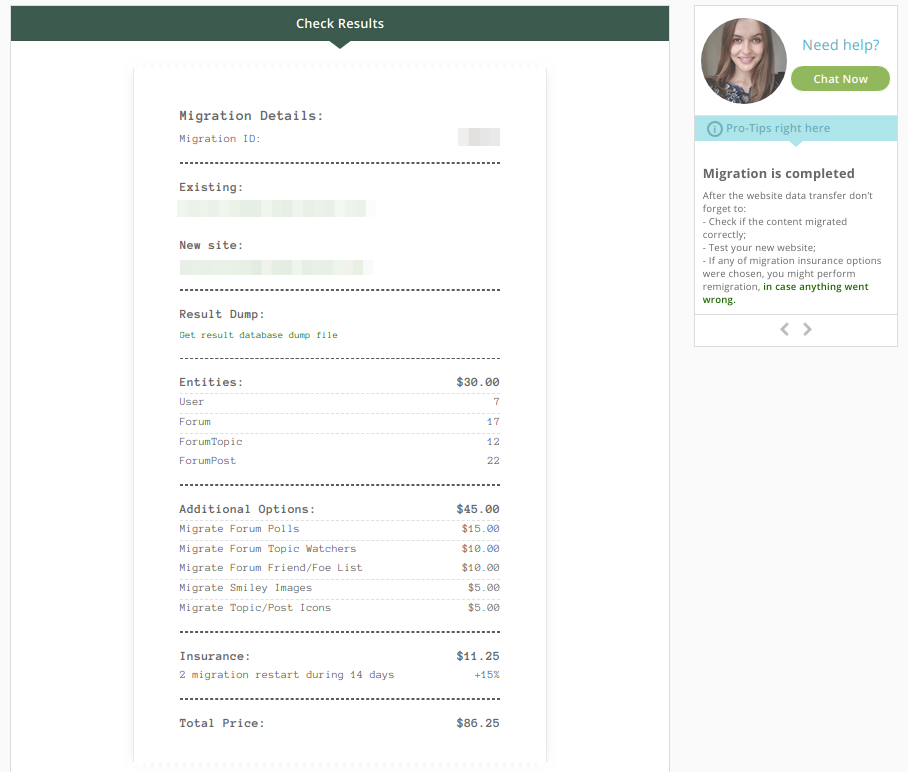 Wrapping Up
It seems like you have found a useful tool to transfer the content, isn't it? Have a look at a great number of entities that can be migrated during this shift.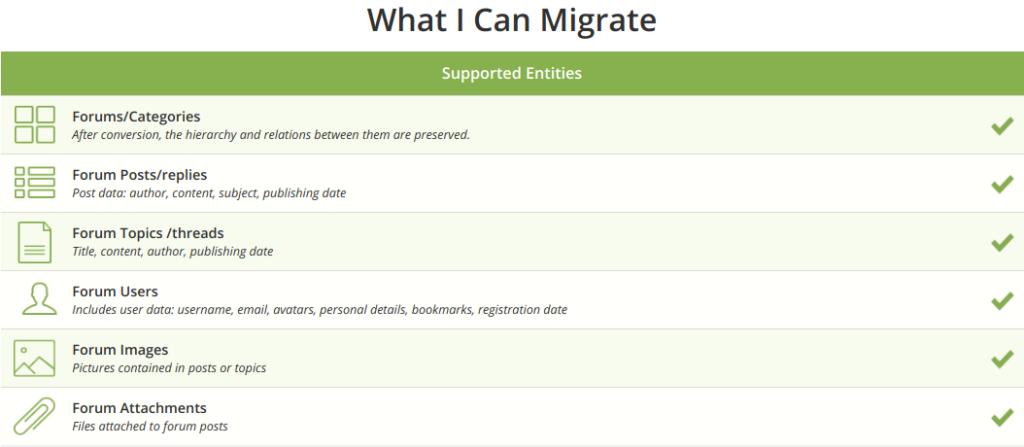 Run Free Demo Migration and you will see how easy and fast aisite tool converts your forum data vBulletin to phpBB!