Wish to grow your Wix online presence with the eCommerce functionality of Shopify but don't know how to make a switch? This post will inform you what you need to do before moving your website from Wix to Shopify, what are the main solutions for the data transfer itself, then provide a step-by-step guide to successful replatforming.
If you initially built your site with Wix and at some point decided to add the eCommerce functionality to it, you might now realize that you need a more full-featured and spacious shopping platform, like Shopify.
Wix vs Shopify: What is the difference?
Despite the fact that Wix and Shopify have lots of similarities (both let you start and sell online and can be used by users with little to no skills), each of these software has been designed for different purposes. More specifically, Wix is a content management system that allows building sites for any purpose, including eCommerce. Shopify, contrastingly, is a full-fledged eCommerce platform, that gives e-merchants everything they need to sell online, with an ability to add additional content and pages, too.
Why Transferring From Wix To Shopify Is Worth It?
If you want to expand your Wix web project with selling functionality, then Shopify is an optimal way to go. Once migrated, you'll get numerous advantages for your business like the following:
Tons of useful eCommerce features. Shopify has been designed with selling in mind, so it is packed with all the necessary eCommerce tools to process selling operations.
Greater flexibility. Since Shopify allows its users to modify HTML and CSS as needed, you can make your store look and feel as required.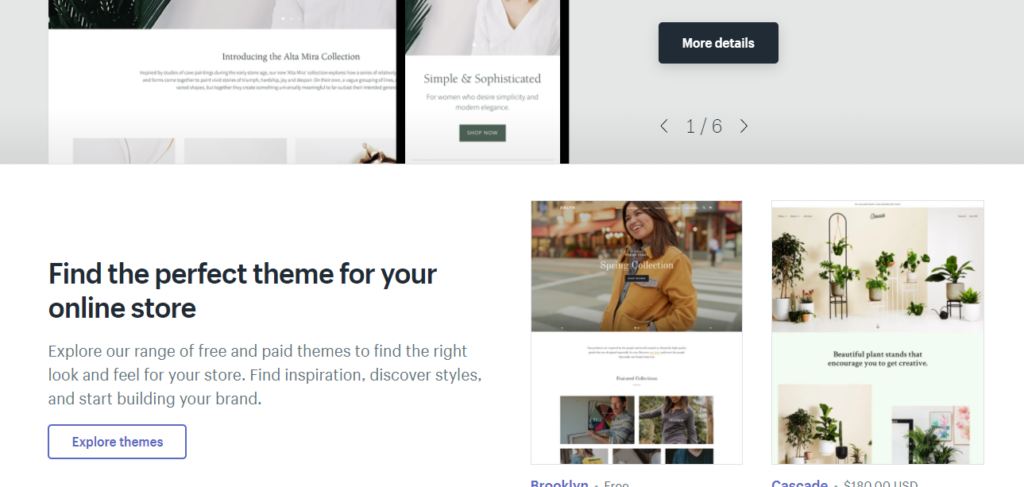 Excellent built-in analytics. Shopify equips you with everything needed to track your customers' actions and behavior, enabling you to spot the bottlenecks and providing countless possibilities for improvement.
Faster checkout options. Shopify allows customers to shop without registration and purchase faster with dynamic buttons from Pay Pal and Shop Pay.
Integrations and marketing options. With Shopify, you can enable multichannel sales: sell on social media (e.g. Facebook, Pinterest), and Amazon, upsell and cross-sell, etc.
How to Move Wix To Shopify?
Let's face it – Wix to Shopify migration can be quite a challenging task due to the platforms' peculiarities. In this case, the right migration tool and thorough preparation steps will prevent data loss or missed deadlines.
eCommerce Migration. Main Options
Those searching for an optimal way to migrate from Wix to Shopify, usually end up choosing between the manual move and the automated way of replatforming. Skilled store owners that are well aware of the basic migration steps and special nuances associated with each of these platforms can try to switch manually. In case there aren't a lot of items to move, this way can be a good way to go. However, it can not be applied to huge stores with, for example, 10,000 customers or products, because it's merely impossible to move everything by hand.
With a growing tendency to automate any possible business processes, many entrepreneurs are turning to online services/tools to get the job done. The tools like Cart2Cart are equipped with all the required functionality to automatically transfer store data entities (like products, customers, orders, etc.) with almost no intrusion in site functionality.
How to Migrate Wix eCommerce Data to Shopify. A Start-To-Finish Guide
Once you've decided to import products from Wix to Shopify automatedly, you might discover the Cart2Cart service to be one of the most popular tools to get the job done automatedly. The service offers a simple, self-service model where all you have to do is just to provide the basic info (like your Source & Target stores, the data types you want to move, and additional migration options) and the tool automates the transition.
Wix To Shopify Migration. Preparation Steps
Once you've registered a trial account at shopify.com, choose a theme (it's not recommended to customize it at this point, since it can interfere with the migration process).
Find your Wix and Shopify store admin access details (they will be required during your data migration setup).
Set Up the Wix To Shopify Data Transfer
When you have everything ready for the transfer, check out the Wix to Shopify page to see what data you can migrate and what are additional migration options to improve your transition result even more. When done, do the following:
Connect Wix to the Shopify store with the help of required access details.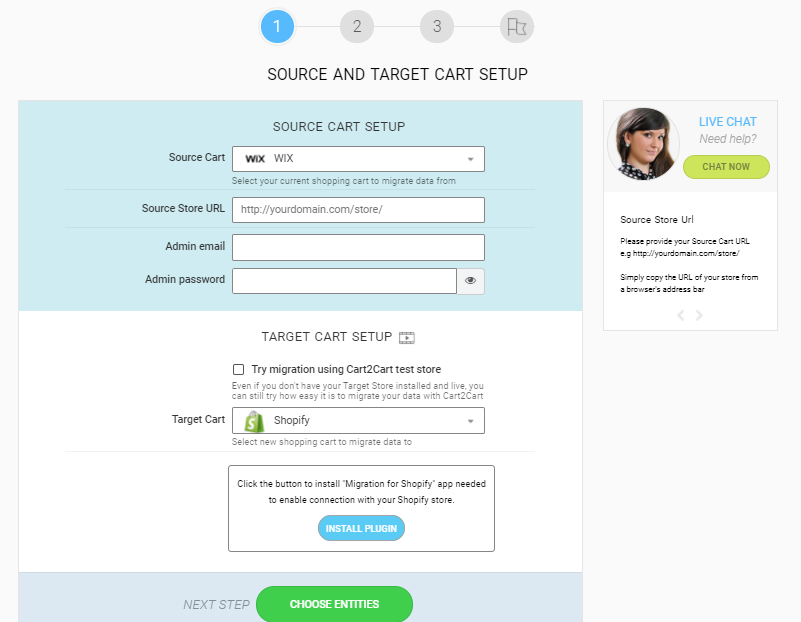 Pick the data entities you want to convert from Wix to Shopify (products, customers, orders, blogs, blog posts, etc).
Choose the extra migration options. It's totally up to you to choose, but below are the most recommended ones for you to pay attention to:
The Migrate Source Store categories into the Shopify Automated Collections option will allow you to preserve all the relations between product categories and subcategories on the new Shopify store.
The Preserve order IDs option will allow transferring your current store order IDs to Shopify without any changes. 
Run your migration to see how the service works.
Check the data to make sure everything's where it should be.
It's Not The End… Post-Migration Suggestions
Once you've received an email notification that your Wix to Shopify migration had been finalized, take time configuring your new store before making it go live:
Configure payments. There are multiple payment methods provided by the 3rd parties, but they'll all help you organize the comfortable payment process for your customers.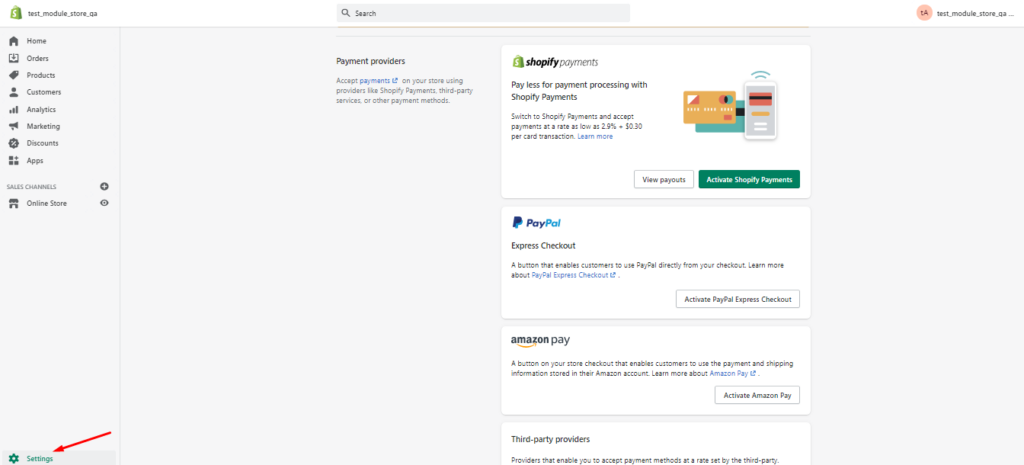 Take care of the Shopify SEO. Though Shopify comes packed with lots of SEO-friendly features out the box, there's still a lot that you can do to make your Shopify store loved by Google.
Configure taxes. When you've registered your business with your local tax authority, set up Shopify to automatically handle the most common sales tax calculations.
Set up shipping and delivery methods. With several methods provided by Shopify (shipping, local delivery, and local pickup), make sure to check each of them and pick the most suitable option for your customers.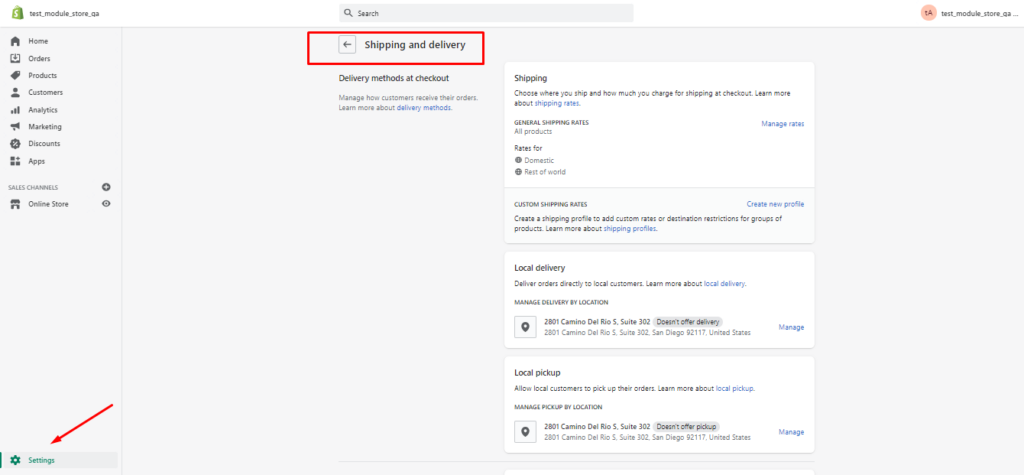 Adjust your store appearance by installing a new theme and all the necessary apps (but don't get too carried away).
Test both front- and backend, try registering a new user, make a test purchase, etc.
Invite your customers to reactivate their accounts. You can send the account invites either individually or in bulk. If you decide to do it in bulk, consider using the Bulk Account Invite Sender app (it's paid).
NOTE: Keep in mind though that migration of the Wix web project to Shopify is a two-fold process. You should transfer the store data (like products, customers, orders, etc.) to the new platform – and that's where Cart2Cart can do the job for you. And in case there's Wix blog content that you wish to move, consider using the aisite service for the task.
Now when you're equipped with all the information, it's high time to perform a successful Wix to Shopify migration and take your current online project a step forward towards success.