Today, more and more people are switching to Joomla K2. What are the reasons of its great popularity and worldwide recognition? It's simple to decypher. Joomla with its K2 component is the convenient tool both for blog and complex website management. This advanced CMS platform possesses the huge amount of features that make the website organization simple and fast. Joomla K2 provides every website owner with the following:
advanced content management – it's easy to edit, add, and optimize your posts with the out-of-the box options+extra fields.

media improvement – you may easily enrich your posts with the images, video, and other media files.

hassle free image organization – all the images you upload may be resized automatedly to 6 configuration dimensions.

more advanced templating – it's possible to implement sub-template.
All in all, Joomla+K2 totally deserves your attention. Thus, we offer you the automated way to export your WordPress content to directly to Joomla K2 without data losses in a few really simple steps. What's peculiar – you may do it by yourself with the help of a few mouse clicks. Plus, you don't have to work with scripts and codes at all. Just follow these easy steps!
WordPress to Joomla K2 Flight
Stage-by-Stage Instruction
1. Registration
To move WordPress to Joomla K2 go to aisite.com and register there your account. Also, to save even more time you may login via your Google+ or Facebook account. It's up to you.
2. WordPress and Joomla K2 URLs
Then, provide the URLs of your current
WordPress
website and new Joomla site with K2 component. And then, select your CMS platforms types – in this case choose WordPress and Joomla K2.
In case you haven't installed Joomla K2 yet, but want to try the migration and see how your website will look like on the new CMS software, aisite offers you to migrate your website content to our test Joomla K2 site. You'll be able to check up the migration process and the look of your website and make your decision then.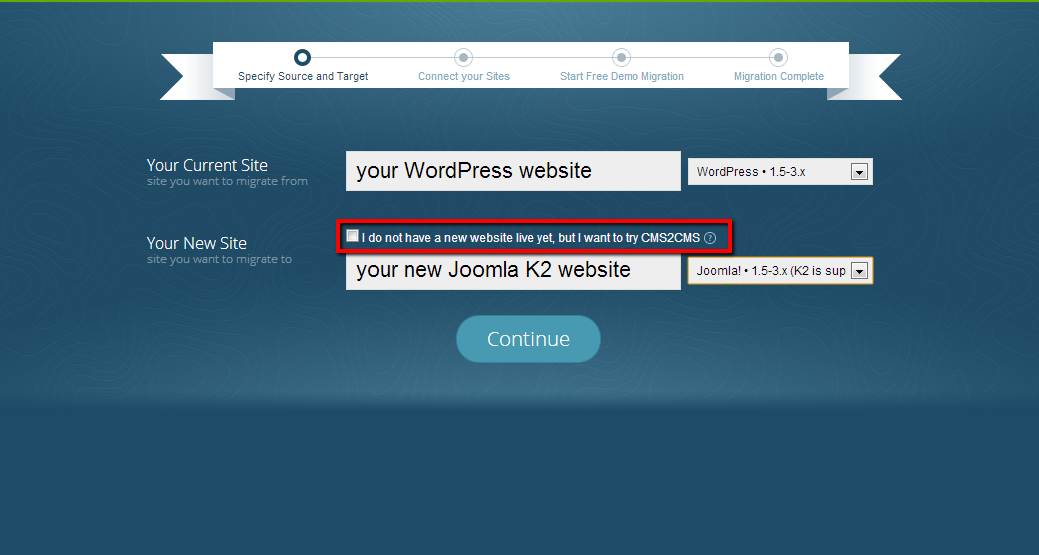 3. Create the Connection Between Sites
The next step will be download the connection bridge, which is a necessary step to enable data exchange between your existing and new website.
The connection bridge will be saved as 'aisite' zip to your local computer.

Extract 'aisite' zip to your computer and remember its location.

Connect to your sites via FTP. You may use any type of FTP client software.

Within your FTP dashboard, copy 'aisite' folder you've extracted from the zip and paste it to the top folder on both of your WordPress and Joomla K2 websites (in other words, root folder is the top directory with the index.php file).
If you've successfully done these steps, it means the connection between your sites is already set up.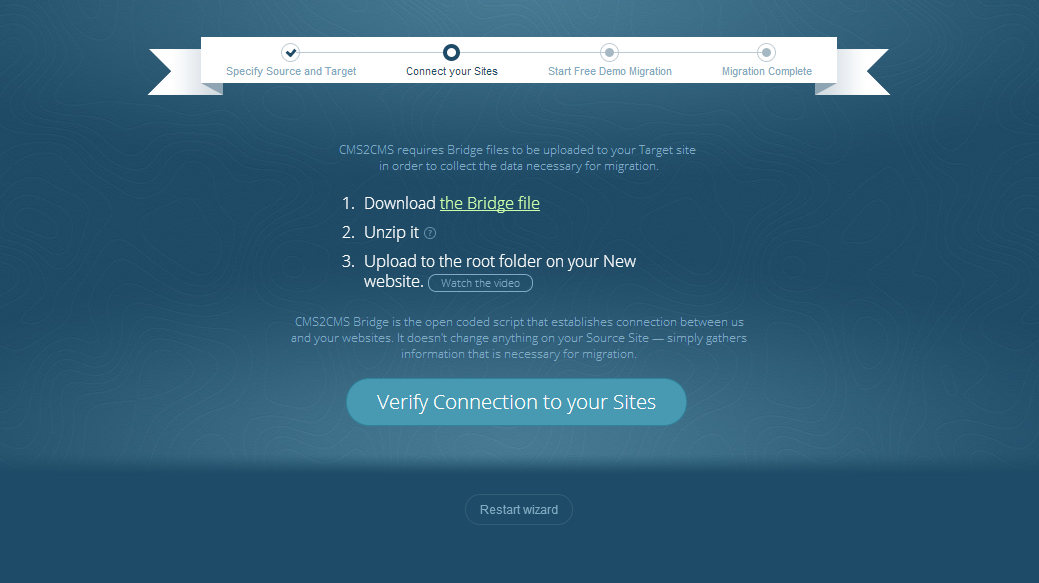 4. Migration Wizard
Now, go back to your migration wizard and press 'Verify the connection bridge' button. You'll be offered several additional options to choose:
Migrate Media Files – check this box if you wish to transfer your post pictures.

Make URLs SEO Friendly – if you check this box, all your internal links will be migrated in accordance to the rules of Joomla K2 website.

Clear Target Site Data – If you have some test content on your Joomla K2 site, you may clear it by choosing this option.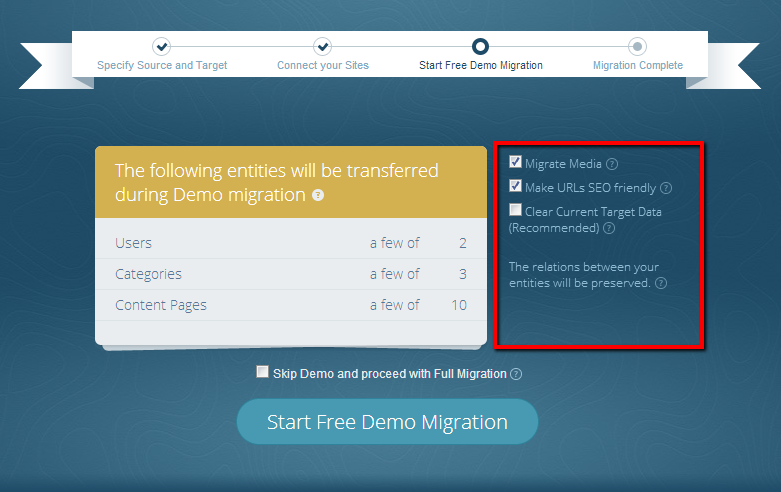 5. Start Demo Migration – No Cost
Now, you may check how aisite will move WordPress to Joomla K2 by proceeding with the free Demo Migration. 10 pages of your website content with the related entities (such as posts, categories, tags, etc.) will be migrated to Joomla K2 and in a minutes you'll be able to check the result.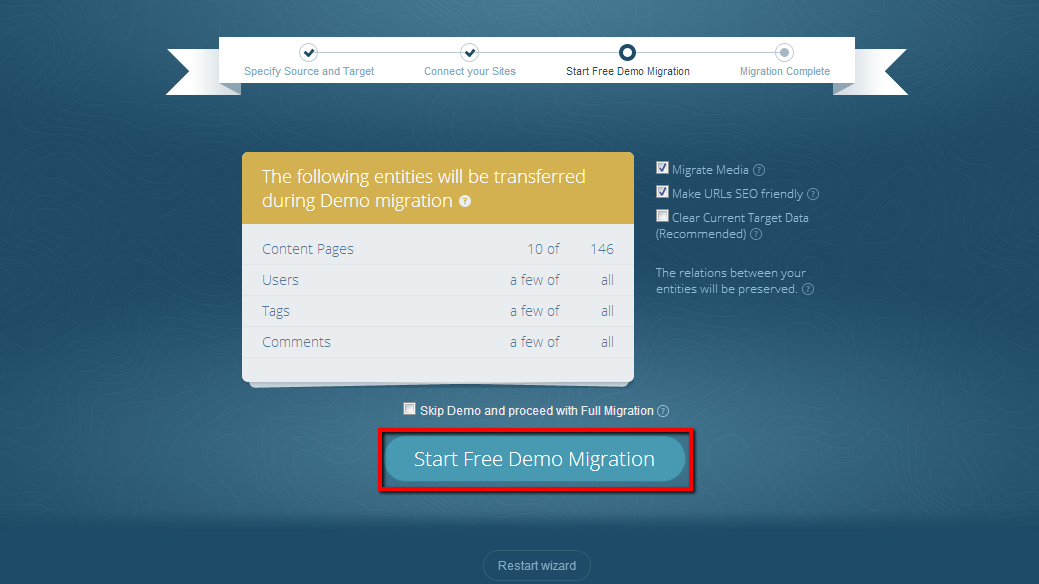 6. Run your Full Migration
If you are happy with the Demo migration result, you may start the Full Migration of your website. When the transfer is finished, you'll receive the email notification and be able to check the final result.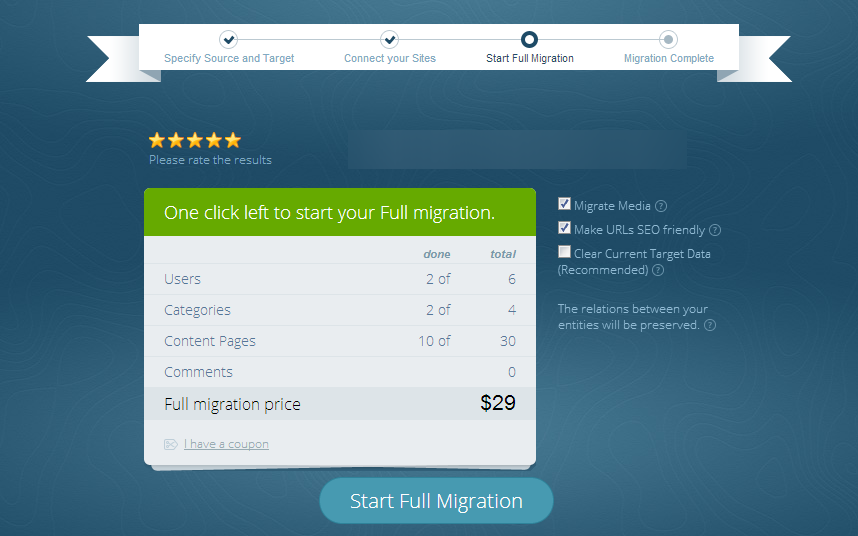 What WordPress website entities Will be Migrated to Joomla K2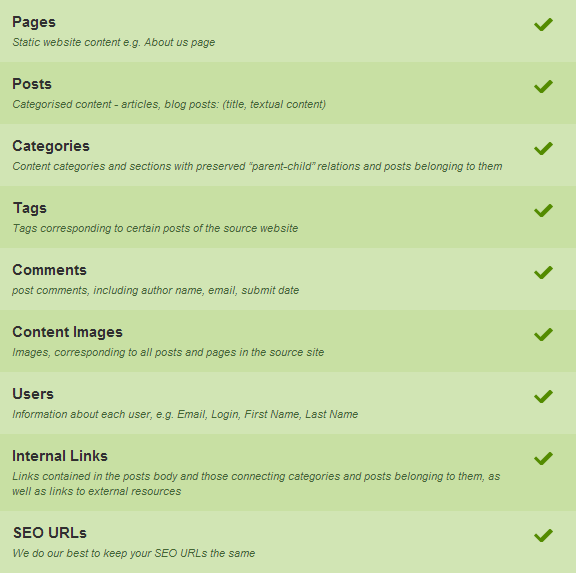 Can't wait to start a new Joomla K2 website? Then, move your WordPress to Joomla K2 right away! Just start your free Demo Migration and you'll see that you can get your new K2 site almost immediately!