Perhaps, having started running your blog once, you won't stop ever. It's like a blog addiction, you can't stop sharing your thoughts and ideas anymore. However, when you run a weblog, whether it's a personal diary or business project, it's not enough to have something you'll write about. One more thing that denotes the success of your blog is the blogging publishing platform itself. The functional side, writing, posting, and editing options are the main components of your web page mover.
Passing on to the root of this article, you want to know the reasons why it's worth transferring Tumblr to WordPress. Everything runs into the one – your blog expansion and development. So, what you can count on with Tumblr and WordPress?
Moment of Tumblr
If you are reading this post, it's more likely that you're not so happy with your Tumblr blog, aren't you? Perhaps, things are going right this way. So, what's Tumblr offer? It's easy to create an account there, you have an opportunity to post pictures (in most cases) and it's easy to have lots of followers. And you should realize that you are not the owner of your blog – there are options to customize your web page.
Epoch of WordPress
Considering WordPress as your blogging platform, you have an option to create a full value website or kind of extended blog. It's possible to enter the arena of best-websites race. You may take a higher position in SERPs and get more traffic. Moving on to the design solution, WordPress opens the great bulk of free designer developed themes and plugins for your blog or website.
As a rule, the only thing that stops bloggers to transfer Tumblr to WordPress is the tedious process of migration, the possibility of data, and ranking losses. But what if there is a tool that moves data automatedly with no efforts, losses, and nerves? Sounds it's no go? Let's check up what aisite automated migration tool offers. As it's said nothing ventured, nothing gained!
Tumblr to WordPress Migration
Step 1. Create an account or Sign In via Facebook or Google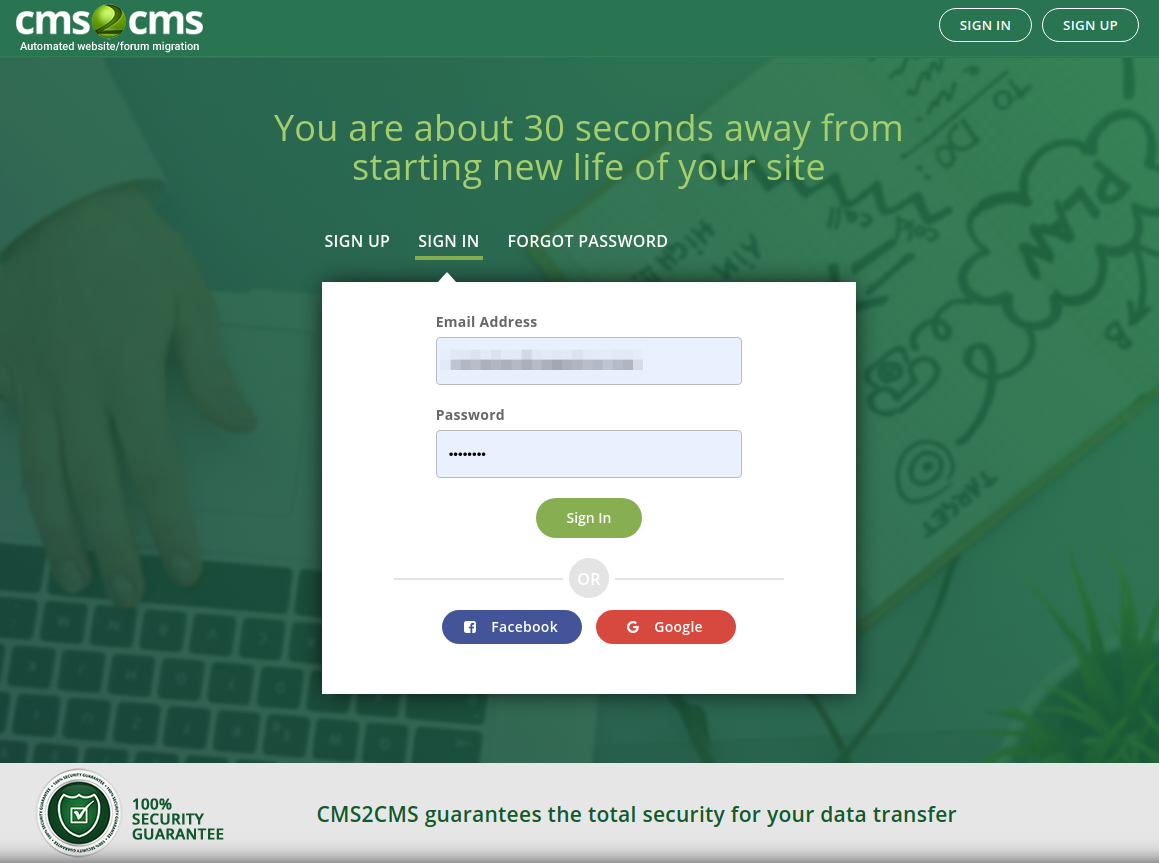 Step 2. Select your current CMS platform – Tumblr
Let's start a free demo migration! You can choose Fully assisted migration, by the way. Our tech team will do everything instead of you! But let's go back. Here you have to enter your site URL address. Copy it in your Tumblr Blog's Settings. It's important! the link has to look like this: http://ioliverblr.tumblr.com/ 
Step 3. Enter your login and password
Don't be afraid – it's safe, we take security very seriously. You can read about it at our Security Policy. We need an email and password to connect to your account and to have access to migrate your content.

Step 4. After that, we have to select a new CMS platform
You can choose whatever you want! In this instruction, we will migrate to WordPress because it is one of the best CMS – it gives total control of the content! So here are two ways: you can check out migration results on your new existing site, in case you have one. Or you can move to our Test Site if you haven't another yet. In case you have a new one – enter its URL Adress.
Step 5. Establish the connection to your new site
To connect to your WordPress website all you need to do is to enter your admin login and password. It is required to install the connector plugin automatically.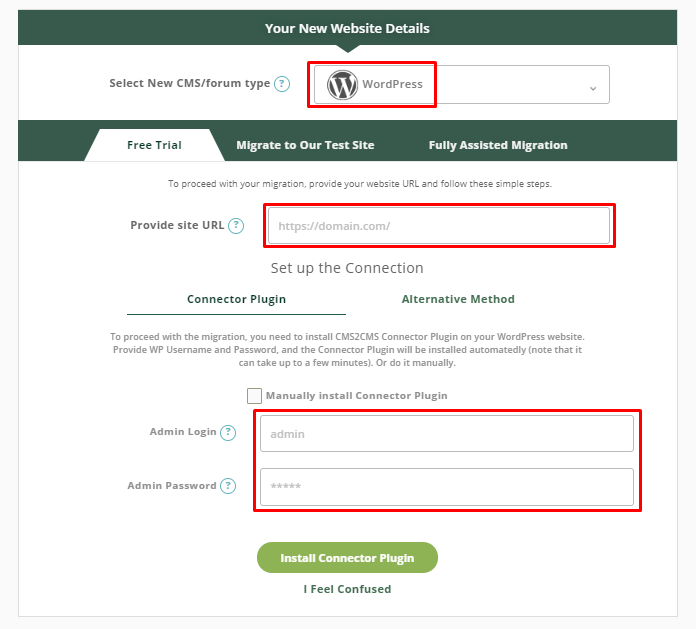 Step 6. Select the Entities
That you want to import and type of content you want to transfer your posts in.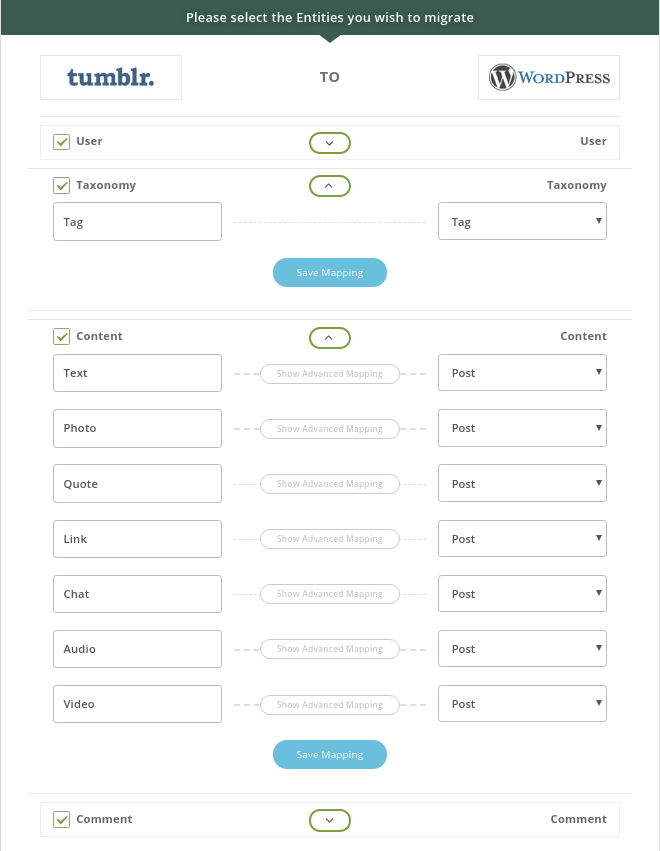 Finally, we can Start Free Demo migration!
At this step, you are able to select additional options if you wish. Or you can skip the demo and migrate all data.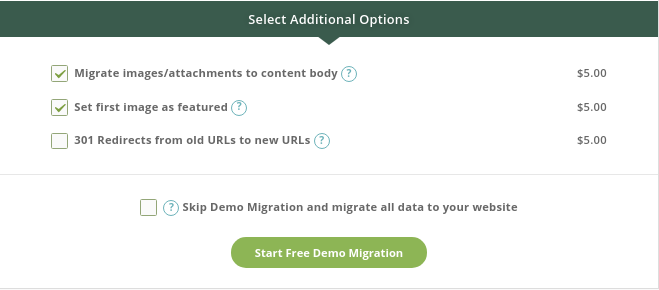 Done! Now you can check out the results!
During demo migration, you can see part of your data. Here you can see the table – highlighted in blue – are clickable links. Here you can compare the previous appearance of your website and the new one on WordPress.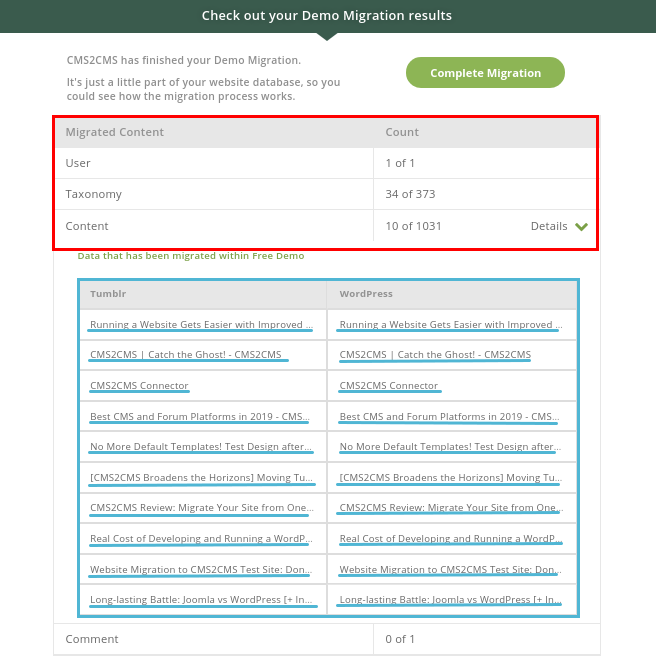 If you are satisfied with the results – don't waste your time, start your full migration! 
So, take this radical action to make your blog even more improved and completed, set up your free Demo Migration and in a minute you'll enjoy your new WordPress blog.