For a qualitative online project, it is important to think over the concept, structure and design in accordance with the requirements. In line with this, the decision of choosing the right platform becomes even a more significant thing. In this article, we're going to highlight the Evolution CMS and WordPress platforms as well as the quick way to migrate the content.
Talking about Evolution CMS…
There is now a huge selection of content management systems, one of them is Evolution CMS. It has an interesting story behind – the product appeared thanks to MODX CMS and at the moment exists as a separate independent CMS. The community firstly released MODX Evo 1.0.9 back in 2013.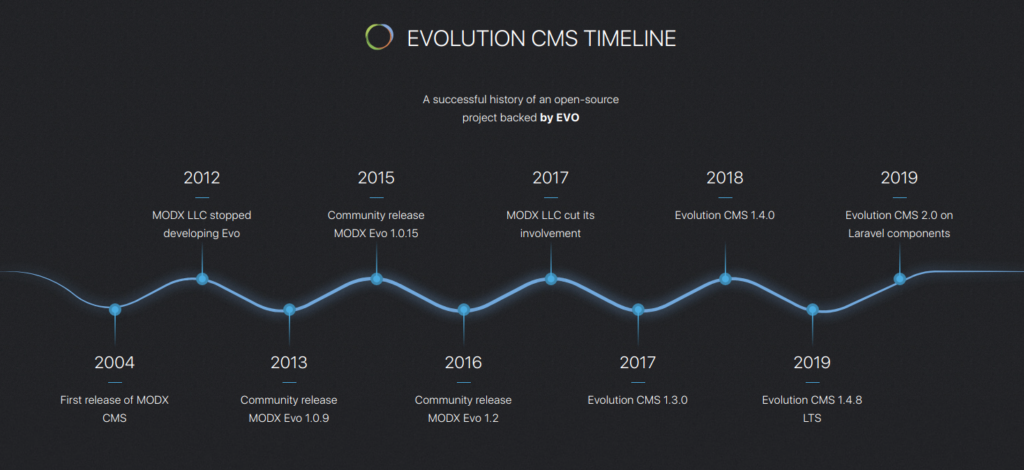 -Evolution CMS Timeline
The key features of Evolution CMS are the following:
A free license.

The software can be downloaded from the official website and ready to be set without any difficulties.

Open source code

allows you to make any changes.

Regular updates

prevent software vulnerabilities, so you don't have to worry about the "security holes".

the selection of

modules

are available at the administrative panel for installation and downloading.
Despite the advantages, this CMS for the site has drawbacks that can lead to difficulties during development and administration:
A complex interface

. Learning how the system works may take a long time if you have a lack of experience.  It is rather difficult to find detailed, step-by-step lessons and instructions as well.

As Evo CMS is a free platform, there's

no support

ready to help at any time of the day. Still, the Community (mostly Russian-speaking) may answer your questions.

Unlike the competitors (WordPress in particular), the

choice of ready-made templates is very limited

. Ordering an individual template will require additional financial costs.
Peculiarities of WordPress
Although WordPress commenced its journey as a blogging platform back in 2003, now it has turned into a fully-fledged content management system – all thanks to its extensive range of themes, plugins, and other built-in tools. The framework is powered by PHP, JavaScript, CSS, and Ajax to let people create anything on the fly.
In fact, this platform is rocking the charts right now. WordPress is an excellent idea to become the final decision for your project.
Evolution CMS to WordPress: The Migration Move
Now it's a high time to go through the Evolution CMS to WordPress migration process in detail.  aisite, the automated forum and website migration service, offers you a super-fast and safe way of fully automated transfer. Using it, all your Evolution CMS content will be migrated to WordPress within 15 minutes in a fully automated way.
Step 1
First of all, you need your aisite account. You can use your Facebook or Google account for signing up to aisite.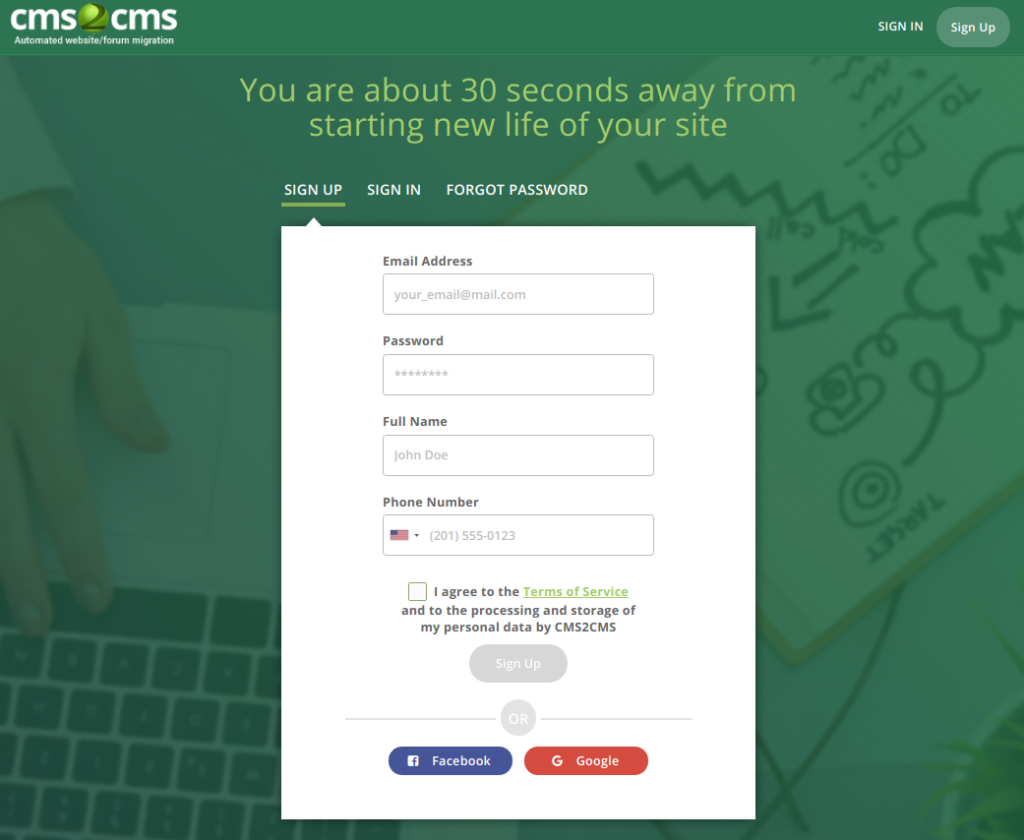 Step 2
Specify what CMS you are going to move from. In our case, it's the Evolution CMS. Choose it from the list of suggested platforms and provide its URL.
Please establish the connection to your Existing Evolution CMS website. Read this in-depth tutorial or watch the video beforehand on how to use Connection Bridge. When you've done with the installation, press the 'Verify connection' button.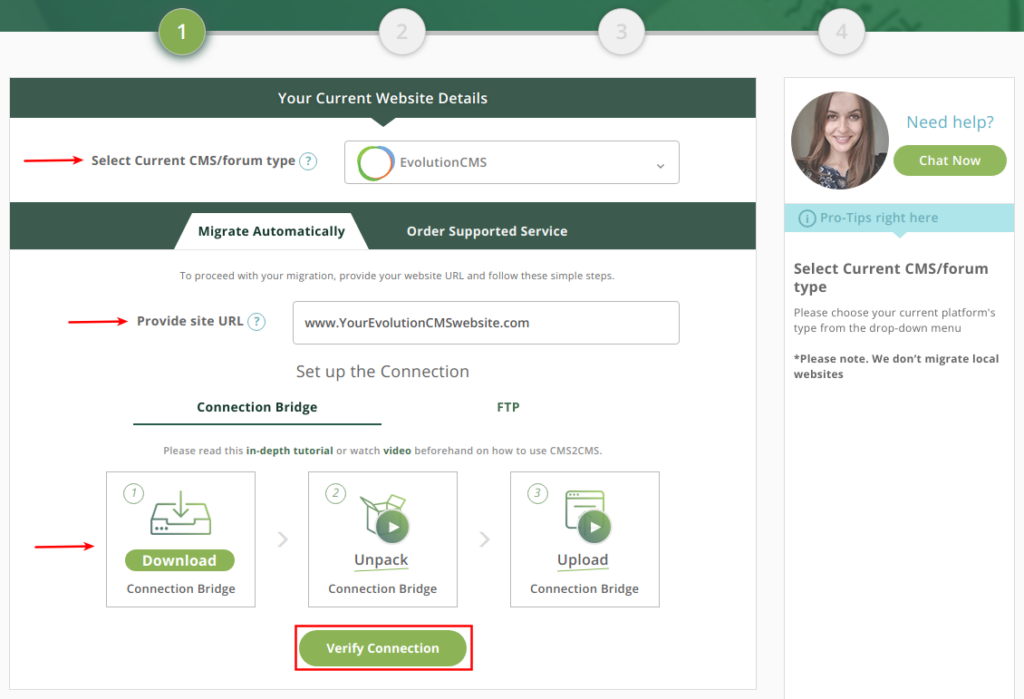 Step 3
You're on halfway! Now it's time to specify your target CMS. Choose WordPress as New platform and enter its URL. In case, you don't have your WordPress installed yet, you can try Migration to aisite Test Site. Choose the accordant button instead.
Connect to your WordPress website by installing the Connector Plugin. Please read this detailed guide to Connector Plugin usage or watch the video.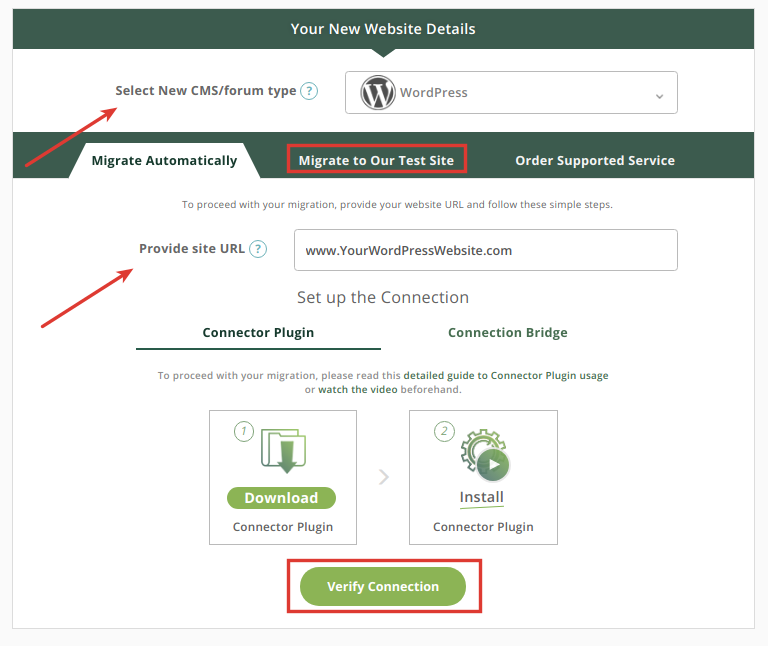 Step 4
When the connection between your websites is set, select what data you want to be transferred to your New WordPress website. Choose the entities you wish to be migrated and additional options if needed. After that, you can run Free Demo Migration to estimate the results first.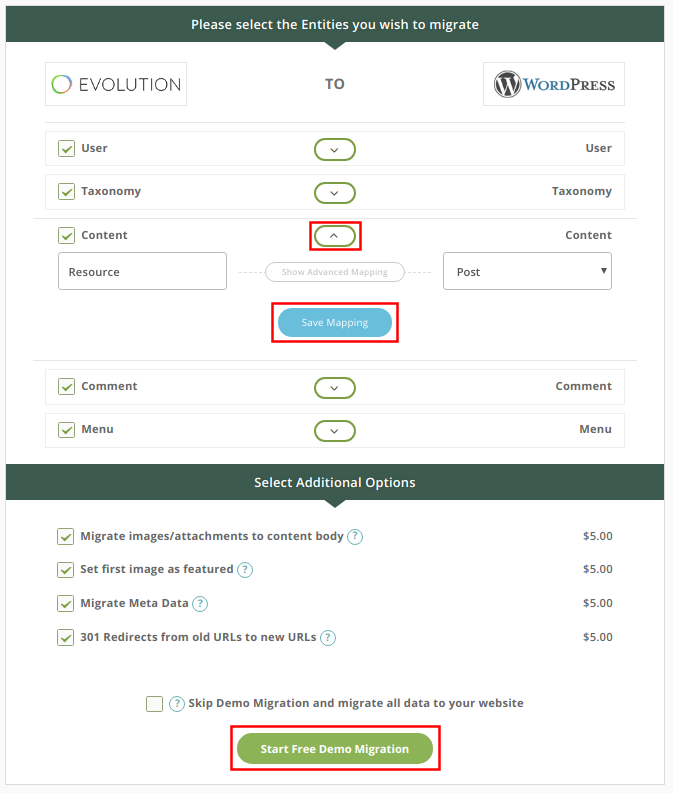 Step 5
The only thing left to be done is to complete the migration. Select the additional options needed, choose the migration insurance, check how much it will cost and get the migration going, by clicking the 'Complete Migration' button.
If you have the discount coupon, you'll be asked to provide the code to get the discount – just use 'I have a coupon' option for that.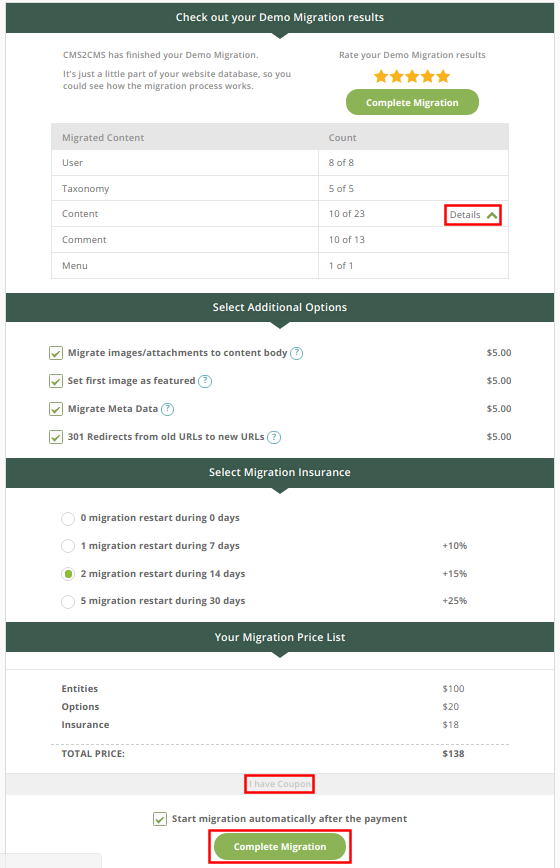 Step 6
That's it! Now you are a happy owner of WordPress-powered website with all your Evolution CMS content on it. Check the results!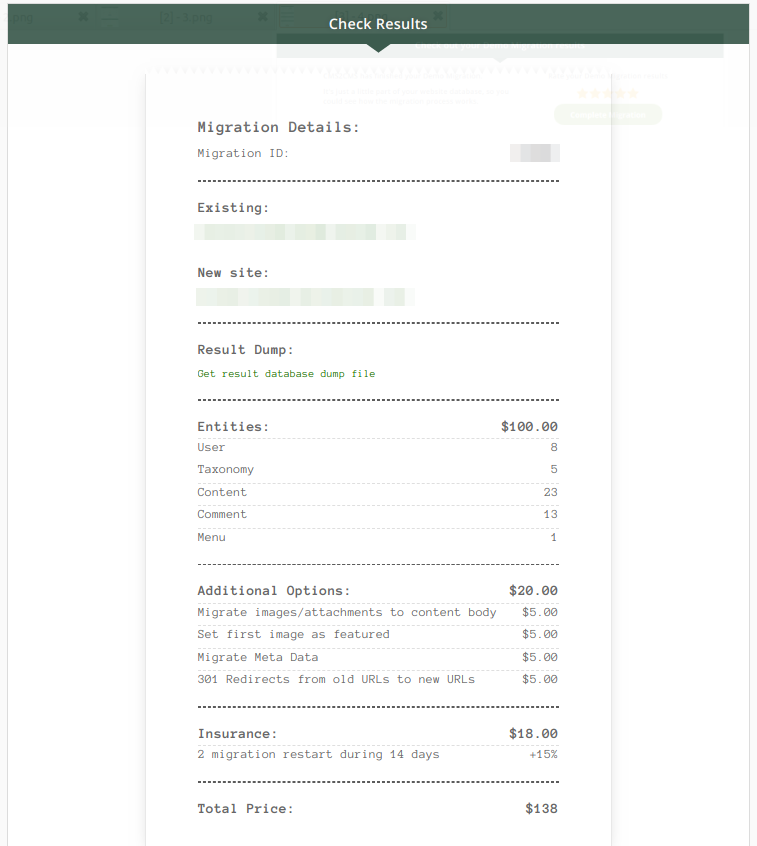 Wrapping Up
It seems like you have found a useful tool to transfer the content, isn't it? Have a look at a great number of entities which can be migrated during this shift.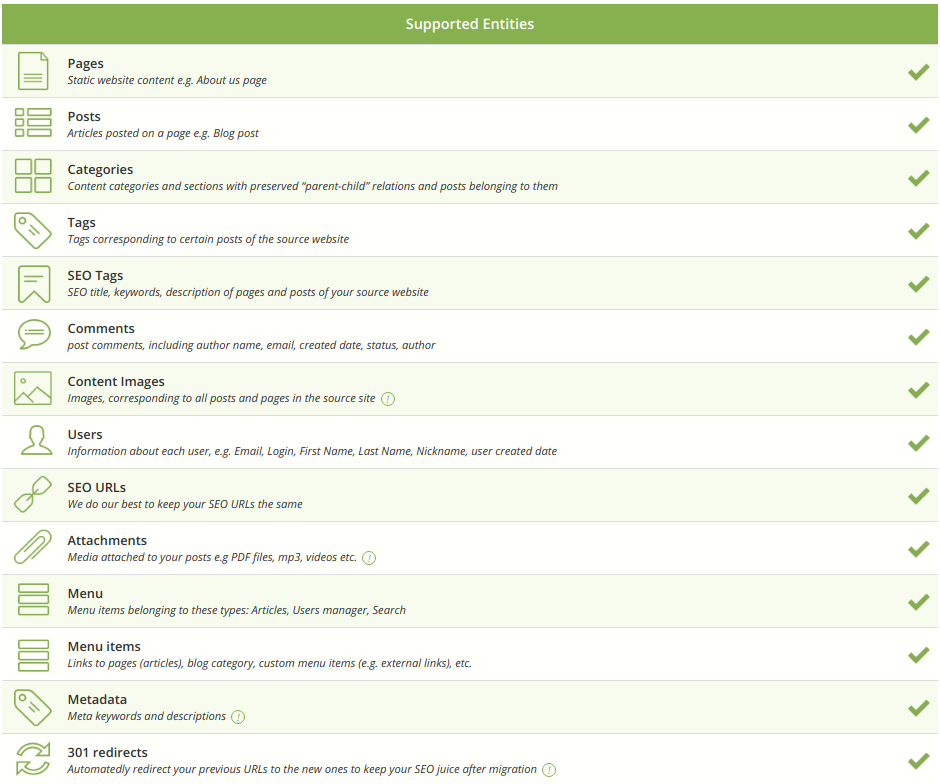 So, looks like you have finally found the tool for your Evolution CMS to WordPress migration, haven't you?  Therefore, you can easily try it in action at absolutely no cost. Just set up your free Demo Migration right now, and you'll see how fast and simple your migration can be if entrusted to the professional tool.
Have you tried to migrate a website from Evolution CMS to WordPress before, and if so, did you encounter any problems that this article has helped you with?
Share your opinion – we love your comments! And don't forget to follow us on social media! 😉 Facebook Twitter LinkedIn YouTube