Chasing the absolute improvement of your website, sometimes you should take some radical actions, for example, switching to another CMS platform. It's a little bit risky, but what can stop you from striving to make your website better?
Thus, today, we'd like to present you the detailed tutorial on how to migrate your website content from TYPO3 to Joomla securely and precisely.
Watch Video Tutorial on How to Migrate From TYPO3 to Joomla
TYPO3 to Joomla Migration: Step-by-Step Instruction
1. Registration
The first step is go to aisite.com and register your new account. Or there's an option to login via Facebook or Google+ account.
2. Provide TYPO3 Website Details
Now, choose Typo3 as your Existing CMS platform and paste its URLs in the corresponding field. Set up the Connection Bridge to establish the connection to your Typo3 website and press "Verify Connection" button.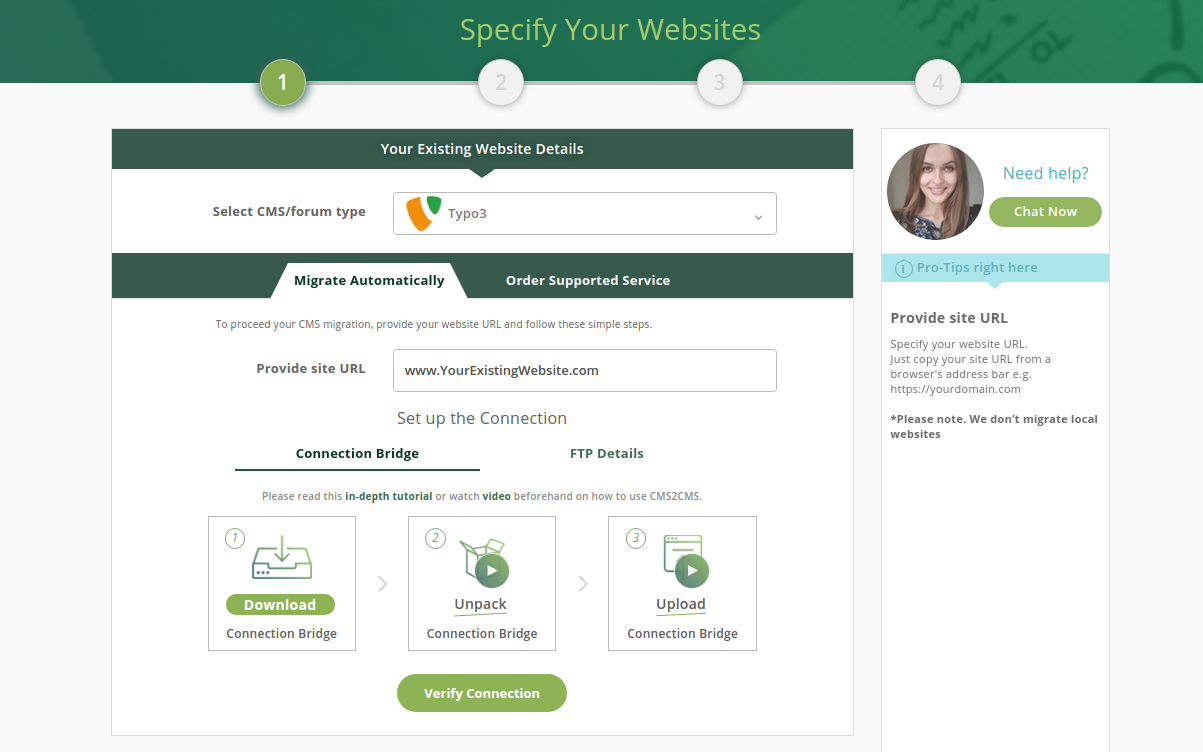 3. Provide Joomla Website Details
Now, it's high time to provide your target CMS platform details. Choose Joomla as a New platform and write its URL in the corresponding field. To connect to your Joomla website, you are given two options to choose from: the installation of the Connector Extension or the Connection Bridge.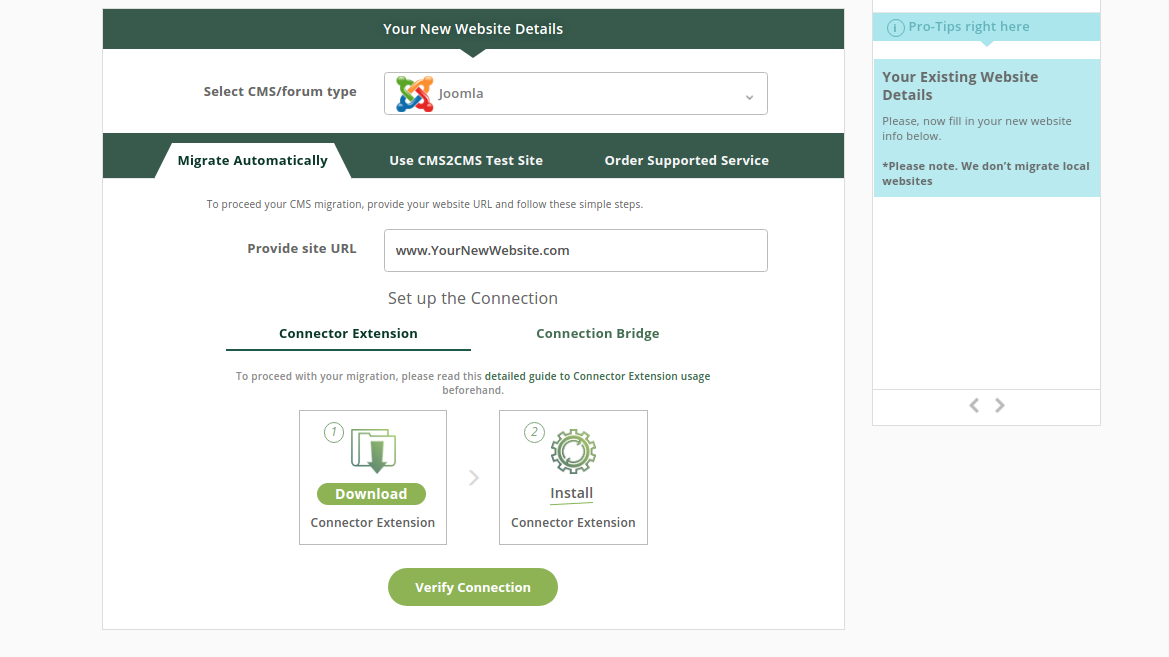 By clicking the "Download Connector Extension" button, you will be asked to save the file to your local computer. It will be saved in a zip format containing aisite-connector-extension folder.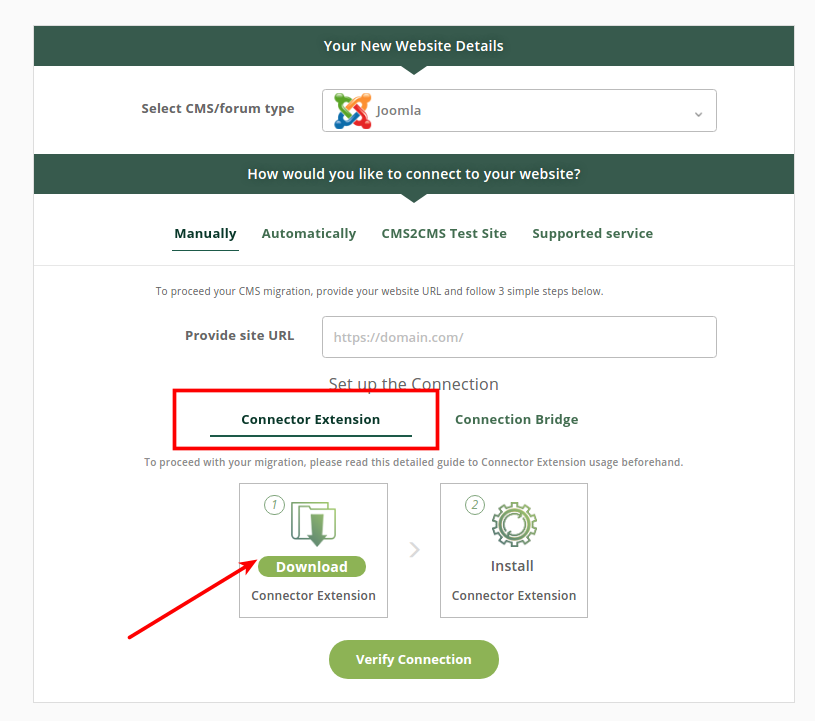 Your next step will be to upload the aisite Connector Extension to your Joomla site. Go to Extensions on your admin dashboard choose, the previously saved zip file from your computer, and click Upload and Install button.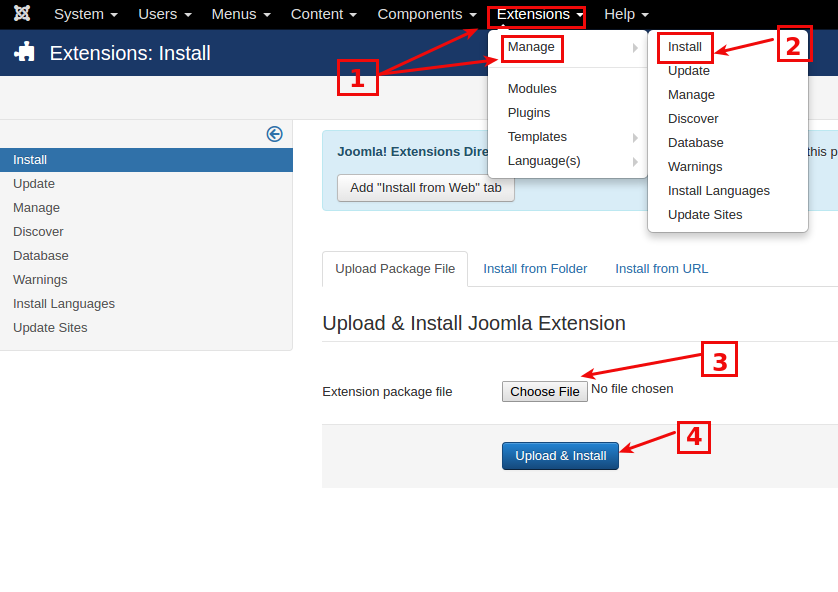 Click on the extension and log into aisite. Now you can proceed with your migration.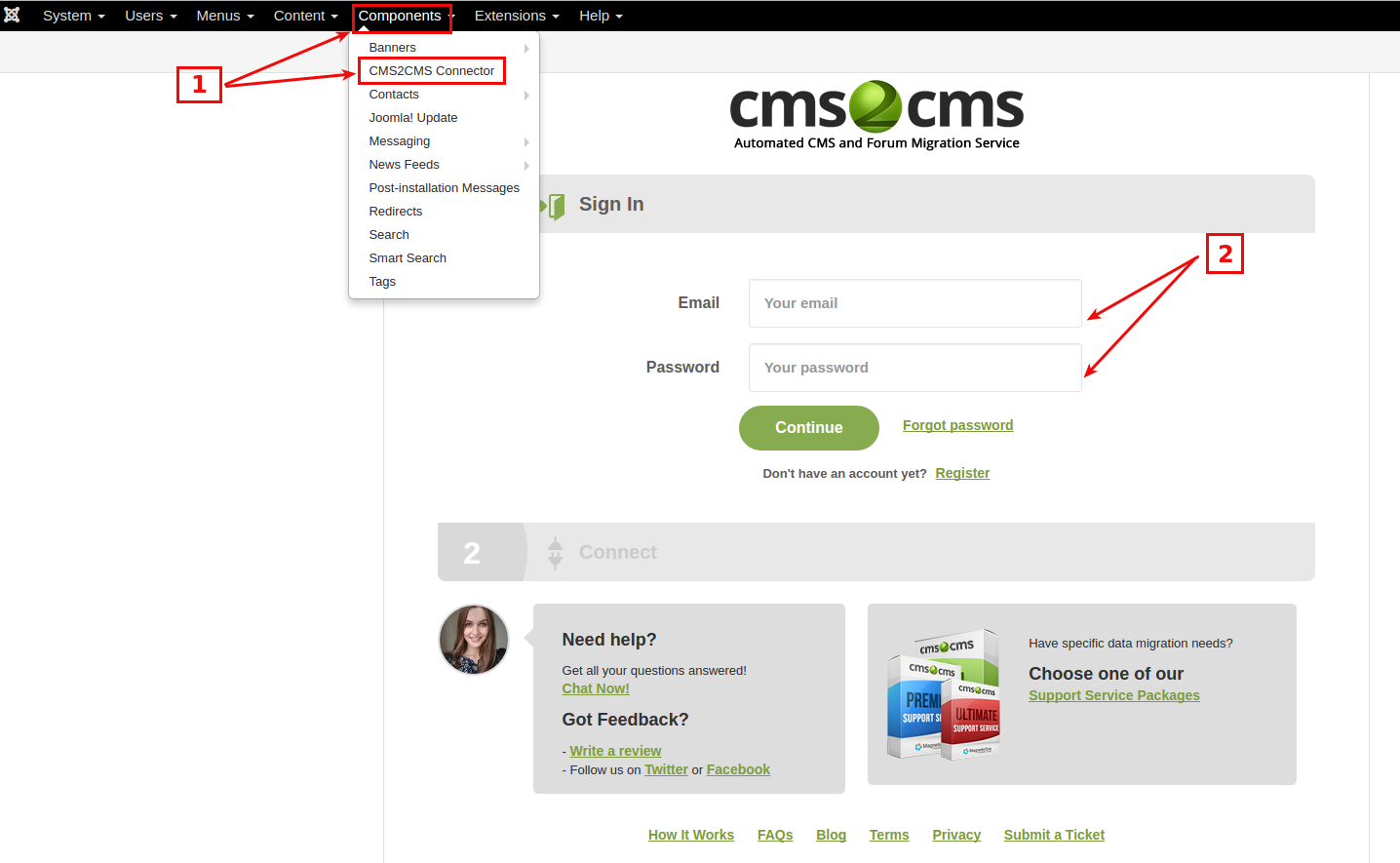 4. Free Demo Migration
Before proceeding, you may choose the preferences concerning some aspects of your TYPO3 to Joomla migration. Tick the entities you wish to migrate and additional options if needed. After that, you can proceed with Free Demo Migration to see the results first. It takes little time and you'll be able to see how your website looks like on Joomla CMS platform. aisite will move the part of your content to the new site at no cost. You can skip this step through and run the Full migration at once.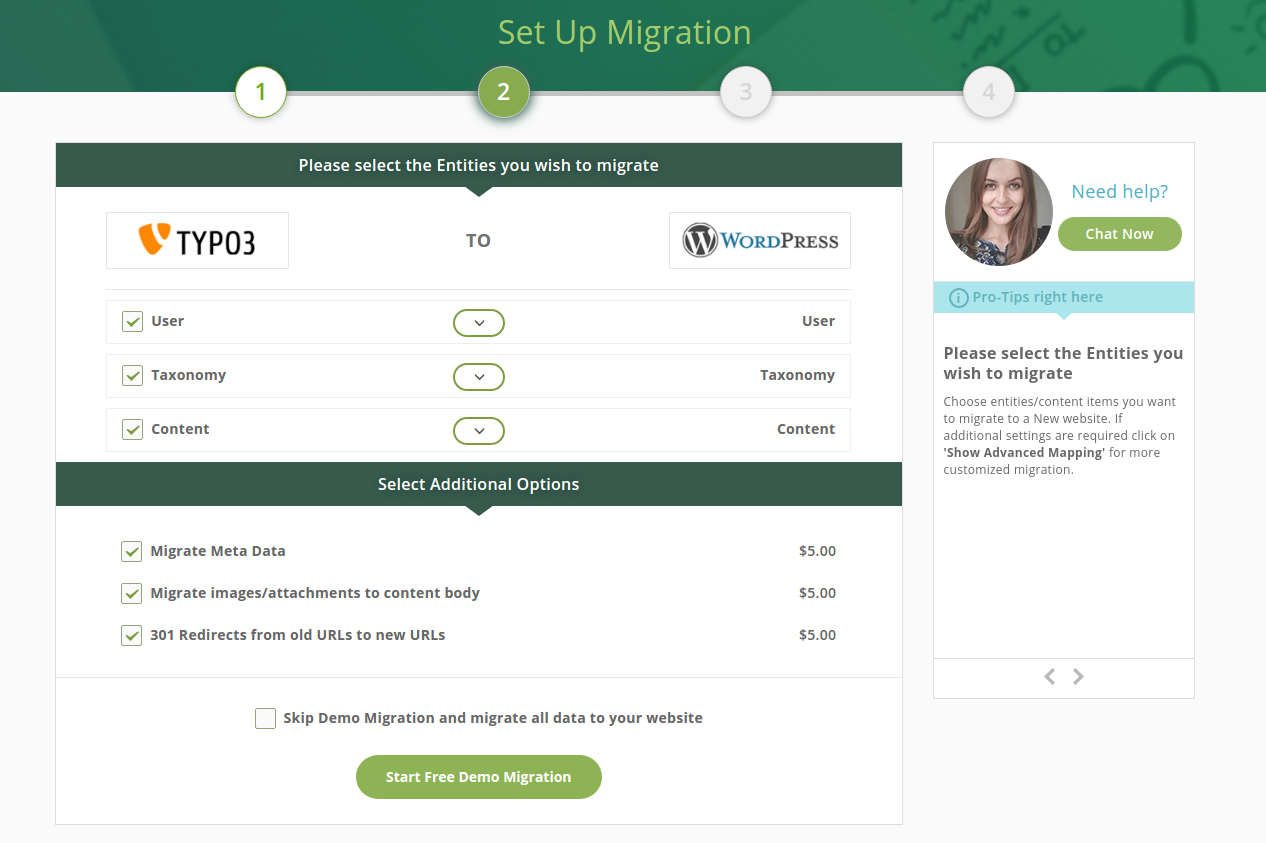 5. Check the Demo Migration Results
After your Demo Migration is complete, you will have the opportunity to check what content was migrated from your Existing Typo3 CMS platform to the New Joomla platform within the migration wizard.
By clicking the "Details" button you can hide or open the list of migrated content items.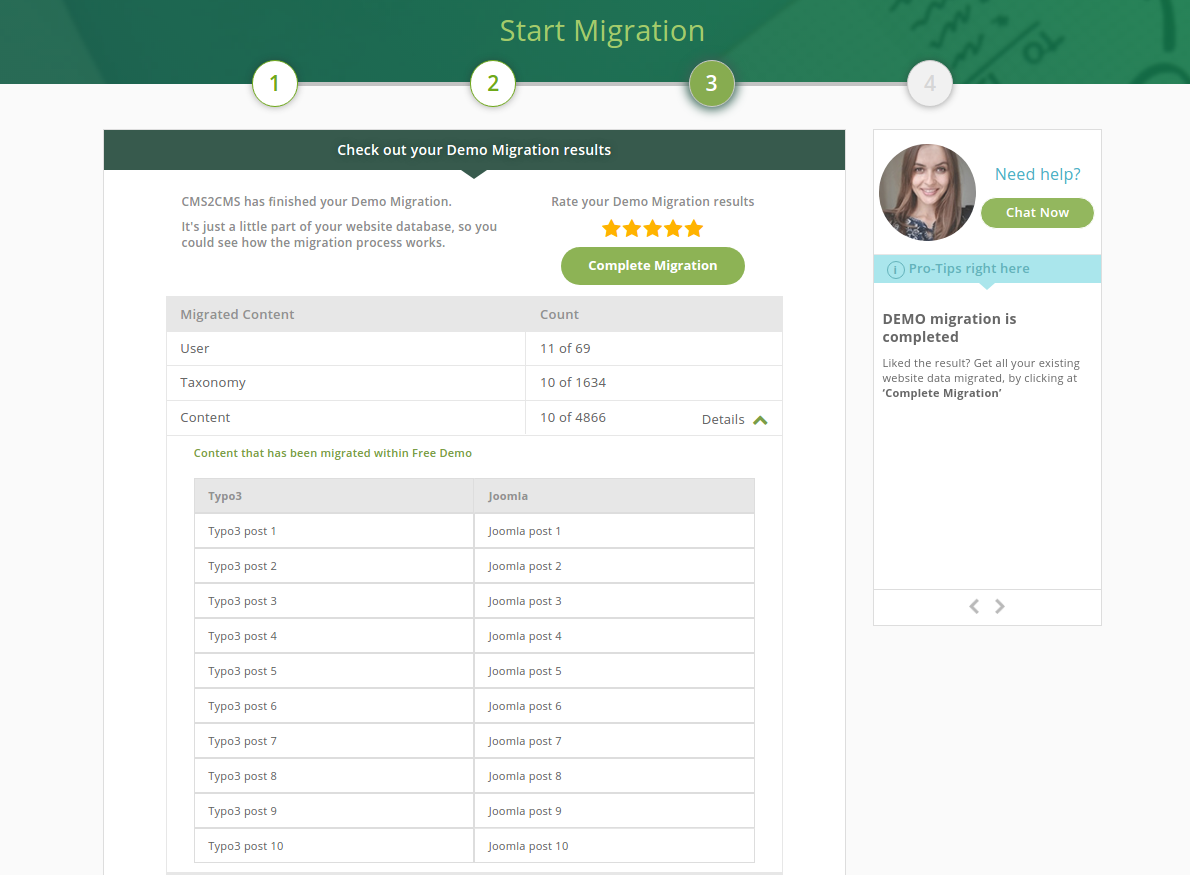 6. Full Migration
If you are happy with the result of your Demo Migration, you may start the Full migration of your website. When the transfer is over, you will receive an email notification and be able to get to the juicy part of managing and configuring your new Joomla website.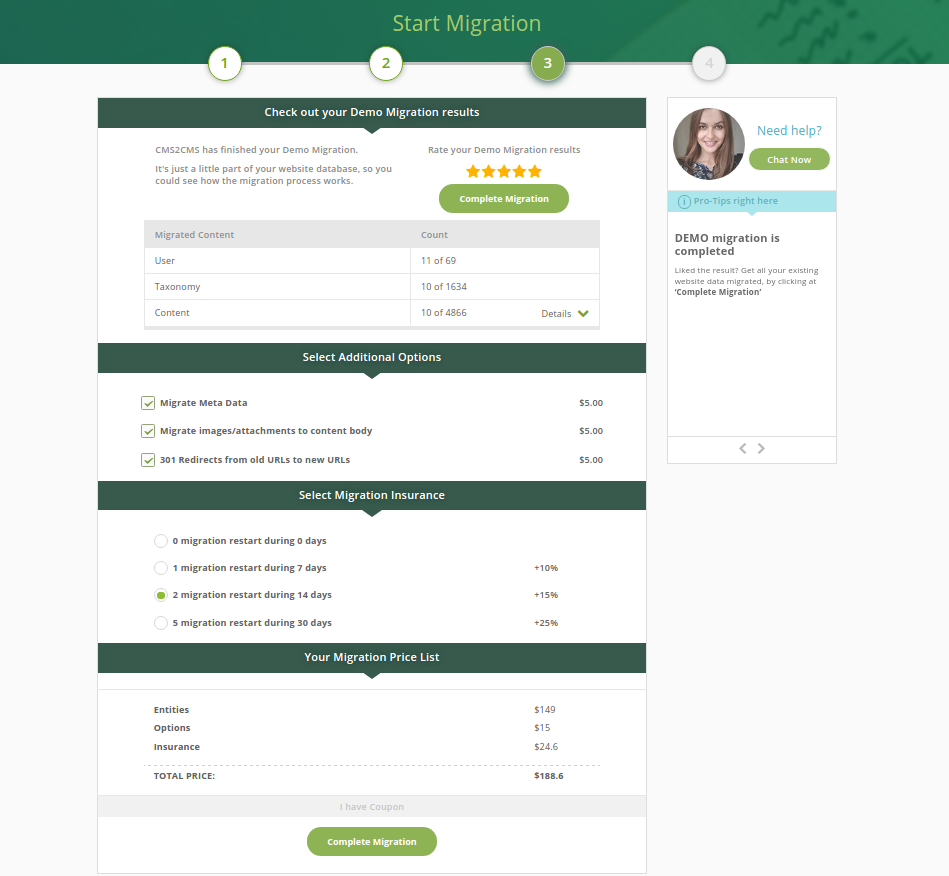 When the transfer is over, you will receive an email notification and be able to get to the juicy part of managing and configuring your new Joomla website.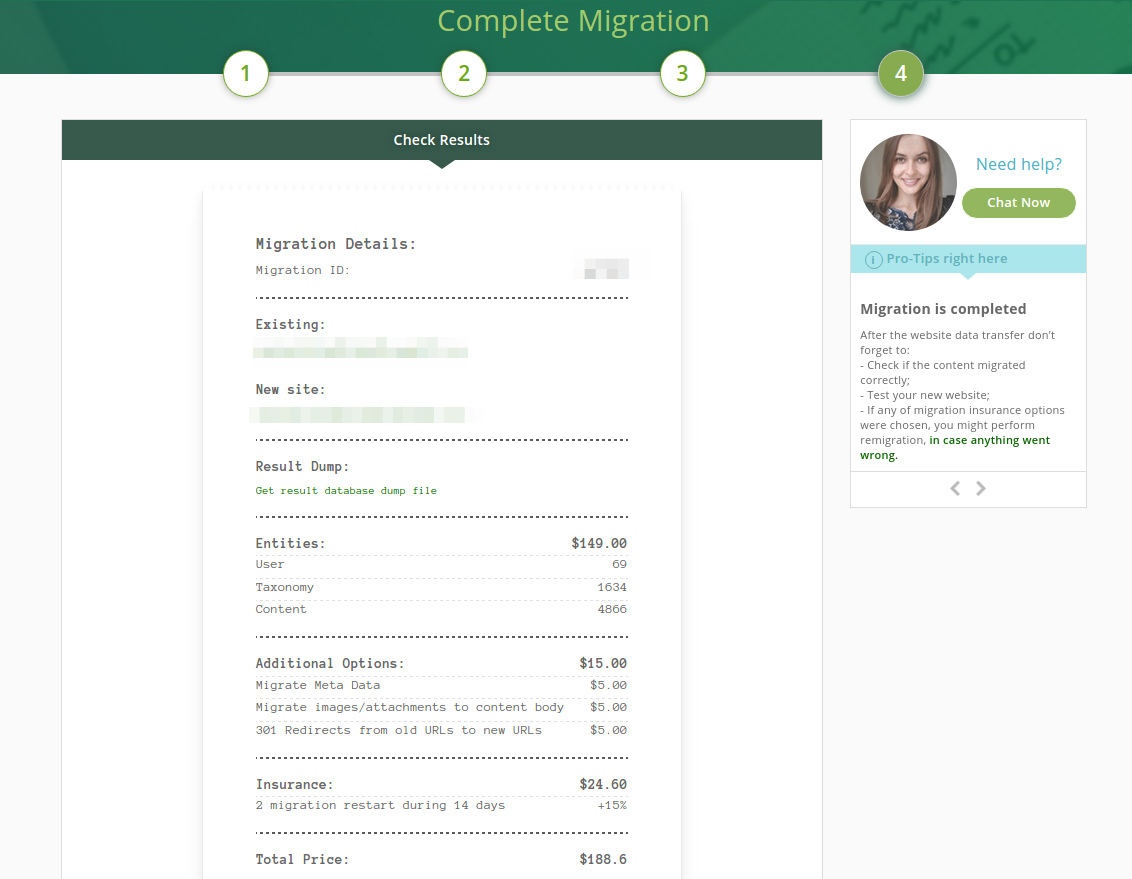 So, don't hesitate, migrate TYPO3 to Joomla with no hassles at all! Just set up your free Demo Migration and aisite will take care of your website conversion from A to Z – all automatedly.