Running a Tumblr-based blog is pretty attractive way to spend your spare time. You are posting photos, pictures, it's easy to share your content and get followers. However, the desire to have something bigger and make your site more professional forces you to take some radical action, such as migrate to the new CMS platform.
Searching a worthy alternative? Consider Joomla, one of the most powerful CMS platforms out there. Just imagine how many discoveries are waiting for you: the investigation of aesthetic templates, extensions, and many other fancy fields. You will become the owner of the professional website, not just a blog.
Probably, you'd like to try this super powerful Joomla, but don't want to leave your current content on Tumblr. Don't worry, we have prepared you the rescue solution – automated Tumblr to Joomla migration.
Tumblr to Joomla Migration Live
Step by Step Rescue Guide
Create Your Account
To move all your blog entities to Joomla properly, go to aisite and register your personal account there. All you need to provide is your name, email, and password. Also, you may join aisite via your Google+ or Facebook accounts.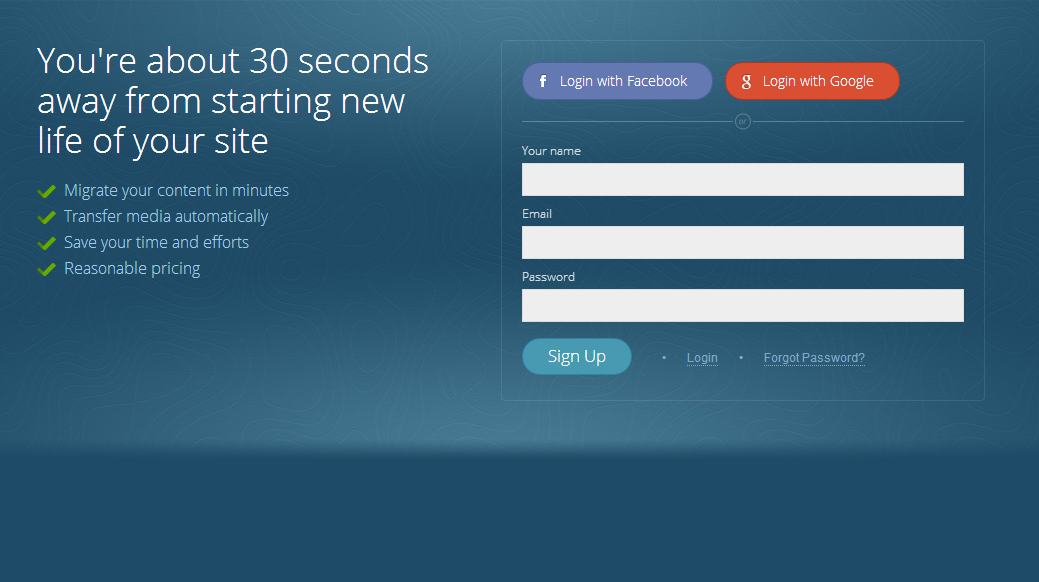 Type Your Tumblr URL and Joomla URL
In the provided fields, specify the URLs of your Tumblr and Joomla websites correspondingly. Besides, you have to choose your CMS platforms types.
If you don't have your Joomla site installed yet, you still have an opportunity to check the migration process. aisite may move a limited amount of your content to our test Joomla site for you to evaluate the results for free.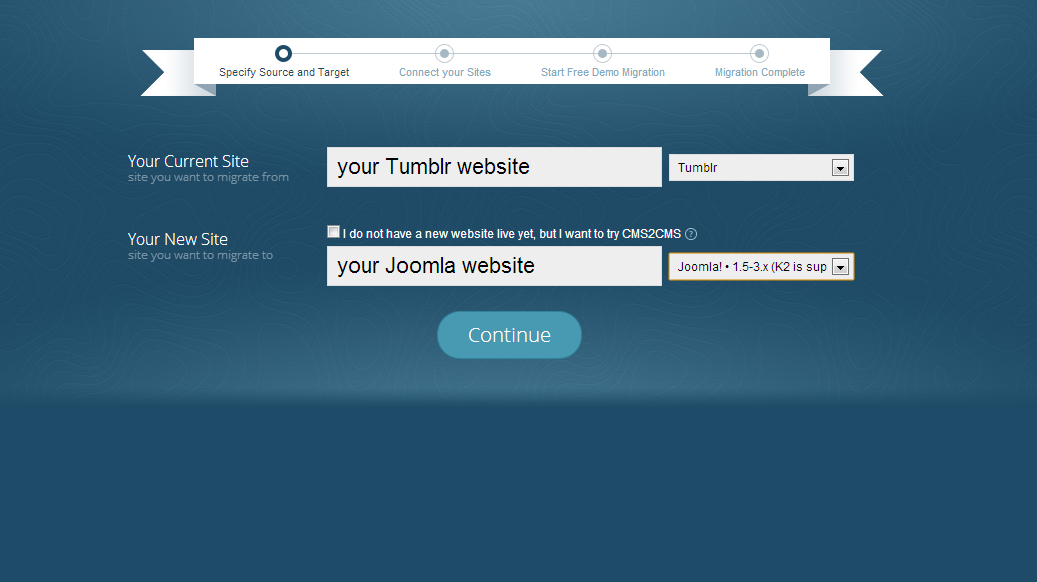 Connect Tumblr
When ready, provide your Tumblr login and password to connect to your current website.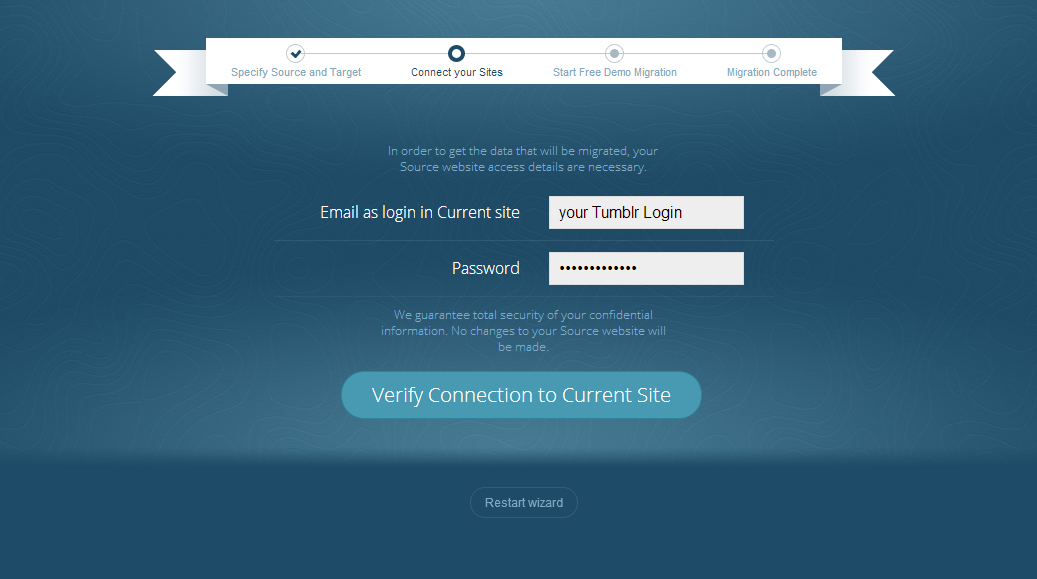 Connect Joomla
As soon as finished, download the connection bridge – just click the corresponding button to save it zip format. Now, its time to connect to your new Joomla website:
extract it to the corresponding folder on your computer and remember the location.

connect to Joomla website via FTP client software – right within the dashboard copy 'aisite' folder (the one you've extracted from the zip) and paste it to the root folder of your new Joomla website. If done correctly, you are connected to your Joomla site.
Additional Options for Advanced Migration
Now, you may go back to your migration wizard and verify the connection between you sites. When ready, choose the additional options to make your Tumblr to Joomla migration totally suit your needs:
Migrate Media Files.

If you want to move your post pictures to the new website – just check the corresponding box.

Make URLs SEO Friendly.

It means all your internal links may be adopted to the rules of Joomla link creation.

Clear Target Site Data. 

If you have some test content on your Joomla website, but want to erase it, check this box.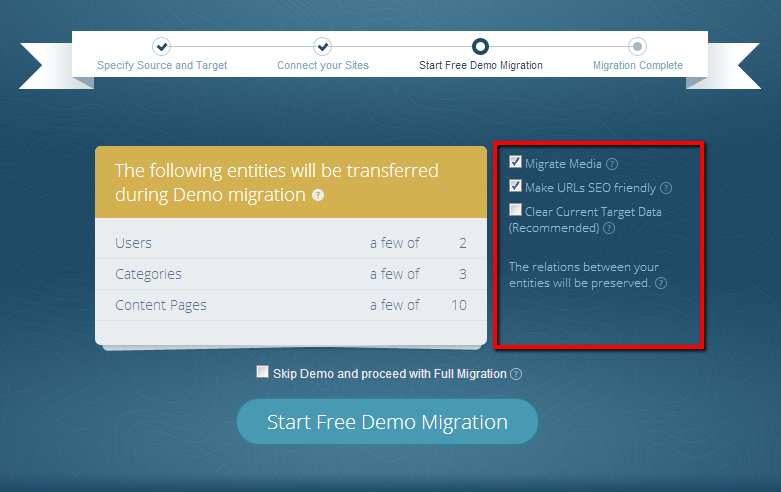 Start Free Preview
Now you are all set up to start your free Demo Migration. aisite transfers 10 pages of your content with the related entities, for you to have the possibility to check the process of migration in progress and see how your new Joomla website looks like.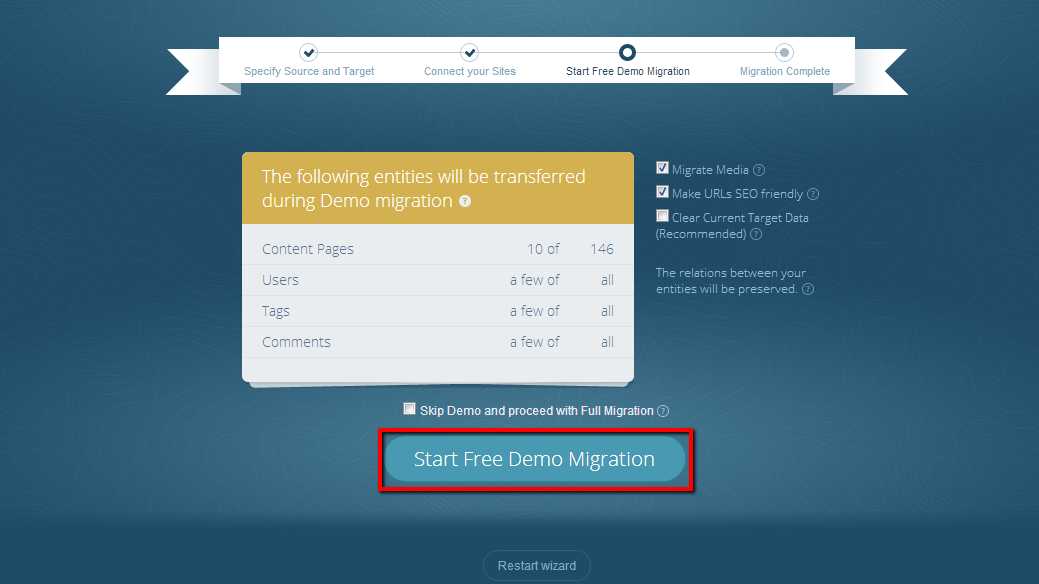 Final Countdown – Full Migration
Now you may proceed with your Full migration by simply pressing the matching button. And right in a few minutes you'll be able to check the result – you'll receive the email notification that your migration is done successfully.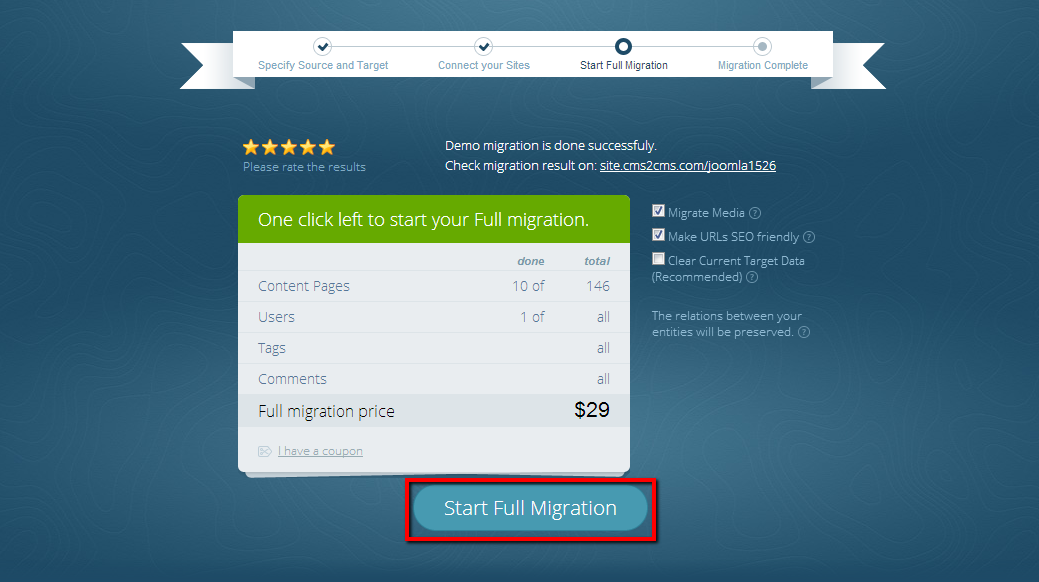 What You Can Migrate With aisite from Tumblr to Joomla?