Hubspot is a famous CRM (Customer Relationship Management) system, but not many people know that it can also be a Content Management System (CMS) or Content Optimization System (COS). Those who do and use Hubspot CMS might ponder over switching their platform to WordPress.
…more about Hubspot CMS
Hubspot CMS has a lot to offer. It's not a traditional CMS in common sense. This platform contains all-in-one elements like blog forms, landing pages, email and data analytics. It also supports marketing automation and lead management which makes Hubspot CMS a great solution for many businesses. And, of course, this CMS has a full CRM integration which is essential for many companies.
If you aim to create a website that you can easily get up and run fast (with a pre-built template), Hubspot is ready to help. The design templates are responsive, and you can customize with a drag and drop UI.
The Main Reasons Why People Might Want to Switch to WordPress
The biggest drawback of Hubspot CMS is the price tag that comes with it. It starts at $300 per month but together with marketing or/and sales package the final cost gets a little murky.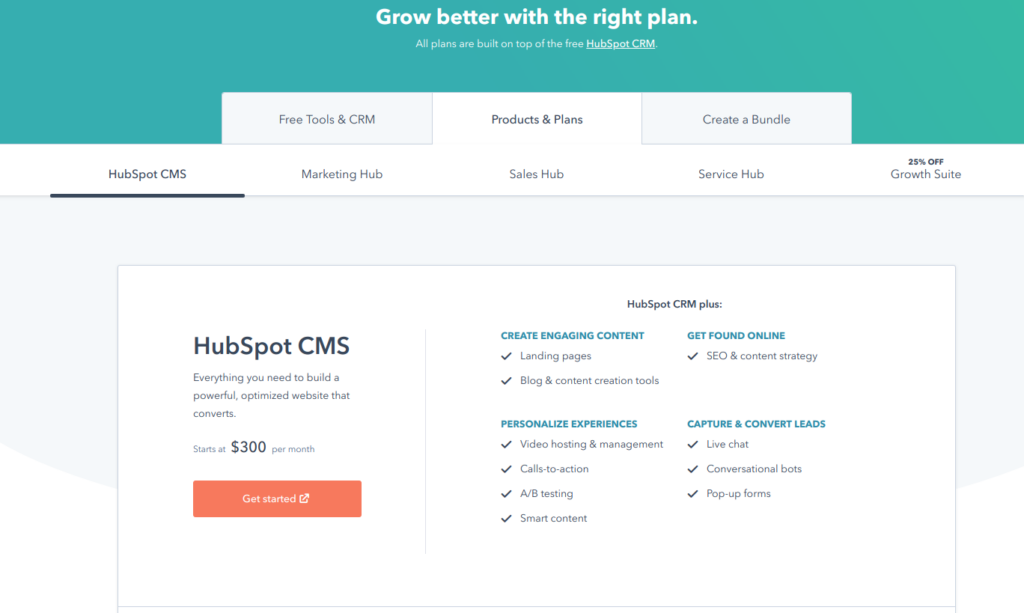 Like many other closed-sources, Hubspot CMS provides everything needed for newbies. Later it gets more and more obvious that's not such a good thing as it seemed at the start. In other words, you don't own your website, so you can't simply change host or export the data and upload it to another platform
As Hubspot uses own database and doesn't support the database integration, it makes this software no go for many businesses.
HubSpot Markup Language (HubL)
Hubl is a unique scripting language Hubspot requires you to use when pulling in the dynamic content. That means the developers and designers need to learn a new coding language while working with the platform.
As it was mentioned, Hubspot CMS is a closed-source with the own scripting language. The back-end systems like CRM, ERP, billing, or other tools or solutions couldn't be connected to the sources behind Hubspot, and that can create some challenges.
With all in-bounded tools provided (Marketing, Sales Hub) Hubspot CMS is a strong platform that can be a great solution for the smaller and mid-size companies. But due to closed Hubspot architecture, this software has limitations that can affect the following growth of the business.
How to Migrate the Content from Hubspot to WordPress
Now it's high time to go through the Hubspot to WordPress migration process in detail.  aisite, the automated forum and website migration service, offers you a super-fast and safe way of fully automated transfer.
Step 1
Sign up with aisite or log in to your existing account. You can also sign in via your Facebook or Google profile.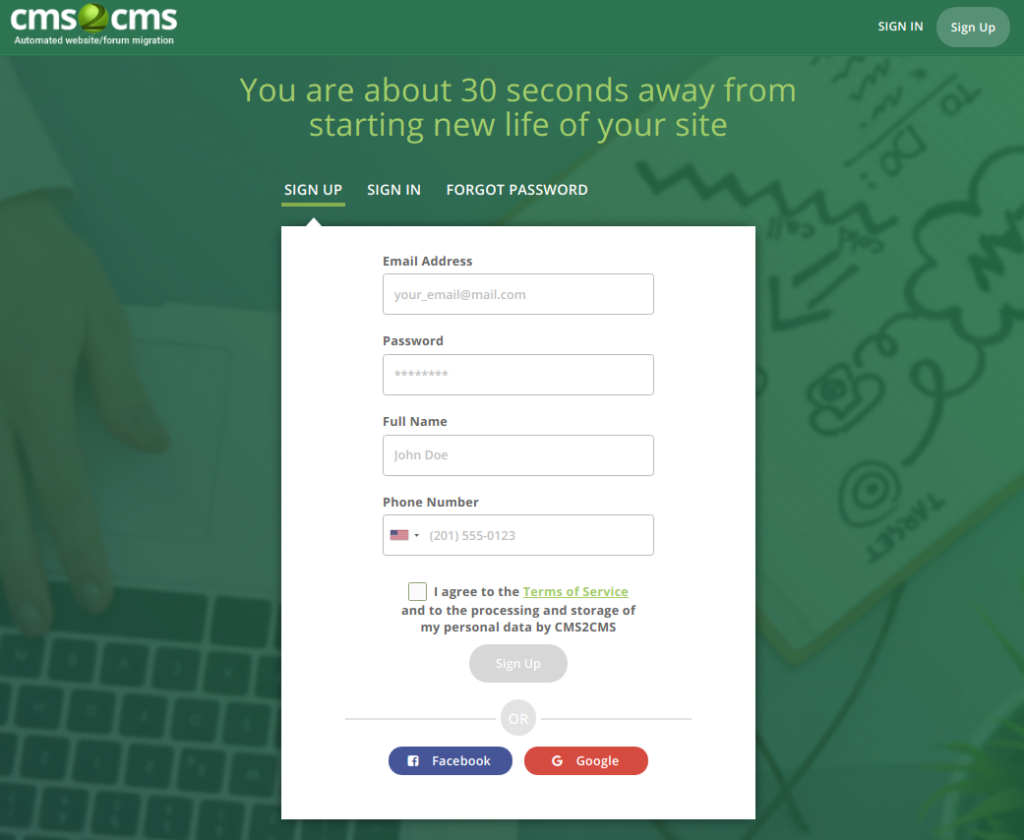 Step 2
Connect to your existing website. For doing this, choose Hubspot as your Existing CMS, press the 'Authorize HubSpot' button. Choose an account and go to the next step.

Step 3
Provide your new WordPress website URL, admin login, and password in order to install the Connector plugin automatically. In case, you don't have your WordPress installed yet, you can try the migration to aisite Test Site.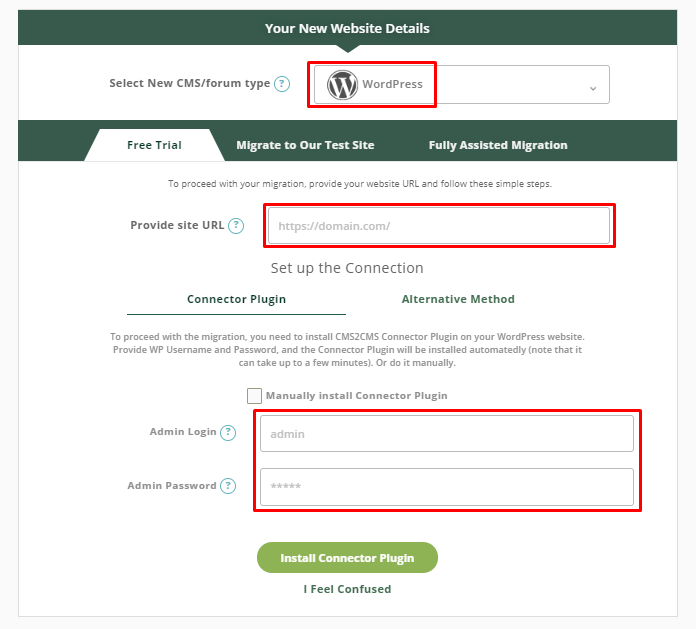 Step 4
Before migrating Hubspot to WordPress, aisite service offers you to preview the future look of your website and run Free Demo migration. Choose the Entities and needed additional options you are going to migrate. In case you want to migrate all your data without Demo, you may skip this step.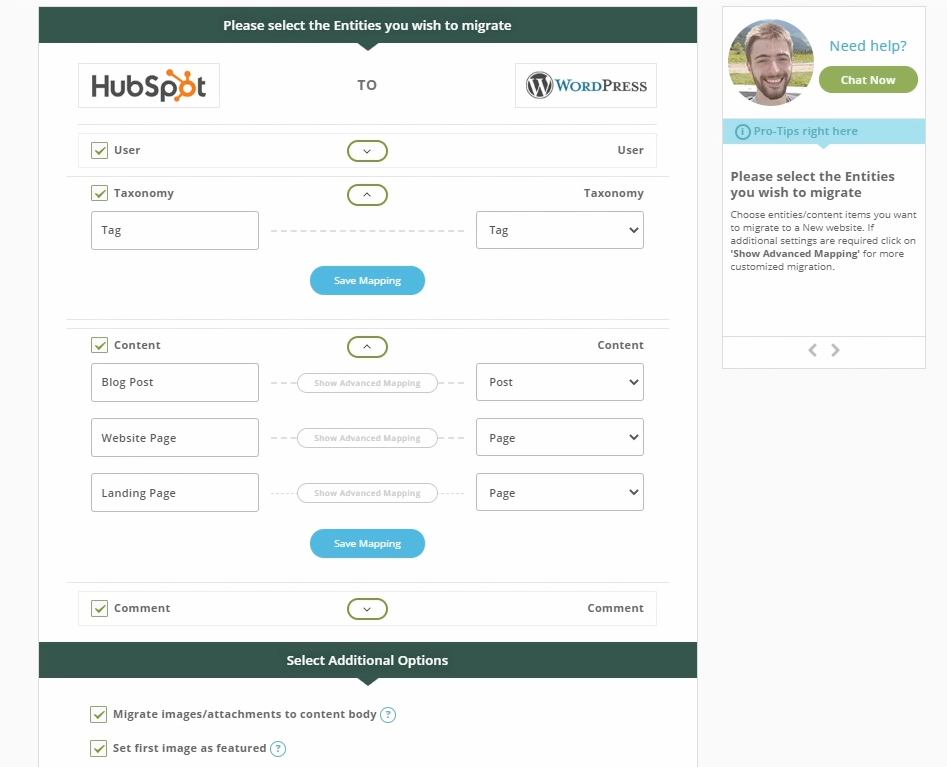 Step 5
Before starting a complete migration to WordPress, you can check the Free Demo result. This table includes clickable links. Click it and you will see how your migrated posts look like on the new CMS platform. If you are satisfied with the result, you may complete the migration.
Also, you can order the design customization! Check out the packages offered and choose the most suitable one.
That's it!
Now you are a happy owner of WordPress-powered website with all your Hubspot content on it. Check the results!
It seems like you have found a useful tool to transfer the content, isn't it? Have a look at a great number of entities that can be migrated during this shift.
***
Thinking of getting to WordPress? Have a go with aisite and switch from your Hubspot website to WordPress in record time via Free Demo migration!