bbPress and vBulletin are forum boards that are widely used for hosting online communities where visitors can communicate, interact, ask and answer questions. Due to a pool of useful features, they both provide their followers with, they have earned the love and loyalty of advanced web users and IT novices as well. Depending on the purpose of a site and features you would like it to have, you can choose one of these tools to create your own forum.
bbPress: Welcome to Simplicity

bbPress is a free professional forum software designed to be easily integrated with WordPress CMS. It is an open source project, known for its ease of use and user-friendly interface that can be customized according to any specific needs just with a few simple clicks. bbPress has many nice features allowing to extend the functionality of the site, and tons of plugins to ease the site's management for both administrators and visitors. Because bbPress is free, very often it lacks developers support, which might be inconvenient in case pro assistance is required.
Get Powered with vBulletin

Despite the fact that vBulletin is a paid piece of software, its members characterize it as an affordable one. This professional and easy to use forum solution provides an active 24/7 support and powerful administration panel making the forum managing process much easier.
With all that being said, if you need a free, quick and easy way to create your online community – bbPress should be high on your consideration list. Should you decide to build a powerful and more professional one – vBulletin might be more an appropriate option.
In case you're currently running your bbPress forum, but wish to convert to vBulletin – below are a couple of tips to make the process easy and time-saving.
Migration from bbPress to vBulletin Automatically
Willing to go through the conversion process without intensive hands-on? aisite online converter is exactly the solution to the problem. No coding experience, no copy-pasting and no additional installation are needed for the process. You will get your data converted from bbPress to vBulletin accurately and just in a few minutes. Ready to start? Follow the steps described below and get your forum a new home:
Step 1. Create Your aisite Account.
To set up the migration process first, create a aisite account. Specify your name, email, phone number, choose the password, and you're registered. In case you already have an account, simply login. You are also given the opportunity to sign in via such social networks as Facebook or Google+.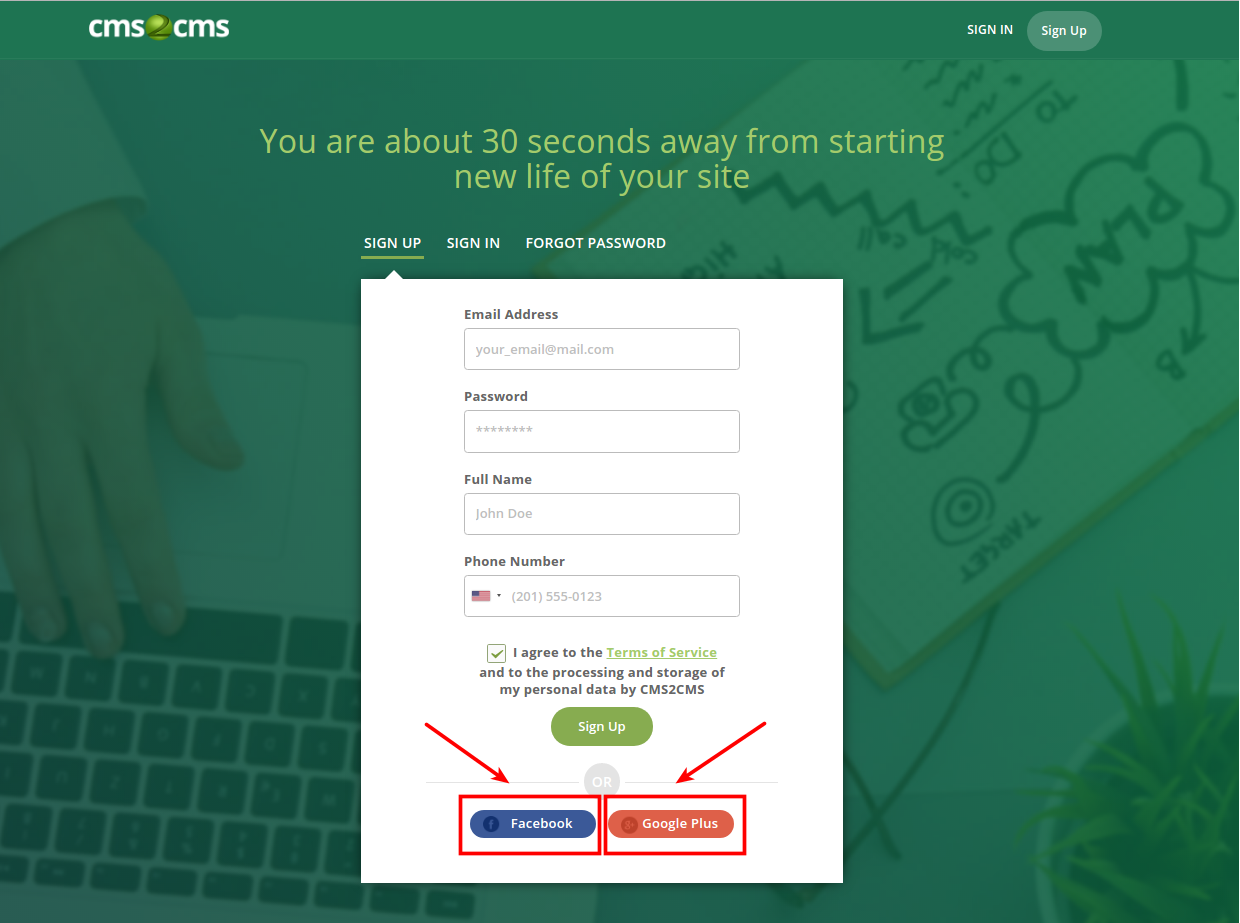 Step 2. Provide bbPress Forum Details
Now, choose your current platform type, in this case, bbPress. Then paste its URL in the corresponding field.
Step 3. Establish the Connection to Your bbPress Forum
The next step would be to establish the connection to your bbPress forum. There are two ways for that, let's choose more automated one. First, press "Download Connector Plugin".
After that, you'll be redirected to WordPress repository, where you can download the plugin to your computer.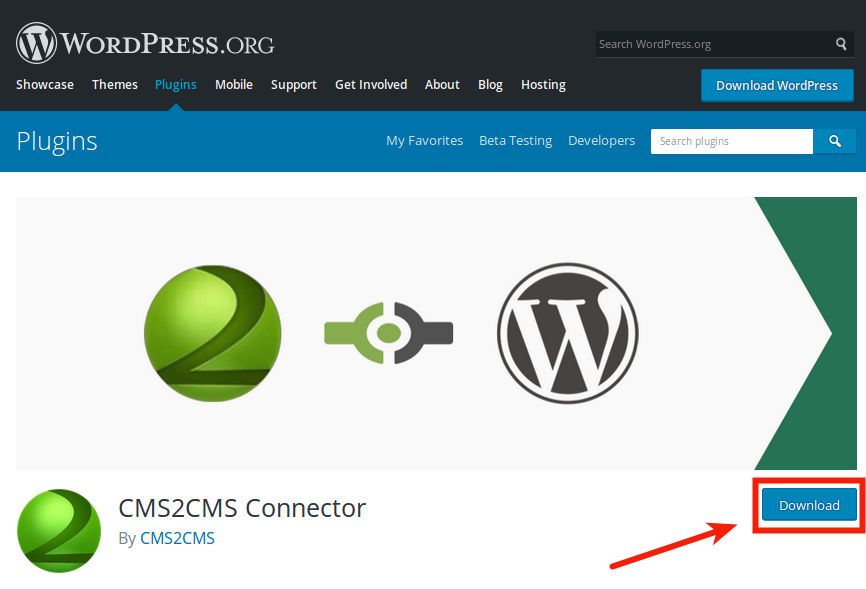 Now upload the Connector Plugin to your WordPress website.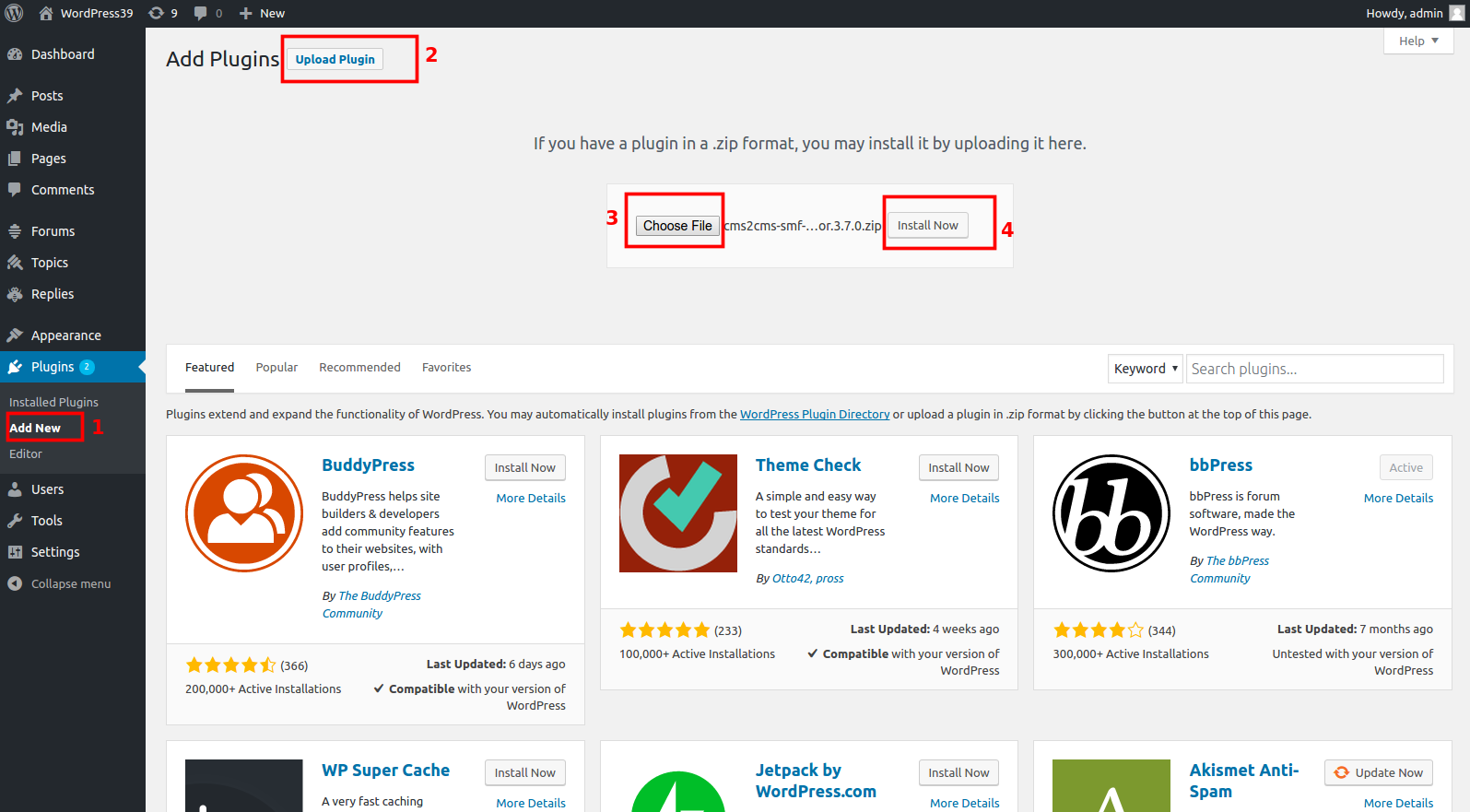 Then activate the plugin and login to your aisite account.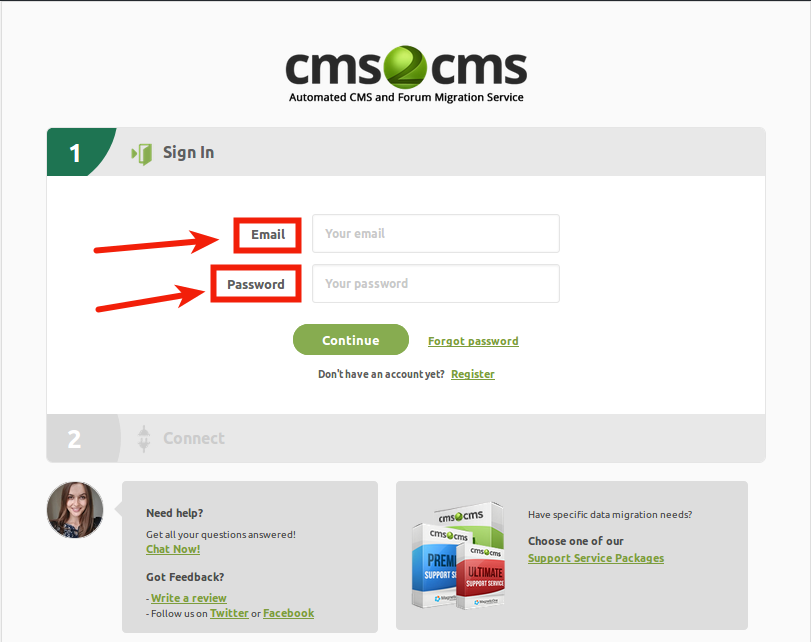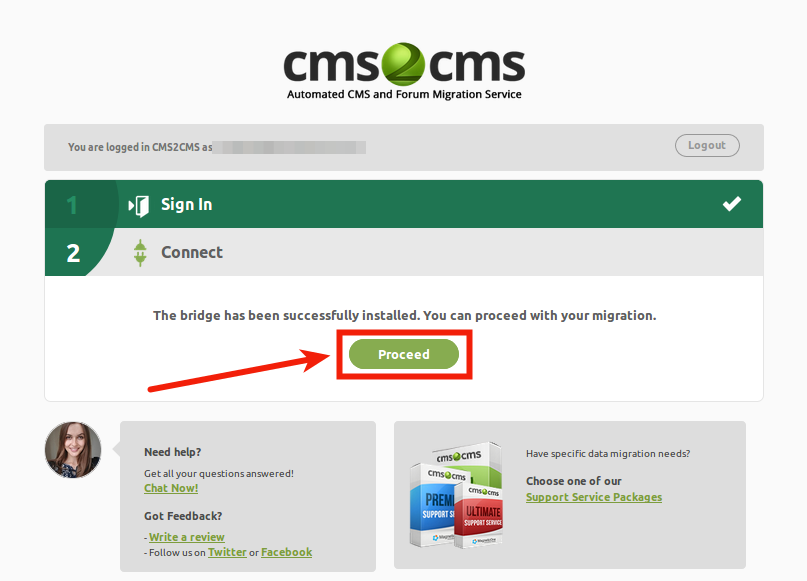 After you've finished with that, you'll be redirected to the Migration Wizard, where you can proceed with your migration.
Step 4. Provide vBulletin Forum Details
The next step would be to specify your new platform type, in this case, choose vBulletin. Then paste its URL in the corresponding field.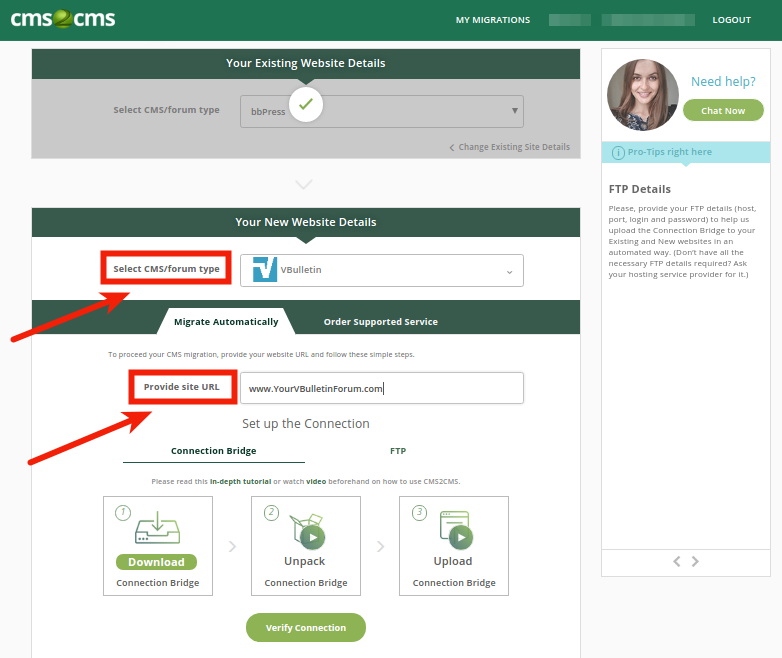 Step 5. Establish the Connection to Your vBulletin Forum
After that, establish the connection to your vBulletin Forum. To do so you have to download and install the Connection Bridge.  First, press "Download Connection Bridge" button.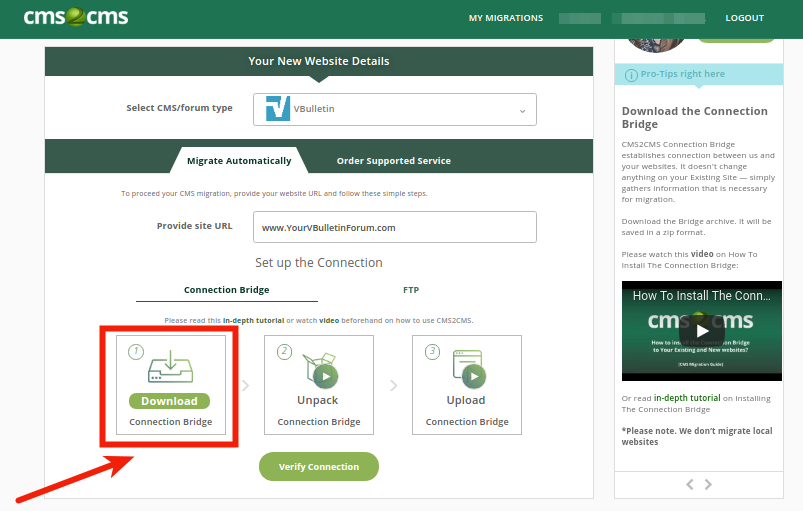 Now you have to install the bridge. With the help of this video tutorial, you'll be able to do it faster than light:
When you've done this, press "Verify Connection" button.
Step 6. Run a Free Demo
Everything is ready to run a free Demo migration, check what you can migrate and start the process. However, if you're confident with your choice, you may also skip this step and migrate all of your content completely.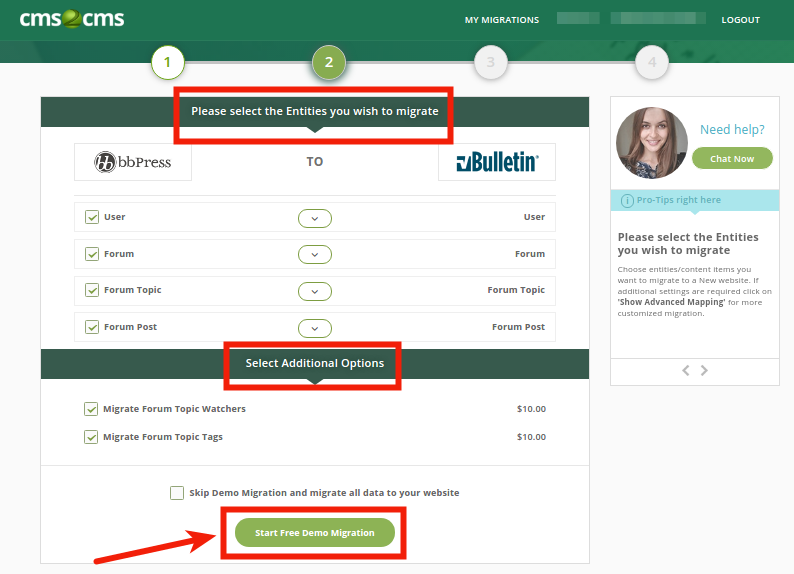 Step 7. Complete the Transfer
Now, after you've checked your Demo migration result and enjoyed the preview of your project, you may complete the transfer from bbPress to vBulletin.  For that press "Complete Migration" button.
Congratulations! Now it's time to enjoy how your new vBulletin website looks and works!
Items that Can Be Migrated

To conclude,aisite can more than help to convert your bbPress content to vBulletin as seamlessly and stress-free as possible. So, go ahead and start your cost-free Demo to get the idea of how your vBulletin forum might look like.
P.S. What else are you thinking about? Catch this long-awaited opportunity and migrate your bbPress to vBulletin right now.