Nowadays, Drupal is cosidered to be the scalable and advanced solution among website owners. Everybody knows the bright side of this content management framework, it is used for an extended website, network, and other complex web projects creation. However, all that Drupal mastery is not everyone's speed, only professionals can handle this website builder monster successfully.
In order to keep pace with the website experts, you may try your website content on TYPO3, that is also the guru of CMFs. Moreover, it offers more options to make your website more user friendly and flexible. Also, it's suitable for enterprise web projects with various access levels and complex structure.
If you'd like to switch from Drupal to TYPO3, we offer you a secure and precise way to migrate your Drupal content to TYPO3 with a few simple steps.
Drupal to TYPO3 Migration Live
Drupal to TYPO3 Migration: Instruction In Details
1. Login or sign up
To make the first step to your desirable TYPO3 website, go to aisite.com and register your account. Provide your name, email, password and you may start your migration.
Also, you may join aisite via your Google+ or Facebook account.
2. URLs of Drupal and TYPO3 Websites
Specify the URLs of your current Drupal and new TYPO3 websites in the provided fields in the migration wizard and select your CMS platforms types. In your case, choose Drupal and TYPO3.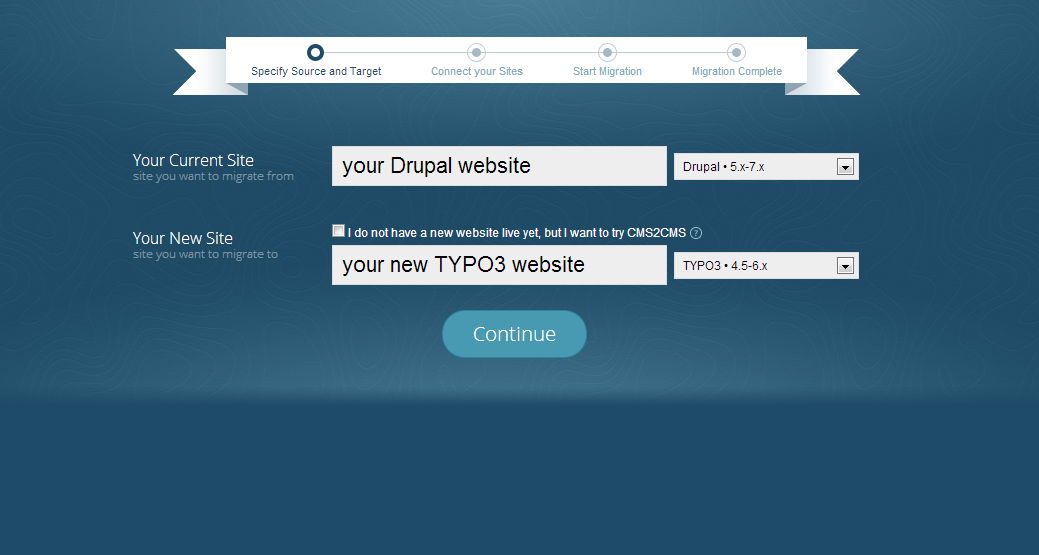 3. Create the Connection Bridge
To create the connection between your websites, download the bridge file to you PC by pressing the corresponding button:
The bridge will be saved as 'aisite' zip.

Extract zip to the folder on your computer and remember its location.

Connect to your website via FTP. You may use any type of it. Provide your host name,  username, and password, which you can find out from your hosting provider.

Copy 'aisite' folder you've extracted from the zip, and paste it to the root directory of your Drupal and TYPO3 websites (root directory is the top folder with the index.php file).
If you've done these, it means the connection bridge is installed.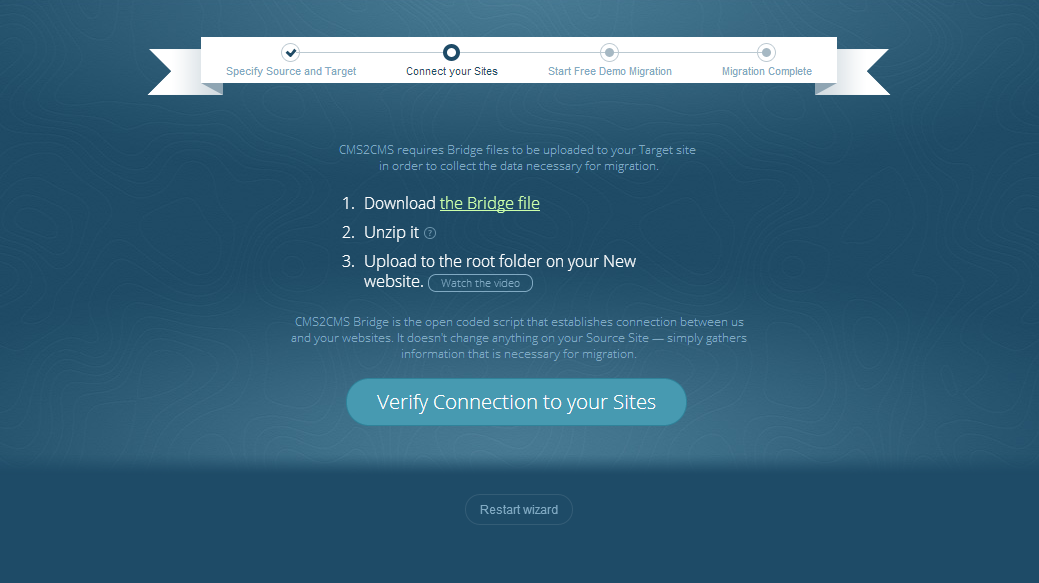 4. Migration Options
Next, go back to your migration wizard and verify the connection between your site. And then, you may choose additional options for your migration:
Migrate Media Files – check this box and  all your post pictures will be moved directly from your Drupal to TYPO3 website.

Make URLs SEO Friendly – if you want to have your internal links built according to the rewrite rules of your new TYPO3 site, tick the box.

Clear Target Site Data– it means that all test data on TYPO3 website will be deleted during the migration.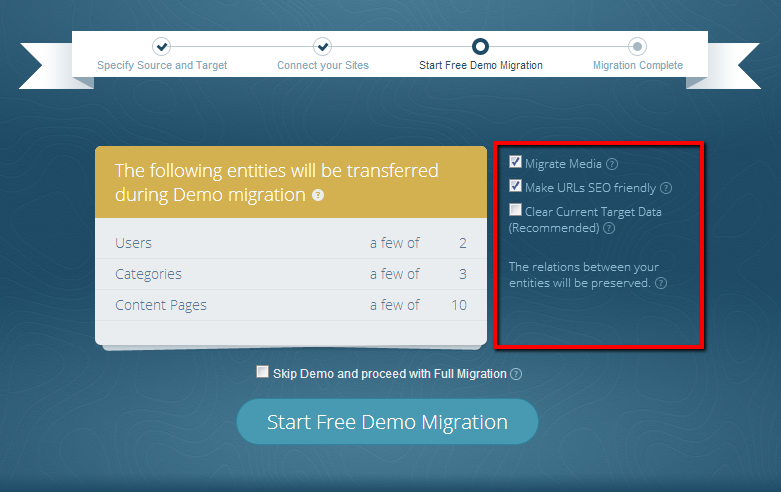 5. Free Preview
Finally, you may go in with your free Demo Migration. It means that 10 pages of your website will be moved alog with the related entities and very soon you'll see how aisite transfers your content and check how your new website looks like on TYPO3.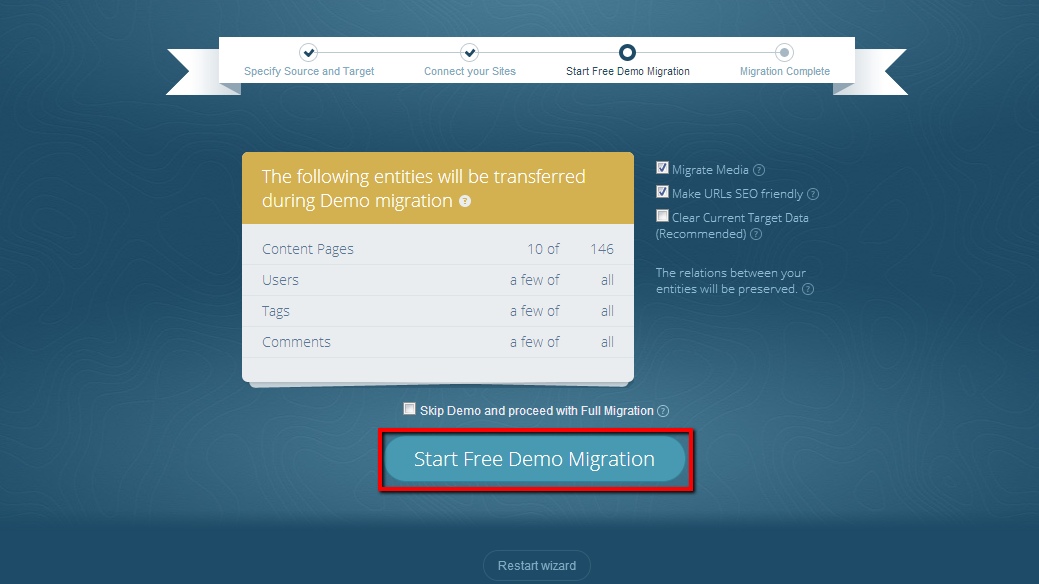 6. Full Migration
Ultimately, if you are happy with the result, start your full migration. When the transfer is complete, you will receive an email notification and be able to enjoy your new TYPO3 website in  minutes.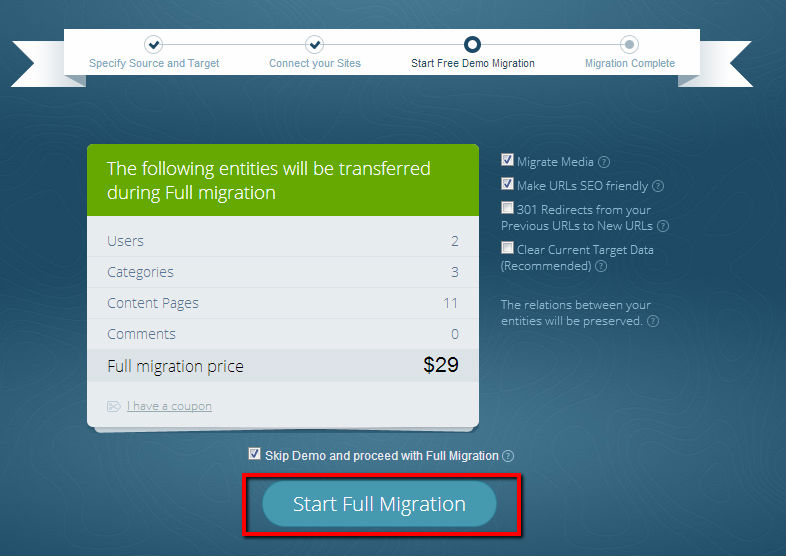 List of Supported Entities for Drupal to TYPO3 Migration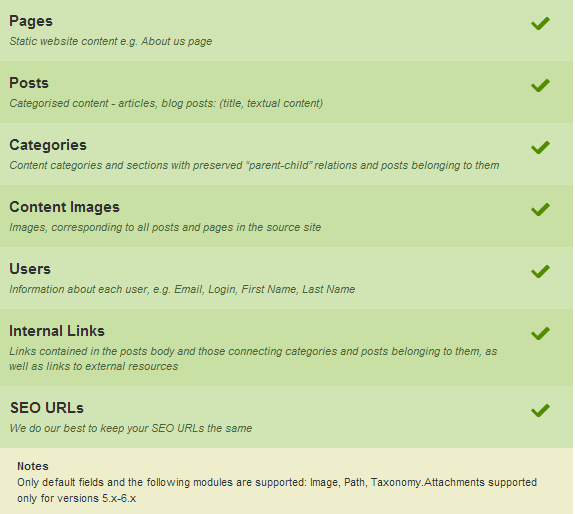 Start your free Demo Migration right now and blow the whistle on your migration hassle. aisite will migrate Drupal to TYPO3 securely and precisely in no time at all.