If you have started running a website once, more likely you will do this forever. There's always something that you'd like to share with others, whether your website is a hobby, used for personal matters, or if you use it for business purposes. Nowadays, the market of website building tools offers the immense variety of CMS platforms that turn website management into the issue of your desire only. You may easily choose a site builder to your specific purpose and requirements.
While speaking about Drupal CMF. This content management framework requires the strong knowledge of programming and your permanent interest to the functional management rather that concentration on the content creation. Maybe, there's another solution to run the website easily. For instance, move your website content to another CMS platform.
Do you think about Joomla? It might become a great alternative that will substitute your hassles with the previous tool. Joomla is more user friendly and boast of its powerful functionality. With this CMS platform, you may create various types of online projects – blog, social network, business website, online store, etc. Joomla armory counts a lot of extensions that simplify all your website management operations, dozens of free and premium templates.
Follow Video Instruction on How to Migrate Drupal to Joomla
How to Migrate Drupal to Joomla: 6 Simple Steps
If you have already decided to make the final step to migrate your Drupal to Joomla, here's the detailed tutorial that will help you to do this with ease.
1. Create your aisite Account
At the beginning, you should go to aisite.com and register your account. Or just sign up via your Google+ or Facebook account.
2. Provide the URLs of Your Sites
Next, provide the URLs of your Drupal and Joomla websites in the corresponding fields in the migration wizard and select the CMS platforms types correspondingly.
If you haven't installed your new Joomla site yet, just tick the box "I don't have my Target website installed yet" and select Joomla from the list of CMSs. It means, aisite will export some part of Drupal site to its test Joomla site so that you can try  the service in action anyway.
3. Download the Connection Bridge
At this point, you should create the connection between your sites by following these steps:
download bridge by clicking the corresponding button (it will be saved as 'aisite' zip)

extract 'aisite' zip to the folder on your PC

connect to your Drupal and Joomla websites via any type of FTP client software (e.g. FileZilla, WinSCP, FileFTP, ect)

copy 'aisite' folder you've extracted from zip to the root directories of your Drupal and Joomla websites (root directory is the top folder with index.php file)
Once you've done this, it means the connection bridge is installed and you may start with the automated data transfer.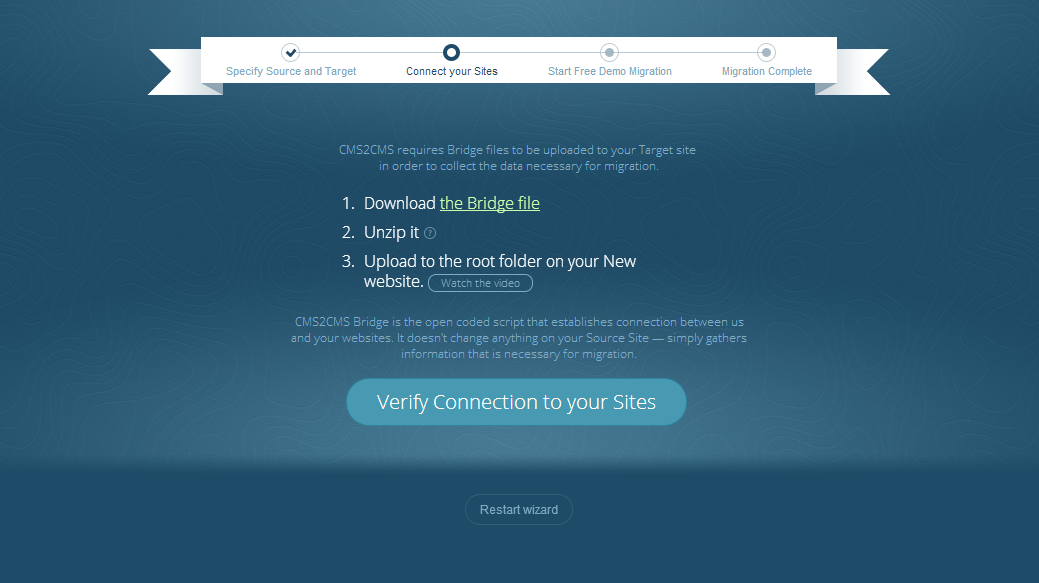 4. Choose Options for Joomla Migration
Then, you will be offered some options to make your Drupal to Joomla migration exactly to your wish:
'Migrate Media Files'  – if you'd like to migrate your post pictures, check this box.

'Make URLs SEO Friendly' – this option means that the internal links from your Drupal site will be formed according to Joomla rules.

'Clear Target Site Data' – if you have some test data on Joomla website, this option will erase it automatically before the migration.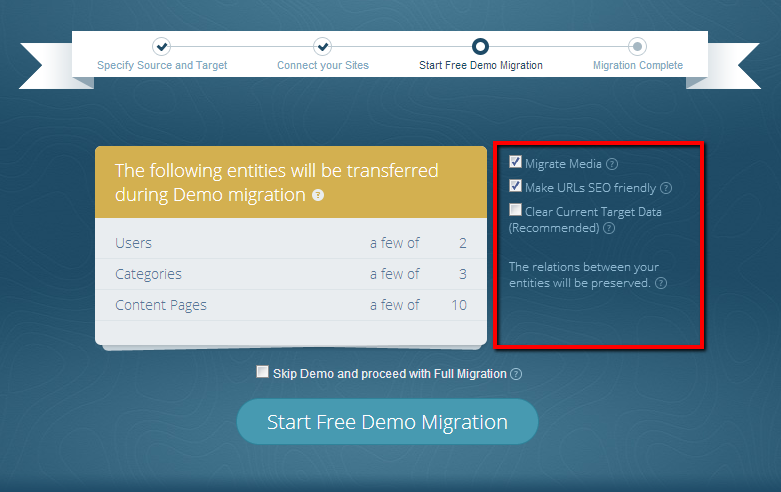 5. Free Demo Migration
Now, you may try the service in action by performing free Demo Migration. 10 pages of your website content will be moved to Joomla with all the related entities (posts, categories, content images, etc.). And in seconds, you'll be able to check the result.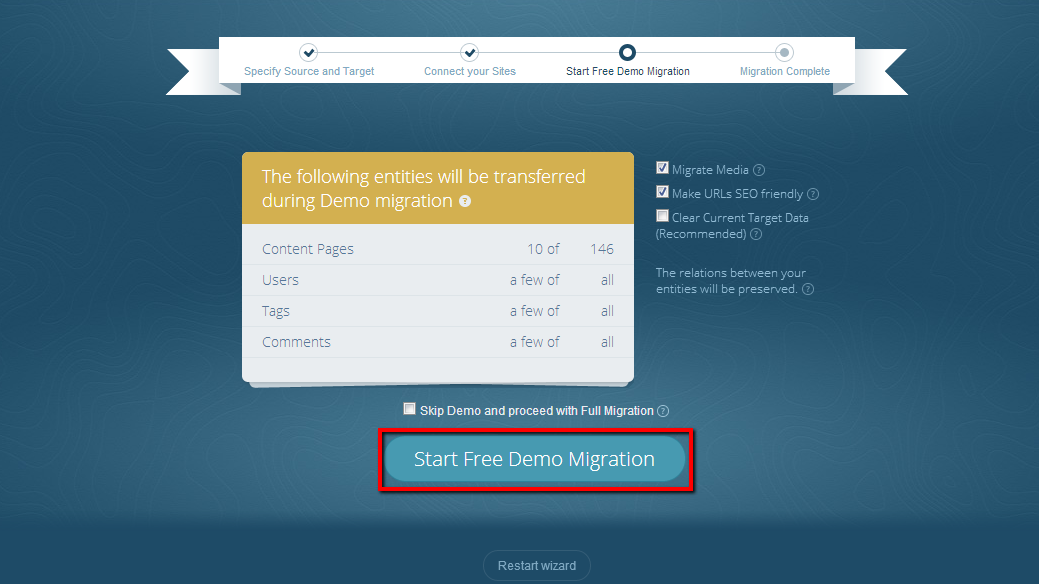 6. Full Conversion
If you are happy with the Demo Migration result, press 'Start Full Migration' button. When the transfer is complete, you'll receive an email notification and be able to check out your new Joomla website looks immediately.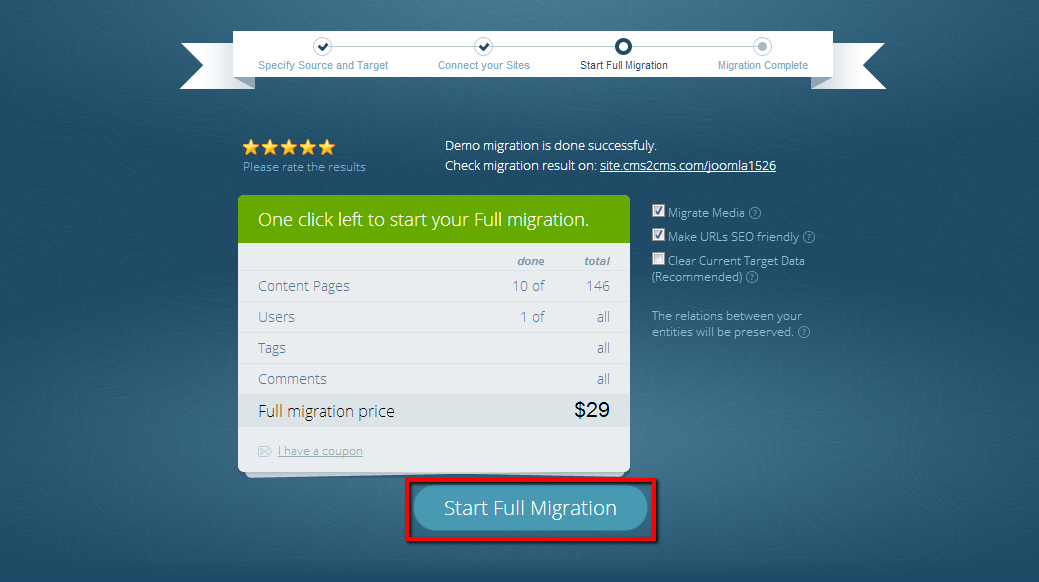 What Entities Will Be Migrated from Drupal to Joomla With aisite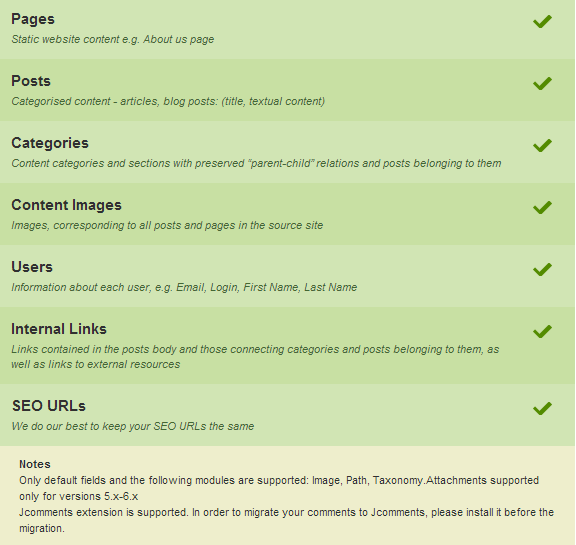 So, you want to move your Drupal to Joomla right away? Do this with aisite! Just set up your free Demo Migration and very soon you'll be able to enjoy your new Joomla website.