You probably heard a lot of information about the most powerful and most used CMS such as Drupal, WordPress, Joomla and MediaWiki. Here is a screenshot of this platforms analysed by "Google Trends" to see the interest for them over the time.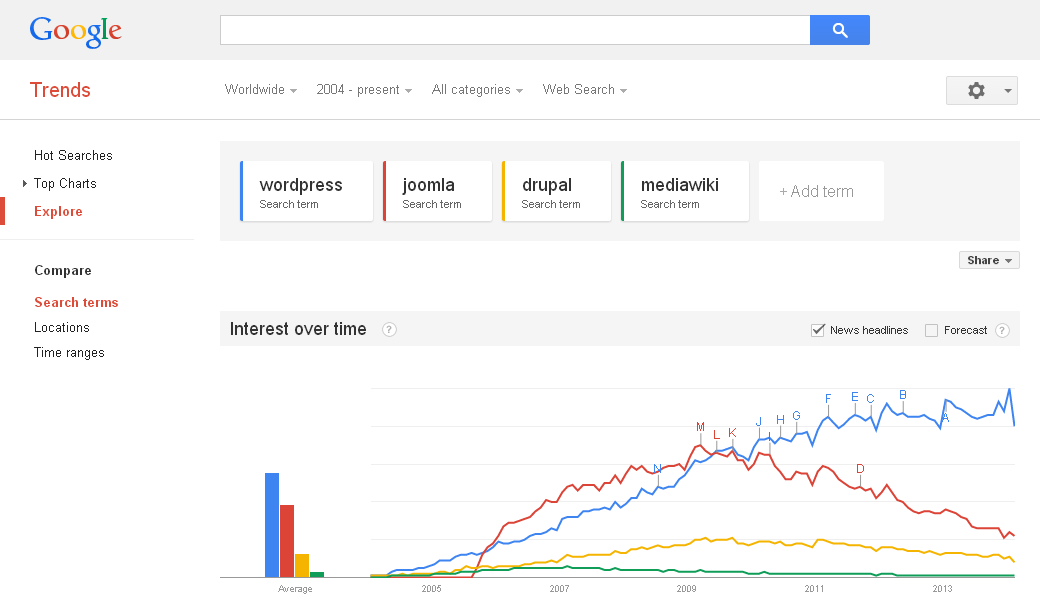 But what this platforms worth if your website is not on the top of the searches and no one can't really find it? It doesn't matter what your website is about, you still need users and readers. The best way to get them is to optimize your webpage for search engines.  So, let's glimpse into the skeleton of each CMS platforms' SEO abilities.
Better SEO for Drupal website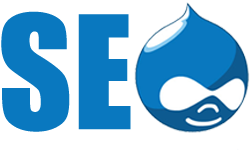 In most cases,  Drupal sites are created mostly by the group of project managers, testers and other contributors which are professionals of their fields, due to the complicity of this CMF platform menaging and SEO optimization. Moreover, when it comes to SEO, all the participants, who manage a website has to be qualified and know the functionality, wherever it is an administrator or contributor. That is why we have prepared for you so called signposts for Drupal search engine optimization:
Have SEO-friendly URLs. By default your Drupal URLs look like http://www.example.com/?h=node/45, so when it is concerned with the search engine optimization, you have to make sure that all of them are cleaned up and rewrite to make them readible for instance like this http://example.com/category/blog/post title.
Have a reputable inbound links. Google is great at identifying links from websites with a high reputation, so make sure they are like this. Reputable inks influence pageranks as well.
Helpful SEO modules for Drupal
The Page Title module gives you control over titles and allows to change their default behaviour, configure patterns and does a lot for search engine optimization improvement.
Content Analysis 

helps other modules that analyse the content by suiting and 

providing the multiple view for a content on the page. This is a module which works in connection with other modules such as Scribe SEO, Quick SEO, Alchemy, Keyword Research and others.
Content Optimizer analyses the content to display the recommendations and statistics.
Metatags Quick module provides the meta description fields for the non-administrative pages.
SEO Checklist module gives a recommendation for other Drupal search engine optimization modules. It's popularly supposed to be  "the most powerful Drupal module which does nothing".
Basically, Drupal is SEO-friendly more or less, if you know how to set it up properly.
Joomla SEO Tricks
Joomla itself is not that SEO-friendly platform. If you set up a website powered by this CMS, you will need some extra skills and knowledges in order to get rid of Joomla SEO gaps. Apart from most common phases of search engine optimization, you have to know some Joomla special tricks:
Enable "Search Engine Friendly URLs" and "Use URL Rewriting".  You can find them in Joomla Global Configuration and make the links readable by search engines.
If you want Google or other search engines to index the images on your website, make sure you erase "/images/" from the robots.txt file.
Evade all the duplicate content from a webpage.
SEO Extensions:
sh404SEF is the most popular Joomla search engine optimization extension. This is a commercial one, which can take care of all SEO, control 404-errors, implement 301 redirect, clean up duplicate content, create SEO-friendly URLs and many more.
Xmap is a free solution for a website XML sitemap creation. Sitemap is a list of pages on a website which inform search engines about URLs and make them available for crawling.
Artio JoomSEF is an extension for overall website search engine optimization improvement. Despite Artio JoomSEF is commercial, there is a free demo version to test it out.
MediaWiki Search Engine Optimization
This platform is a nice solution for those who want to share a lot of information on a website. We have prepared  basic tips for MediaWiki website search engine optimization.
Make your URL clean. By default MediaWiki writes a "dirty" URLs and this is kind of "ugly" heritage that is why it is significant to correct them.
Setup a Google authorship. If you tie up your wiki with a Google+ account, this can help you to increase your website conversion rate.
Control the meta element of your Mediawiki page such as title and meta descriptions.
The extension you can use  for your MediaWiki page "Extension:WikiSEO" allows to create HTML tag content and gives you an opportunity to add meta descriptions and meta keywords.
WordPress and Its SEO-Friendliness
Despite lots of specialist suggestions this platform as the best for SEO, and that SEO's just love sites powered by WordPress, literary the way they are, there are amounts of stuff you have to take care when setup your website for even better search engine optimization.
If you wanna be on the top, WordPress requires the same SEO attention.
There are a lot of plugins which can be used for your WordPress website SEO improvement.
WordPress SEO by Yoast  improve the internal SEO, fully optimize your website, shows how the page will look like on a search results, checks if you write meta description and does it match your keyword, etc. Must-have plugin right after WordPress installation.
Simple URLs for tracking and controlling outbound links. Also go to admin panel -> Settings and make your links readable.
RB Internal Links updates the URL anytime when you want to change the URL of a page or post to cut of the possibility of 404 pages.
Lazy SEO, which will help to optimize a website by using the specific set of SEO keywords and location.
and lots of others.
With all that settled up in the right way, you can easily get your website to the top of the searches.
Final Words
Any of these inspected above CMSs can be set up for SEO and get your website to the top of the ranks. From all of information we've got in this article the "golden award" as the most SEO-friendly CMS goes to WordPress for sure. Another considerable SEO solution is Drupal as this platforms allows you to install different kinds of modules for a better search engine optimization. So, we will honor this CMS with a second place among SEO-friendly CMS.
In case you want to migrate to any of this CMS platform?, Check out one and only solution for a swift and accurate website data migration, aisite. Migrate your site to WordPress, Joomla, Drupal or MediaWiki in a couple of minutes with no efforts at all.