Building a community around the website is extremely important nowadays. While enabling comment option and adding social sharing buttons is a good way to start, it will never produce quite the same effect as having a forum integrated into your site. A bulletin board gives your audience a way to connect with each other and allows to foster a real meaningful discussion that stays within your web project.  Therefore we have decided to dedicate this article to the topic of integrating a forum into WordPress.
There are many ways to create a brand new forum and connect it with your WP-based site, in fact, as you probably know, there are specific forum plugins for WordPress, such as bbPress, BuddyPress, WP Symposium etc. But what if you already have a discussion board on one of the old-timer platforms? Don't despair, even though there is a pool of bulletin boards out there and not all of them offer simple integration solutions, often times the process won't be more difficult than installing a plugin. Let's look at a few possible options.
phpBB
phpBB is one of the most commonly used forum solutions out there, and, luckily, it is also extremely WordPress friendly. This platform offers a number of decent plugins, designed to resolve the issue of integration. Here are a few bridges engineered to connect the two platforms.
1. BridgeDD is a stable advanced solution that allows to connect phpBB with WordPress without bloating or slowing down your site. It automatically integrates the member base between the two applications. In addition to that there is a possibility to subscribe to a private forum and download the premium version of the plugin, allowing to add WordPress menus and widgets straight to the phpBB  template. The price of the subscription is 40$.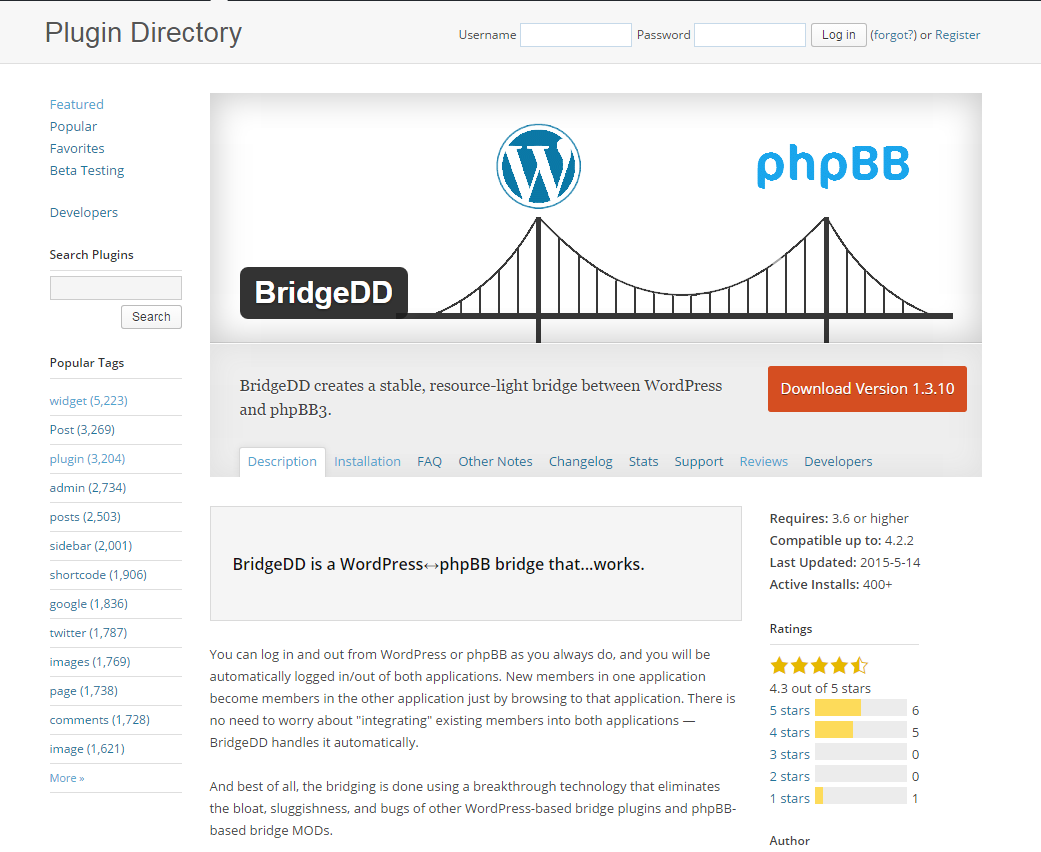 2. WP-United is another robust solution for the task. It offers to integrate the users, templates, behaviour and allows cross-posting. Due to the fact that the plugin has a modular structure, any of these features can be turned on and off when desired. A pleasant bonus is the ten widgets that come together with the tool and can be added to your WordPress page to display relevant forum information.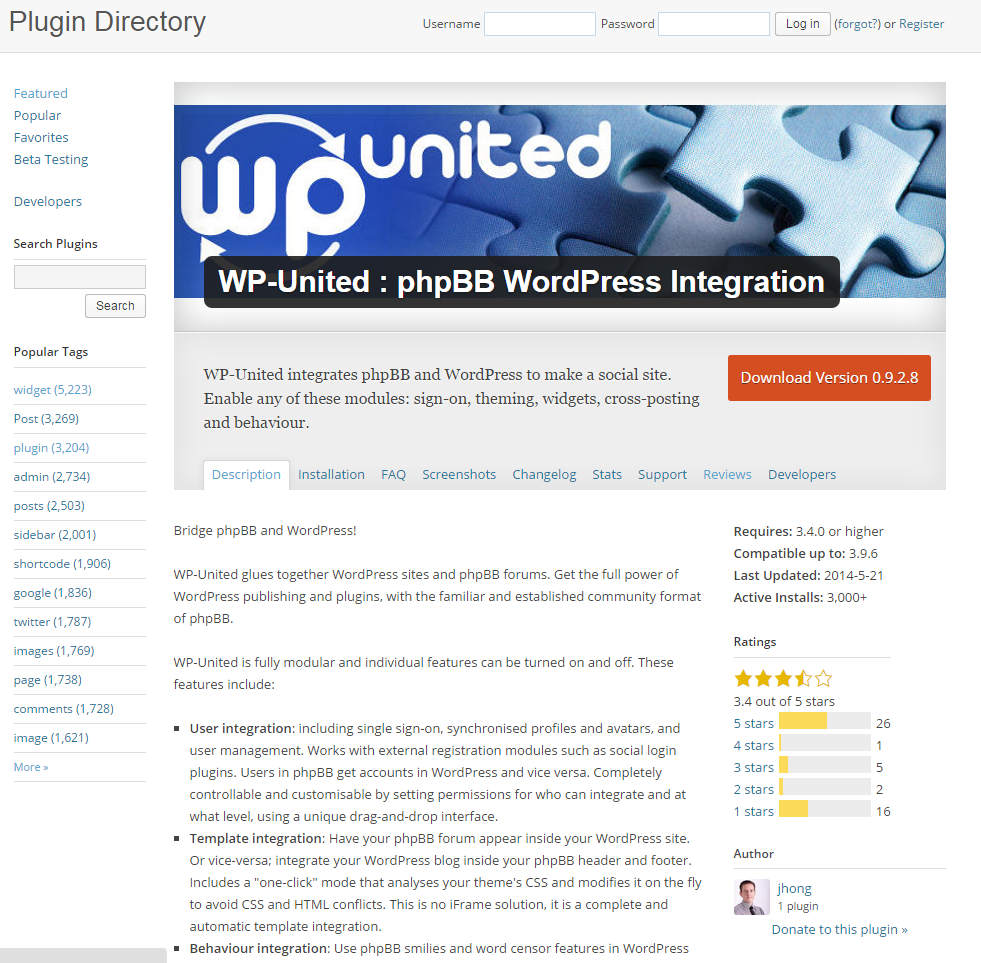 3. phpBB to WP connector similarly to the other solutions mentioned above serves as a bridge between your forum and the WP site, allowing to share users across these platforms.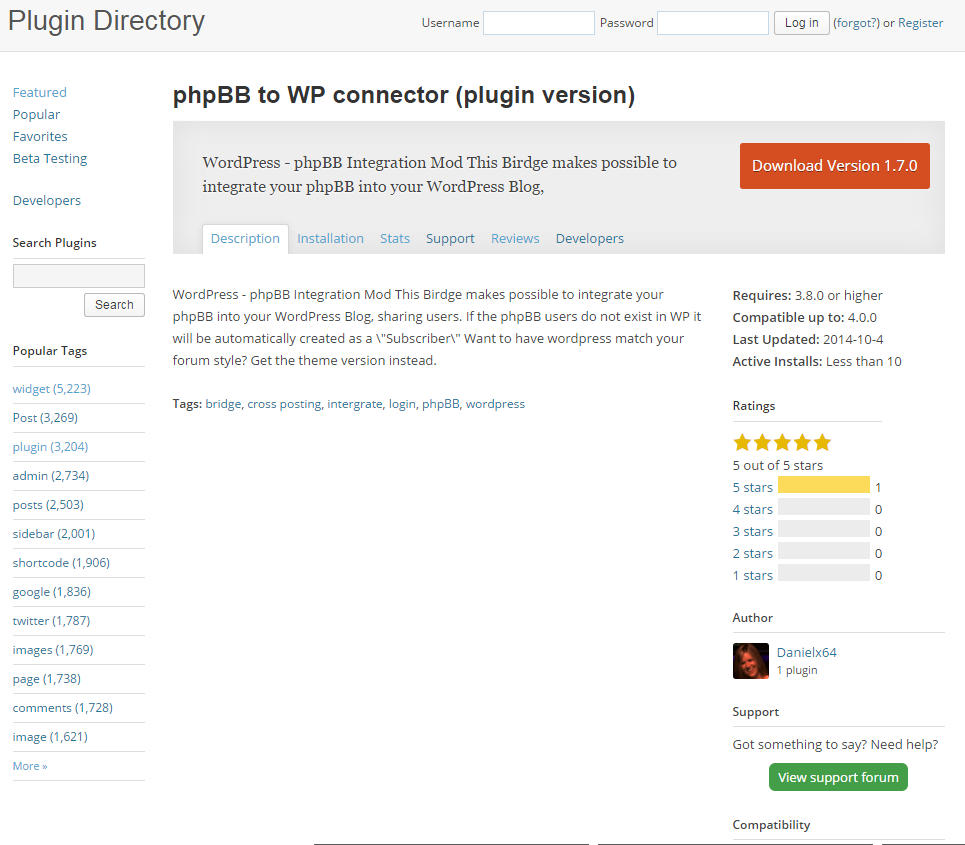 vBulletin
vBulletin is another well known discussion board that also offers a few credible solutions for integration purposes. Those are:
1. vBSSO. A free open source integration plugin that consists of two components – the first one for vBulletin and the second one for the platform it's ought to connect with. Except WordPress this solution also supports Drupal, MediaWiki, Moodle, DokuWiki, Joomla and Magento. Among the benefits of the plugin are ability to run across different domains and subdomains and straightforward setup and configuration.
2. vBulletin Connector. A plugin for WordPress, which integrates it with vBulletin database and displays the forum comments on the WP page. After a new post on the WP site is added, a plugin can also create a corresponding vBulletin thread with a trackback link to that post on WordPress. Finally, the posts can be placed in forum categories as desired. It is necessary to point out though that the plugin is not free of charge – the regular license costs 24$ up to date, and the premium license is worth 120$.
Vanilla Forums
Vanilla Forums may be not as widespread as the solutions mentioned above, but it is focused on easy integration with WordPress. Vanilla's creators offer a specific plugin for the task. The tool possesses a number of benefits, such as: easy setup, it's own blog commenting system, a set of widgets with the information about various forum statistics and the possibility to manage your discussion board from WordPress admin panel.
Importing
For some platforms there are currently no dedicated WP integration plugin, but if you really want to connect your forum with this CMS, there is the option to import your content to a different bulletin board. For example bbPress, a well known WordPress forum plugin, enables you to transfer the posts from such solutions as Advanced Electron Forum, bbPress, Drupal, FluxBB, Invision, Mingle, MyBB, Phorum, phpBB, PunBB, Simple Press, Simple Machines Forum, Vanilla and vBulletin.
The importing process is quite simple and is described in detail on bbPress website.
Automated Migration
Finally, there is an option to use the automated migration service – aisite, which similarly to the importing option, can help you transfer the content from your old forum to the platform with WordPress integration availability.
With aisite the transfer process is easy, safe and doesn't require any coding or software installation on your part. This tool imports all website content items smoothly and saves you from the migration hassle. Another benefit is that you don't need to be anxious about the lengthy web site downtime – the source site will be 100% available throughout the transfer period.
You can find a step-by-step instruction of the migration process here.
Ready to migrate now? Go to the quick wizard and and have all your forum content transferred to a brand new platform in around 15 minutes.
Now that you know all your options, hopefully you will be able to successfully integrate your forum with the WordPress site and manage a thriving community.