The will to run a powerful and advanced website is a pretty common thing for those who run even a simple blog at least. And frequently, when the site owners start running a web page on Blogger.com, very soon they wonder how to transfer the website content to something more powerful like a self-hosted CMS platform.
One of the most prominent content management system systems is Joomla. Boasting the advanced functional abilities – 7450 extensions, authentic template solutions – free and on a paying basis, professionally look like websites, Joomla takes a lion part of market share. Obviously, with Joomla you have the endless working scope for creating various web projects – blog, website, online store, forum, or even all these in one pack.
If you are still wondering on how to import all your Blogger content to Joomla with no data losses and time wasting, here's an illustrated solution for you. We've prepared for you a step-by-step guidance of your Blogger to Joomla migration.

Summing up, the prosperity and enhancement of your web project definitely deserve this challenge of website migration. And now you'll see that with aisite online migration service, you are able to exclude all the risks of your time and data losses.
What Can be Migrated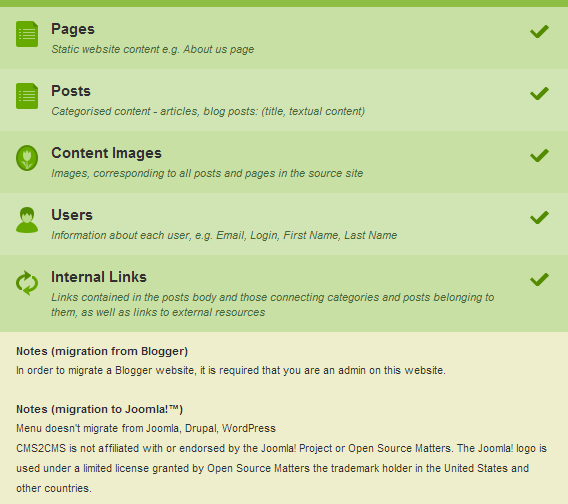 So, make your decision and set up your free Demo Migration to see how flawless and swift it is to import your Blogger to Joomla.