Needless to say, that forum management is not a one-click affair at all. It requires much time to be organized properly and a great tool to reduce all the management hassles.
phpBB forum builder is considered to be the old bird among the most professional and longtime bulletin boards. It comprises all the essential forum features to make it run successfully:
MODs for advanced site functionality. All the modifications are extremely useful and are easily downloaded.
Any customizations you wish. A style, theme, and other items can be effortlessly changed as often as required.
Strong protection system. It aims to provide its users with the ability to ban spammers and monitor all the users' actions.
If you are currently running your forum on bbPress, but wish to give a try to phpBB, the detailed information on how to import all your forum items from bbPress to phpBB absolutely automatedly is presented below.
What Do You Need to Import bbPress to phpBB Properly?
In order to migrate all your content from bbPress to phpBB, you should have the following:
phpBB forum installed;
your FTP access details (you can find them out from your WordPress hosting provider);
make sure that both your sites are live.
Importing bbPress to phpBB: Get Down to Brass Tacks
Step 1. Create an account or sign in via Social Networks
To get started with your migration setup, login to your aisite account. In case you do not have any yet, you can create an account by entering an email, password, and name. You are also given the opportunity to sign in via such social networks as Facebook or Google+
Step 2. Indicate Your bbPress Forum Details
On this step, you have to choose your Existing Forum platform (in this case it's bbPress) and provide its URL.
Step 3. Establish the Connection to Your bbPress Forum
To establish the connection to your bbPress forum at first, you have to download the Connector Plugin.
Now upload the Connector Plugin to your WordPress website.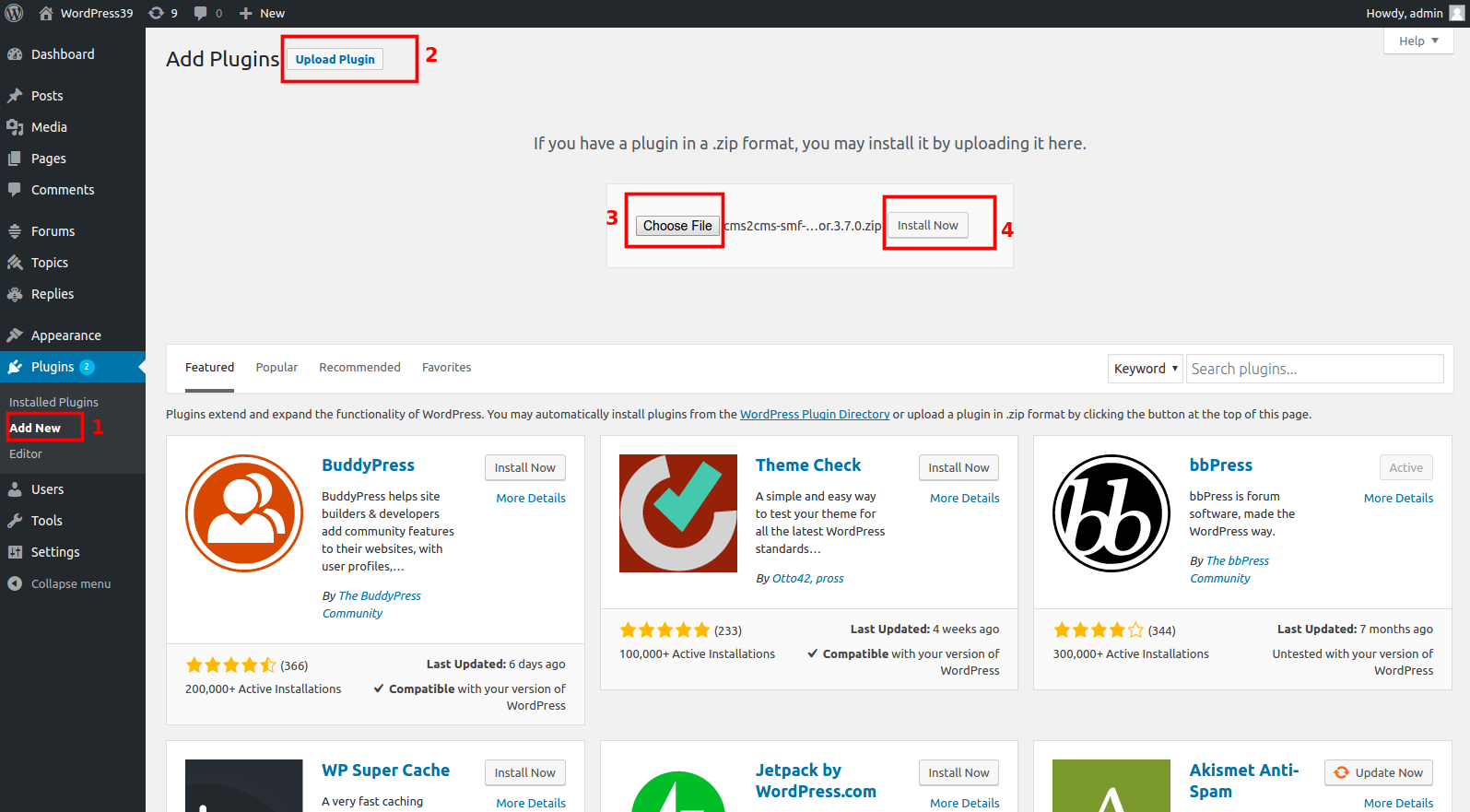 Now activate the plugin and login to your aisite account.

After you've done that you will be redirected to the Migration Wizard where you can proceed with the transfer.
Step 4. Provide Your phpBB Forum Details
Choose phpBB as your New Forum Platform and specify its URL in the corresponding field.
Step 5. Establish the Connection to Your phpBB Forum
Now you are to set up the connection to your phpBB forum. For that download and install the Connection Bridge.
Here is the video tutorial, where the process of installation is shown in details.
To finish this step press "Verify Connection" button.
Step 6. Run Free Demo
aisite service offers you to preview the future look of your website and run Free Demo migration. Choose the entities and needed additional options you are going to migrate. In case you want to migrate all your data without Demo, you may skip this step.
Step 7. Start a Complete Transfer from bbPress to phpBB
Before starting a complete migration to phpBB, you can check the Free Demo result. If you are satisfied with the result, you may complete the migration.
Once your bbPress to phpBB conversion is over, you'll receive an email notification and be able to enjoy your new brand phpBB forum.
Items That Can Be Imported from bbPress to phpBB
Ready to start your super advanced phpBB forum right now? Set up your free Demo Migration with no delay, and very soon you'll realize there's no easier way to move your forum from bbPress to phpBB than with aisite.