aisite is a unique tool for CMS and Forum platform migration. In addition to the migration of all of your content, you are able to select some options which will make the whole process easier and even more accomplished. Here, we suggest you to take a look at these options available and choose some that will suit your needs.
The List of aisite Extra Options
Clear Current (Test) Data on the New Site Before Migration
Before you have switched to the new CMS platform you should become familiar with it and probably, you'd like to add some test content. You may try to post an article, add some image, or anything else to bet botton dollar of your new CMS. But, then you shouldn't waste your time on deleting this information. aisite offers absolutely free option of test data deletion. In this way, you are able to get rid of any excessive data. However, you should back up your current site data, before clearing your new CMS as far as  this procedure cannot be recovered.
Automated 301 URLs Redirect Setup
You know, switching from one CMS platform to another, it's not just about the content switching, but the changing your site location as well. You old site URL is shifted with the new one and thus, traffic and ranking losses are not the notion. So, what is the best practice to avoid such a bad experience? The only answer is 301 permanent URLs from your old site to the new one. This option allows to point out Google bots your new location and refer your visitors without stumbling upon errors.  Redirects with aisite works with such elements as posts, pages, users, categories, tags. Get more information on 301 URLs redirect reading our recent post.
Make URLs SEO-friendly
Each CMS has their own URLs building structure and after migration, the structure changes. Thus, aisite provides you with the option to migrate your website URLs accordingly to the structure of new CMS.  In case, you choose this option, all the internal links on your new website will be built correspondingly to SEO URL structure on your target website. All the connection within the website structure will be kept!
However, previously you should turn on you CMS SEO-URLs structure within the admin dashboard. For instance, take a look how to enable SEO URL structure of Joomla and WordPress CMSs:
Joomla SEO-URLs Structure
WordPress SEO-URLs Structure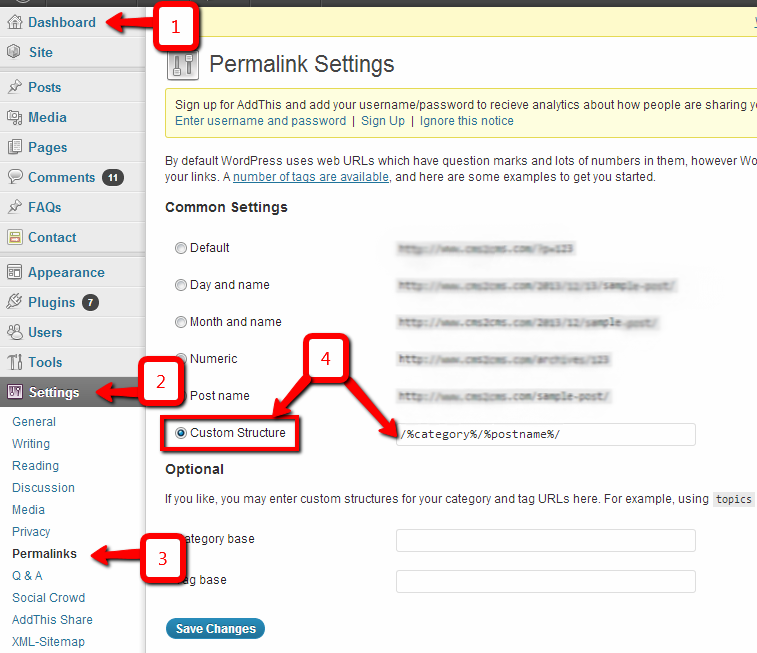 Migrate Images and Attachments
You have numbers of images and attachments on your website, but want to be sure they will be on the new site? With this option, you are able to move all images from posts and articles to your new site. At the same time, all the attached files like PDF files, mp3, videos etc. will be transferred from one site to another. So, make sure you checked the box "Migrate Images and Attachments" otherwise you won't have them on the new website.
Migrate categories and pages/articles/posts SEO aliases
For those, who cares about SEO, it can be pleasantly to know that all the SEO-friendly parts of your site URLs like categories, pages, articles, website aliases can be migrated to the new website. If you select this option, you can be sure that all URLs on your new site, will look the same as on former one. And all the aliases will work there to.
Thumbnail creation after migration
This option is supported if you migrate your images and attachments. For some migrations it is not enough to migrate only images, you might also need to move thumbnails. So, aisite provide the migration of thumbnails on the new website if it is required by you. Keep in mind that this option only works if you migrate to WordPress or to Joomla K2.
The Conclusion
So, as you may see, aisite offers you not the single content conversion, but all-inclusive services which may facilitate the migration process. If you are thinking about migration, with aisite you do not have to worry anymore. Please, do not wait up, set up the migration right now and check out the results in a few minutes.