Migration from Joomla to WordPress. Adding fuel to the flames. Again. Just a tiny bit. Though let us slightly clarify the statement: not both CMSs are like 2 completely different and constantly arguing siblings, but the users are (don't mean to offend anyone, though the fact stays). And it's ok. Both platforms were created to serve different and sometimes similar needs. Consequently, users experience and choose what is closer and better to comprehend for them. It's naturally that there's a place for competitiveness. Giving the light to the pros and cons of both platforms and debating on them makes the topic and information about it expand robustly.  Finally, someone must step to the winning side. So it happened to WordPress and its users. We've got an explanation why.
Let's look at both Joomla and WordPress from the user's experience angle.
All the fun starts here.
Getting familiar superficially with both platforms takes us different amount of time.
WordPress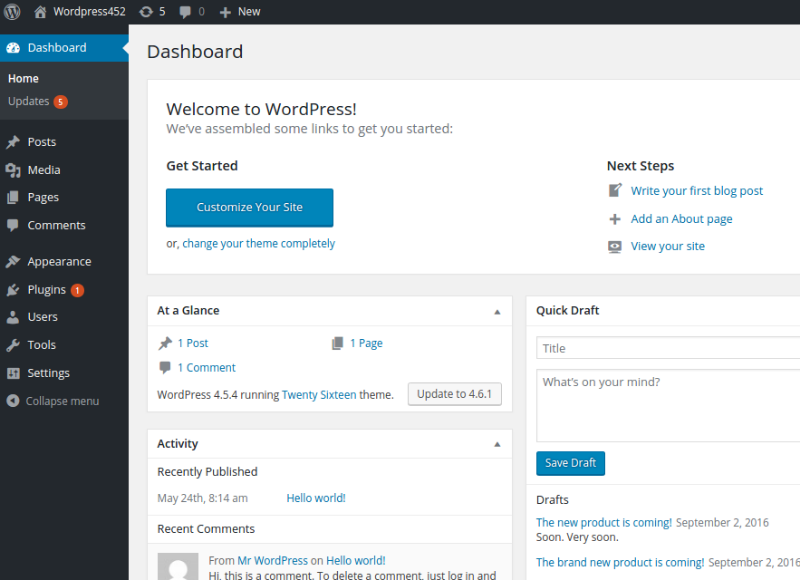 You can spend in general 10-30 minutes looking through all the menu items and getting into what each is responsible for.
Posts – stands for adding new contents to your website. Just as you point the cursor to this item, you see the functions it provides – you can browse all posts, add new, add/edit categories and tags.
Media – is where all your pics, audio, video, etc. stores. You can create a library of media or add a new piece directly by just dropping or selecting what is needed to be uploaded.
Pages – create a new one, or see all of them.
(Note: If you're building a website include these, since pages are might be responsible for such pages as About Us, Services, etc. Pages are about a single-type info. If you've created a blog for your website, there are used posts to publish things. )
Comments – here is seen who says what.
The most catching and biggest part- appearance. Perhaps the function to which you guys want to get your hands on first of all. It offers 7 "suboptions" :
–Themes – choose the look of your website/blog
–Customize – allows to change/modify the layout on your website. You can also change how your website/blog might look on tablet & smartphone.
–Widgets – add elements to your website to be manageable, like search, recent posts, recent comments, etc. It's easier to manage widgets clicking on "Manage in Customizer" which lets setting all the needed elements directly on your website/blog.
–Menu – creates something like a collection of your website's/blog's 'road signs' for users. You can add here custom links, posts, pages, categories, and tags.
–Header – adds header image.
–Background – adds background image.
–Editor – allows you to customize your theme in CSS editor.
Plugins – shows what addons you've installed and launched. You may add new or edit the current one.
Users – is where you see all your users, add new ones and browse your profile.
Tools – here are represented useful tools for better website managing, like 'Press This' which allows sharing a page you want with a single click, mounted in your bookmarks bar. You might also import info from such systems like Blogger, Tumblr, etc. to WordPress. Export option provides you with the opportunity to "download all your contents" to your computer in XML file. This helps when for instance, you've made another WP website and want to upload/import all the contents here.
WP lets you manage site right after you've decided what you aim to create. All the functionality is reached seamlessly. The level of moderation here is known to be a #1 among beginners and even pro-s.
Joomla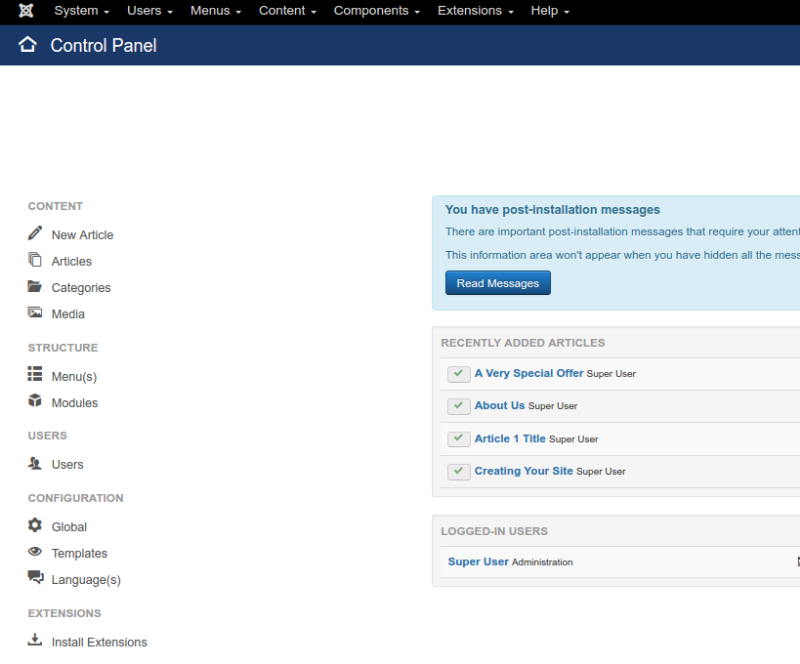 After entering Joomla control panel, it feels like a lot of everything 'rained heavily' down on you. The organization is different here. Though let's try to figure things out. Getting into details take you a bit longer than in WordPress. It's recommended to furtherly pay attention to Joomla's learning curve, which may require the additional amount of time.
You should instantly pay attention to the left side of the screen. There are all the needed tools for a website creation.
Contents section:
New Article. Generally speaking, here you can create your content.
Articles. This section allows you to browse all your articles and manage them, like edit, publish, unpublish, add to featured,etc. Along with this, you can switch here directly to the 'Category' section and create a new one for your post.
Media. Here could be added and store banners, headers, and other content images.
Menu. Allows you to manage your site's structure and add menu items and manage your Home, News, About us etc. pages.
In Modules you can customize the layout of your website and see it's organization.
Users. It's where you can view all the users and users group of your website, grant or forbid access to users, browse user notes, etc.
Configuration
Global Configuration. Here you can see all the functions and customization options of your website gathered together in this section. There are 21 components for managing content and settings of your website (articles, plugins, cache cleaning, Joomla update etc.)
Templates. There you can edit the look of your website.
Languages. Makes your website understandable.
Extensions. Allows to search and install useful addons for your website.
In the end, we can say that Joomla has a kind of a 'nesting doll' organization. To choose this option, you should go into this detail and then into that sub-detail. For some users, it might be quite a labyrinth-like thing, so understanding of the inner process may be not enough.
Why move from Joomla to WordPress is needed for your website afterward?
Perhaps it's just us but WordPress feels like being neater and holds everything you need for a consequent and logical website building together. Compare also several following stats, which make you ponder on which platform to choose:
WP powers 25% of all websites globally, and only 0.7% of websites belong to Joomla.
Frequency of WP downloads – 140m; frequency of Joomla downloads – 63m.
WP wins when it comes to the plugins directory, where there are +45k of them. Instead, Joomla offers you 7+k extensions.
Yes, it's about popularity, but afterward, these are justified reasons.
Because of being more effortless to comprehend, WordPress lets you get around and make a DIY website or blog faster and with a proper quality.
CMS Migration may be a new fresh breath of air for you and your buddy website. Inhale it with aisite.