aisite is excited to share the good news with you again! From now on, an option of TYPO3 galleries migration is available during the website move. Your TYPO3 content import becomes a breeze when you use aisite. Data migration to and from TYPO3 platform is made easier by our service's continuous improvement. Remember not so long ago we added TYPO3 news move to the support? Another TYPO3 migration upgrade is right here, right now! 
You won't have to worry about leaving something on your old website – all of your posts, categories, users, tags, and media, including pictures from the Image gallery, will be migrated to/from TYPO3 in a flash.🤩
What does TYPO3 Galleries Migration Mean?
Migrate Galleries option allows you to transfer the galleries from your Existing CMS to the New one, or vice versa.
In particular with TYPO3 you can move galleries into images content type when migrating to TYPO3, or migrate images and text&images content type into galleries while moving from TYPO3. All these transfers are done fully automatically, so there's no risk to miss some precious content.
How does TYPO3 Galleries Migration Work?
On the second step of Migration Wizard, you will see a list of additional options to move to or from TYPO3 CMS. Select the needed ones, including galleries migration.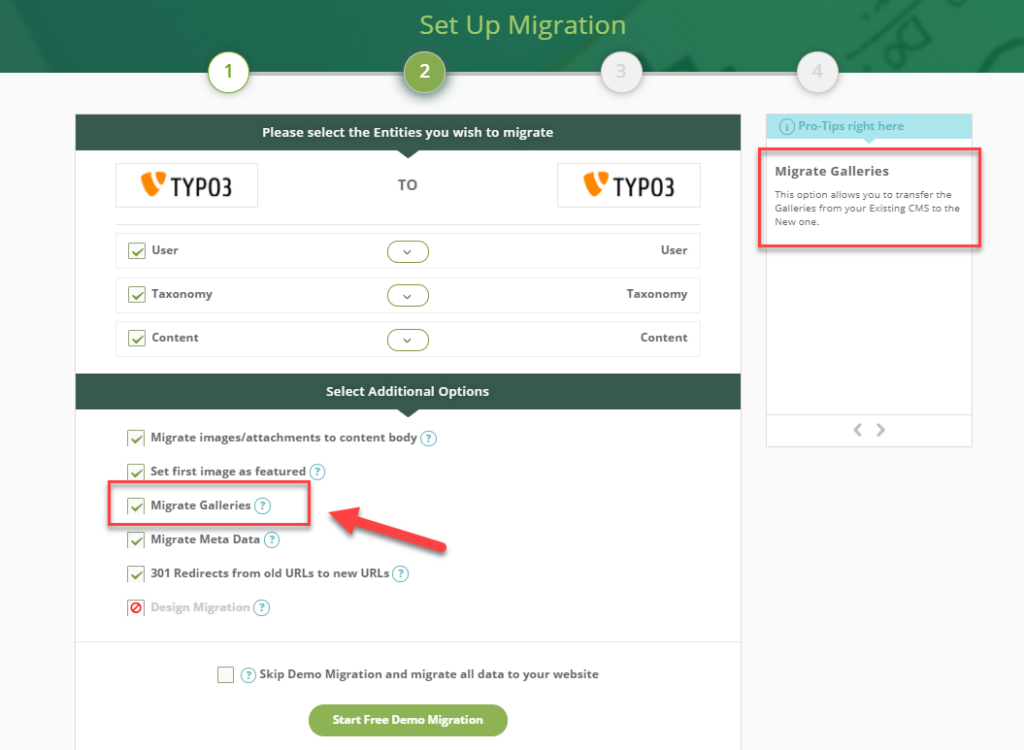 When is the best time to Start TYPO3 Galleries Migration?
The answer is NOW! Start with Free Demo migration and see how fast the process of TYPO3 galleries migration is. You just need to provide old and new websites' details and set trial move in motion. Don't forget to select the Galleries Migration option. ☝🏼
This is an excellent opportunity for you to experience migration independence and devote more time to the growth of your website. Your TYPO3 import is simple and accurate with aisite, and it's fully automated. Don't wait to get started with your free Demo Migration and transform your dream website into a reality in no time!