Running a website is crucial to online success. But what is more important is that it is not a big deal to create one nowadays. There is a huge number of CMS platforms that can serve as a basis for your web project. It is not a secret that a good start is half  way to success, so it really matters what content management system will you choose to run your site on.
Technology has improved a lot these days and it is pretty easy to just pack all your site stuff and move to another platform. With aisite service the process of migration is fully automated and flawless. This innovative online tool pursues the aim to ease the procedure of moving website content to a new CMS of forum platform. That is why, besides this easy and quick way of making the switch by yourself, you have the opportunity to choose one of the several Support Service Packages where all the tasks will be done for you.
These packages are needed due to the following reasons:
you can't or don't want to migrate the website your self;
your current website has a customised content;
you want to create custom type content on your new CMS
So, let's analyse all the peculiarities of the Extended Data Migration Package in order to get the clear and concrete idea of what you will gain if you choose this type of support.
After requesting the support service you need to complete the following actions:
1. First of all, you have to specify the FTP access details of your current site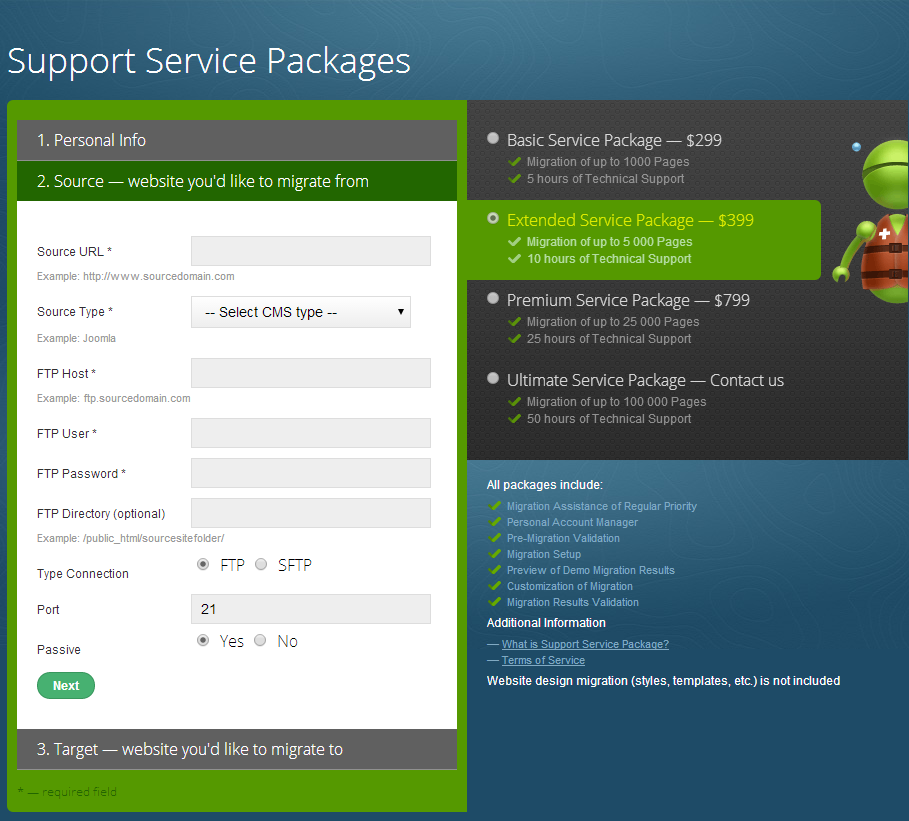 2. Now provide your new website FTP access details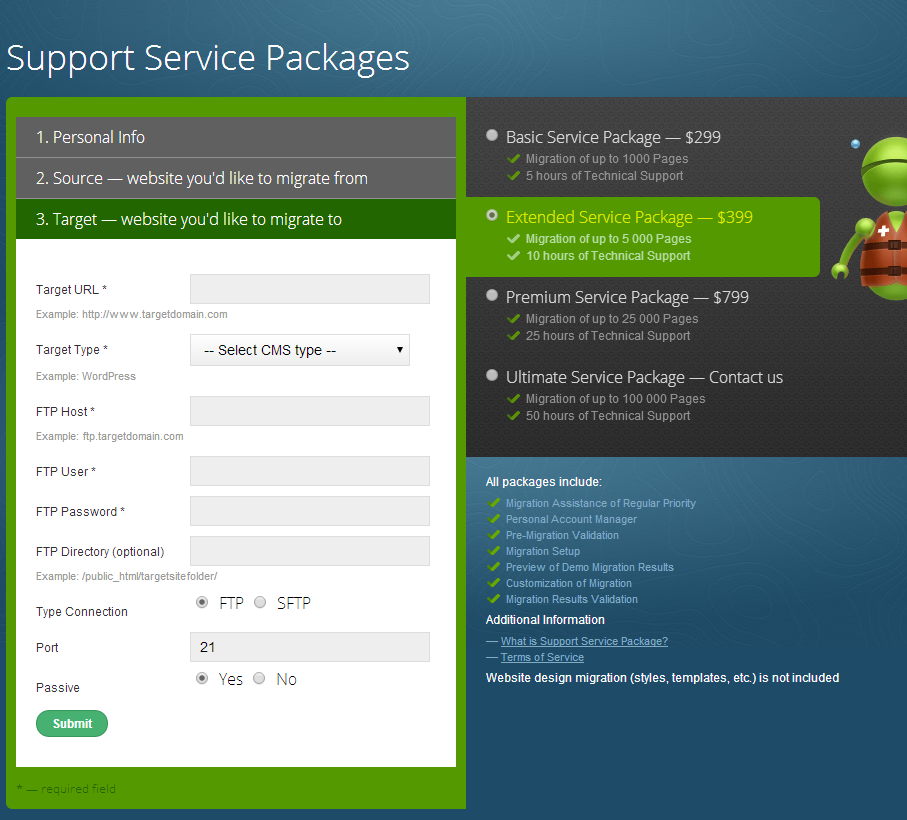 These two steps require that you fill in the corresponding fields with all the necessary information: the URLs of both source and target websites, your FTP host name, username and password. All these access details are needed in order to establish the connection bridge between your sites, therefore make sure that all the data you have provided is valid for uploading. Plus, it is very important for you to provide the access to the whole site, not just to some part of it.
3. When your registration form is submitted, your personal support manager will contact you to talk about the further options. At this step, you will have to specify all the existing customisations on your current website. After that, all the future changes to your website will be analysed to meet your requirements.
You should also notice that Extended Support Service Package will provide you with 10 hours of technical support. It means that during this time all the migration customisations will be done and the technicians will offer you the necessary assistance. Check out Premium Support Service Package to get more hours of technical support.
What You Get with Extended Data Migration Package
1. The price for 5000 pages import is included in the package. What is more important is that all the related items, for instance posts, users, categories, images, etc will be migrated to the new CMS for free. Note that the price of this service also includes the aisite additional options which are free of charge:
Media Migration – migrate images and MP3, PDF, Video attachments to the new CMS.
SEO-Friendly URLs – transfer all the internal links accordingly to the SEO URL structure of your new platform.
301 URLs Permanent Redirect – this option will keep your DEO and ranking (it is valid only for WordPress or Drupal migration).
2. All you have to do is to specify the necessary access details – the rest will be done for you. The migration process will take up to 5 business days, the exact period depends on the amount of your website data and level of customisation.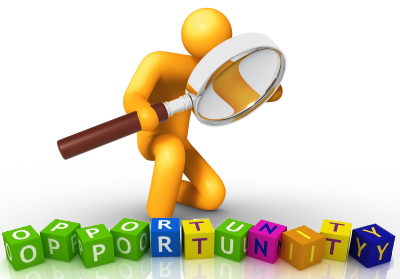 3. The next opportunity which you will get is to check out the Demo Migration results. You will get the notification as soon as the Demo is ready and after that you will be able to preview the look of your new site.
4. Don't worry if you have some questions or other issues you want to discuss with someone, you will be provided with a Personal Account Manager who is always ready to inform you on the migration progress and help you with other difficulties.
5. After the migration is complete, your database will be examined by the technicians to make sure that all your content has been migrated properly. After everything has been checked, you are welcome to enjoy your newly baked website.
Nota Bene: Things You Should Keep in Mind
Notice, that although aisite service supports all the website content migration, it doesn't transfer themes, templates, styles, etc.
If you have the intention to transfer a few sites to one CMS, you should know that a number of packages has to be equal to the quantity of websites you want to migrate from.
In case you don't have a target website yet, our technicians can install it for you. All you have to do is to contact us and inform about your request.
Now, you are provided with all the necessary information about the peculiarities of the Extended Support Service Package. So, don't spend your time and efforts onr migration – hand over this job to the experts and enjoy the results.