Being a new WordPress website owner, no matter whether you just started your website or migrated to WordPress from another platform, you certainly need some time to look around and get used to the new surroundings.
This platform is an amazing instrument with immense possibilities to make your website and its content look stunning. If you know how to do it, certainly.
Let us see some WordPress tips that will help you tame your site.
Backend Tips
The admin area in WordPress is easy to use, still, some necessary options may be invisible at the first sight.
For the post or page options, like comments, custom fields, SEO etc click the Screen options tab in the right upper corner.
In the Visual editor, a row of useful formatting tools is hidden under a "Kitchen sink" button.
Editor Tips
Visual editor in WordPress has its secrets too. For example, when pasting the text from a text editor, you bring many not needed HTML tags. To avoid this you can paste as plain text using the corresponding button with letter "T". Similarly, you use the "W" button to paste text from MS Word.
To clear formatting from the pasted text, use "Remove Formatting" button. It has an eraser on it.

There's a tool to make your posts irresistible to readers. You can cut your post in the most interesting part by placing the "Read more" tag and make a reader click it.

Use Images to the Full
Images not only make your content look attractive and add spice to it. You can make them work for SEO, too. When adding an image to the post, you get a form with several fields to fill in. Pay attention to "Title" and "Alternate text" fields. They tell Google about the content of an image as it doesn't understand graphics.
Title — the text that appears when you hover over a picture for a second. So, it can be used to include your keywords (for Google) and tell readers more about the picture.
Alternate text (or alt) — the text that would be displayed in place of the image (in case it can't be shown for some reason).
Schedule Publishing
WordPress allows you not only save drafts and revisions of the post. You also can set the publishing time and date and have your content go live while you're relaxing or doing other tasks.
To use this option, just find the Publish box on the right, and click "Edit" text next to the "Publish immediately" button. You can then set the exact date and time when your post will be published without your actions.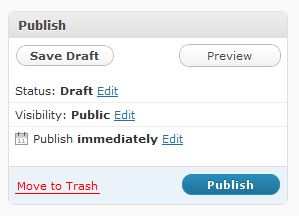 Security Tips
Don't use Admin as your username.
This mistake gives hackers twice more chances to break into your site as using Admin as a default username betrays 50% of the login information. Finding a password is not as difficult as you may think.
Keep your software up to date.
Outdated plugin or WordPress version are a security threat, so make sure you upgrade timely and do not make your site an easy target for hackers.
Final Tip
These are the essentials which will make your working with WordPress much more pleasant. In case you're still hesitating, here's a tip on easy and fast WordPress migration. Entrust this job to aisite migration service, and have your content transferred in no time. Register an account and make your new WordPress site happen right now!