myBB and phpBB are considered to be the longtimers of the forum platforms. Being on the waterhead of the first bulletin boards, both of them have been developed at the beginning of 2000 and now are widely used as the reliable basis for forum creation and management. If you are in the middle of the road between these two pieces of software – you've landed right post.
myBB
Launched as an amateur discussion board, myBB has evolved into a user-friendly forum platform that includes multiple features for smooth and straightforward forum management.
phpBB
phpBB, contrastingly, is a bit more complicated forum option. Though the installation is a breeze, the board still requires some level of computer literacy to take full advantage of it. Taking more time to get used to its modifying and customizing characteristics, phpBB, however, offers more advanced and powerful functionality and provides its users with the ability to create their own MODs (additional modifications for more robust forum performance).
Features

myBB

phpBB

Language
Support

20

43

Installation

Simple,
but takes
some time
Simple
and fast

Operating
System

GNU/Linux
BSD Unix
Microsoft Windows
Apple Mac OS

GNU/Linux
BSD Unix
Microsoft Windows
Apple Mac OS

Databases
(programs
that store your
forum data)

MySQL
Postgresql
SQLite

MySQL
Postgresql
SQLite
Microsoft SQL Server
Oracle

Topic Tags

Plugin
Installation Required
Plugin
Installation
Required

Duplicated
Threads
Detection

No

Plugin
Installation
Available

Message
Posting
Format

WYSIWYG
editor (visual)
Rich Text
Editor

CMS Integration
Possibility

No

Drupal
Joomla

New Users
Limitation

Plugin
Installation
Required

Yes
What this all boils down to is that the choice between these two forum boards mostly depends on the coding skills and user experience.
If you are currently running your website using myBB forum platform, but want to give a try to phpBB, there's an automated solution – aisite forum migration service. In order to migrate all your myBB forum content to phpBB quickly and accurately, all you need to do is to follow the instructions provided in the video below.
Video Tutorial
To get started with myBB to phpBB migration, make sure to prepare for the conversion by proceeding with the following steps:
1. Create new phpBB forum.
2. Backup your current forum data.
3. Find out your FTP access details to your myBB and phpBB forums.
Now, it's time to start your automated forum migration with aisite.
How to migrate myBB to phpBB: 5 steps
Go to the official aisite website and register your account or log in via Google or Facebook account.
Specify the URL of Your Existing Forum
Please establish the connection to your Existing MyBB forum. Read this in-depth tutorial or watch the video beforehand on how to use Connection Bridge. To install it please follow these steps:
Download the bridge file to your local computer. It will be saved as 'aisite' zip.
Extract the zip file to the folder on your computer and remember the location.
Connect to your FTP client software (you have to provide your hostname, username, and password).
Copy the' aisite' folder you've extracted from the zip and paste it to the root directories of your MyBB and phpBB separately.
When you've done with the installation, press the 'Verify connection' button.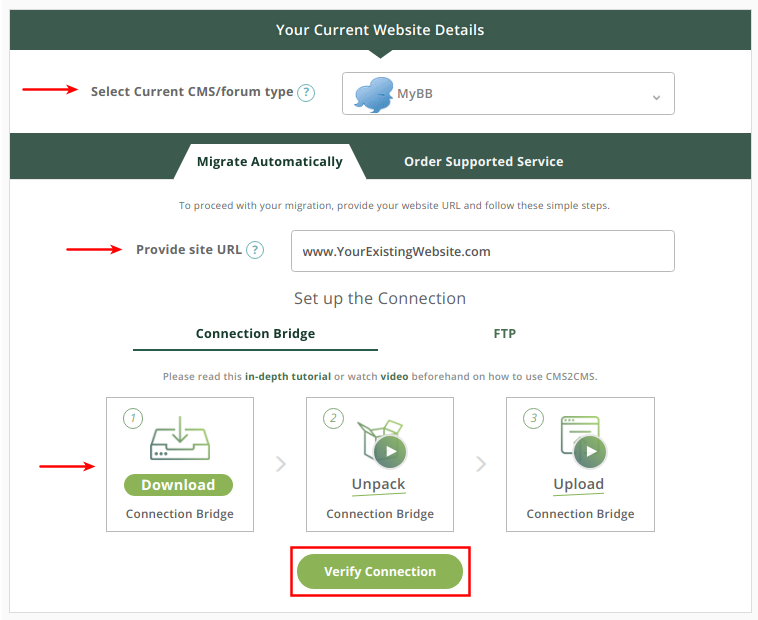 Indicate the Details of Your New Forum
The next step is to provide the details of your New forum Platform, phpBB. Type its URL address and set up the connection between your two platforms. To do this install the connection bridge on your computer like it was described at the previous step and connect to your New website.
As soon as you've finished, it means your sites are connected.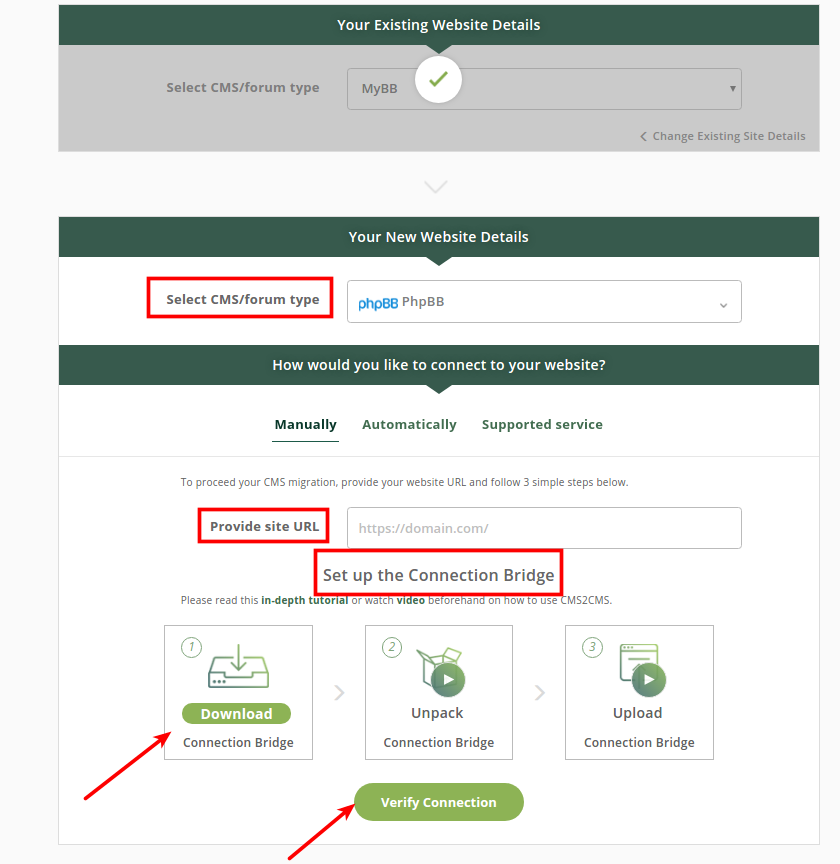 Select Additional Options
Now, you are welcome to choose the additional options for your forum migration and start Free Demo to phpBB. You'll be able to track your data conversion right in your browser window. In a few minutes, you'll get the notification and be able to check up the results of your Demo.
Final Action – Full Migration
If you are happy with the demo migration results, you may easily launch your Full Migration. aisite will convert your myBB forum items to phpBB and very soon you'll be able to manage and improve your new forum site.
Check up all the items that are moved from myBB to phpBB:

So, migrate your forum from myBB to phpBB fast and flawlessly with aisite, just start your free Demo Migration and you'll see that's possible to get a new site in a few clicks.