Joomla and Drupal are the giants of content management platforms and this is a known fact. But still there are many people who are concerned which platform should they choose to build a website of their dream. In a few minutes you will find out which CMS platform will fully suit your needs and in case of dissatisfaction with one platform you will find out the way of migration to another.
Joomla Lifestyle
Ladies first, so, let's begin with Joomla. This CMS platform is very popular around the world and has a lot of followers. Joomla is suitable for developing different websites, intranets, complex blogs, online shops etc. Joomla offers tons of free and paid modules but it is difficult in some way to maintain them.
Drupal: Beloved by Developers
Drupal is content management system (CMS) and also a content management framework (CMF): a utility which helps you get started by offering pre-built components. This platform is suitable for developing more complicated web projects, for instance networking communities, company sites and much more. Compared to Joomla, Drupal is more developer friendly. This CMS platform offers you a lot of modules with the help of which you have an opportunity to get new features. Drupal can do almost everything as it is incredibly customizable and that is why developers are fond of working with this platform.
The Winner Is…
So, in case you have a desire to know all shades and hints of Drupal or maybe you are already an experienced user, then Drupal CMS is better for you. But if you are looking for a simple website building solution, then you should choose Joomla. Don't worry, there is no need to create a site from scratch because you can easily migrate from one website to another.  
Migration: How to Do It the Right Way?
Here are some ways to migrate Joomla to Drupal. Learn them and choose the most convenient for you.
Do It Yourself Method or Hiring a Specialist
Your job is to copy all your content from one website and paste it to another. This method involves lots of your time and efforts as you will have to do everything manually. Moreover, this way isn't safe as you can lose some data. You can also hire a programmer to do everything for you but the risk of data loss remains. Furthermore, it could cost you a fortune.
aisite Technique
aisite is a service aimed to perform your Joomla to Drupal migration incredibly easy and fast. There is no need to provide someone with your personal data, such as login, password etc, because only you have control over the process of conversion. Besides, you don't have to worry about losing any data with aisite.
Still hesitate? Follow this step-by-step instruction and you will see with your own eyes how simple the migration with aisite is.
Sign Up/Sign In
Create an account or login with your Google or Facebook account.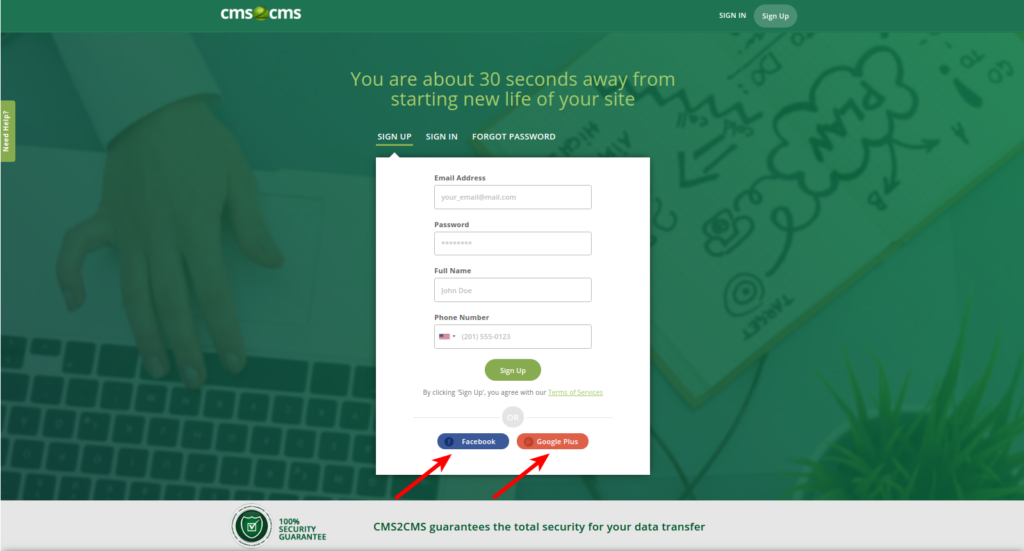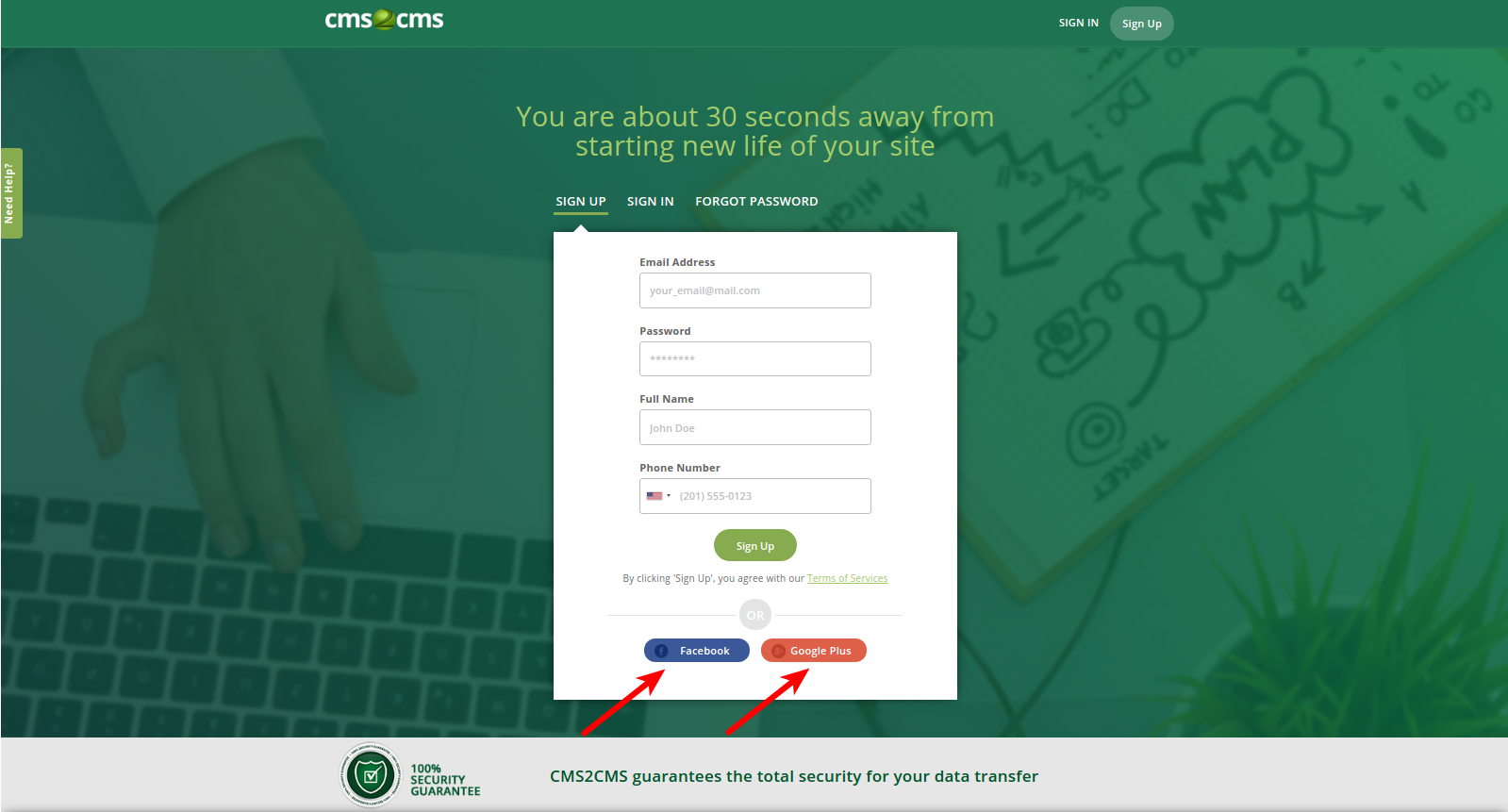 Point out Source and Target Website URLs
Now you have to provide your Source/Joomla and Target/Drupal website URLs.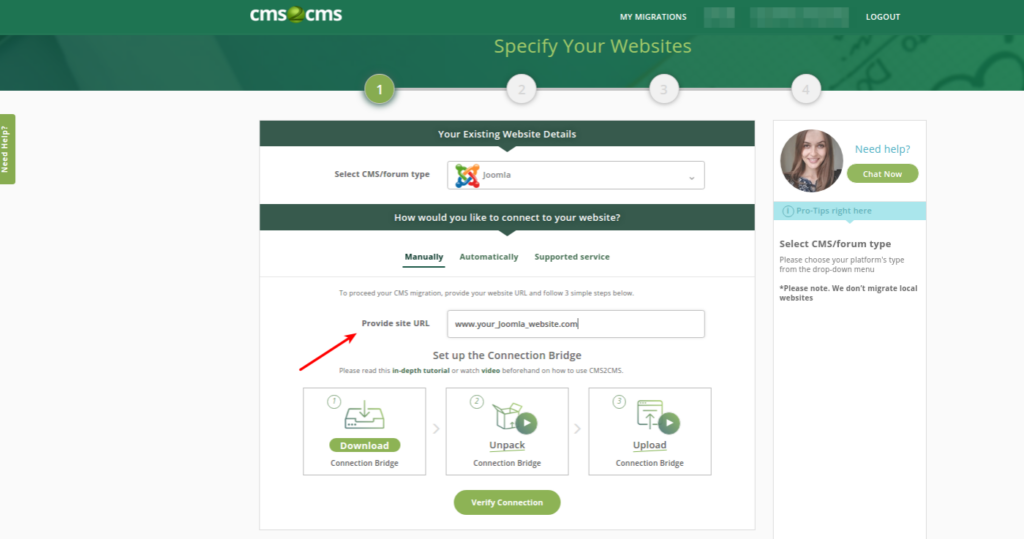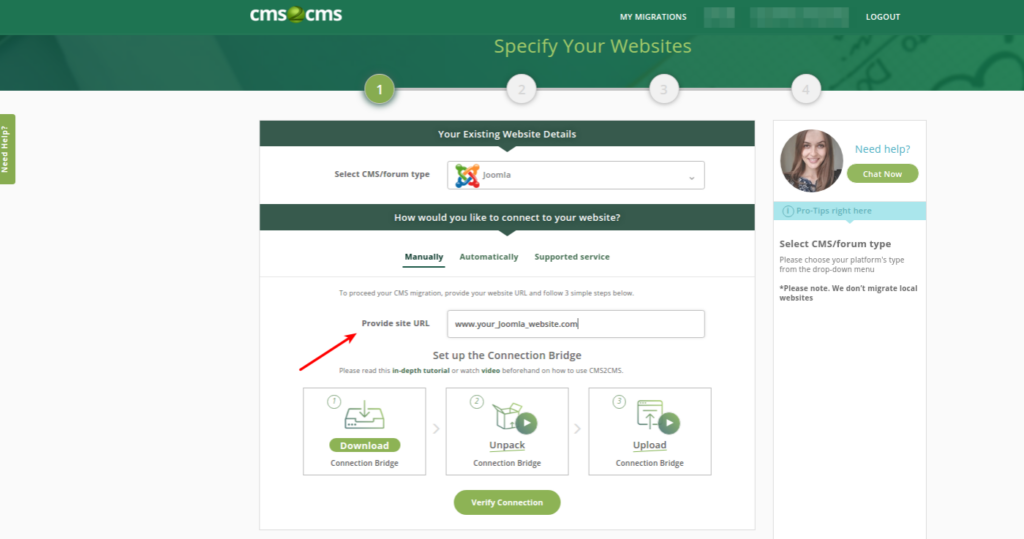 Connection Bridge
After providing each, Existing and New website, URLs, you will be asked to download the connection bridge which establishes the interaction between the websites. You should upload this file to the root directories of both your sites via FTP, FileZilla for instance.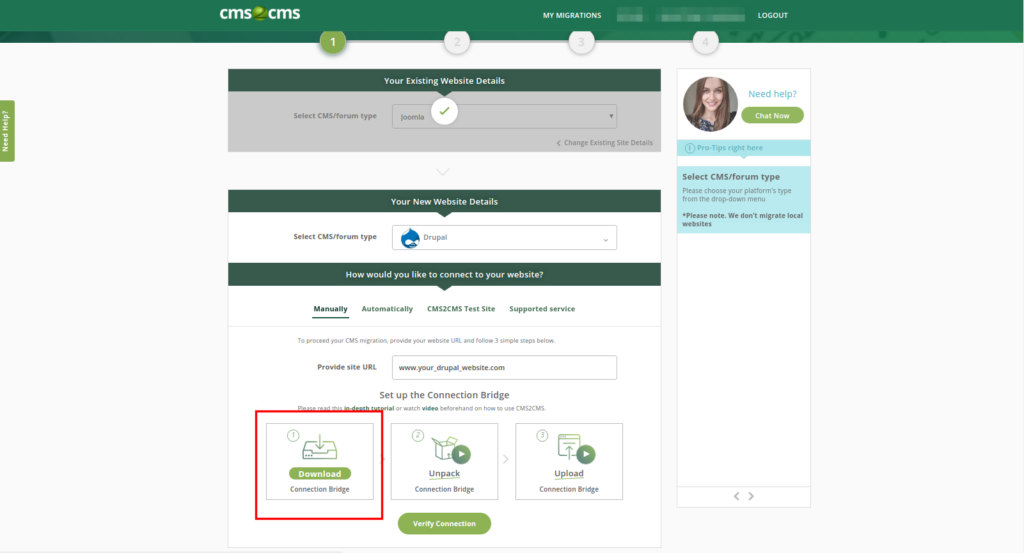 Additional Options
Now you have to choose the Entities to be migrated and additional options as well. They are the following: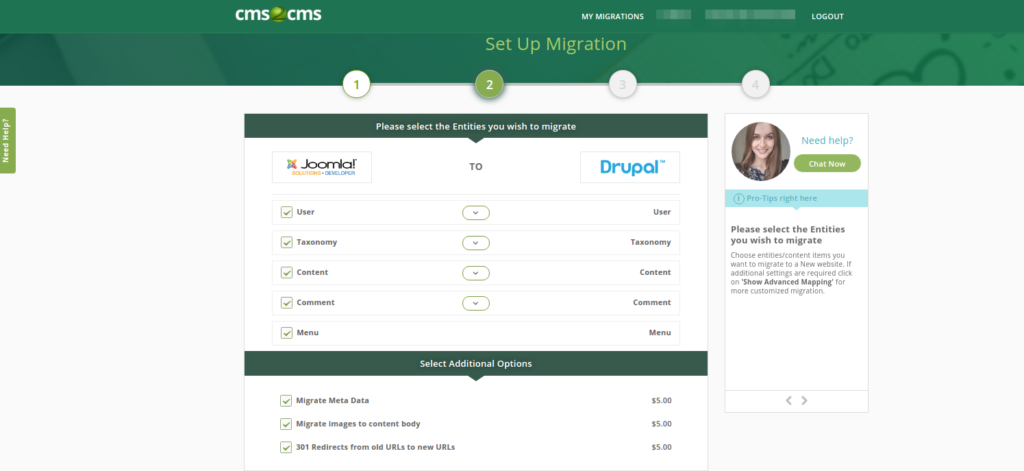 Free Demo Migration
To see how everything works you have a possibility to run a Free Demo Migration and migrate up to 10 pages.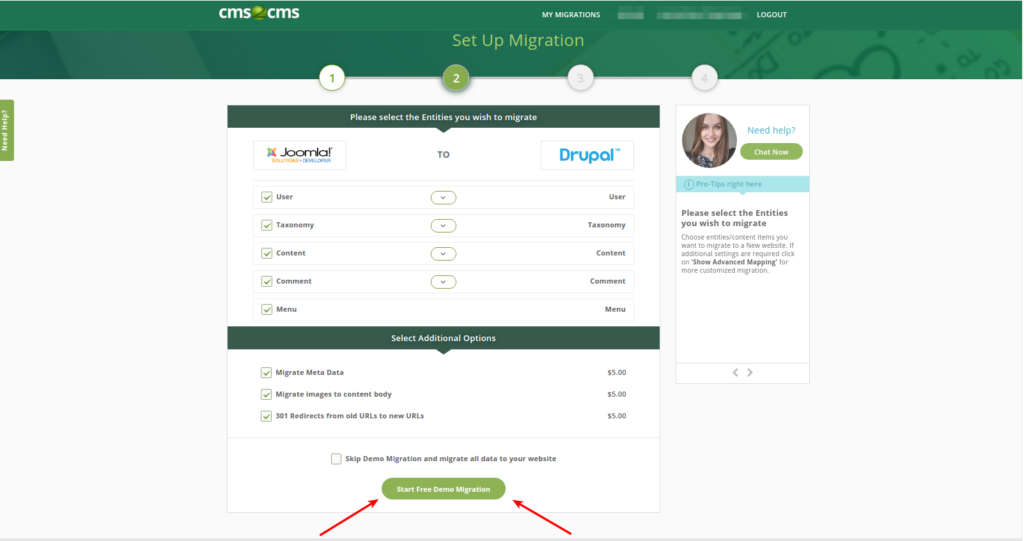 Full Migration
If you are satisfied with Demo results, launch the Full Joomla to Drupal Migration. It takes approximately 15 minutes of your time but you can close the browser and when the conversion is over, you will be informed by an email.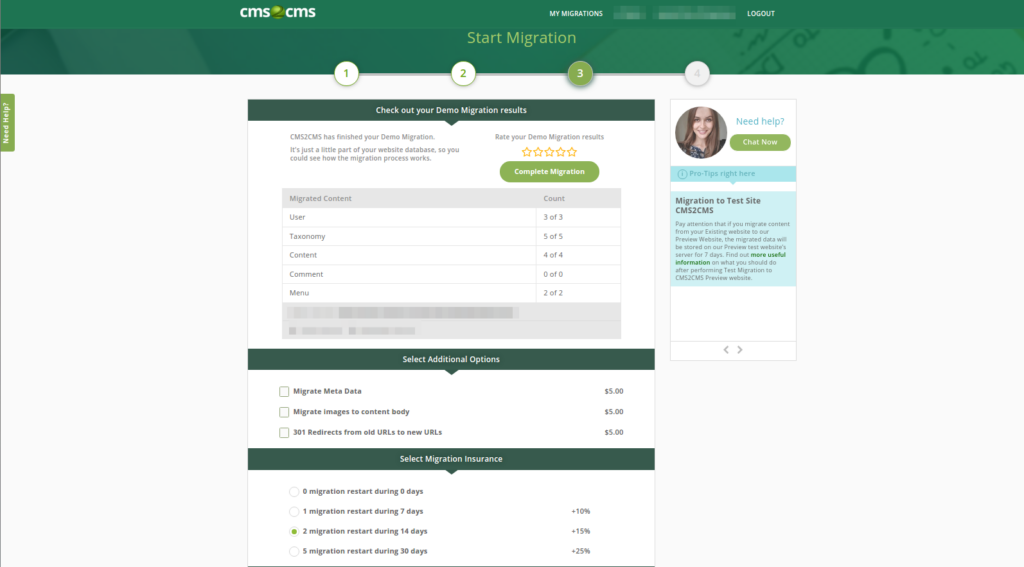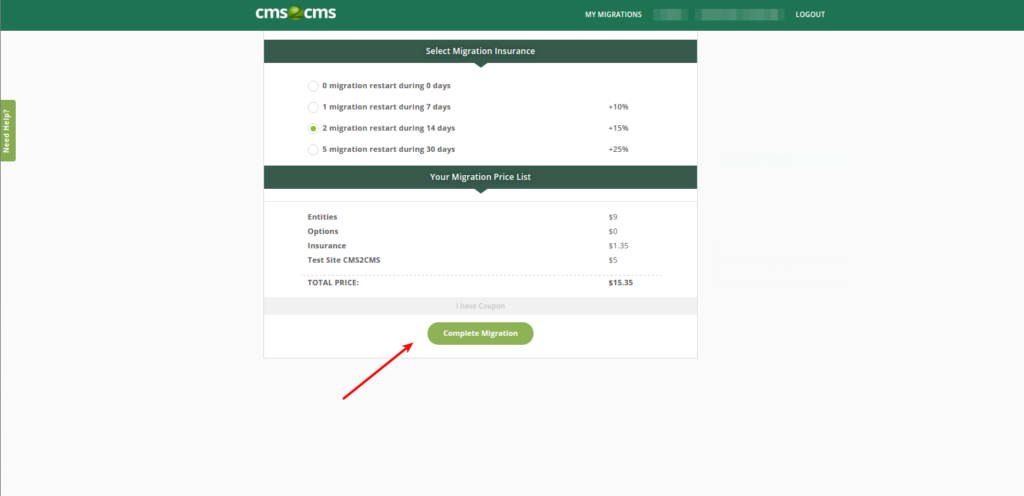 Video Tutorial
Watch a video on how to migrate Joomla to Drupal with ease.

With aisite Service You Can Migrate the Following Items from Joomla to Drupal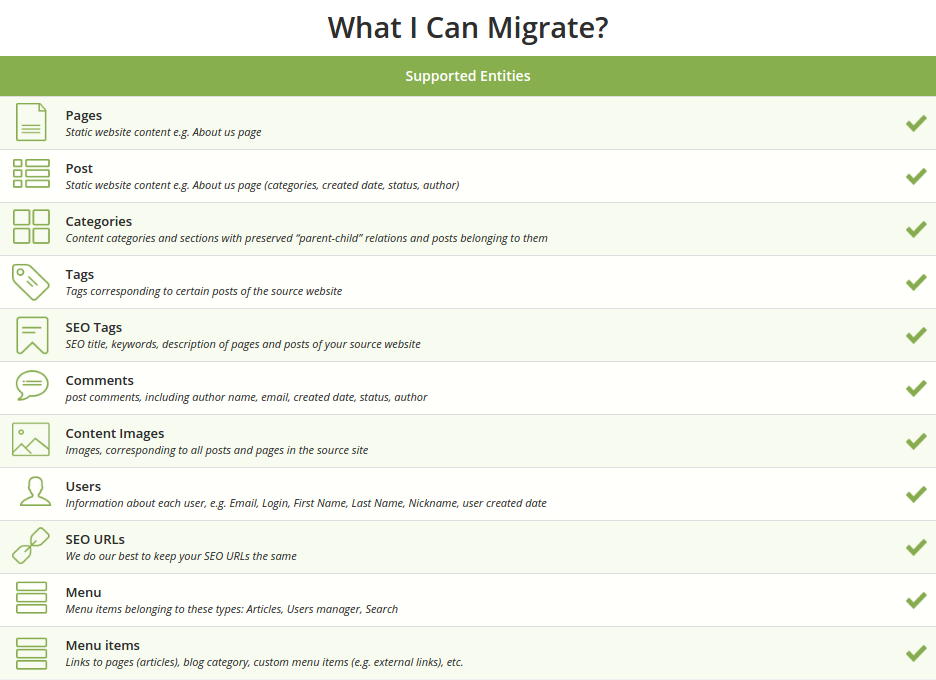 Summing Up
Now you know which CMS platform will fully meet your requirements. So, don't wait up! Set up the migration process and enjoy the results.