Concrete5 vs WordPress is a tough decision to make as far as both reputable and stable CMS platforms used for creating and running websites. At first glance, they look quite similar but digging into the dashboard or the backend of the websites reveals the fact that they are actually quite different. Let's take a deep dive into all the ins and outs of both platforms and try to clarify a winner between them. We'll start with an infographic, which includes general comparison.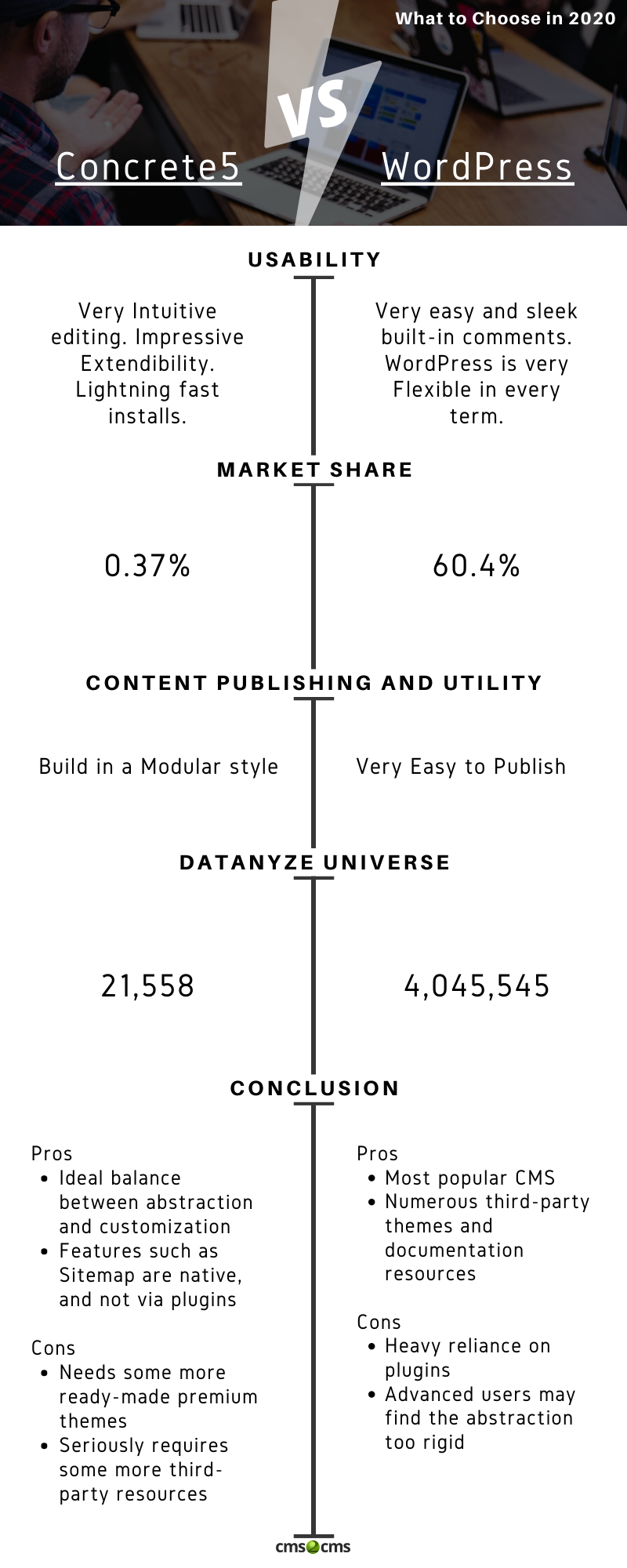 What Do They Look Like?
If to examine at the default installations of Concrete5 and WordPress, we'll see that similarities between them are obvious. The style and perception of both CMS solutions can easily be changed with the help of themes or add-ons. Because WordPress is more popular and widely-used – it is packed with more free options (themes, plugins, and add-ons) to choose from. Due to the fact that these options are created by 3rd party developers, they can sometimes have conflicts with other plugins or themes. Concrete5, on the other hand, provides its users with many add-ons as well. However, they are offered via the built-in Marketplace controlled by Concrete5, and thus tend to have fewer compatibility problems.
What Do They Do?
WordPress has a long history behind while Concrete5 comes with a big jump. From the ground up developed as blogging software, WordPress, however, managed to evolve into a full-fledged CMS solution used for creating any type of website with any complexity. Concrete5, alternatively, was originally created as a way to quickly and easily design and build a website. The platform has enough functionality out-of-the-box allowing to build any kind of websites as well.
Are They Customizable?
In this aspect, WordPress is, doubtlessly, superior to Concrete5. The software provides its followers with an unlimited number of themes to choose from. On the other hand, Concrete5 contains fewer themes that are available for free and for premium as well. When it comes to plugins, Concrete5 seriously lags behind WordPress, offering a limited number of add-ons. Though they can be written, many newbies find it difficult to handle the process by themselves.
Do They Provide Support?
There aren't many active members on Concrete5's forum yet. As a result, it is hard for users to find effective solutions in their community. WordPress community is huge filled with both enthusiasts and webmasters. They provide a welcoming place to go in case you got stuck.
How Much Do They Cost?
WordPress and Concrete5 are both free of charge. However, there is a vast range of add-ons, plugins, and themes that are available for free or sale.
Migrate Concrete5 to WordPress: 5 Easy Steps
Start the Free Demo Migration to see how your content would look like on WordPress CMS and follow this step-by-step tutorial:
Provide your current CMS platform and your website URL address. Press the 'Download Connection Bridge' button.
Establish the connection to your Concrete5 website via connection bridge, get back to the migration page, and verify the connection.

After that, enter your new website CMS and URL address.
Provide your WordPress admin login and password I order to install the connection bridge automatically! In case you don't have a WordPress site yet, you can select the 'Migrate to our test site option'

Now the connection between both of your websites is set! It's time to choose the entities and additional options you want to migrate! Right after that start free demo migration process

Done! Check out the migration results.
This table includes clickable links, so you are able to compare how does your content looks like on current and new CMSs. Also, you can order the design customization! Check the packages offered and select the most suitable one 

Do you still have some questions unanswered?
What is the main difference between Concrete5 vs WordPress?
The biggest difference between Cocncrete5 and WordPress lies in the interface simplicity. While WordPress is an open-source content management and blogging system, Concrete5 allows its users to build sophisticated web applications.
Do both CMSs have something in common?
Yes, they do. Both WordPress and Concrete5 are stable and reputable CMSs, ideally fitting for building a blog.
Comparing Concrete5 vs WordPress, what is easier to customize?
In this aspect, WordPress is superior to Concrete5 as it is more flexible to custom changes.
WordPress vs Concrete5: what platform is cheaper to maintain?
Both platforms are free of charge to install, but there's a vast array of addons needed for the proper functioning of a website. Use this calculator to find out which CMS will be cheaper to maintain.
Is there an option to try WordPress but save all Concrete5 data?
Yes, sure. Try Free Demo migration from Concrete5 to WordPress and see how your content will look like on the new platform. After that move all your Cocnrete5 data to WordPress in an automated manner.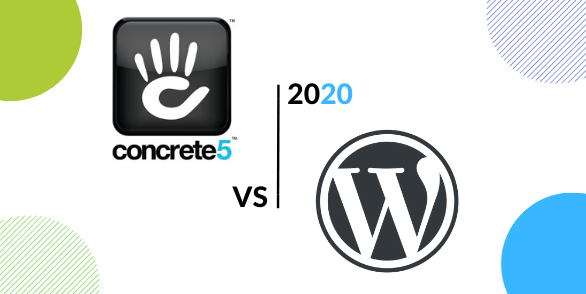 Final Thoughts
Which software will work better for you depends on your skill level and what you are trying to do with your website. For basic web design or beginners – Concrete5 is much recommended since it has a simple and easy to use interface. While WordPress is considered to be very easy as well, some steps can be more detailed, and vary depending on the specific theme or plugin you are using. Choose according to your tastes and aims.
Does WordPress sound like a perfect choice for you? Now it's a perfect time to perform a switch and therefore ease your life significantly.
Also, if you want to migrate concrete5 to WordPress, you are able to order the Design customization too! Check this video to learn more about it:

Сonvert Сoncrete5 to WordPress safely, and make your migration process seamless and error-free with our plugin. Interested yet? Try out Demo migration right now.