Welcome to a fresh edition of CMS Digest and Happy New 2021 Year! 🎆🍾🎄 In today's post, we want to sum up the greatest aisite achievements of 2020 and recollect the most important events which happened to our service for the last year.
But first, let us express our genuine gratitude to you, our beloved readers. Because these were you who motivated us to produce useful content; for you, we are constantly improving aisite service, by adding fresh platforms and features to support; your kind reviews and testimonials gave us a hope that despite all the difficulties 2020 prepared, we DO deliver a great and such a needed service. Many thanks for being with us! 💚
P.S. For more information about aisite service, its history and place among the competitors, follow the aisite Interview and Review published by Webhostingprof.com.
Now, let's move to the top 5 aisite triumphs of 2020.
---
5th place takes the improvement of aisite partnership program. In case website migration is not a one-time event for you, you can get a nice discount for the future migration. In a nutshell, to express loyalty to our returning clients, we decided to offer them great opportunities to save or even make money. Interested? 🤔 More info in this publication.
---
4th place of the best aisite achievements of 2020 is taken by the number of website migrations done by our service. Almost 13k of users 😮, 12 766 to be super-precise, tried website migration with aisite. We are really happy to deliver useful service and to become a part of your website refreshing
---
3rd position in the list of aisite triumphs is occupied by a newly added offer 'All-in-One options' additional option. It includes the migration of all the options listed at the "Additional Options" menu for a reduced price. Using this option you can get migrated all the options possible for your CMS and pay 50% less! You asked – we did. 😎
---
Of course, we can't miss the new platforms added to the support throughout 2020, they actually take 2nd place in today's digest.
Easy Blog, Classic Google Sites, WordPress.com, Data Life Engine, XenForo, Content Stack – all of them were added to full migration support by our dev. team. Be sure they have really ambitious plans for 2021, and soon you will see more platforms supported by our service. 🤓
---
And our top achievement, the one we boast about most of all – Design Customization. Only our account managers know how many emails and tickets we received regarding adding this service. We listened to your needs, and provide you with not only content migration but website replication as well. Now, after finishing moving your website to the new CMS, you are able to choose one of the Design Customization Packages and our design team will count all your requirements. 🎨 Moreover, we already have finished works and satisfied users, who are really glad that they didn't have to search for a freelancer to design their site. Take total website refreshment all in one place.
---
And traditional 'bonus' achievement is that all the above-mentioned improvements we did while being apart. Worldwide pandemic made adjustments to the teamwork and all of us were creating our home offices. This is how they look like ⬇️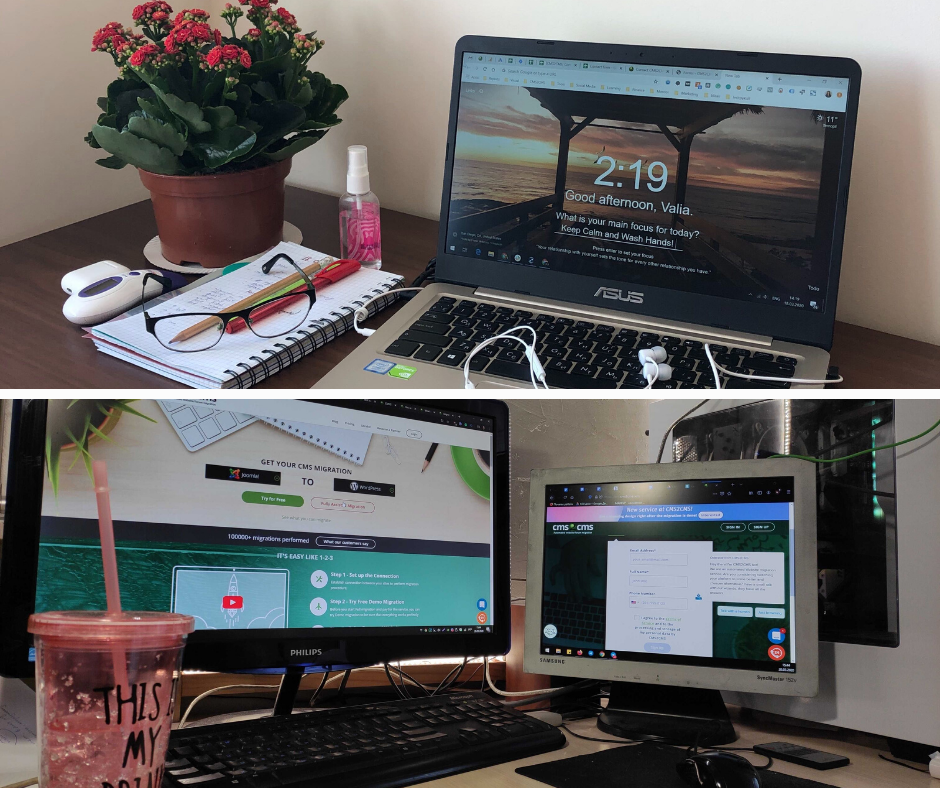 We got used to the remote work already, but can't wait for the time when our office again will be crowded with people, laughter and live emotions. 😌
---
These were top 5 aisite achievements made during such an unstable 2020. We know that the best is yet to come, and will continue to work even harder in order to make your website migration more comfortable, more automated and more precise. Stay tuned!
Btw, in order not to miss a fresh porting of CMS news, follow us on Facebook, Twitter, Youtube, LinkedIn, and Instagram – we adore posting not only useful but entertaining content as well. 😏