Once upon a time, there was a spooky and tedious way to create a site and it was also the only way called the HTML language. Thousands of pages of coding were typed manually with the website as the final product. Almost all of the now-famous giants in the web world like Google and Facebook came through this rebellious phase of static pages created in a hand-coded manner. But time passed, and the brand new way – CMS(Content Management System) – bursted on the web market offering less bulky procedure of establishing the web project. Most of the websites are now running on platforms like Joomla, WordPress, and Drupal, and some of them still prefer HTML steadiness. In this article, the great question "What is better to use HTML or CMS" is going to be answered for good.
Meet the lightweight champion
Websites operated by HTML are extremely light thus they are fast. And it may play the vital role on the web boxing ring. Statistics claims that the average time users spend on the website before leaving it forever equals 7 seconds. People often get irritated when it gets to waiting because they have plenty of that already – intense traffic, multiple shop queues – they don't need to hit the jam surfing the internet. So, if it takes longer than that for any page or section to be loaded on the user's screen, he or she won't give your website the second chance.
Though there comes the price for being that fast and it appears to be the web developer's time spent on building those pages. As it was mentioned before, hand-coding is an indeed tedious task to perform and it is not time-saving at all. Plus, it requires an extensive expertise in coding itself. If you are not exactly Mr. Robot type of a guy you would need an additional help in managing and customizing the web project. Talking about customizing, some people can get disappointed finding out that there are no plugins at all to install for HTML websites. In case you need some extensions to enlarge your website functionality, again you would need to get hands dirty using code.
It seems like though it costs nothing to create HTML website, it may require much more money to maintain it later on the way.
Here comes the online chameleon
CMSs, unlike HTML language, are dynamic and what is even more valuable – they can change their "skin" in a matter of minutes. Blogs, corporate websites, shopping carts or non-profit sites form your project line of roles. Сontent management system suits perfectly each role due to its flexibility. Moreover, CMSs are more SEO friendly and some of them, like WordPress for instance, have special tools which can increase the SEO score if following simple instructions.
In case you have the site run on CMS you would feel like you have full control over its functioning due to the admin panel. HTML based websites don't offer such an opportunity.
And taking full control over your website is not the last thing CMS offers. You would also have more time and freedom working on the content you create rather than thinking constantly of your website outlook. Since the HTML code requires updates to keep it valid, the website creator needs even more additional time to work on coding. If you use CMS, then a large storage of plugins, modules or extensions (depends on the platform you've chosen) provides the web project with a quality of being fresh and competitive. And there's no need to type a single piece of coding.
The infographic below shows the reasons to choose CMS over a static HTML building for your web project: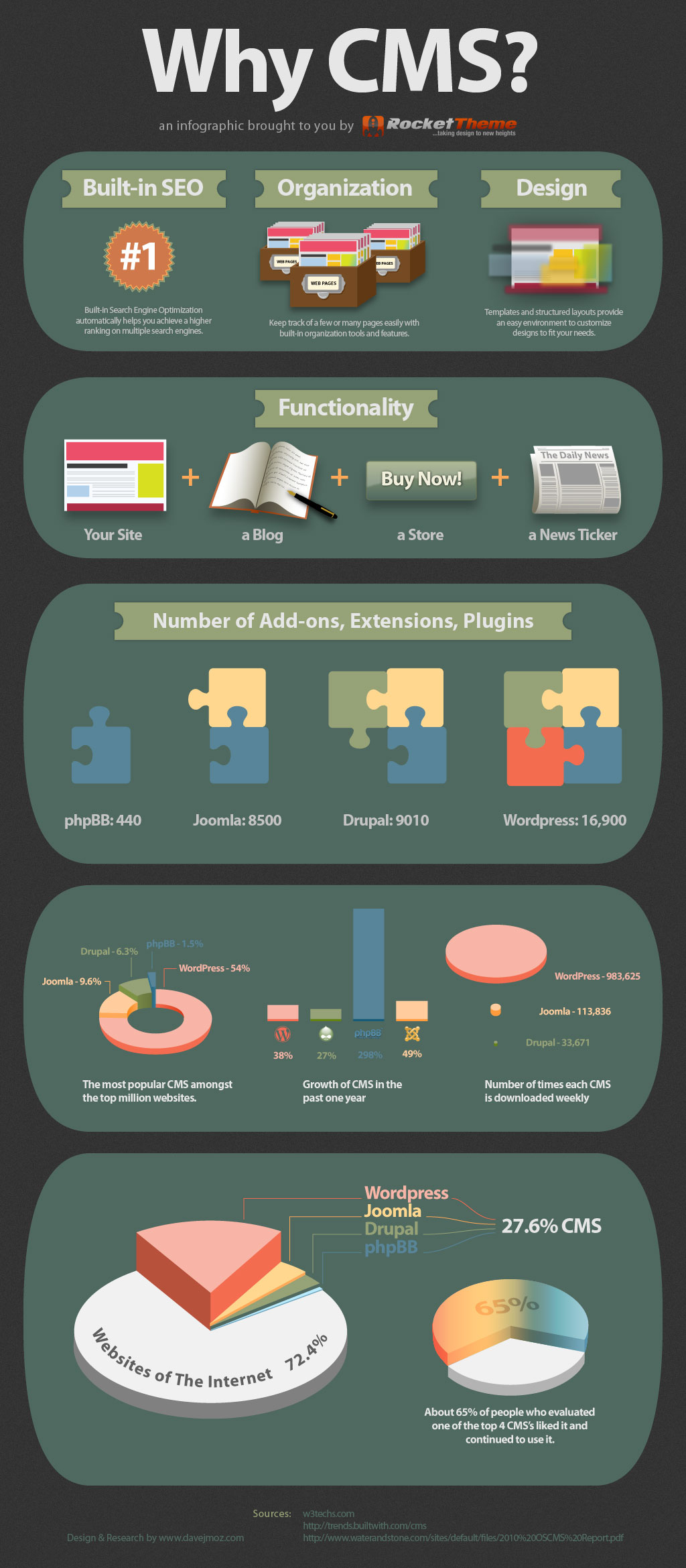 Well, which way of website establishment impressed you more: an old-fashion classic or the modern alternative? Feel free to share your opinion in comments' section below.
And in case, the above-mentioned info encouraged you to join the next generation of websites, you can migrate your existing HTML based site to any СMS within 15 minutes.