If you have launched your own website at once, undoubtedly, you should put your best foot forward. You know, managing your content properly, taking care of SEO constantly, enhancing your web design impressively. And what's more important, all these depend on your CMS platform. And, naturally, the issue of switching from one content management system to another is not a phenomenon. With the diversity of rival CMS softwares, each of them widens its abilities and improvements at every turn. In this way, aisite, automated CMS and forum migration service, provides the site owners with the great chance to migrate their websites to new CMS easily and quickly.
Apart from the regular aisite website migration opportunity (while you migrate your content to new CMS by yourself), there are several Support Service Packages. They are so-called lifesaver solutions, in case:
you don't want to migrate your website yourself
your current website has customized content
you wish to create custom type content on your new CMS
So, in this article, we scrutinize all the shades and conditions of Basic Support Service Package and what you'll get choosing this offer.
At first, there are a few things that you should provide prior to starting the website migration under Basic Support Package:
1. Provide Your Current Site FTP access details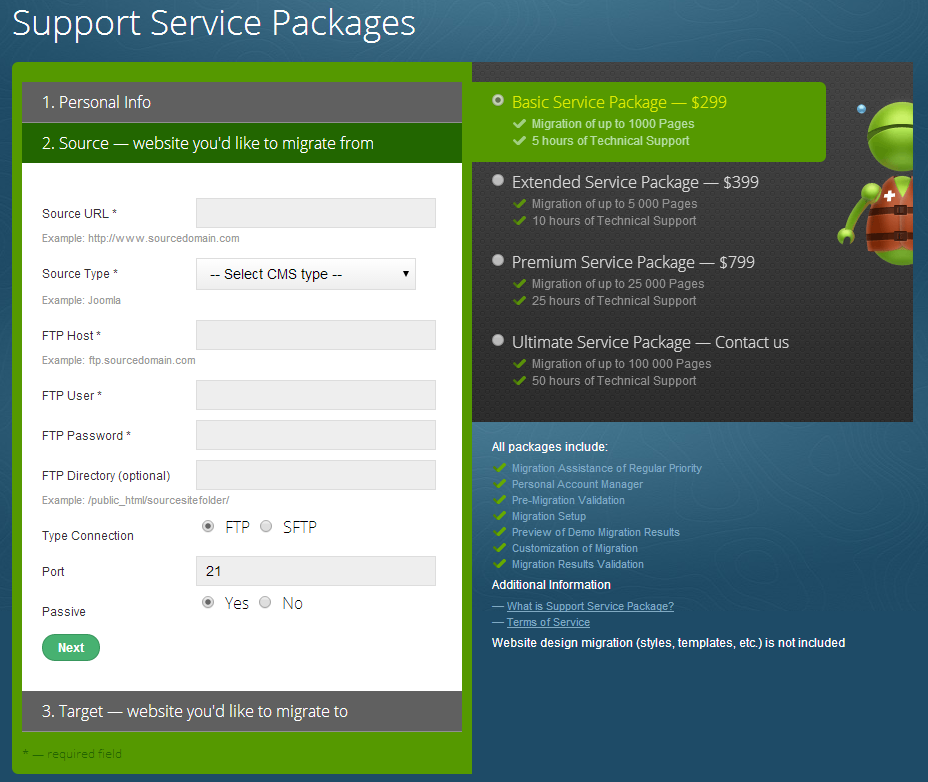 2. Specify FTP Access Details to Your New Website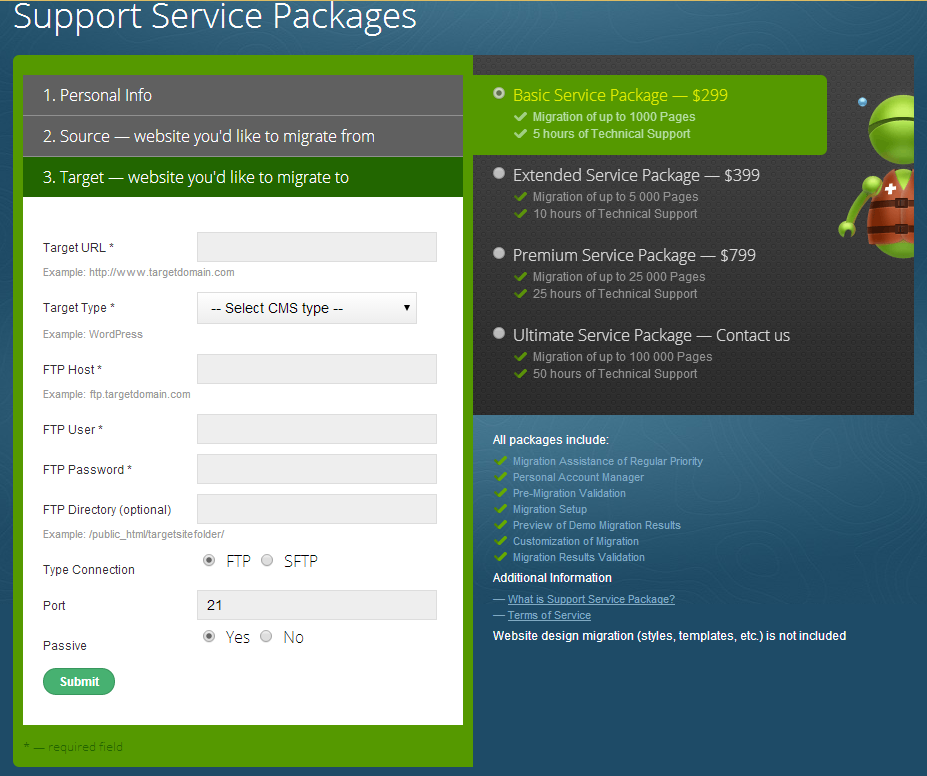 Fill in all the corresponding fields: you FTP host name, username and password. This information you may find out from your hosting provider. You should know that the access credentials to your websites are used in order to establish the connection bridge between your current and new websites. That is why, please provide the access details that are valid for uploading, not just for revision.
Make sure that you specify the access to the whole website, not just to some separate folder.
3. Customization Possibilities
When you are ready with the registration form, your personal support manager will contact you to discuss all the migration options. You should specify all the existing customizations on your current website. Then, the technicians will analyse all the possibilities of their future implementation and inform you about the further modifications. Note,  Basic Support Service Package includes 6 hours of technical support, so the migration customization will be done within the scope of such period of time. But, if you would like to preserve your customized content more precisely, you are welcomed to check out Extended Support Service Package.
Basic Support Service Package Includes:
1. New CMS Analysis
Initially, aisite Technicians evaluate your new CMS and analyse what kind of modifications they could adopt. You will be informed which modules / plugins / extensions you may activate or proceed with any other modifications. Technically, the experts will prepare your new CMS for the smooth data conversion.
2. Content Migration
So, moving on to the essence of the subject, Basic Support Package comprises up to 1000 pages migration. Also, all the related items, like posts, categories, user data, comments will be migrated to new CMS absolutely for free. However, if you migrate your website from WiX or static HTML site the conversion includes up to 20 pages. Apart from the content migration, the price of Basic Service Package includes the following aisite additional options that are at no cost:
Media Migration
All the images corresponding to your articles or posts as well as attachments (MP3, PDF, video) will be migrated to the new CMS.
SEO-Friendly URLs
Traditionally, each CMS has its own way of creating link structure. Despite this, aisite migrates all the internal links accordingly to the SEO URL structure at the new CMS.
301 URLs Permanent Redirect
This option is currently suitable in case you want to migrate to WordPress or Drupal only. Such kind of redirect allows to preserve your SEO and ranking, referring your website visitors to the new site location.
3. Procedure of 3 – 5 Days
As soon as our techs receive the sites access details, the migration process will take up to 5 business days depending on the amount of your website data and level of customization. Also, before starting your website switch, you are able to check out the Demo Migration results. The limited number of items will be moved to your new CMS, and you'll be aware how the service works. During your site migration, you will have your personal technical support who will assists your website migration.
Notice. Options That Are Out of aisite Possibilities
Currently, aisite supports all the website content migration. But, unfortunately, the automated service doesn't convert theme / template/ layouts. However, as the alternative, you are offered a lot of themes/templates that are co-related with the colour scheme of your current website. So, you will be able to choose one according to your niche.
One more thing you should take into consideration, – Basic Support Service Package includes the data migration from one CMS to another. But, in case you want to migrate a few websites to one CMS, pay attention that a number of packages should be equal to the quantity of websites you want to move from.
Now, you know all the opportunities and options of Basic Support Service Package. So, let the experts handle your migration from the very beginning till the end and very soon you'll be able to enjoy your website on the new CMS.