So, you're almost ready to switch to a new CMS. You have even found a tool for automated website migration – aisite. You know that your posts, pages, categories, images, users, etc. will be safely moved to your new site.
However, there is one aspect stopping you – the fear to lose your SEO juice after migration. Does it sound like your case? Then, this write-up is exactly for you. Before you get to the last line, the fear is sure to dissolve and stop you again. Don't believe it? Just keep reading!
What's the Connection between CMS Change and SEO?
When you switch to another content management system and move over all of the content from your existing website, the links structure may change even if you remain on the same domain. It happens because each CMS uses its own way of building links.
301 Permanent  Redirect – Don't Throw your Rankings Out the Window!
There is a way to avoid rankings or traffic loss after migration using a 301 permanent redirect (currently available for migration to WordPress, Joomla and Drupal only).
What's 301 redirect? Basically, it's the way to inform a web server that the page has been moved and simultaneously indicate its new address.
Why is it needed? Compare the situations with most after migration to get the idea:

1. Google Bot – maintain your rankings.
No 301 Redirect: bot comes to crawl your site, but finds all pages missing. Then, you can say goodbye to PageRank you put so many efforts to get.
With 301 redirect: bot knows where your page is located now and assigns your PR to the new URL, so you don't lose SEO juice.
2. Visitors – retain your audience
No 301 redirect: clicking their bookmarked links (typing the familiar URL in the address bar), users get 404 error – page not found. They are disappointed and upset.
With 301 redirect: A visitor is automatically taken to the new page location and the change can even go unnoticed. So, you keep your devoted visitors.
3. Backlinks – save your traffic (and rankings) sources
No 301 Redirect: no doubt, there are lots of sites that refer to yours (actually, have a link to your site) and cast 'a vote' for you with Google rankings. They can be a good source of traffic as well, so if you don't indicate your new address, they would be wasted, because anyone who clicks them, will see "Page Not Found" error.
With 301 redirect: All the external links from other websites are live, so you preserve both rankings and potential visitors.
How to Set up 301 Redirect for Your Website?
Learn how to do it yourself
301 redirect needs to be set up on the server level by creating a set of redirection rules. To do it well, certain technical skills are needed and knowledge of redirection syntax. Otherwise, it may work out not as expected and lead to a drastic drop in rankings.
Let us do it for you automatedly!
aisite provides you with the way that allows to set a 301 redirect for your whole WordPress or Drupal website and avoid any hassle.
All you have to do is check a 301 redirect from your Previous URL to New URLs as the additional box in your Migration Wizard when moving your website content to WordPress, Joomla or Drupal! This way, you'll get not only all of your website content, but also every drop of the SEO juice moved safely to the new WordPress or Drupal website with no efforts or time investments!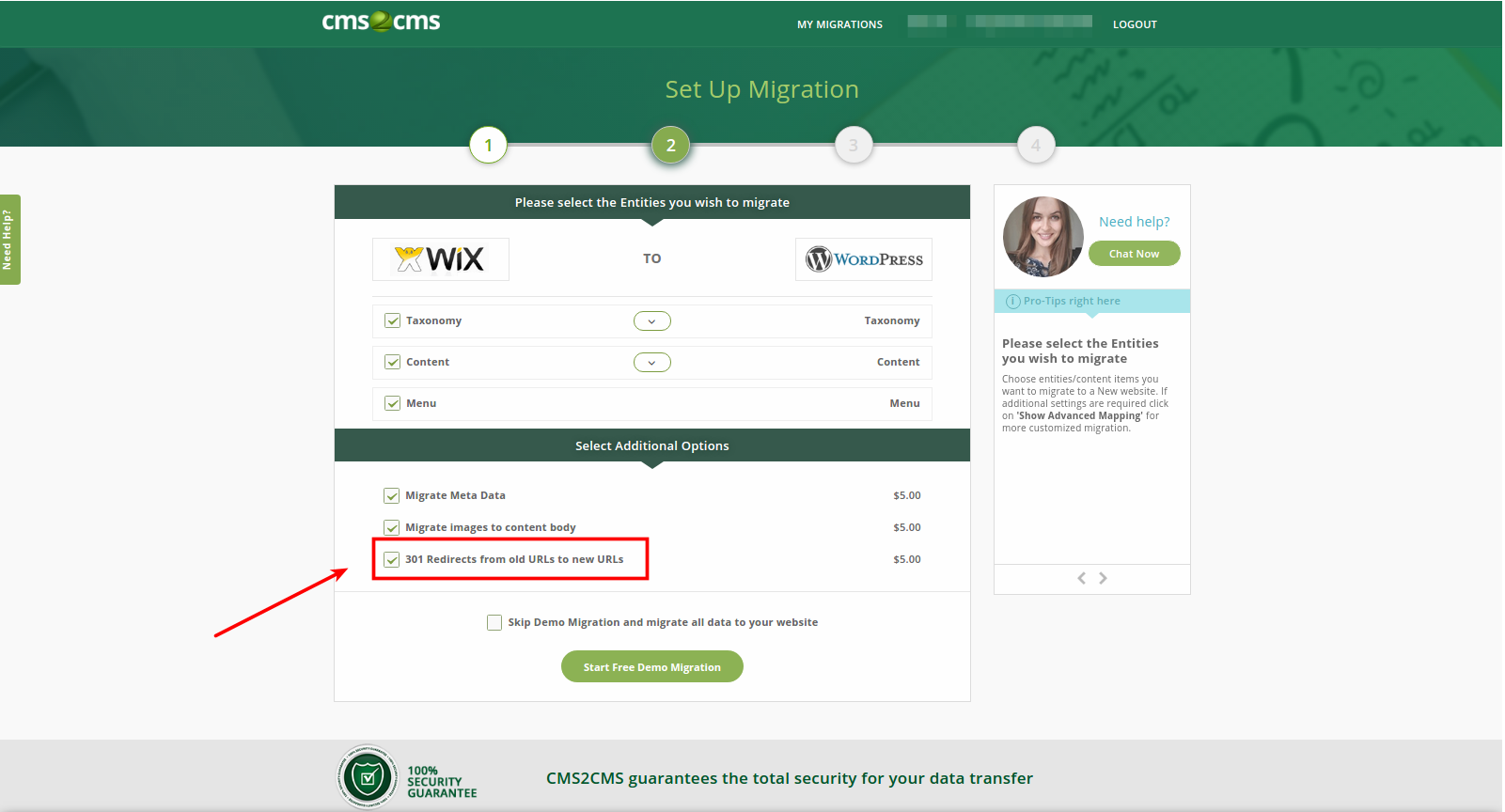 What you need to consider before setting up 301 redirect?
1. It is a permanent redirect – so, your previous URLs will not be working anymore and you won't be able to return to them later.
2. It may take certain time for Google to recognize the redirects. It means, that you should be ready for a temporary drop in traffic from search engines.
3. Automated 301 redirect option is not an obligatory option, so you may choose not to use it.
So, now you can leave your fear of losing SEO juice behind and step confidently towards the fulfillment of your website dream project. Start the free Demo Migration to reach out and make sure that the WordPress or Drupal website migration can be a pleasure!