Simply reading books or manuals might be not enough. Sometimes a personal experience tip and meeting new people is badly needed. That's why we, aisite share this interview with you.
Marc agreed to chat with us recently. He explained why he made the decision to migrate from Joomla to WordPress and shared his thoughts on the process itself.
Thanks for joining us today, Marc. Please, tell our audience a bit about yourself. What inspired you to start an online project?
I started Soul-Surfers.de back in 1999 which is quite a while. The reason was that I was stoked from surfing at that time and started learning some HTML. So I brought both together. Over the years it got the biggest Surf Community in Germany.
Recently, you've transferred data from Kunena to WordPress using our service. Why did you make such a decision? What was bugging about your previous CMS?
I used Jomsocial and other community plugins with Joomla which was very memory consuming at the end. I also did not find the right way to write blog articles on Joomla. I felt like there was always standing something in my way that I can't do or only with a big effort.
Editor's note:
Current look of Marc's website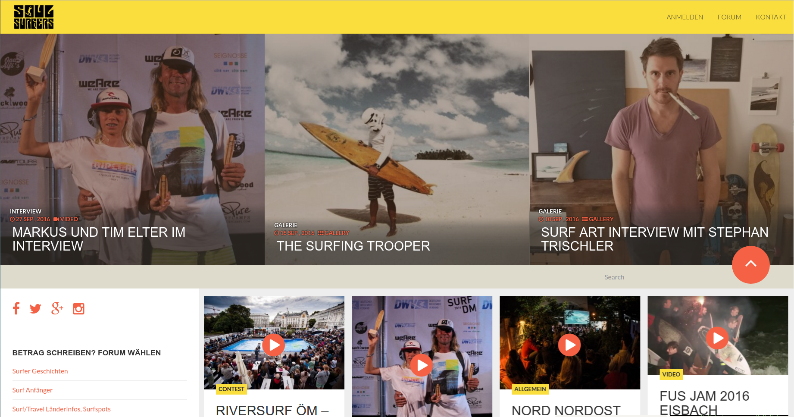 With a plethora of CMSs software out there, why did you choose WordPress to be a new home for your website? How is it better than other platforms?
For us, it is the easiest way to write new blog articles. It's supported and documented very well.
Now, let's get to the migration itself, how was it? Have you faced any difficulties?
As our forum is very huge > 120 000 topics we had to get the support of a technician as the import in WordPress did not run using the interface of the migration tool but the technicians did a great job importing the data for us.
How did you come across our migration tool, and will you be using it again in the future?
I was searching for a migration tool on google, as I did not want to write a migration script myself which would have been very time-consuming.
"Your service made the best and the most professional impression."
Finally, are you happy with WordPress so far?
You know therе is no perfect System and so there are things that have been better before in Joomla but overall I think it was the right decision. Our site is much faster now.
Did you think of how your own website might look on a different platform? No more daydreaming, try to migrate your website with aisite and see what's the difference for yourself.