CMS is a system that allows people who don't have technical background to create and manage a website. There are millions of content management systems all over the world which makes it difficult for many users to choose the only one. That is why before making a choice most people consider one of the most important things – CMS viability in the SEO market. Unfortunately, there are different CMS platforms, some of them are SEO friendly, when the others don't present website content which is search-engine friendly. Nevertheless, it is not a big deal to make some action that can improve the situation and make your CMS SERP enfant cheri.
Elementaries of Being First Keywords and Phrases
There are some obligatory rules for search engine improvement:
Titles should contain keywords and it shouldn't be longer than 70 symbols.
Place keywords in h1, h2 and h3 tags.
The keywords that are situated near the top of your content have more weight than those lower on the page.
Place keywords in the final paragraph of your content. Google understands that important words and phrases are often situated in a closing paragraph. Plus, the users' reading remind a letter 'Z', that is why the most important information should be at the beginning and at the end of the article.
Don't use overly general keywords as it can be tough to compete.
Human Readable URLs
It is also very important how the URL of your website looks like. Definitely, it is easier for the user to type, read or share such URL. Moreover, the search engine needs to know that it is a unique page. So, before choosing a CMS, make sure that it can provide human readable URLs. But if not, then check the list of modules/plugins/extensions of your content management system and find out if there is one which supports this function.
Quality Content
High-quality websites are sites with original content and information such as research, reports, analysis, etc. You should also remember that the page has to be long. Not a novel, of course, but it has to consist of at least 300 words. Moreover, make sure you have a good representation of keywords. The last but also very important trick which you should keep in mind is to add the new and fresh content regularly.
Images Optimisation
The other very important thing in improving your SEO is to optimise the images of your website. It is now a standard to include an ALT attribute on pictures. So, place the keywords in the ALT and Title attributes and this will make their search potential as effective as possible.
Meta Description
Meta description is an additional opportunity to tell what a page is about. Plus, meta tags are also used for bots, so that you'll be able to see how your article looks like in the search results.
Optimize Internal Links
In order to help search engines notice your website, you will have to put links to other pages on your site. Moreover, use more descriptive term, instead of "click here" and this will increase the relevance of the link.
SEO-Friendly CMSs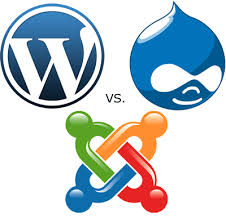 There are some CMSs which are extremely popular and which include lots of aspects that let you easily optimise your website.
WordPress is considered to be the best content management system for SEO but this is only true when the appropriate plugins are used. In other words, by default WordPress is not SEO friendly CMS. WordPress CMS is considered to be the most SEO-Friendly but with the help of SEO Yoast plugin it is possible not only improve search results but also to optimise the content. Moreover, if you want to migrate your current website to WordPress, it is possible to do this with aisite service. Moreover, you can easily convert Joomla sh404SEF extension to the corresponded WordPress SEO Yoast plugin.
Joomla is a powerful CMS with many followers all over the world. This CMS is not SEO-Friendly by default but it can be if to add some guides, for instance Search News Central and Hobo. Joomla comes with SEO extensions which will simplify the optimisation tasks, one of them is sh404SEF.
Drupal, on the other hand, is more complex CMS but extremely powerful. It is SEO-Friendly itself but only if it is used by coders. Although there are lots of resources and SEO guides, for example I Can Localize and DIY SEO as well as many modules which can be used to improve SEO on Drupal CMS, there is no need to install any. Because if you are an experienced user, you can adjust this platform according to your needs.
So, there are lots of ways to make your website SEO friendly. All you have to do is to follow those rules. But what if you have started a website on one platform but now you would like to run a site on the other? With aisite migration service it is not a problem any more. Using this tool you can easily migrate to Joomla, WordPress, or Drupal from your existing CMS. Or just switch between them in a few minutes.
Now, you are provided with all the necessary information on how to make your current CMS SEO-Friendly. Moreover, you also know which content management system are considered to be the best for SEO. Now all you have to do is to use these pieces of advice and enjoy the results.