You know that sometimes administering your forum is a very difficult task. Especially, if you want to try something new, like migration from one platform to another (in this case we consider MyBB to vBulletin migration). You don't want to imagine how many hours of work has to be spent on transferring manually all the data from one forum to another. Though there is an alternative solution which will make your migration road not so stony and bumpy. 
One of the reasons of why you may want to implement MyBB to vBulletin migration is the fact that the current forum platforms are offering different opportunities, and each one has its own advantages. Both of platforms mentioned above gleam in the lights of popularity, but they have some differences. 
myBB vs vBulletin
myBB
If you are a starter, myBB will be a good option for you. With myBB, the one can create a forum which is based on a free platform and which has many simple settings. myBB supports 3 databases ( MySQL, PgSQL, and SQLite). A number of plugins counts +/- 2.5k. Almost 1,600  websites use the current forum platform. The MyBB Community has produced a large number of translations. Among other attractive features, the private messaging and theme editing by using CSS editor are included here too.
 vBulletin
Nearly 93k of websites use vBulletin. And this is regardless of the fact that vBulletin is a paid forum. Why is that so? Firstly, let's draw all the attention to the variety of options vBulletin offers. The forum is no way the only strong part of vB, you can also develop and manage a website, a blog and some other web projects. The decision is yours after all. 
If you want to try something new, such as modern interface, extensive user settings, with the possibility to take into account their common interests and improved search performance, a better option for you will be vBulletin. 
How to implement a MyBB to vBulletin migration? Think also about using automated migration with aisite. Sure, you can find a special plugin to do that, but it works only with the specific type of migration. aisite, on the other hand, can be used for migration between different platforms. In addition, you do not need coding or hiring a specialist in this area to perform your migration. 
15 minutes only and all the posts and comments will be transferred to your new platform. It means that you can save a lot of time and use it for administering your brand new forum.
Video Tutorial: How to Migrate MyBB to vBulletin with the help of aisite Connection Bridge
Migration Steps
Here you can take a look at this easy step-by-step instruction of how to migrate from myBB to vBulletin.
Step 1
Sign in using your Google+ or Facebook account or create a new one at aisite.com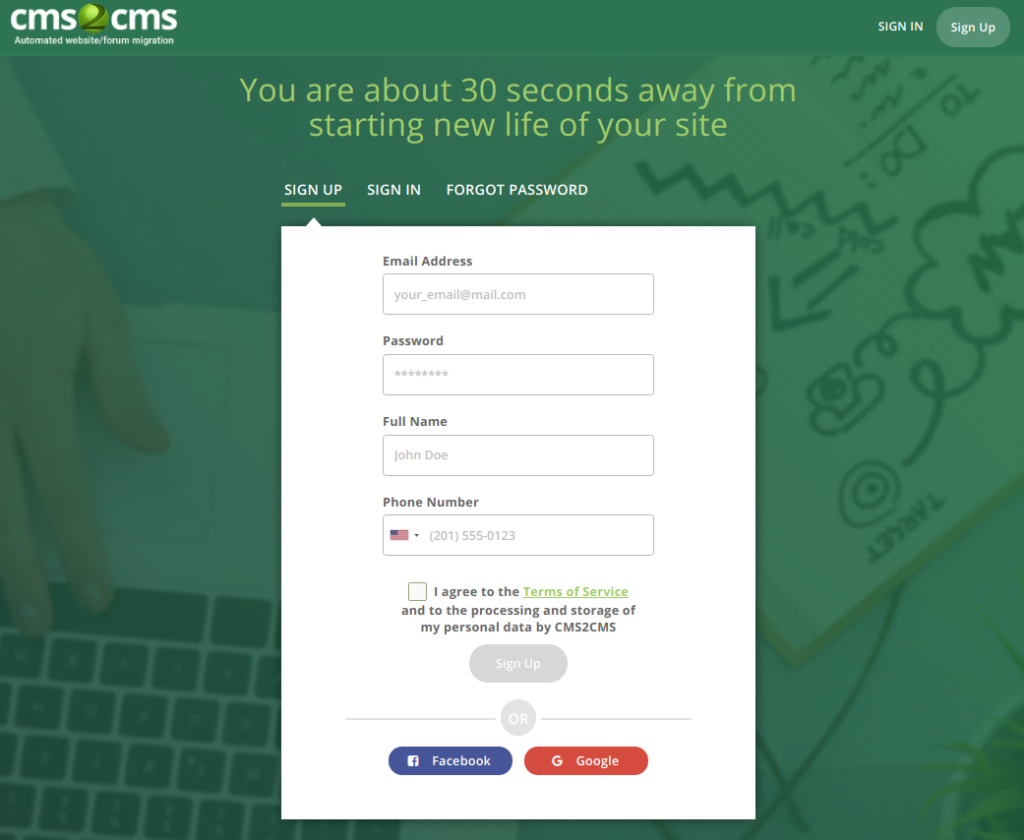 Step 2
Specify what forum type you are going to move from. In our case, it's a myBB. Choose it from the list of suggested platforms and provide the URL of your forum type.
Please establish the connection to your Existing myBB website. Download and install a Connection Bridge to Your Computer. When you've done with that, press the "Verify connection" button.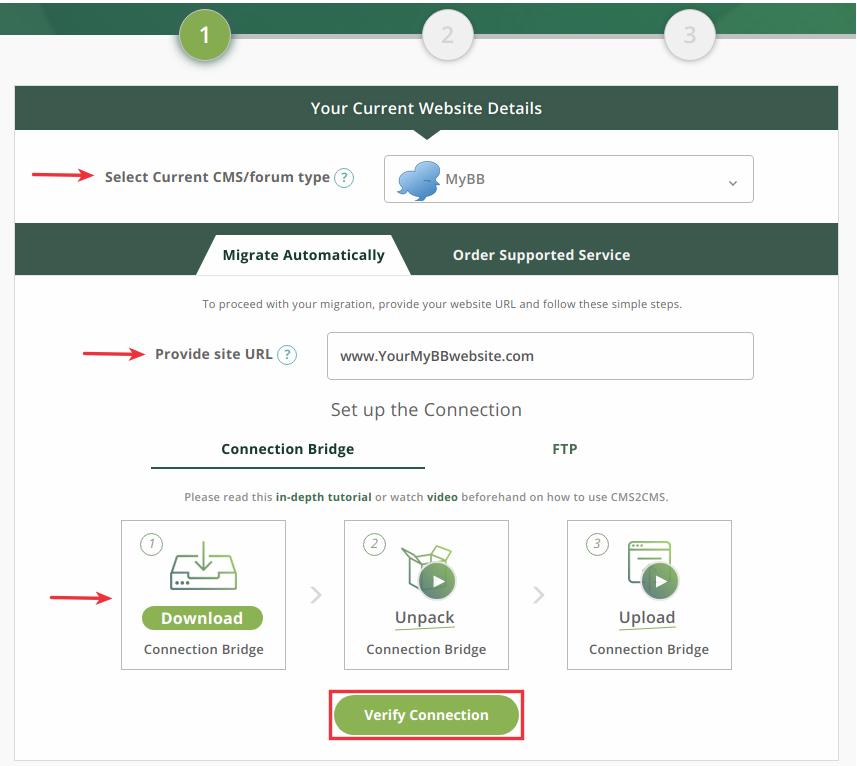 Step 3
You're on halfway! Now it's time to specify your target forum type. Choose vBulletin from the list of suggested platforms and enter its URL.
Please establish the connection to your Existing vBulletin website the same way you did in the previous step. Download and install a Connection Bridge to Your Computer. When you've done with that, press the "Verify connection" button.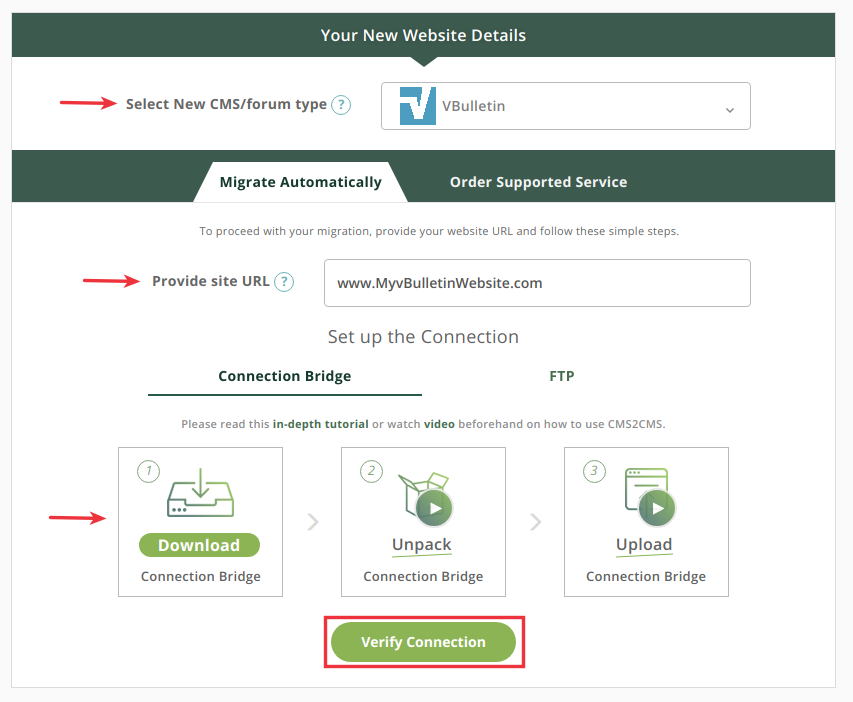 Step 4
Before migrating myBB to vBulletin, aisite service offers you to preview the future look of your website and run a Free Demo migration. Choose the Entities and needed additional options you are going to migrate. In case you want to migrate all your data without Demo, you may skip this step.
Step 5
Before starting a complete migration to vBulletin, you can check the Free Demo result. If you are satisfied with the result, you may complete the migration. Do you have the discount coupon? To get the lower price just use 'I have a coupon' option for that.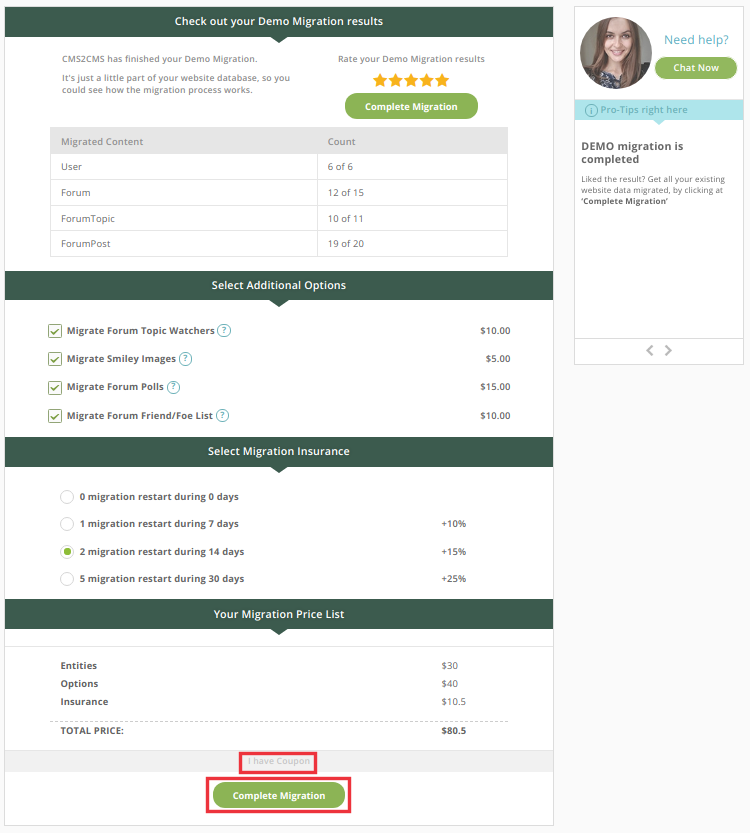 Step 6
That's it! Now you are a happy owner of the vBulletin-powered forum with all your myBB content on it. Check the results!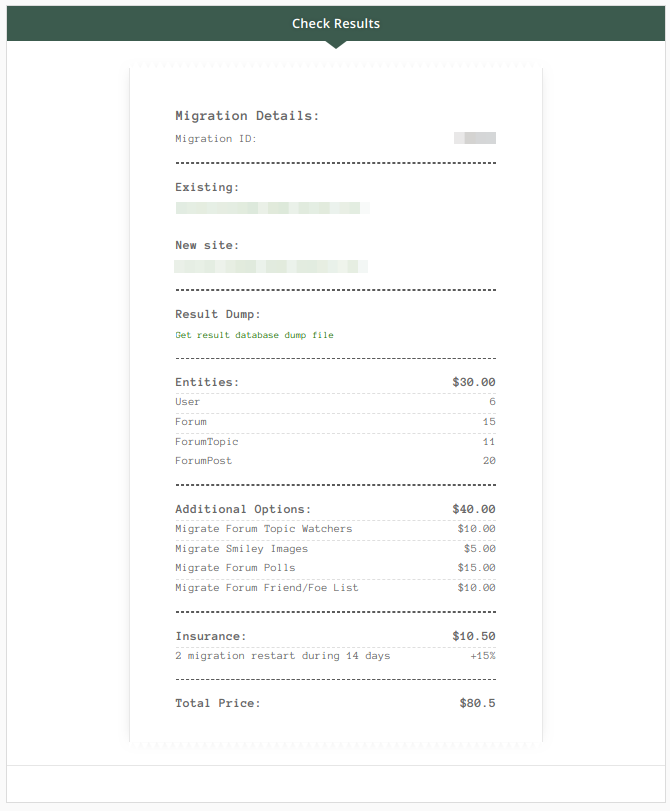 We've seen how both forum platforms are different. Decided to change things? Remember about aisite product and try our Free Demo Migration to see how easy is to convert MyBB to vBulletin.