Despite the fact that WordPress doesn't come shipped with a contact form – the task of setting up a web form (a form that site visitors use to get in touch with the website owner) can easily be accomplished by the use of WordPress plugins. However, when it comes to choosing a contact form solution in WordPress CMS, users usually get confused and perplexed. Why? A quick Google search on "contact form" in the WordPress Plugin Directory yields 1625+ results! Included features vary greatly – from simple feedback forms to complex multi-field forms. To help navigate the volume of options and cut through the noise, we have hand-picked the 5 most popular and regularly updated contact form plugins for WordPress so that you can easily add it in your WordPress website. Got intrigued? Keep reading the post!
Gravity Forms
Gravity Forms is one of the most popular premium contact form plugins for WordPress. It is extremely easy to use even for the greenest of users and has enough functionality to create simple or advanced contact forms. Building a contact form with the help of Gravity Forms plugin usually takes a few minutes. Using add ons, the plugin can be expanded as required and used for a variety of purposes, such as email marketing and eCommerce. Despite the fact that there's a pool of advantages associated with Gravity Forms, the plugin has some limits though. It is a bit expensive than other WordPress contact form plugins. To be specific, a personal license costs $39 while the business and developer licenses retail at $99 and $199 respectively.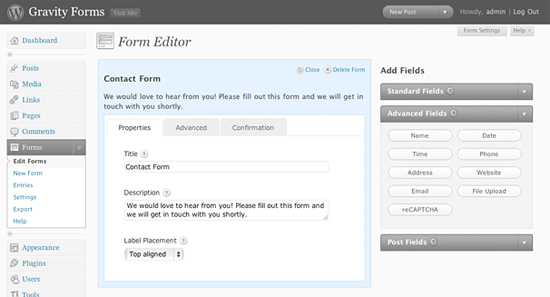 Ninja Forms
Ninja Forms is another popular plugin that can be used to create a highly interactive form with very little effort. With a drag-and-drop interface, you can very easily create contact forms, email address collection and any other type of form within minutes. It includes a wide range of fields and features a question and answer option to prevent spam. The base plugin for Ninja Forms is available for free from the official WordPress repository that means that it can be downloaded and installed on as many sites as required. Even though the main plugin comes for free, the extensions are not. Prices for extensions range from around $18 to $49 per extension per website.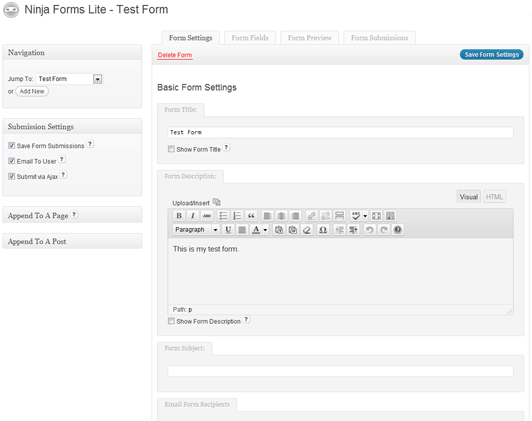 Formidable Forms
Though Formidable Forms plugin is relatively new in the race as compared to Gravity Forms, it is gaining more and more popularity among WordPress users and developers. It allows you to quickly create beautiful contact forms using drag and drop and comes with all the goodies you would expect from a premium form plugin. It lets you easily build multi-column forms and integrates with reCAPTCHA and Akismet for fighting spam. The free version of the plugin is limited to basic email notifications and only 6 fields. However, you can upgrade to Formidable Pro that retails from $47 and offers 24 field types, 4 form templates and 12 add ons.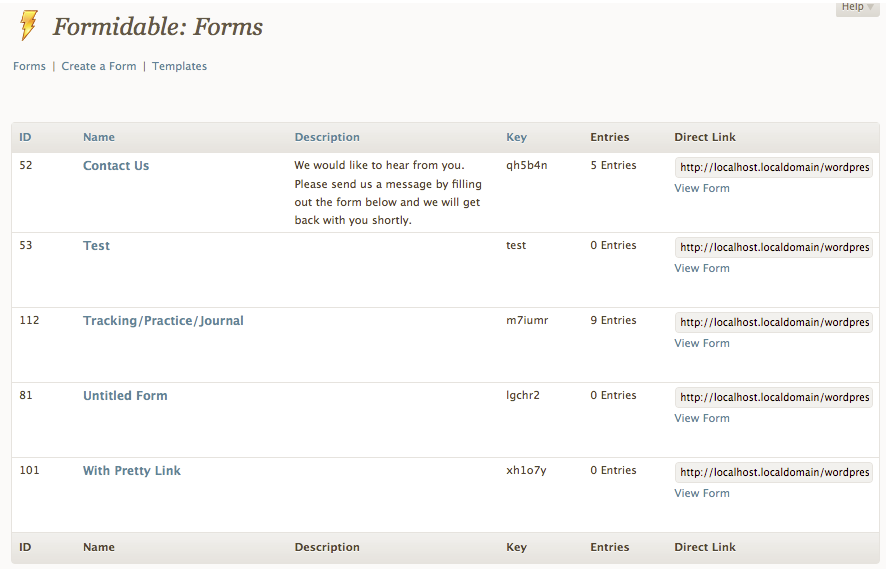 Fast Secure Contact Form
Fast Secure Contact Form is another widely used form builder with over 5 million downloads in the WordPress Plugin Directory. As the name suggests, the plugin is focused on preventing spam and making contact forms secure. All major contact form fields are supported, including useful fields such as attachments, date, and time. Its user-friendly interface makes creating forms a breeze and once a form is created, it can be inserted into the website using a shortcode. It also includes CAPTCHA and Akismet support to block spam. Especially the plugins shine in its price – it is available for free from WordPress Plugin Repository. However, integrating it with other apps is not a one-click affair for beginners and non-developers. Also, support options are limited because it is a free plugin.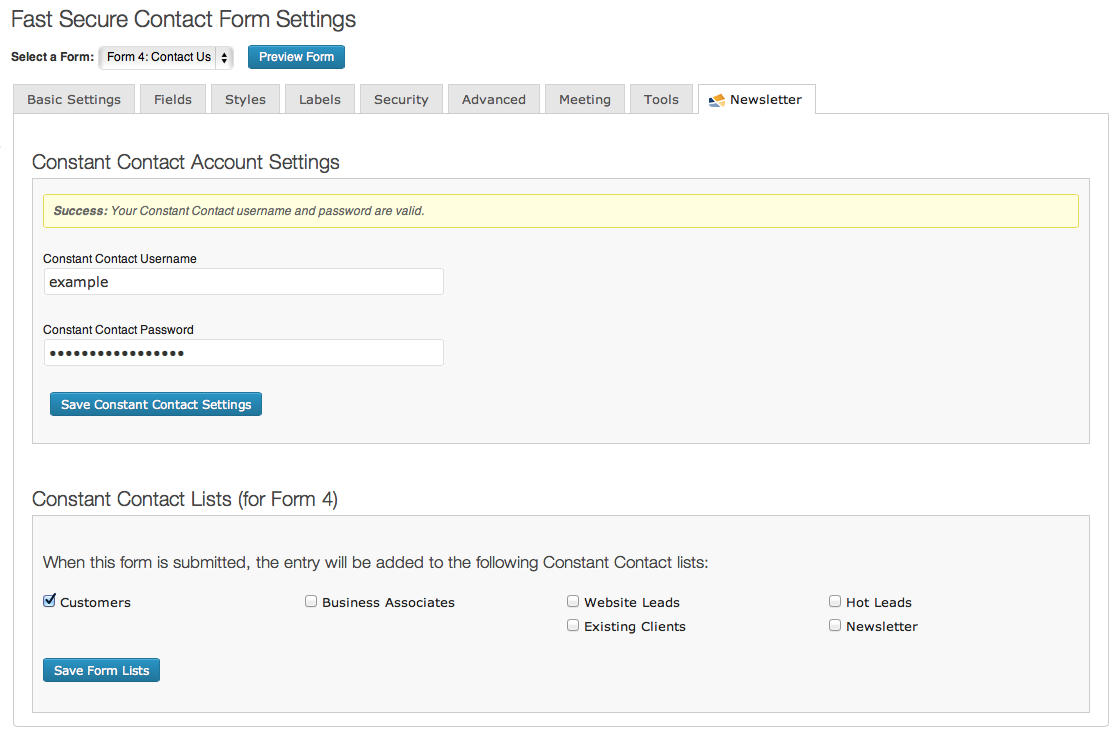 Contact Form 7
Contact Form 7 is one of the most downloaded plugins (around 22 million downloads) in the official WordPress repository. It is a completely free WordPress contact form builder that is often treated as a strong contender to premium plugins. It allows customizing form fields, appearance, mail contents, to create multiple contact forms that can be inserted into the posts, pages and widgets. Due to its popularity, there are a large number of plugins available on WordPress.org that integrate with Contact Form 7 – and this is exactly the feature that sets the plugin aside from all the others. Price is probably the most important advantage of using Contact Form 7 – you are free to install it on as many sites as you want. Contact Form 7 can be a bit difficult to set up for absolute beginners. The user interface is not very intuitive. Since it is a free plugin, support options are limited.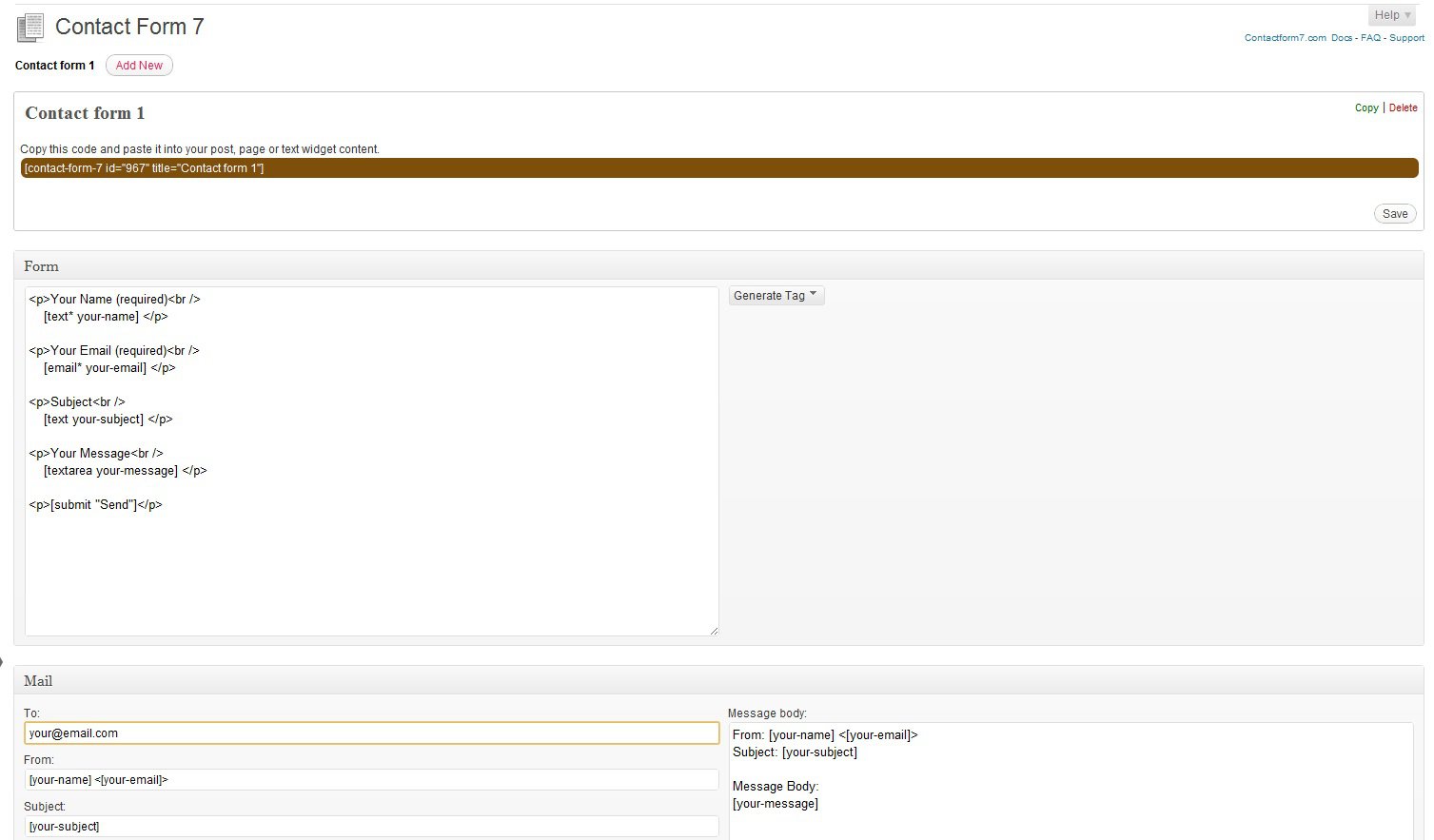 This is just a small selection of the most popular WordPress contact form plugins. There is a gazillion of options available in case the above mentioned don't suit your needs. So, take your time to explore all the possible contact form plugins and choose the one that suits you best.
P.S. If contact form of your HTML website is of concern – the aisite service allows to migrate it to WordPress Contact Form 7.
Willing to migrate to WordPress but don't know where to start? aisite automated migration service can more than help you to go through the conversion process seamlessly and trouble-free.