If you provide an online service, it's possible that a form that accepts payments will be a better fit for your business than an eCommerce platform.
This is often true in cases of websites that sell downloadable content, as well as with online services such as web design, where shopping cart functionality is often more than is needed.
This article will look at 5 of the best form builders that allow processing payments, to help you choose the most suitable one for your circumstances.
1. Gravity Forms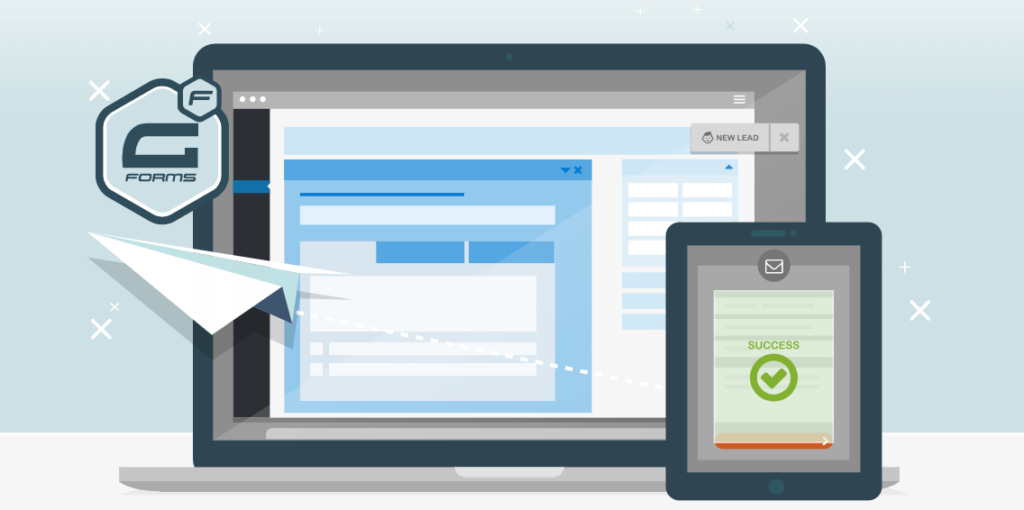 Gravity Forms is an easy to use, premium form builder.
Pricing starts at $59 per year for a basic license which includes: over 30 different kinds of form fields, conditional logic, file uploads, save and continue, Mailchimp integration and more.
To access payment processing you will need to opt for the Pro plan which costs $159 for PayPal integration. For Stripe integration, opt for the Elite plan which costs $259 per year, and gives you access to the full range of integrations.
Also noteworthy here, is the wide range of popular web apps such as Trello, Slack, and Coupons, that Gravity Forms integrates with.
Gravity Forms is potentially the most expensive option on this list, but if you're looking for a payment processing form that is easy to use, and integrates with a variety of web apps, this is likely to be a good choice.
2. WPForms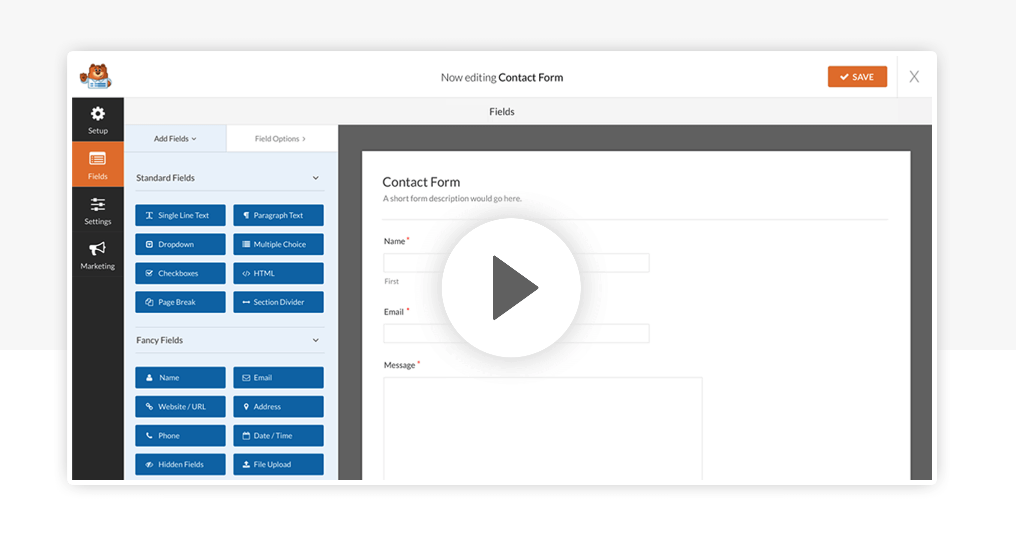 WPForms comes courtesy of the team behind WPBeginner and MonsterInsights. This plugin starts simple and advertises itself as "The Most Beginner Friendly" contact form plugin on WordPress.
The free lite version of the plugin certainly lives up to that claim, with over a million active installs, and a 5-star rating on the plugin marketplace.
To get access to some of the more advanced features of WPForms there is a price. The Basic version of the plugin is normally priced at $79 per year, and gives users access to a range of features including multi-page-forms, conditional logic and files uploads.
To access to PayPal and Stripe integration, you will need to opt for the Pro version of the plugin which normally costs $249 per year. This version also supports signatures, surveys and polls, Zapier integration and user login.
Finally, the Agency version of WPForms is normally priced at $429 per year, and offers all the benefits of the Pro package, but can be used on an unlimited number of sites.
3. NinjaForms
NinjaForms is somewhat similar to WPForms in that you can start using its simple drag and drop form builder functionality for free.
NinjaForms has a pricing plan for premium versions of the plugin, but there is also the option to buy 'add-ons', which are individually priced features.

To accept payments, you will need to purchase either the PayPal Express, or the Stripe add-on, both of which start at $49 for use on a single site.
Note, NinjaForms say you can only use one payment processor add-on per each form. So if you want to give your customers both PayPal and card payment options, this isn't the plugin for you.
4. ARForms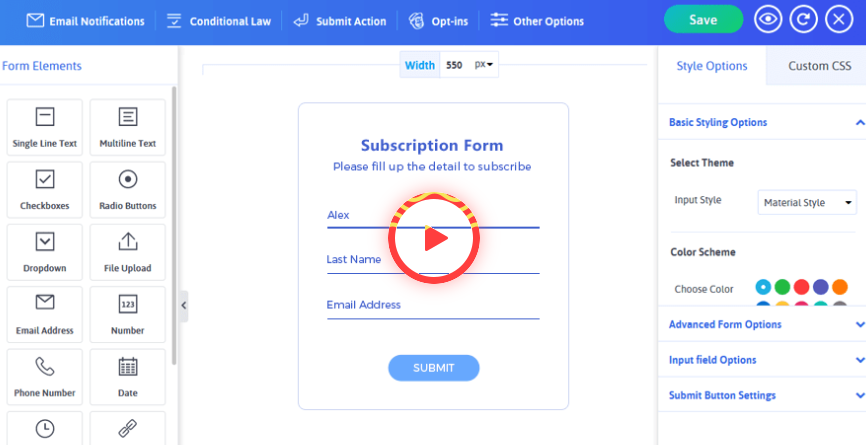 ARForms is a premium Form Builder, courtesy of Reputeinfosystems. Pricing starts at $37 with 6 months of support with a Regular License on Codecanyon.
Like WPForms and NinjaForms, ARForms has a backend drag and drop form builder. What immediately stands out as different though, is the range of built-in design options it offers. There are template options for design, such as material design, as well as options to change colours and spacing visually.
A couple of notable premium options include file upload and conditional logic.
To process payments with ARForms, you will have to purchase add-ons for PayPal, Stripe or Authorize.net, all of which are $16 each. Other add-ons you can purchase include Mailchimp, Signatures, and Digital Downloads, all of which range from $13 to $17.
It is worth noting, however, that these prices are one-off fees, whereas the prices for WPForms and NinjaForms are yearly subscriptions. So if you like the design options, and the add-ons provide the functionality you are looking for, ARForms is likely to be a good choice.
5. eForm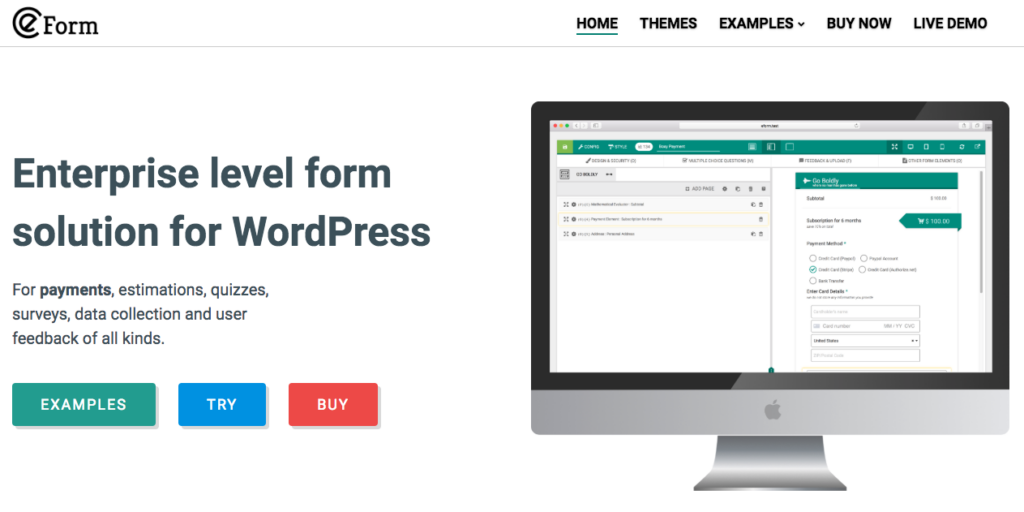 eForm by WPQuark is a premium form builder, and assumes some familiarity with web terminology.
As with ARForms, this plugin is available on Codecanyon, and pricing starts at $29 for a regular license with 6 months of support.
Perhaps most noteworthy of all when it comes to eForm, is that all of its features, including PayPal and Stripe integration, come included in the one-off price that you pay when you buy the plugin.
For this reason, eForm is the best value for money of all the payment processing form builders on this list.
Other noteworthy features include: pop-up check out functionality, payment estimators, feedback forms, quiz functionality, loan calculator functionality, and much more.